This is a crochet pattern review of the Alicia Ear Warmer pattern from designer Desert Blossom Crafts. Review done by A Stitch Shy of Normal for EyeLoveKnots.
This post contains affiliate links for WeCrochet. If you make a purchase by clicking on them, I make a small commission at no extra cost to you. Thanks for your support!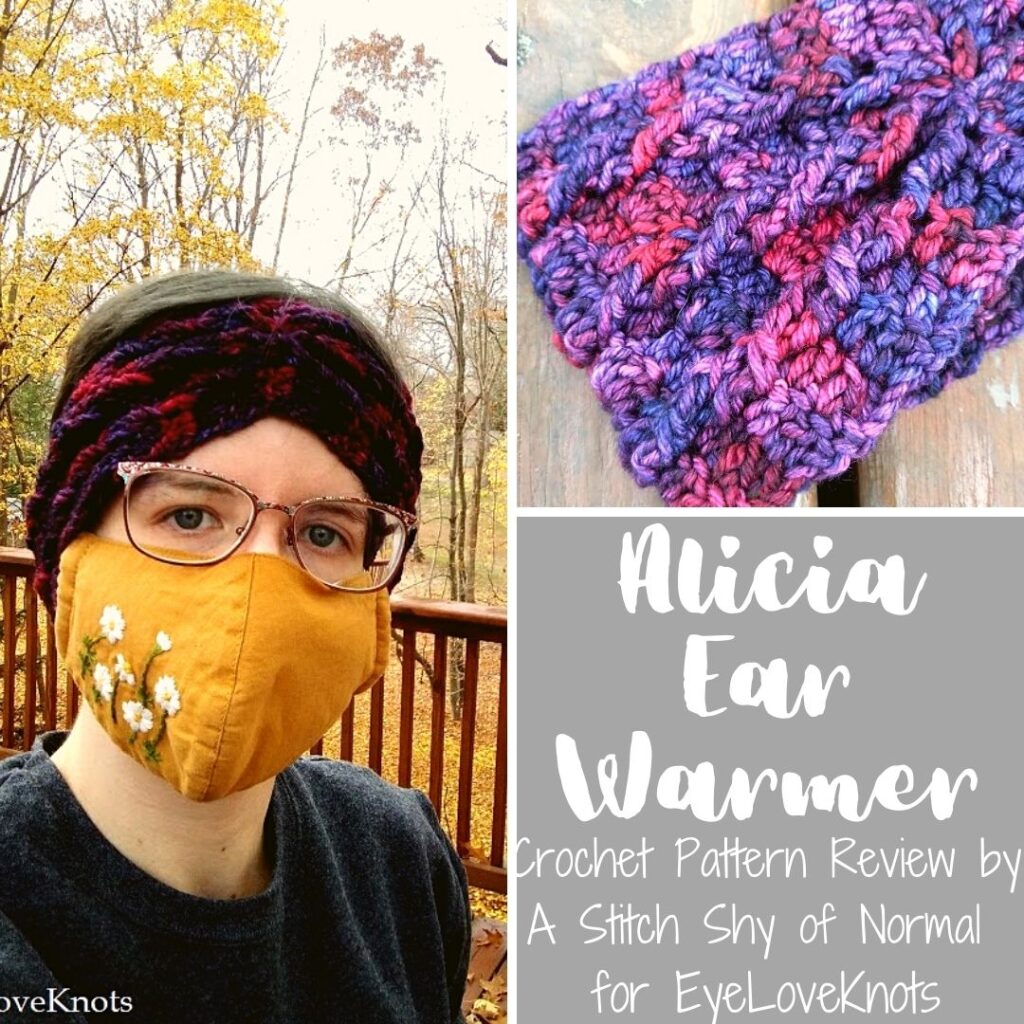 Visit with me on Instagram @astitchshyofnormal for all kinds of awesome crochet makes and inspiration.
I'm going to be honest. I had a far more involved project planned for this review. If you follow my Instagram, I've been working for a couple of weeks on a beautiful golden sweater, and I even scheduled my days in order to finish it in time for this review.
But then this Monday, I visited a house we really wanted to rent, and had the ability to sign a lease then and there, which meant we were moving this weekend in a 5-day turnaround. You don't get much crocheting done in that sort of time crunch.
So…You'll be seeing that gorgeous creation NEXT month, and I'm lucky enough to have been working on several WiPs that I enjoyed so I could finish another one in time to review it properly for you guys!
The lucky project that was picked as tribute is also season-appropriate, too. It's the Alicia Ear Warmer from Desert Blossom Crafts! It's a gorgeous warm headband with adorable texture and a cute little cinch that uses a very unique strategy! It's easy enough to be your TV or purse project, but the result is absolutely stunning. I'm so glad I had it as a mindless stress-relieving project during this absolutely crazy week, and now when I wear it I can look back fondly at this insane packing and moving whirlwind (during the same week as Election Day, no less!)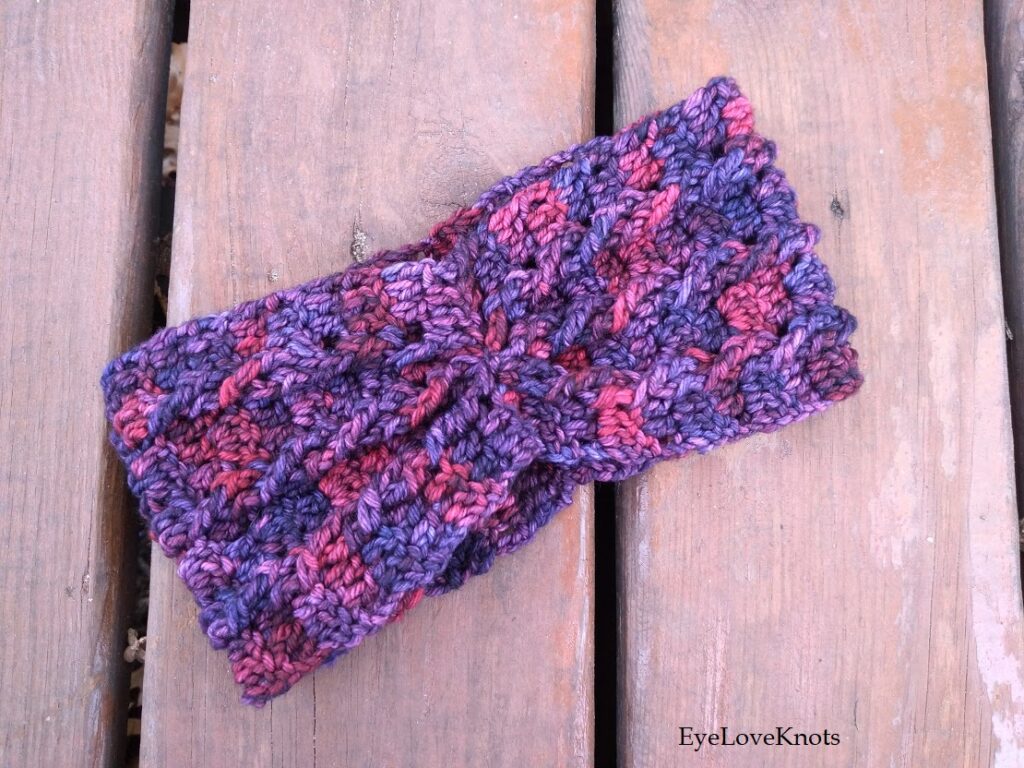 Materials I Used:
Material Notes:
Like I said, the yarn I used is actually a mystery! It's gorgeous, and it's likely one of my "nice" stash yarns. You know the type, something you bought at a local yarn store or from an indie dyer and you hold on to it forever because no project is worthy? It's one of those for sure, but I've purchased a colorway like this from a few individual indie dyers and at least once from a small yarn store, so there's no telling which one this is. Keep your labels handy, people, otherwise you'll be in this situation!
But I knew it was the perfect choice because this colorway is to die for. Just look at those gorgeous shades…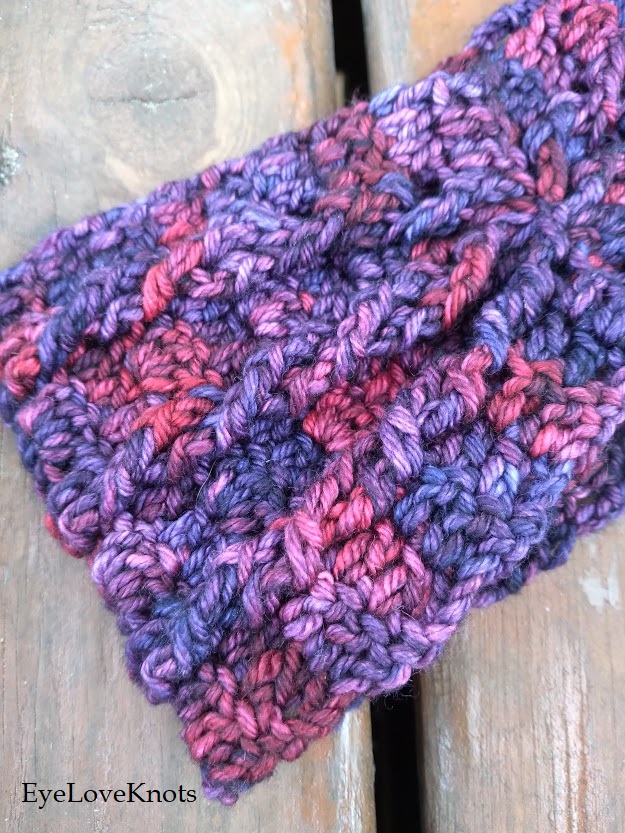 I was confident that I had enough yarn because the pattern only called for "less than 1 skein" of Mary Maxim Woodlands, and I looked up that yarn to double check the yardage. Those are 200 yards per skein, and I knew the weight of the yarn I had which translated to approximately 150-180 yards (I got this range by comparing it to similar yarns). I was confident that since many hats are under or around 150 yards, an earwarmer should fit nicely under that limit as well.
I had more than enough yarn, so between that and the finished weight of my earwarmer I would estimate this project taking maybe 100-120 yards for me. And as I've probably mentioned before with any hat or headband, my head is on the larger size so that's probably a generous yardage estimate for most people!
Also there was a tech at our new place setting up internet while I took pictures, so I can tell you that this even looks adorable with a mask on: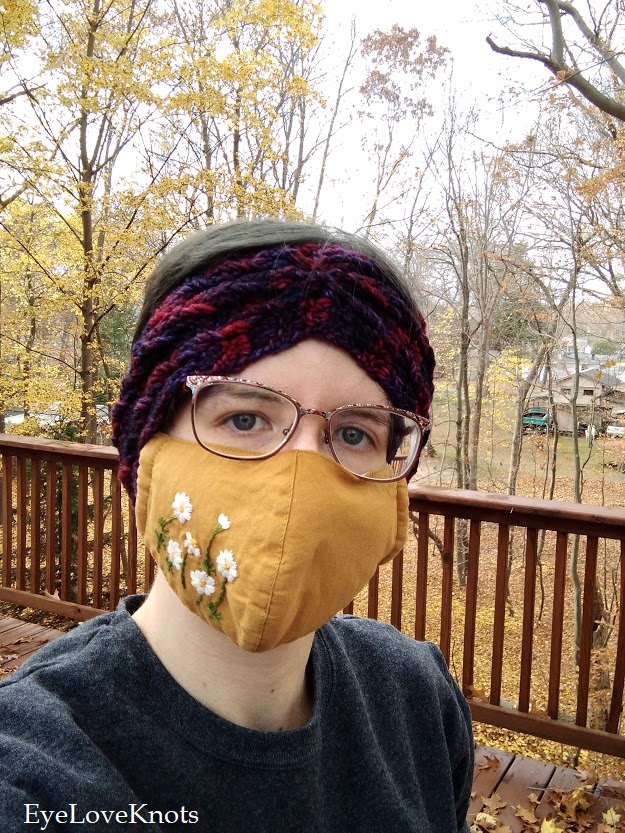 This yarn was perfect, and Woodlands would be as well, so I would say any decently soft worsted weight would work great! I only say decently soft because this pattern is so comfy and you'll want to have it on your head all day.
You could use a worsted yarn on the thicker side (something like Red Heart's Heat Wave!) for an ultra-warm and squishy accessory! Or something thinner like Basic Stitch Premium would make it a bit more breathable for the early days of fall. The pattern is written to very easily work with a range of medium-weight yarns!
I did not need to alter my hook size, as it gave me a good width and the pattern says to repeat the rows until you hit the size you want for your own head.
Time Spent:
4 to 5 hours, and most of that was a few minutes sitting in the car before work or as a "waking up" project with my coffee so it is an estimate from all those little bits of time. I overestimated to be safe, I think I could make one of these in about 3 hours if I sat down and worked straight through.
Measurements:
Laying flat with zero stretching, about 9″ wide and 4″ tall (at the widest part, not the cinch). It easily stretches to fit my 23″ head just slightly snug, which is how you want something like this to fit.
The designer did not give dimensions, probably because this is so customized in fit.
Gauge Info:
Gauge was not provided in pattern, but from my earwarmer I can say that the written directions were right at 4″ wide so if you're around there in the first few rows you're probably alright.
Given the simple "go until it fits" length, gauge does not seem to be important in this pattern as long as the width is fine.
Pattern Notes:
I loved the simplicity of this pattern. I did not have any problems with understanding the instructions, and if you do struggle with where to place your post stitches, she explains that in the pattern!
The "cables" are deceptively simple but look so impressive in the finished product, and I love when patterns do that. The texture of the post stitches totally pop in both my variegated yarn and her solid shades pictured in the blog post! I was worried at first that my yarn would overwhelm her stitch pattern but I think they only enhanced each other.
She sized it perfectly, the width is comfy and warm but not huge. As I mentioned, the "length" is the circumference of your own head, so you can make it your own custom fit! And because the stitch pattern is so simple, adjusting the length doesn't affect the look of the finished item.
Finally, the technique she uses to cinch the ear warmer is one of the most creative strategies I've ever seen! I tend to heavily rely on the basic version of weaving a piece of the yarn up and down through the fabric a few times, and obviously that's adorable but it doesn't work the best with every stitch texture. This one works with the post stitches rather than against them, and that really stood out to me! If you look at the picture below, you don't see an awkward gathering. It looks like the cables simply come together in a little knot at the middle!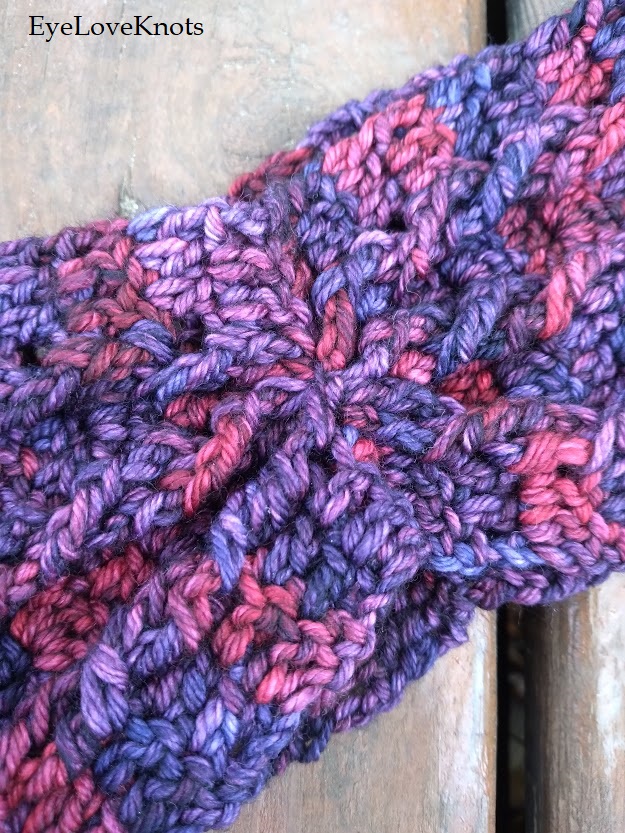 I will definitely make more of these, and I'm thinking my coworkers will be asking me to whip up a few once they see me wearing this one to work this week. If you follow me on social media, you'll probably see quite a few in the near future!
Don't forget to visit with me on Instagram @astitchshyofnormal for all kinds of awesome crochet makes and inspiration.
If you love to DIY: Join the EyeLoveKnots Crochet & DIY Community on Facebook to share your creations, and see what others are up to!
If you love Fashion: Join the Alexandra Lane Lifestyle Facebook group to share, and see what others are up to!
Linked Up To…
Linky Ladies Party #198 – The Purple Poncho
The Loop Scoop #2 – Moogly Blog
Scrappy Stitchers Link Party #69 – Stitches n Scraps
Craft Schooling Sunday – Creative Jewish Mom
Turning Heads Linkup – Elegantly Dressed and Stylish
Confident Twosday Linkup – I do deClaire
Style Six Linkup – The Queen in Between
Style on the Daily Linkup – Straight A Style
Thursday Fashion Files Link Up #284 – Curly Crafty Mom
Trendy Thursday LinkUP – Thirty Minus One
chicandstylish #linkup – Mummabstylish
Fancy Friday Linkup – Nancy's Fashion Style
Style Link Up – Lizzie in Lace
567th Inspire Me Tuesday – A Stroll Thru Life
Fabulous Party #346 – Lou Lou Girls
Party in Your PJs #355 – The Apple Street Cottage
{Wow Me} Wednesday #480 – Ginger Snap Crafts
Your Whims Wednesday #485 – My Girlish Whims
The Wednesday Link Party #374 – The Stitchin' Mommy
Waste Not Wednesday #230 – Pretty DIY Home
Creative Crafts Linky Party #16 – Creatively Beth
Thursday Favorite Things #466 – An Artful Mom
Creatively Crafty Link Party #250 – Life Beyond the Kitchen
Artsy-Fartsy Party #319 – Artsy-Fartsy Mama
Encouraging Hearts & Home Blog Hop – Apron Strings & Other Things
Traffic Jam Weekend Linky Party #259 – My Bijou Life
Pin Party #395 – The Pin Junkie
Friday Favorites – Busy Being Jennifer
Create, Bake, Grow & Gather Party #446 – Shabby Art Boutique
Scraptastic Saturday Party #315 – Scrapality
Link Your Stuff – Annemarie's Haakblog
Embracing Home and Family Link Party #17 – The Everyday Farmhouse
A Morning Cup of Joe Linky Party – The Cottage Market
You're the Star November Blog Hop – B4 and Afters
Unlimited Monthly Link Party 18 – Grammy's Grid
Snickerdoodle Create Bake Make Link Party #362 – EyeLoveKnots
Ginx Woolly Linx Party November – Ginx Craft
Craftastic Monday Link Party – Sew Can Do
Handmade Monday #203 – Sum of their Stories
Hearth and Soul Link Party – April, the 21st Century Housewife
The Really Crafty Link Party #242 – Keeping it Real
Weekday Wear Link Up – Away from the Blue