This is a crochet pattern review of the "Tablet Wedge" pattern by Jennifer E. Ryan, published through Annie's Catalog. Review done by A Stitch Shy of Normal for EyeLoveKnots.
This post contains affiliate links for Annie's Catalog, Amazon, & WeCrochet. If you make a purchase by clicking on them, I make a small commission at no extra cost to you. Thanks for your support!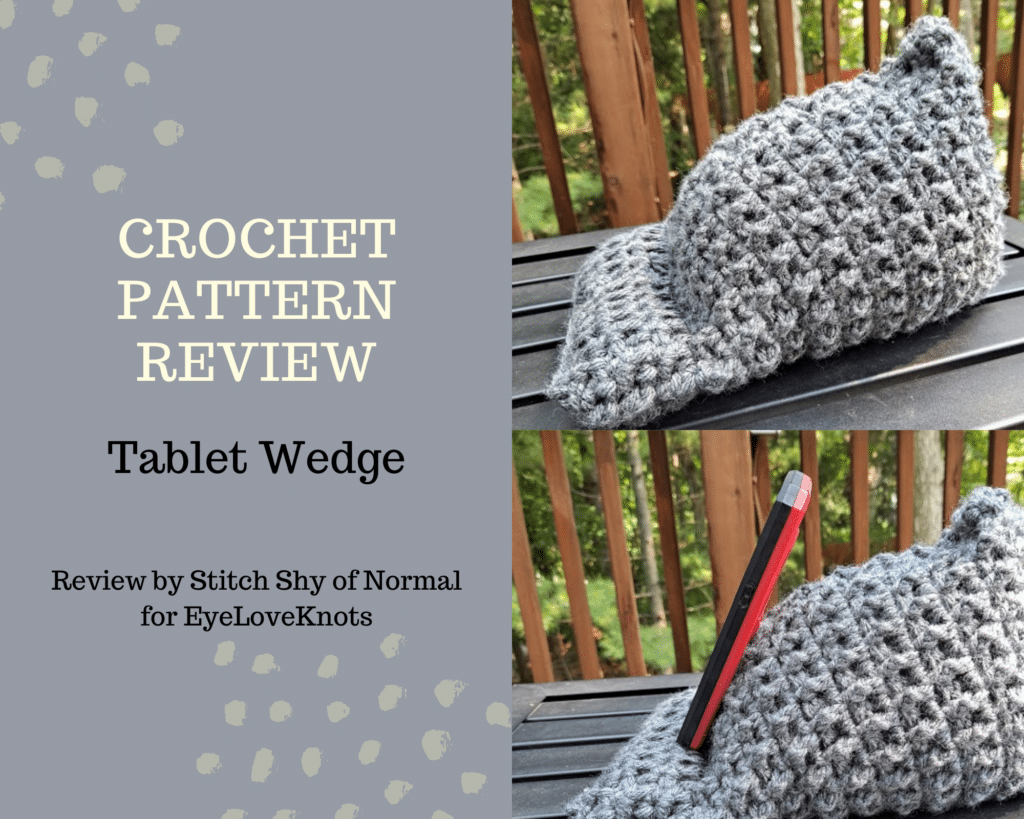 Visit with me on Instagram @astitchshyofnormal for all kinds of awesome crochet makes and inspiration.
I love practical home projects! They're often quicker than something large like a garment, for one thing. Also when it comes to a home item, I'm usually less particular about the yarn because it's not something that will be up against my body, so I can use up something I've been holding on to for the right project that isn't super soft. And then when it's all done, I have a lovely useful item!
I spotted a pattern compilation on the Annie's Catalog website titled "Crochet in a Weekend" with a gorgeous blanket pictured on the front and I was intrigued. It promised a blend of patterns of all types, things you can wear and also items for the home. In addition to the main blanket image, there was also a pillow pictured that was calling out to me. So I snapped up the book and I'm so glad I did!
It included a fun-looking pattern called "Tablet Wedge" made with bulky yarn that's made to hold up phones or tablets on your lap or a table in front of you, and that looked like something I could use and also would get a bulky yarn out of my stash. I don't often use bulky-weight yarns, but you know how the fiber arts addiction works. I end up buying or being given all different weights, and the ones I don't use make their way to my yarn shelves where they stay for quite a while. I had some Knit Picks Brava Bulky in a beautiful deep gray that I knew would look gorgeous sitting on my coffee table and should be just the right weight for this pattern, so I jumped in!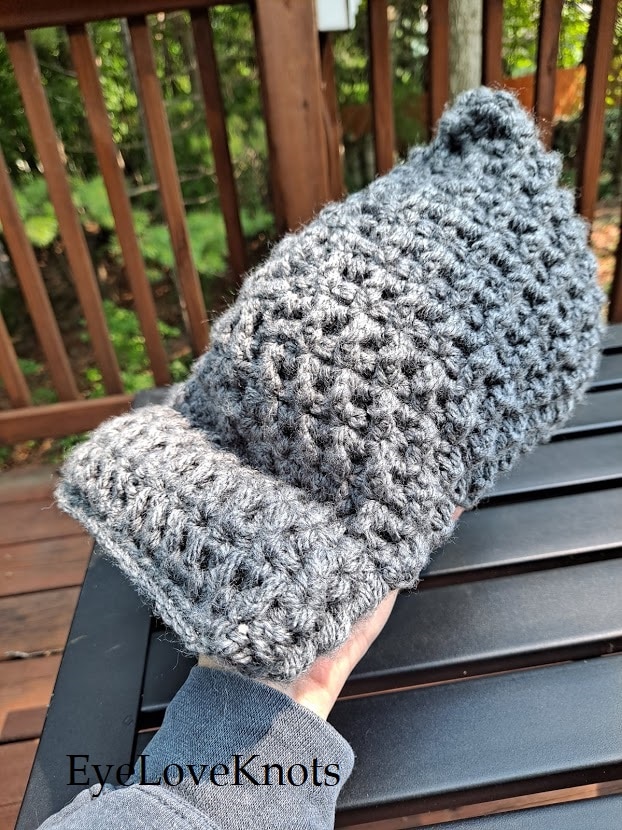 Materials I Used to Make my Wedge:
Material Notes:
I love the color of this yarn, and it ended up being a soft and comfy option if I choose to rest this wedge on my lap to use it! I wouldn't have minded too much either way, but soft yarn is always a bit of a nice bonus for the hands while you work. However, I don't think my gauge ended up ideal. To be totally honest with you, I did not measure gauge when I began. I was already decided on using this yarn both for the color and the look of the stitches, so I figured as long as it worked out to be roughly the right size and shape I would be satisfied.
The pattern calls for Deborah Norville Serenity Chunky from Premier Yarns, which is a yarn I've used before and enjoyed! Premier Yarns has, in recent years, changed the name to simply Serenity Chunky. I haven't seen it in a while but I remember it being nice. My Knit Picks choice is similar in appearance and weight, as well. The Deborah Norville yarn is 3.5oz for 109 yards, and the Brava is 136 yards in the same weight. This is different by about a third, I know, but again in a home item I'd consider this acceptable. I wouldn't substitute these two for each other in a wearable item without some alterations, of course.
Having measured it after finishing the wedge (meaning it's stuffed rather than laying flat as suggested), I came pretty close. I'll give details in the gauge notes later but I'm not totally off! I would use this again, but I would probably increase my size a little bit because the tablets we have in the house are on the larger side. I ended up only being able to use it with a phone, which is also fine! You can see here that it fits a phone great.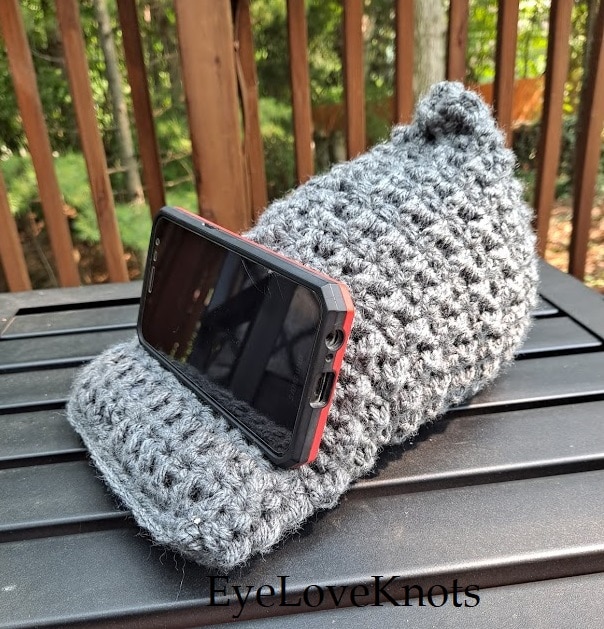 Time Spent:
This was a quick project, probably right around 2 hours start to finish. The panel works up fast, and then you do some quick sewing and add on the front bit. You could easily make one of these over a weekend just picking it up while you watch TV.
Measurements:
The pattern dimensions are listed as 8.5″ wide, 11.5″ long, and 7″ tall. I interpret "wide" to mean measuring the front rest from side to side, the "long" measurement to be the peak of the top to the center of the front, and "tall" to mean the tallest point of the peak down to the base/table.
Using those definitions, mine measures 7.5″ wide, 11″ long, and 6.75″ tall. Like I guessed, mine is close but not quite large enough. I could have easily added a couple of rows and stitches to achieve the desired width, I just did not choose to this time.
Gauge:
The pattern gauge is listed as 14 stitches and 10 rows both being 4 inches, and this is measured laying flat. As I said, I did not measure my gauge before I assembled and stuffed my wedge, so it will be a little distorted. Measuring it like this, I get 13 stitches and 10.5 rows in the 4 inches. This matches the yarn comparison, with my yarn being thinner than the suggested one–109 yards versus 136 yards in the same weight means the yarn the designer used is heavier and thicker. So when I stitched mine up, my stitches take up less space, and over dozens of stitches and rows this means I lost up to an inch or so in each dimension.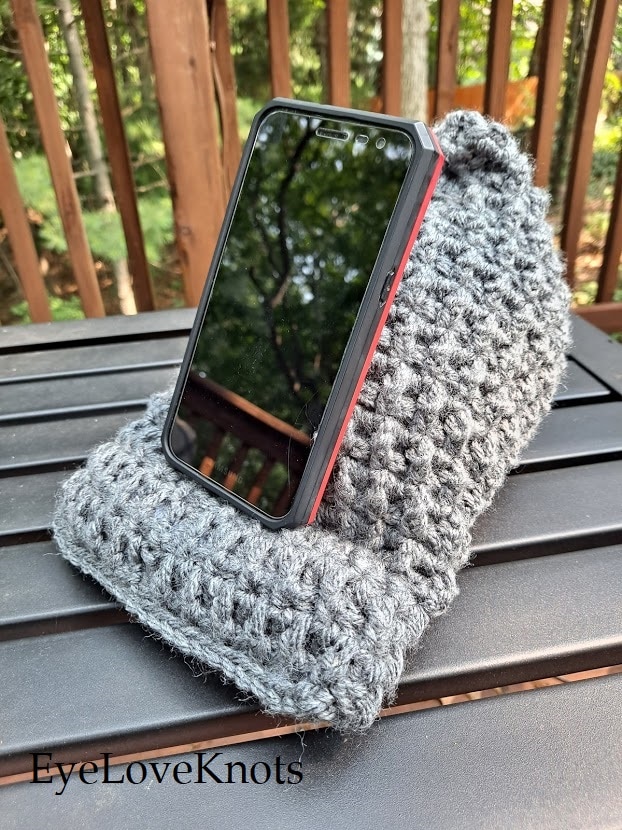 Pattern Notes
I was surprised at how fun and quick this pattern was! The stitch texture was absolutely lovely to stitch and to look at. Rather than a traditional waffle stitch (or at least the version I'm used to and design with), this pattern is created by alternating double crochet rows with post stitches in single crochet, to give the dimensional look of some stitches being ahead of others but leaving the fabric more solid and less open than the usual way.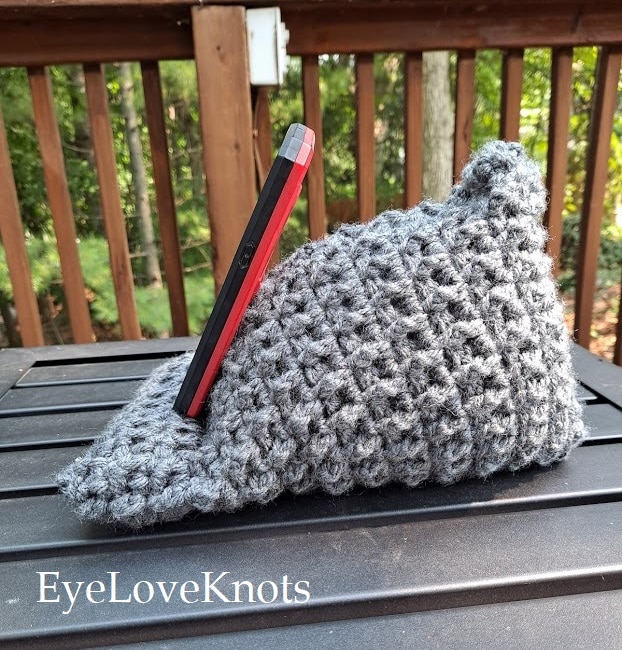 Once you've made the main large panel, which goes very quickly and took me less than two hours if I remember correctly, that's when it gets a little more difficult. Don't get me wrong, it's still simple, it just takes some careful reading and a few practice folds before you start stitching away. The designer included helpful drawings to demonstrate what corners and sides you fold together, and it only took me a few attempts to see the shape take place!
After it's sewn on two edges, it instructs you to stuff with fiberfill and also add the optional beads/weight (which I did not do). I recommend stuffing this thing very generously, but just paying attention to the stitch density. Once you can start to see the stuffing between the stitches, that's your limit! If you stuff this too lightly, it won't end up with enough support for a heavier tablet.
Then you stitch directly on to the front edge to add the "support pad", or the piece that holds the bottom of your device. This was complicated but not because of the instructions. It's just an interesting strategy and I found that I had to count my stitches very carefully. Again, you then stuff this as firmly as possible. Then you simply weave in all ends and you have an adorable little wedge pillow!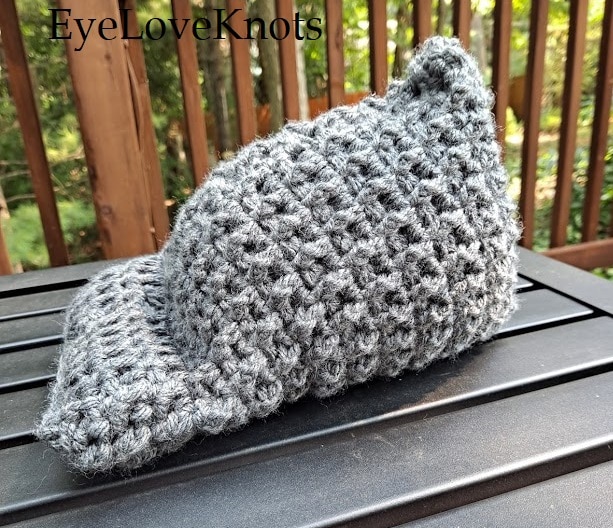 Given the dimensions they list in the pattern, the tablet they used for the picture must be on the smaller side. My finished tablet wedge is only an inch smaller but my tablet does not fit on it like theirs. However, I do have a larger Galaxy tablet, while there is a large range of different devices available. They might have used something like a Fire e-reader to demonstrate. As you can see in my pictures, I found it to be very useful for a phone! I can see this being nice while I'm crocheting and want a pattern displayed on my phone to scroll through. Or I could play a video on my phone and prop it up to watch while I relax!
I love the creativity in this pattern. It looks interesting, and in a cute color it can easily blend into your decor. Or if it's a gift for a kid, it would look fun in a brightly colored shade to stand out! I might have to make myself a rainbow one some day just to see what that looks like. I appreciated the thorough instructions in both the stitching and the assembly, and I'm very happy with my finished result.
What color would you use for one of these? Would you prefer a neutral like mine? Or a fun bright shade? Maybe something sparkly or tweed could be fun!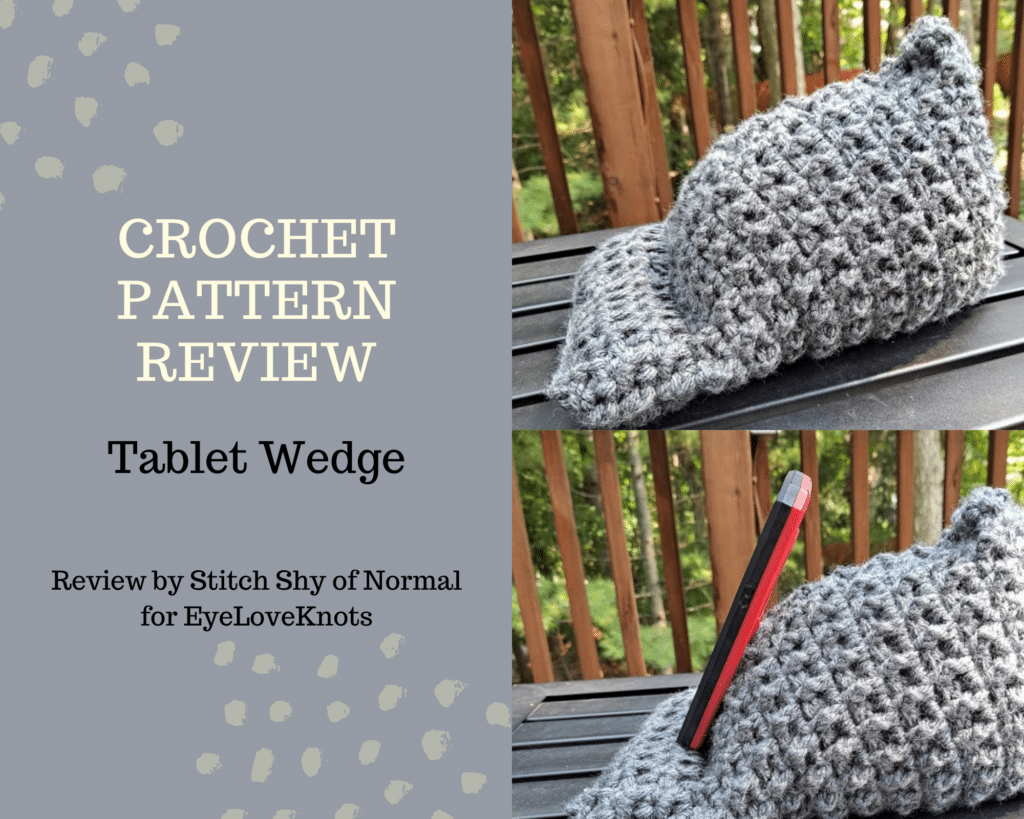 Don't forget to visit with me on Instagram @astitchshyofnormal for all kinds of awesome crochet makes and inspiration.
Join one of our awesome Facebook groups to share your creations, and see what others are up to!
– EyeLoveKnots Crochet & DIY Community
– DIY Home On Rockwood Lane
– Alexandra Lane Lifestyle
Linked Up To…
All About Home #102 – Common Ground
Tuesday Turn About #110 – My Wee Abode
Home Matters Linky Party #341 – Modern on Monticello
Farmhouse Friday #215 – County Road 407
Ginx Woolly Linx Party July – Ginx Craft
The Loop Scoop #18 – Moogly Blog
Craftastic Monday Link Party – Sew Can Do
{Wow Me} Wednesday #515 – Ginger Snap Crafts
The Wednesday Link Party 409 – Oombawka Design Crochet
Creative Crafts Linky Party #52 – Creatively Beth
Creatively Crafty Link Party #286 – Life Beyond the Kitchen
Create, Bake, Grow & Gather Party #479 – Shabby Art Boutique
Saturday Sparks Link Party #433 – Pieced Pastimes
Happiness is Homemade Link Party #385 – Decor Craft Design
You're the Star Blog Hop – Decor Craft Design
Unlimited Link Party 30 – Grammy's Grid
Hearth and Soul Link Party – April, the 21st Century Housewife
Handmade Monday #238 – Sum of their Stories
The Really Crafty Link Party #277 – Keeping it Real
599th Inspire Me Tuesday – A Stroll Thru Life
Fabulous Party #382 – Lou Lou Girls
Party In Your PJs #369 – The Apple Street Cottage
Your Whims Wednesday #522 – My Girlish Whims
Wonderful Wednesday – Oh My Heartsie Girl
Thursday Favorite Things #500 – An Artful Mom
Artsy-Fartsy Link Party #355 – Artsy-Fartsy Mama
Encouraging Hearts and Home Blog Hop – Scratch Made Food
Grace at Home No. 43 – Imparting Grace
Traffic Jam Weekend Link Up #287 – My Bijou Life
Link-Up Potpourri #2 – My Bjiou Life
Friday Favorites – Busy Being Jennifer
Funtastic Friday Link Party #343 – Simply Beautiful by Angela
A Morning Cup of Joe – The Cottage Market
Link Your Stuff – Annemarie's Haakblog
Linky Ladies Party #215 – The Purple Poncho