This is a crochet pattern review of the Fair Isle Gansey Cowl pattern by Lena Skvagerson for Annie's Catalog . Review done by A Stitch Shy of Normal for EyeLoveKnots.
This post contains affiliate links for Annie's Catalog and WeCrochet. If you make a purchase by clicking on them, I make a small commission at no extra cost to you. Thanks for your support!
Find the crochet pattern review below, or click here to purchase the crochet pattern from the Annie's Catalog website (they also have a knit option available!)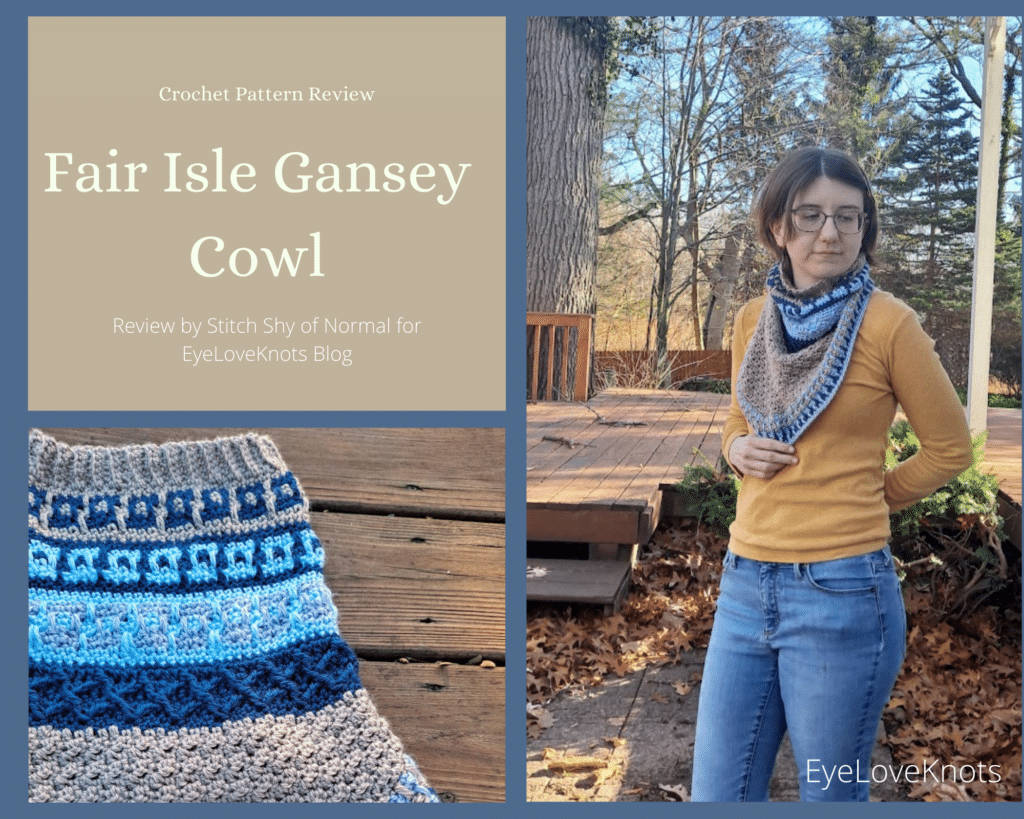 Visit with me on Instagram @astitchshyofnormal for all kinds of awesome crochet makes and inspiration.
As a long-time crocheter (just about to hit ten years!), I have always envied knitting for the gorgeous colorwork possible. Knitting allows for such intricate and beautiful artistry with the yarn, and while I continue to pick up the craft every couple of years or so, I just don't have a knack for it…but of course I'll continue to try. In the meantime, I find ways to try to capture the magic through crochet projects that mimic the beautiful techniques!
That's why I fell in love with this pattern by Lena Skvagerson (a favorite designer of mine at this point, as you may have noticed) when browsing the Annie's Signature crochet Designs. I was initially doubtful that it even was crochet, since it looked so much like a knit cowl! And if you look at the pictures side by side of both their knitting and crochet versions, it's remarkable how similar they look. If you can only do one of these crafts, then either way you can have a gorgeous colorwork cowl in your wardrobe this season! This review is specifically on the crochet version. Here is the link to the knitting pattern if you're interested.
Materials I Used to Make my Cowl: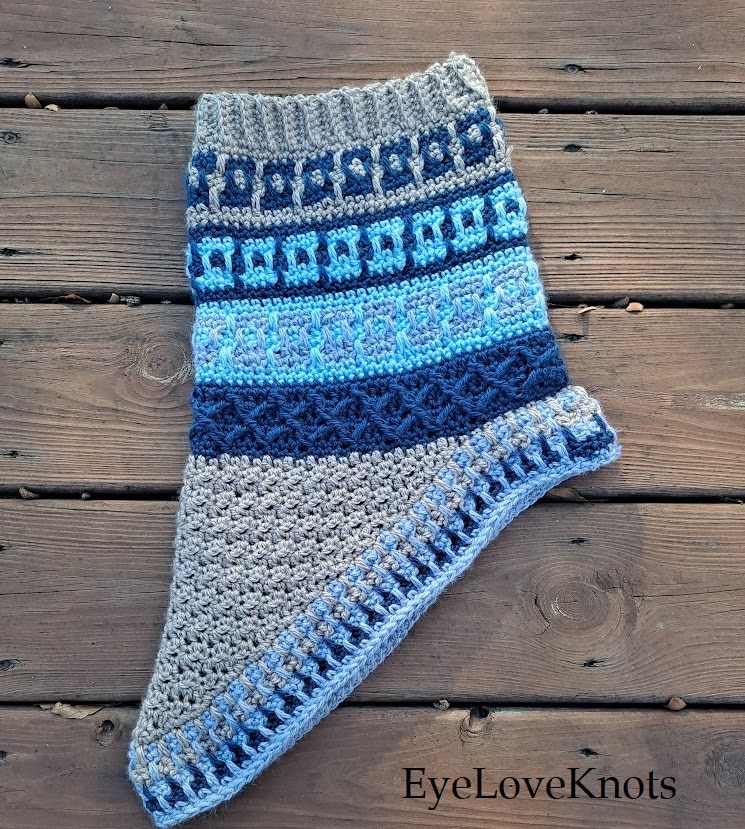 Material Notes:
This yarn was not a perfect combo, but you guys know how I feel about the selection of DK/weight 3 yarns available in the big-box craft stores. In summer you definitely get a wider selection, but when I was shopping for this in October or November, my options were pretty limited. I did find the Bernat Softee Baby, and remembered it being a comfortably soft option for garments. The downside is that the selection is largely pastel and bright baby-friendly shades. There's nothing wrong with this, but I wanted neutrals or possibly jewel tones! I managed to scrape together what I think is a pretty good combo in these 4, however. My biggest complaint about my color choice is how the light gray kind of looks lavender-ish in certain lights and can contrast the tan a little bit. It's pretty subtle but I just notice it now and then.
As far as weight, I think it worked out pretty well. The overall cowl is very light, you could stuff it into a purse easily (or a coat pocket but you would need large pockets for the size!) without really adding any bulk to lug around. I wouldn't say it would be suitable for a below-freezing day, but it can certainly block the wind nicely on the more mild winter afternoons. It was a great fit on the day I took pictures, when the temperature was in the mid-40s with pretty good wind blowing. This cowl has so much surface area that it easily covers your neck and would even cover an open neckline of a shirt.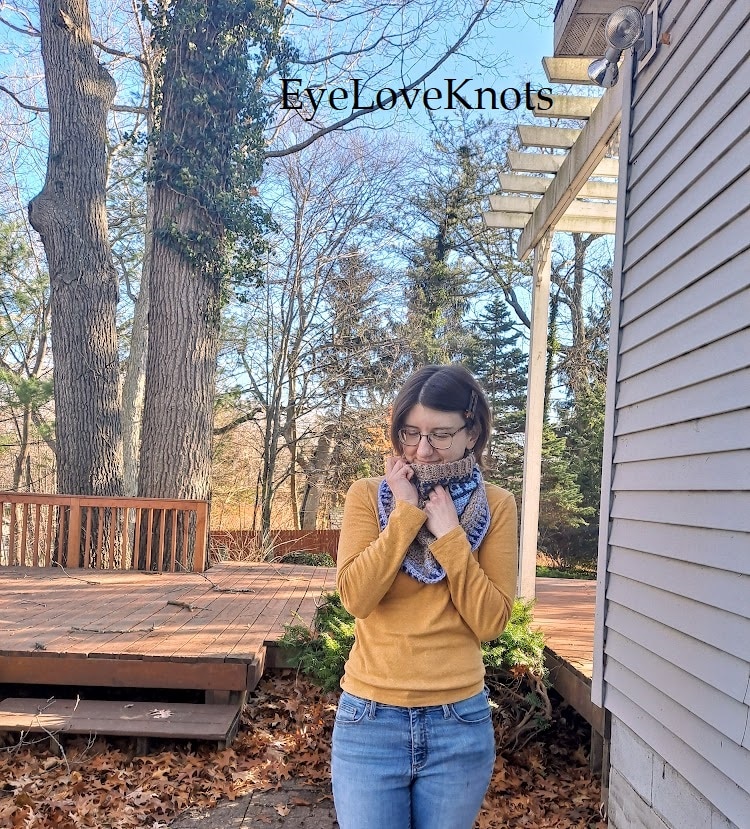 Would I use this yarn again? I'm not sure. For material, gauge, and softness–yes. But the color selection just isn't there for an adult cowl like this. If you like bright colors then by all means, go for it! And I can't really blame them for not having neutrals or more "adult" colors when it's literally a line of yarn for baby items. That's just my reasoning for probably not using this exact yarn again. I would be more likely to visit a local yarn store where I know there's better light yarn options and find a gorgeous combo of neutrals. Or I think a deep purple with some grays and a black would make such a striking cowl!
Time Spent:
About 8 hours or so, I would estimate? It's a little bit complicated for a cowl simply because of the colorwork and the sheer size. It's a tall one and has a lot of coverage, so the time invested is worth it!
Gauge:
Pattern gauge: 13 SC = 4 inches (the pattern does not give a row height gauge)
My gauge is actually spot-on, I have 13 SC in 4 inches wide. I think the reason there's no height gauge is the intricate stitch patterns of this cowl. Each row is worked over or into different ones, and it would probably be hard to measure this accurately. If you're good on the width you should be okay.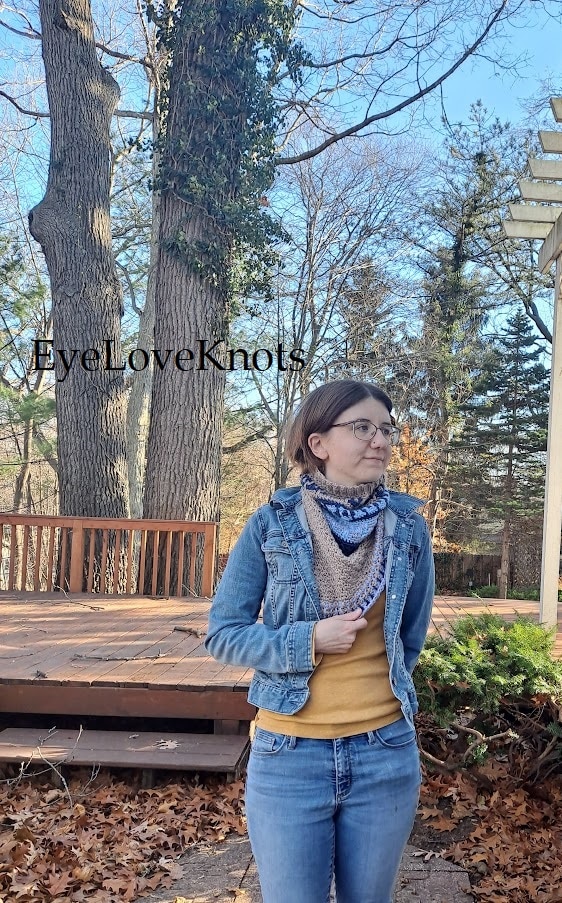 Measurements:
The pattern suggests this cowl should be 19 inches around at the top, 10 inches long in the back, and 16 inches long in the front.
Mine is closer to 18.5″ in circumference at the top, 12 inches long in the back, and 19 inches long in front. That certainly explains why I said it was very tall! Even as written, this cowl would have a lot of coverage. I just apparently had taller rows than the designer. I could have stopped anywhere to cut out a couple of inches, either leaving out a section of the patterned part or changing up the shaping of the chest section.
Pattern Notes:
This pattern looks complicated, I know, but trust me that the actual stitches are simple! This pattern is mostly single and double crochet with chain spaces, and then stitching over those spaces into previous rows to create the color patterns. Also one section involves post stitches to make that diamond raised pattern. I would rate this one in the intermediate category, which is also what the pattern suggests. It would be a little challenging for a beginner but of course you can tackle it if you're comfortable with these techniques mentioned! I'm always a fan of trying something that's just a little above your comfort zone in the craft, because it's a fun way to learn a new technique.
Just to warn you, this pattern involves a lot of weaving in ends. The stitch pattern used doesn't really allow for stitching over the tails of a color change, and as I'm sure you can guess, you change colors a lot. So leave yourself generous ends to make it easier to weave it in, and just put on a good movie when you're finished crocheting so you can sit there and weave away! I don't mean to scare you, weaving everything in took me maybe half an hour and I was also distracted watching a Harry Potter movie marathon. I just want you to know what you're getting into!
The color combos on this are limitless. You could do all neutrals, or a cool gray scale cowl! I mentioned how I want gray-black-purple next time, and I was thinking it would be cool to do one in various blues after that. If you find a DK yarn line with a wide color selection, you could make some really cool cowls!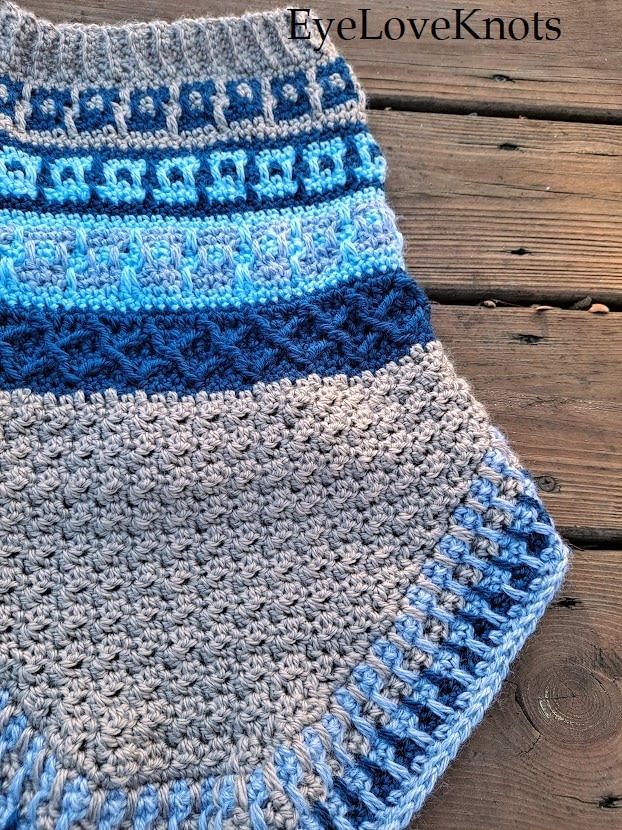 Like I mentioned, this is light but does block some chill and wind. It would be great for spring or fall, as well as for relatively mild winter days like we're having now. I do appreciate how tall it is, too, even knowing that it wasn't supposed to be quite this tall on me! I can pull it up to block some of my face, or keep it scrunched down to only warm my neck. The large front portion would easily cover any neckline I can think of, and will look beautiful under a coat.
I wholeheartedly recommend this pattern if you're looking to play with colors and want a light but comfy cowl. What colors would you choose to make it in?
Don't forget to visit with me on Instagram @astitchshyofnormal for all kinds of awesome crochet makes and inspiration.
Join one of our awesome Facebook groups to share your creations, and see what others are up to!
– EyeLoveKnots Crochet & DIY Community
– DIY Home On Rockwood Lane
– Alexandra Lane Lifestyle
Linked Up To…
Linky Ladies Party #219 – The Purple Poncho
The Loop Scoop #28 – Moogly Blog
Weekday Wear Link Up – Away from the Blue
Turning Heads Linkup – Elegantly Dressed and Stylish
Confident Twosday – I do deClaire
Style on the Daily Link Up – Straight A Style
Top of the World Style Linkup No. 338 – High Latitude Style
Thursday Fashion Files – Doused in Pink
Chic and Stylish Link up – Mummabstylish
Fancy Friday Linkup – Nancy's Fashion Style
Craftastic Monday Link Party – Sew Can Do
Wednesday Link Party 430 – Oombawka Design
Creatively Crafty Link Party #307 – Try It – Like It – Create It
Team Creative Crafts Link Party #73 – Artsy-Fartsy Mama
Saturday Sparks Link Party #454 – Pieced Pastimes
Handmade Monday #259 – Sum of their Stories
Happiness is Homemade #406 – Decor Craft Design
The Really Crafty Link Party #295 – Keeping it Real
Ginx Woolly Linx Party December – Ginx Craft
You're the Star Blog Hop – Decor Craft Design
Unlimited Link Party 63 – Grammy's Grid
Share the Wealth Link Up #9 – My Big Fat Menopausal Life
Link-Up Potpourri #23 – My Bijou Life
618th Inspire Me Tuesday – A Stroll Thru Life
Fabulous Party 403 – Lou Lou Girls
Link Up on the Edge #275 – Shelbee on the Edge
Spread the Kindness Link Up #254 – Shelbee on the Edge
Wonderful Wednesday – Oh My Heartsie Girl
Funtastic Friday Link Party #364 – Simply Beautiful by Angela
A Morning Cup of Joe – The Cottage Market