This is a crochet pattern review of the Poofy Crochet Skirt pattern from designer Diana Louise Bengis of Bella Birdie. Review done by A Stitch Shy of Normal for EyeLoveKnots.
Find the crochet pattern review below, or click here for the Ravelry page to purchase the pattern!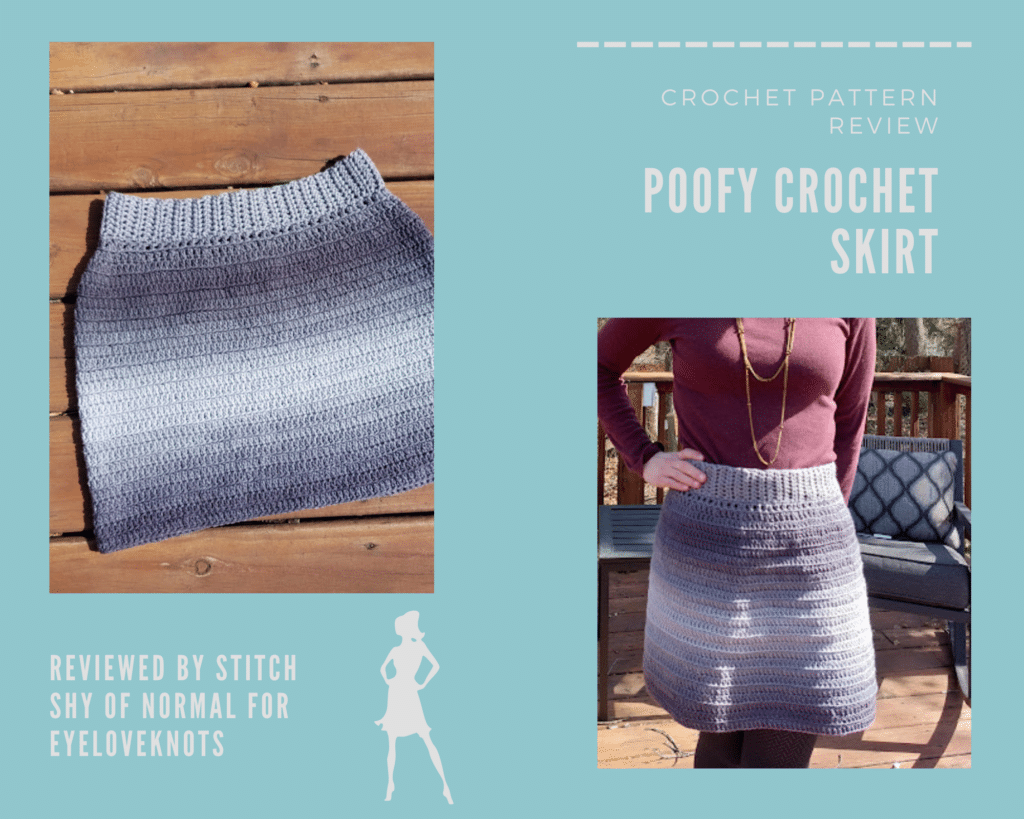 Visit with me on Instagram @astitchshyofnormal for all kinds of awesome crochet makes and inspiration.
You guys know how much I love color. How many of these reviews have I started out with that phrase by now? Probably at least a dozen. But it's true, I do! I'm a sucker for bright and/or chaotic shades, and I love experimenting with how to wear them in my everyday life.
So as I was scrolling Ravelry a month or so ago, my eye was immediately drawn to a picture of this skirt because the designer made theirs in a bright gorgeous golden yellow! I was in love with the fashion choice right away, a bright and beautiful skirt (that was also flattering and looked amazing) with a black top, boots, and hat. Perfection. My mind started racing with opportunity and I purchased the pattern immediately. I wanted to make mine hot pink, or lavender, or a bright teal!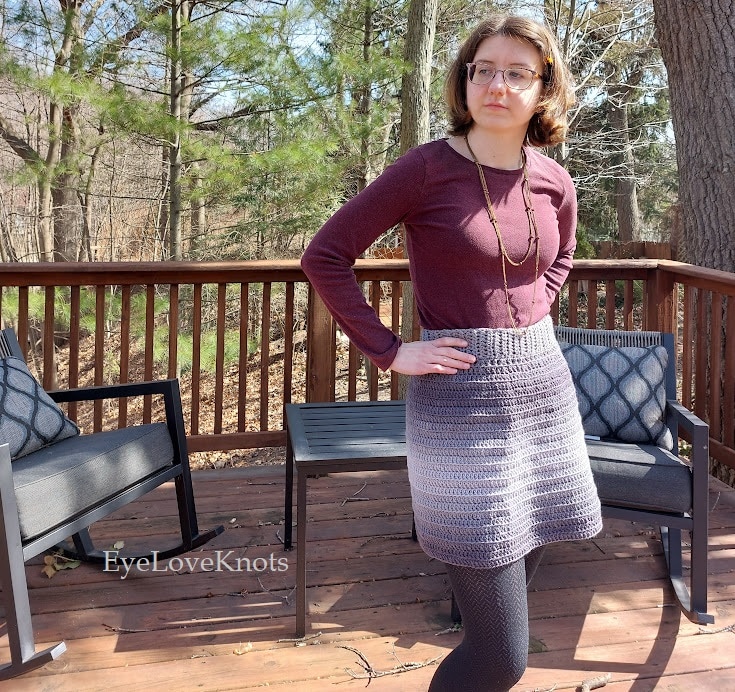 Then I actually went to the aisles of Joann, and had a lightbulb moment when I realized Red Heart Super Saver Ombre would add a really cool look. And since the pattern called for a worsted acrylic yarn, the options were basically infinite, so that would probably work! I looked at the pinks, and blues, and purples…and for some reason, my hand reached out and grabbed the gray. I had come in planning something bright but my heart was yelling at me that this gray would be so perfect and I just had to try it! So, yeah. My love for color led me to this gray skirt. Life is funny sometimes. And I'm happy I made the choice I did, it turned out so cute! But I'll need to go back and try it in one of my original color choices next time.
What Materials Do I Need to Crochet a Skirt?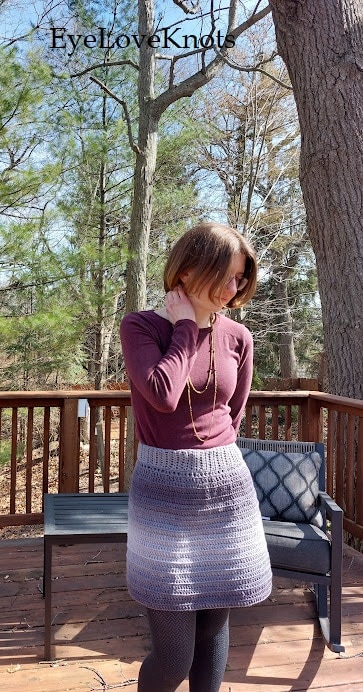 Material Notes:
I had to size my hook down a couple of steps, all the way to H/5mm when the designer recommends J/6mm. I didn't realize Caron One Pound was so different from RHSS Ombre, or possibly my tension is significantly different from the designer. If it hadn't worked out with my H hook, I don't think I would have sized down any further because the drape would not have been ideal. You don't want a skirt to be stiff. In the event I still wouldn't have been able to meet gauge, I would have altered the number of stitches around the waist, and followed suite in pattern.
However, with my hook size that I settled on, I love how this yarn worked out! The colors gradually changing across the length of the skirt was absolutely gorgeous, and it was exactly what I hoped would happen when I chose this yarn. I had no idea how quickly the colors would change but I got so lucky that it went from the deeper gray to the lightest and back to the deepest for the end. I couldn't have chosen a better color layout.
In terms of material comfort, I think this will work just fine! It's interchangeable with the suggested Caron One Pound in fiber content, both are 100% acrylic and very sturdy reliable yarns. This isn't a light breathable summer skirt, but as far as I know it isn't meant to be! The way I would wear this regularly is with tights and boots, more of a fall or spring look instead of warm weather. But I'm going to play around, and it's definitely not going to be heavy or stifling. It's very light and comfy in this worsted acrylic.
Would I use this again? Yeah, probably. Would I also switch it up? For sure! Worsted yarn is such a huge range of possibilities, and I would probably try something different next time just to see what it looks like. RHSS Stripes might be pretty fun with all the intense colors, or I'm sure Lion Brand Heartland would give a gorgeous finished look.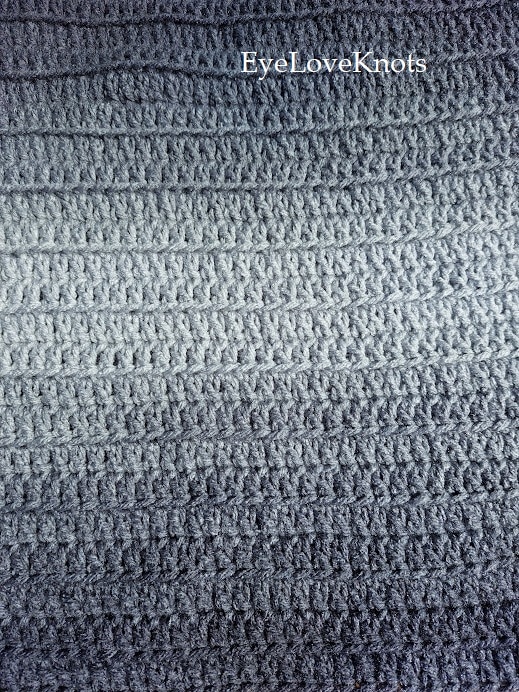 How Long Does it Take to Crochet a Skirt?
I'd estimate under 10 hours, it went faster than I expected. However, this will vary widely for other people because this skirt is a general recipe rather than a specific pattern. In fact, besides the width of the waistband, there's no stitch counts at all in this pattern! It gives you directions on how long to work a section to your desired fit, and I love that. So for me who wears a Small in most sizes and chose a skirt length that's medium to short, it went fast for me. If you want a longer option, or a different size, that's going to affect the time as well.
Gauge:
The pattern calls for 7 DC and 4 rows to make a 2″ by 2″ square.
As I mentioned, I sized down to H/5mm for this to work out for me but with that hook, 2″ is 7 DC wide and about 3.5 rows tall, which worked out for me. I figured I could just decide my own length so that wasn't vital.
Measurements:
Again, this pattern does not have specific sizing, so there's really no guide for where my skirt "should" be, but I can still let you know what it did turn out as so you have a comparison for yardage and stuff.
I wear roughly a size Small in most brands, and I made my skirt to fit relatively snug at my waist because I know acrylic will stretch out. I'm also considering adding elastic but have not done so.
Laying totally flat, my skirt measures about 13.5″ across (so about 27″ circumference), and from the top of the waistband to the bottom of the skirt it's about 17-18″. This is definitely on the shorter side for my usual wardrobe! The pattern suggested stopping a bit earlier and I actually added 4 more rows for length. I stopped at this point because of the colors and I was content with it being short-ish because I plan to style it with tights.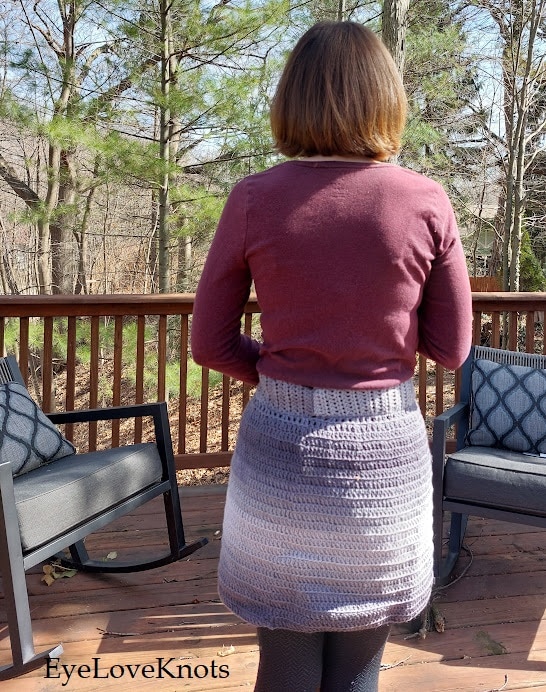 Pattern Notes:
This pattern was unbelievably easy. Everything is so simple and explained so well, including how to customize the size for your own body. They explain how to do the increases and how to make sure it'll work with any stitch count you might have ended up with. It just feels so friendly and well-written and I love it! I'll be watching this designer's page for sure.
If I could change anything about my finished skirt, I would have increased more and made it more "poofy" as the name suggests. It could have been my sizing, my hook, my yarn…but I just didn't get the same beautiful ruffles that the designer did. However, that was my own choice and I can definitely make that change next time. And my relatively straight skirt is still super gorgeous and I'll rock it even if it's not super poofy!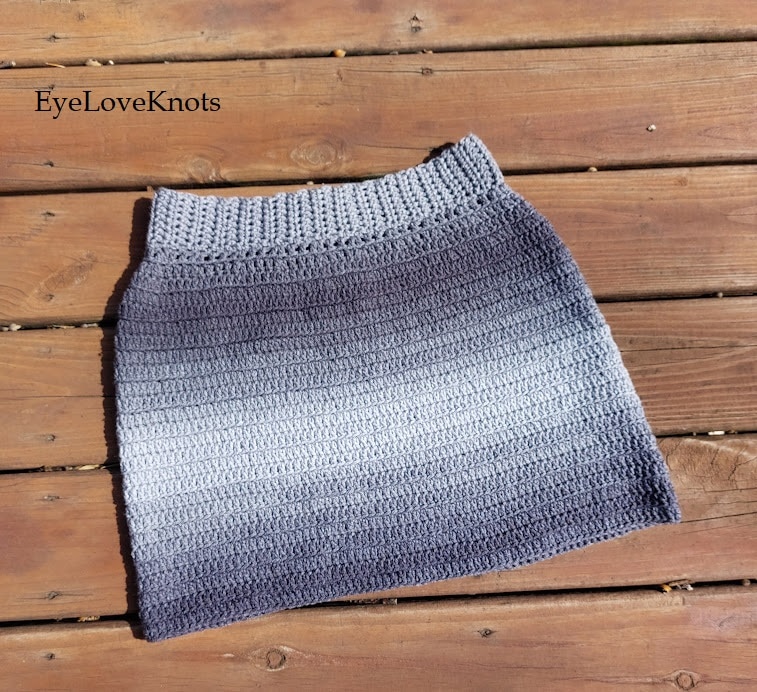 I mentioned this earlier but I absolutely adore the sizing directions, or lack thereof. You could customize this in any way, from how tall the waistband is to the length of the skirt itself! This pattern could be for a tight mini-skirt or a long maxi. You could change your fiber and make a long summery cotton one! The world is open and I love that.
It's such a small thing but I also really appreciate the pattern template. There's checkboxes at each line so you can print this out and mark off each step as you go! I did this and it was awesome to not have to keep track on a separate row counter, I could easily see what round I was on. The pattern is also in nice large print with just enough pictures to be helpful but not distracting. It's wonderful.
I don't really have much else to say here, I have zero issues with the pattern and I want to make ten more. This designer did an amazing job, especially considering that according to their Instagram this skirt was just for a costume but they fell in love with it as just an everyday skirt! There's so much potential in this pattern and you should definitely check it out for yourself. I'm very glad I bought it and I will use it many more times with all different colors and yarn choices.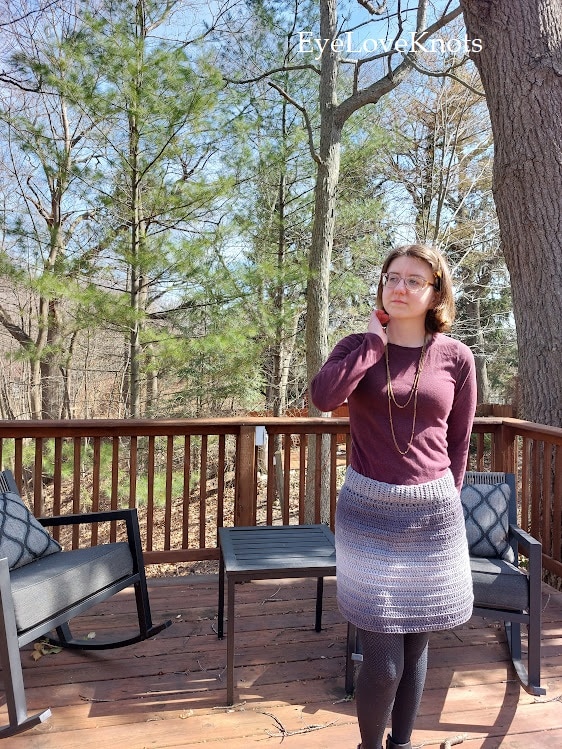 What do you think you would make with this pattern? A colorful bright and cheery skirt? A neutral practical one for work outfits? I'd love to hear it!
Don't forget to visit with me on Instagram @astitchshyofnormal for all kinds of awesome crochet makes and inspiration.
Join one of our awesome Facebook groups to share your creations, and see what others are up to!
– EyeLoveKnots Crochet & DIY Community
– DIY Home On Rockwood Lane
– Alexandra Lane Lifestyle
Linked Up To…
Inspirations Link Party 2 – Pieced Pastimes
Weekday Wear Link Up – Away from the Blue
Last Week, This Week – Fine… Whatever
Confident Twosday Linkup – I do deClaire
Style with a Smile Link Up – Style Splash
Turning Heads Linkup – Elegantly Dressed and Stylish
Spread the Kindness Link Up #272 – Shelbee on the Edge
Wow on Wednesday Link Up – Is This Mutton
Style on the Daily – Straight A Style
Link Up On the Edge #294 – Shelbee on the Edge
Thursday Fashion Files – Doused in Pink
Chic and Stylish Link Up – Mummabstylish
Remarkable Rags #4 – My Bijou Life
Style Link Up – Lizzie in Lace
Fancy Friday Link Up – Nancy's Fashion Style
Neverending Style Link Up – The Grey Brunette
Handmade Monday #276 – Sum of their Stories
The Really Crafty Link Party #314 – Keeping it Real
Link-up Potpourri #42 – My Bijou Life
Craftastic Monday Link Party – Sew Can Do
Hello Monday – Pink Lady
Anything Goes Linky #328 – My Random Musings
Craft Schooling Sunday – Creative Jewish Mom
Sundays on Silverado #91 – The House on Silverado
Share the Wealth Linky #18 – My Big Fat Menopausal Life
Happiness is Homemade Link Party #425 – Decor Craft Design
You're the Star Blog Hop – Decor Craft Design
636th Inspire Me Tuesday – A Stroll Thru Life
Fabulous Party 422 – Lou Lou Girls
Talent-Sharing Tuesdays Link-Up 18 – Scribbling Boomer
The Happy Now Blog Link Up #319 – JENerally Informed
Linky Ladies Party #224 – The Purple Poncho
The Loop Scoop #37 – Moogly Blog
The Wednesday Link Party 449 – Oombawka Design Crochet
Team Creative Crafts Link Party #92 – Artsy-Fartsy Mama
Wonderful Wednesday – Oh My Heartsie Girl
Create, Bake, Grow & Gather Party #518 – Shabby Art Boutique
Funtastic Friday Link Party #383 – Simply Beautiful by Angela
Thursday Favorite Things #539 – An Artful Mom
Creatively Crafty Link Party #326 – Try It, Like It, Create It
Encouraging Hearts and Home Blog Hop – My Slices of Life
Grace at Home No. 466 – Imparting Grace
Linky Party – Karins Kottage
Traffic Jam Weekend Link Up #322 – My Bijou Life
Saturday Sparks Link Party 513 – Pieced Pastimes
Pink Saturday – How Sweet the Sound
Morning Cup of Joe – The Cottage Market