This is a crochet pattern review of Sydney the Snake designed by Die Hard Designs. Review done by Candace of T&C Crafters for EyeLoveKnots.
This post contains affiliate links for Etsy, WeCrochet, and Amazon. If you make a purchase by clicking on them, I make a small commission at no extra cost to you. Thanks for your support!
Find the crochet pattern review below, or click here to purchase the pattern on Etsy!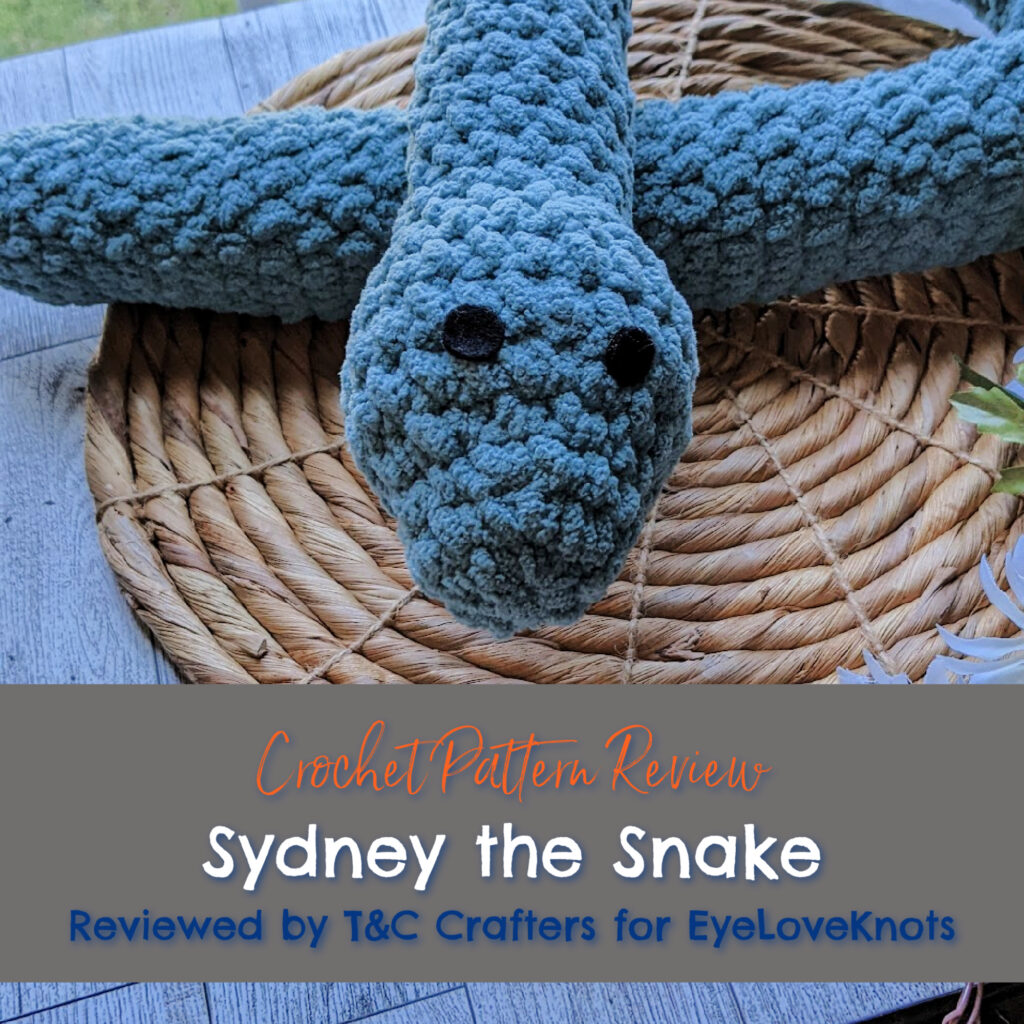 Visit with me on Facebook for all kinds of awesome crochet makes and inspiration.
A few weeks ago, I saw a designer that I follow on Instagram share the crochet pattern for Sydney the Snake by Die Hard Designs. I have been on a huge blanket yarn kick after scoring a huge deal on some Bernat Blanket O'Go yarn a few weeks ago, and I knew this snake would be a great addition to my pattern collection.
The Sydney the Snake crochet pattern is a fantastic and easy no-sew design that works up quickly. It is fully customizable in size and color, and can be made with any type of yarn. The no-sew design makes it an excellent amigurumi pattern for those who hate having to attach the different pieces to create their finished project.
So far I have made two of these cuties and my kids both love them! They are so soft and plushy, and are fun to play with, wear around your neck, and curl up into different shapes. I plan on making a bunch more of these for my upcoming craft shows. If you sell your finished pieces or need a great gift idea for a snake-lover, this pattern is perfect for you!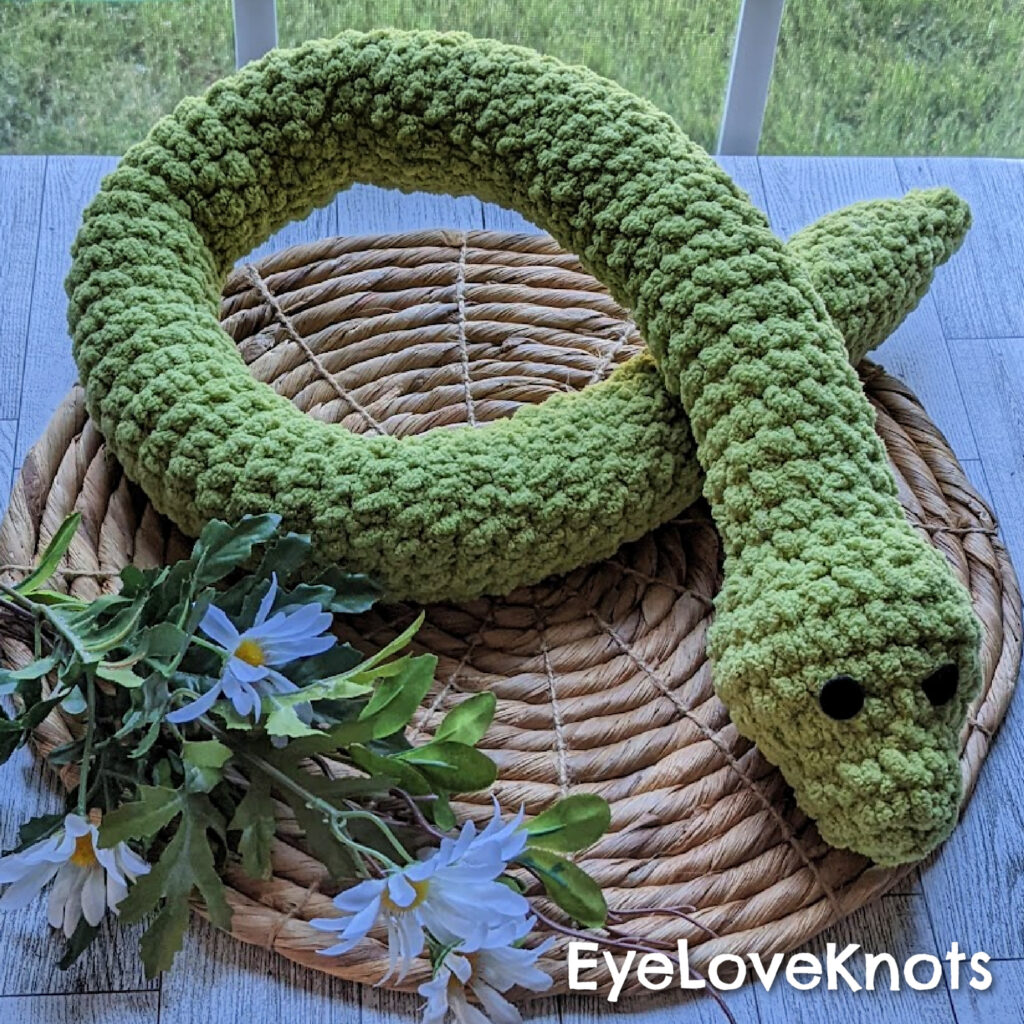 Materials I Used: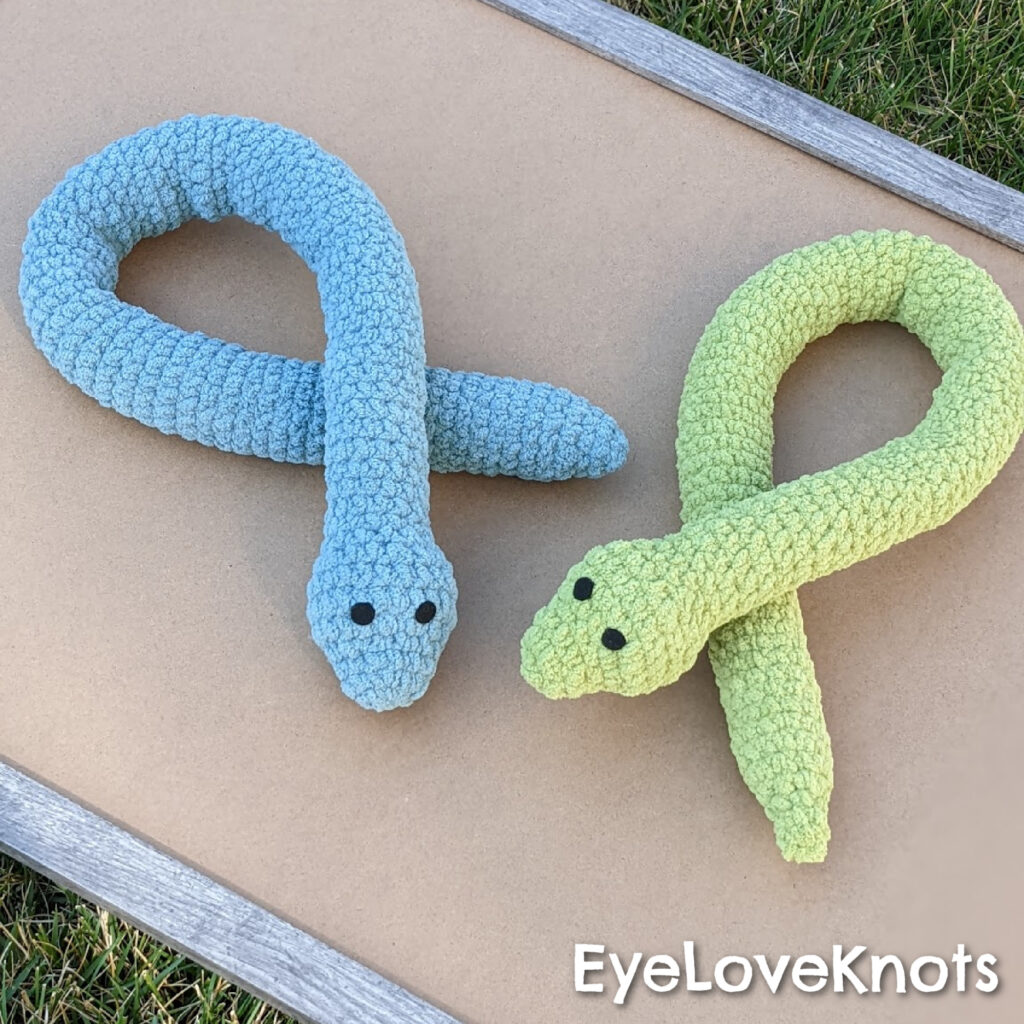 Material Notes:
This pattern can be easily adjusted to almost any weight of yarn for a variety of different looks. The designer suggests using either blanket yarn or velvet yarn to get the best outcome. I have only tried out the blanket yarn, but I plan on also trying out the pattern with velvet, worsted weight, and velvet and worsted weight held together.
The hook size you use is dependent on the type of yarn you are using. In the pattern, the designer suggests using between a G6/4mm and J10/6mm hook depending on your yarn preference. I used a J10/6mm hook because I was using a chunky yarn. If you are using a much smaller weight yarn, you may need to reduce your hook size to even smaller than a G6/4mm hook.
In the notes section of the pattern, the designer recommends using stitch markers for working in the round. I did not include this in the materials section because I personally did not use any. When working in the round like this, I prefer to just keep track of the counts of stitches rather than use a stitch marker, but if you like to have the visual reminder of where you are, stitch markers may be really helpful for this project.
For the eyes of the snake, I chose to use felt eyes attached with hot glue rather than plastic safety eyes. From having my own little kids who like to stick all their toys in their mouths, I worry about safety eyes. Especially in crocheted projects where the stitches are larger, there is a possibility that they can come loose. To play it safe for children, I use felt eyes that would not cause damage to a child or pet if swallowed. If you know you are making your snake for someone that doesn't have small children or animals, safety eyes would look great!
This pattern uses a surprisingly limited amount of polyfil stuffing. When stuffing the snake, you will want to just put enough stuffing in the body to make it squishy without overstuffing. If you put too much stuffing in the snake, the body will not bend and it will stick straight back. The only part of the snake that I stuffed firmly was the head.
How Long Does it Take to Crochet a Snake?
This project works up really quickly, and the time required varies depending on the length of the snake. The head of the snake takes only about ten minutes to make. From there, the longer you want your snake to be, the more time you will need to invest. I made my snakes three feet long, which took about two and a half hours per snake.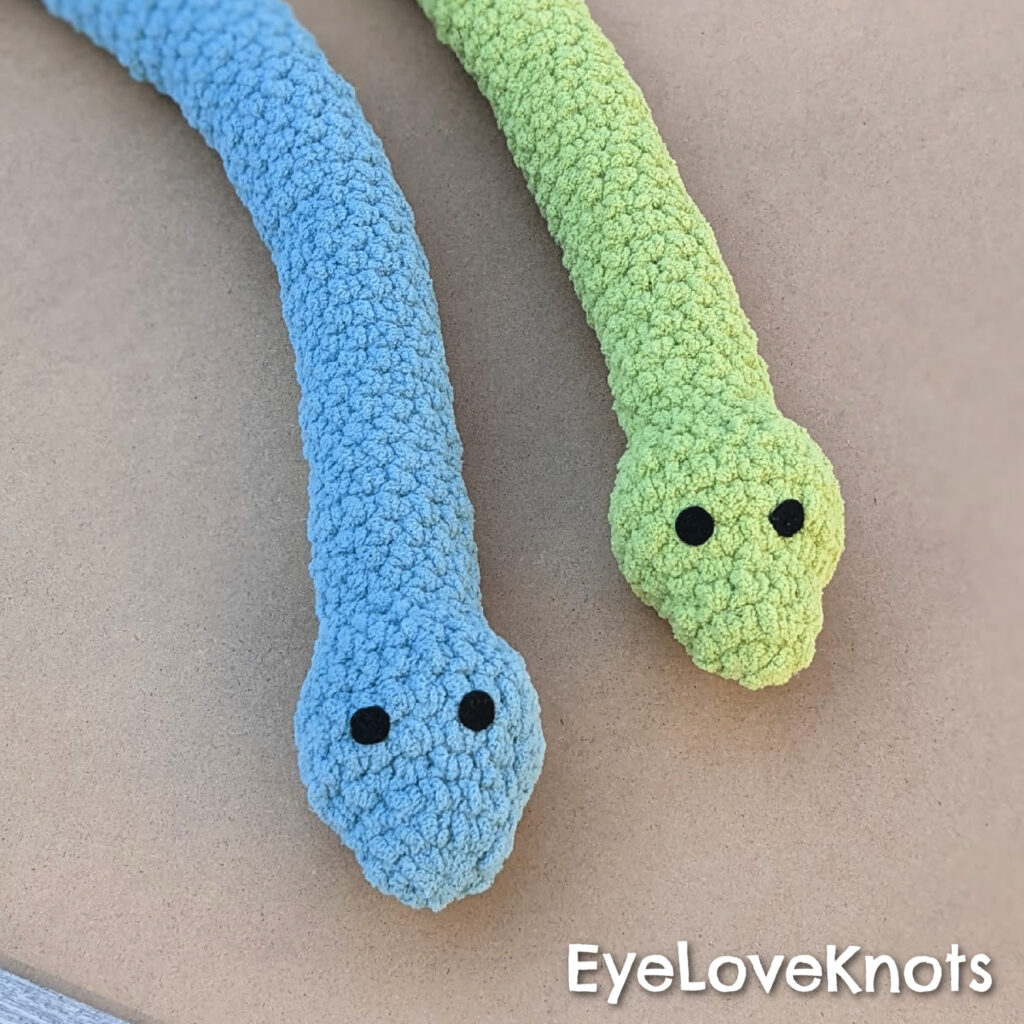 Measurements:
My finished snakes measured 37.5 inches long and 2.5 inches in diameter throughout the body of the snake. The head portion of the snake is 3.5 inches long and 3.5 inches in diameter.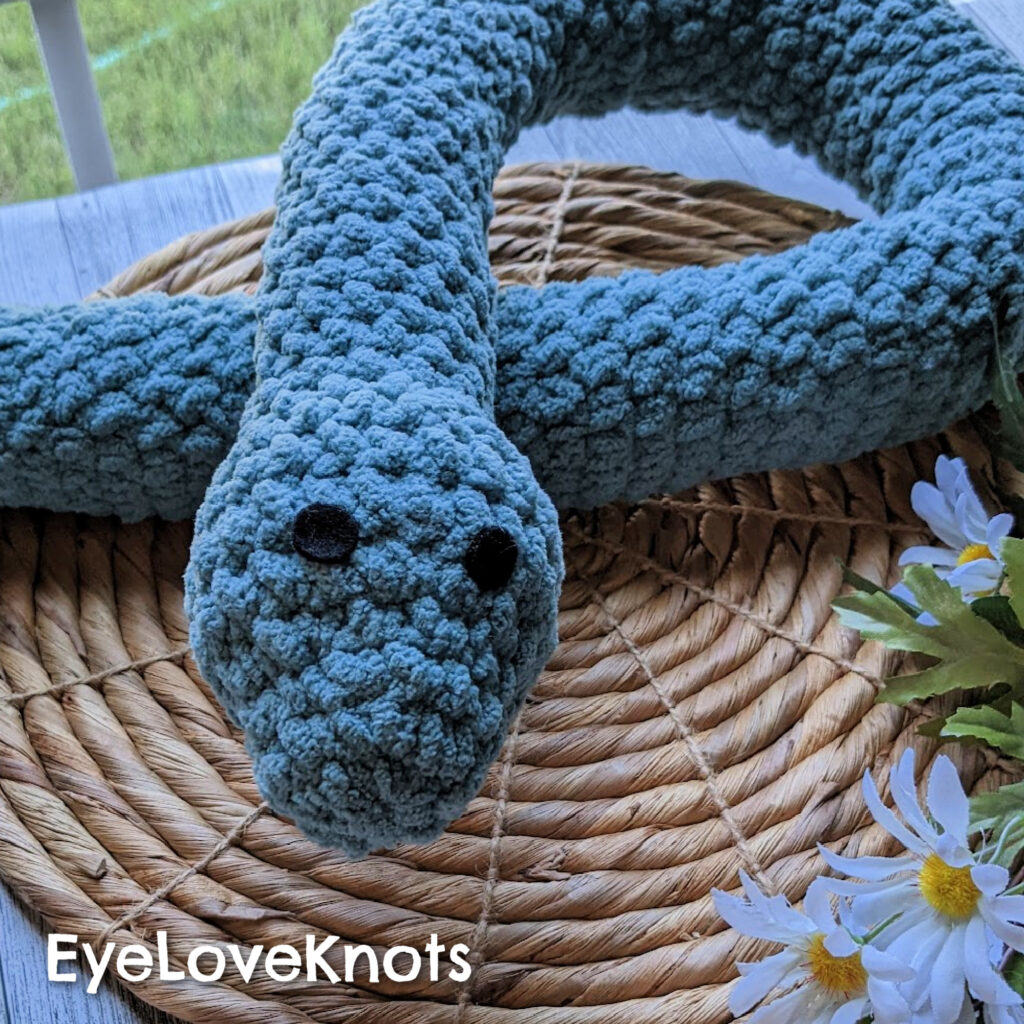 Gauge:
Gauge is not provided for this pattern and is not important. You will just want to make sure your stitches are tight enough together that stuffing cannot come out. If you notice gaps between your stitches, you will want to go down a hook size to prevent this problem.
If you want to make sure that your snake turns out the same size as mine, when using a J10/6mm crochet hook with blanket yarn, a magic circle with six single crochets should measure 1 inch in diameter, and after a second round of increases in each stitch, it should measure approximately 1.75 inches in diameter.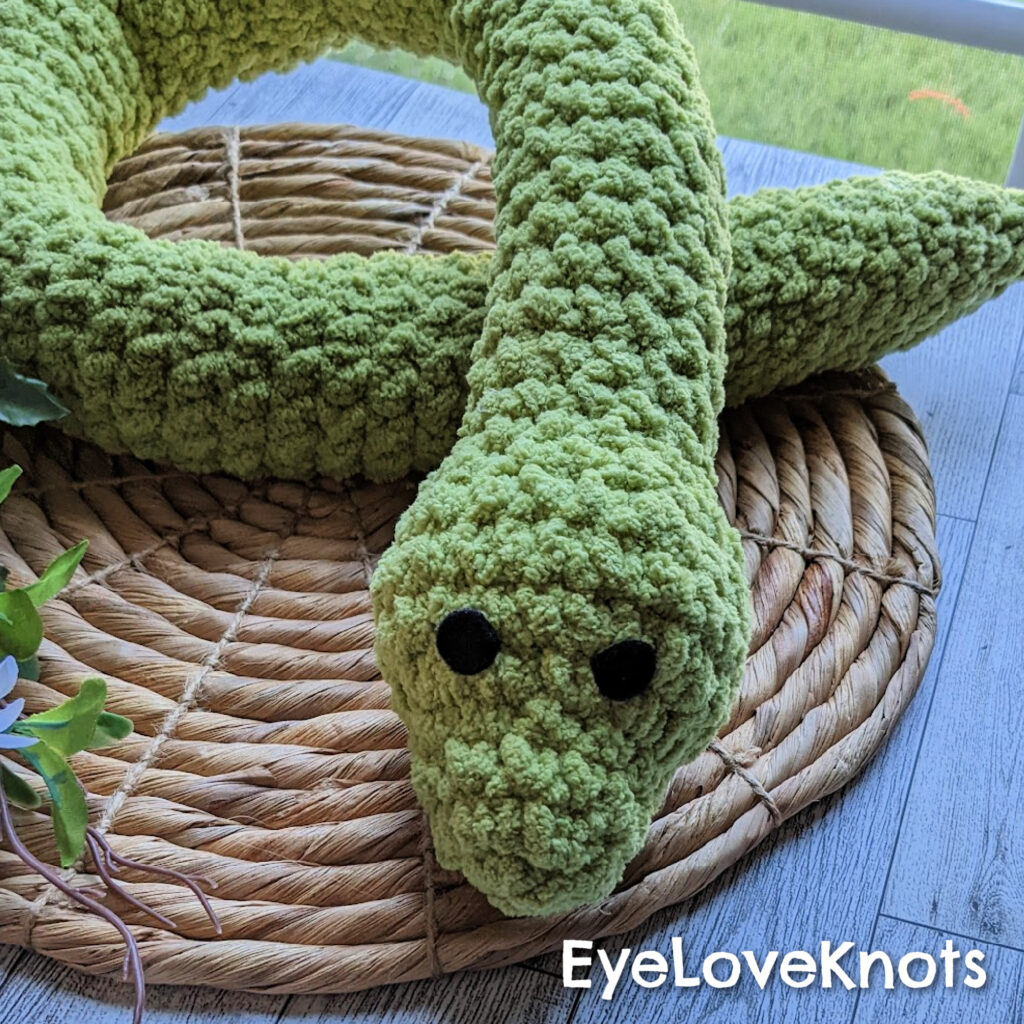 Pattern Notes:
To work up your own Sydney the Snake, the designer recommends having a basic understanding of amigurumi as well as intermediate crochet skills. You will need to be able to single crochet, increase, decrease, and work in the round beginning with a magic circle. This pattern is no-sew and made as one piece, so you do not have to worry about attaching any pieces at the end or during the project.
The pattern for Sydney the Snake is quite concise, but that is all that is needed. There are clear directions on how to make the head of the snake, including where to place the eyes. Once the head is made, you just repeat the pattern all the way until the point where you are ready to make the tail. There are no measurements or row counts provided for how long to make your snake.
I chose to make my snakes three feet long because that was the length I felt looked nice for letting them loop around. When looking at finished pieces on Etsy, I saw some makers selling them as short as 23 inches and as long as 5 to 6 feet. I personally prefer the longer snakes because I like looping them around rather than having them lay straight.
There are no color changes provided in the pattern, but you can add color changes at any point in the pattern. In the pictures provided on the pattern, there are a lot of different looks that you can use for inspiration. I think the solid-color snakes are cute, but I look forward to trying out some with stripes as well.
To finish the snake, the pattern describes how to complete the final rows by decreasing the width of the body to create a pointed tail. The tail was about 3-4 inches long, so if you are aiming for a specific length, you will want to start this process right before you get to your desired length.
When stuffing the snake, it is important to not over-stuff the body. The designer included this in the notes, and I quickly realized why. If you stuff the snake too firmly, it will prevent it from being able to curve and drape like it should. It is also important to make sure that you stuff the snake as you go. Doing this helps to create consistency in the body, whereas stuffing at the end would create lumps.
The Sydney the Snake crochet pattern has been very popular with over 400 copies sold! By trying it out, you will easily be able to see why makers love this easy, no-sew project that works up in no time. If you know someone that would love a plushy snake, I definitely recommend you try out this pattern! Be sure to share your finished pieces with us by tagging @die.hard.designs, @eyeloveknots, and @tandc_crafters on Instagram! We can't wait to see what you make!
Don't forget to visit with me on Instagram for all kinds of awesome crochet makes and inspiration.
Join one of our awesome Facebook groups to share your creations, and see what others are up to!
– EyeLoveKnots Crochet & DIY Community
– DIY Home On Rockwood Lane
– Alexandra Lane Lifestyle
Linked Up To…
Inspirations Link Party 4 – Pieced Pastimes
Sundays on Silverado #101 – The House on Silverado
Craft Schooling Sunday – Creative Jewish Mom
You're the Star Blog Hop – Decor Craft Design
Link-up Potpourri #51 – My Bijou Life
Handmade Monday #285 – Sum of their Stories
The Really Crafty Link Party #323 – Keeping it Real
Craftastic Monday Link Party – Sew Can Do
Linky Ladies Party #226 – The Purple Poncho
The Loop Scoop #41 – Moogly Blog
Happiness is Homemade Link Party #435 – Decor Craft Design
Hello Monday – Pink Lady
Anything Goes Linky 336 – My Random Musings
645th Inspire Me Tuesday – A Stroll Thru Life
Fabulous Party 432 – Lou Lou Girls
Wonderful Wednesday – Oh My Heartsie Girl
Wonderful Wednesday Blog Hop – My Life Abundant
The Happy Now Blog Link Up #329 – JENerally Informed
The Wednesday Link Party 459 – Oombawka Design Crochet
Team Creative Crafts Link Party #102 – Artsy-Fartsy Mama
Wednesday Link Party #304 – To Grandma's House We Go
Thursday Favorite Things #549 – An Artful Mom
Creatively Crafty Link Party #336 – Try It – Like It – Create It
Encouraging Hearts and Home Blog Hop – My Slices of Life
Grace at Home No. 474 – Imparting Grace
Linky Party – Karins Kottage
Crafty Creators Link Party #26 – Life as a LEO Wife
Pink Saturday – How Sweet the Sound
Saturday Sparks Link Party 523 – Pieced Pastimes
A Morning Cup of Joe – The Cottage Market
Traffic Jam Weekend Link Party #332 – A Bijou Life
Funtastic Friday – Simply Beautiful by Angela
Home Matters Linky Party #388 – Modern on Monticello
Fabulous Friday Link Party – Peacock Ridge Farm
Share the Wealth Link Up #23 – Big Fat Menopausal Life