This is a crochet pattern review of the Iris Cardigan pattern from designer Toni Lipsey (in partnership with Hobbii Yarn). Review done by A Stitch Shy of Normal for EyeLoveKnots.
This post contains affiliate links for WeCrochet. If you make a purchase by clicking on them, I make a small commission at no extra cost to you. Thanks for your support!
Find the crochet pattern review below, or click here for the pattern available on the Hobbii website!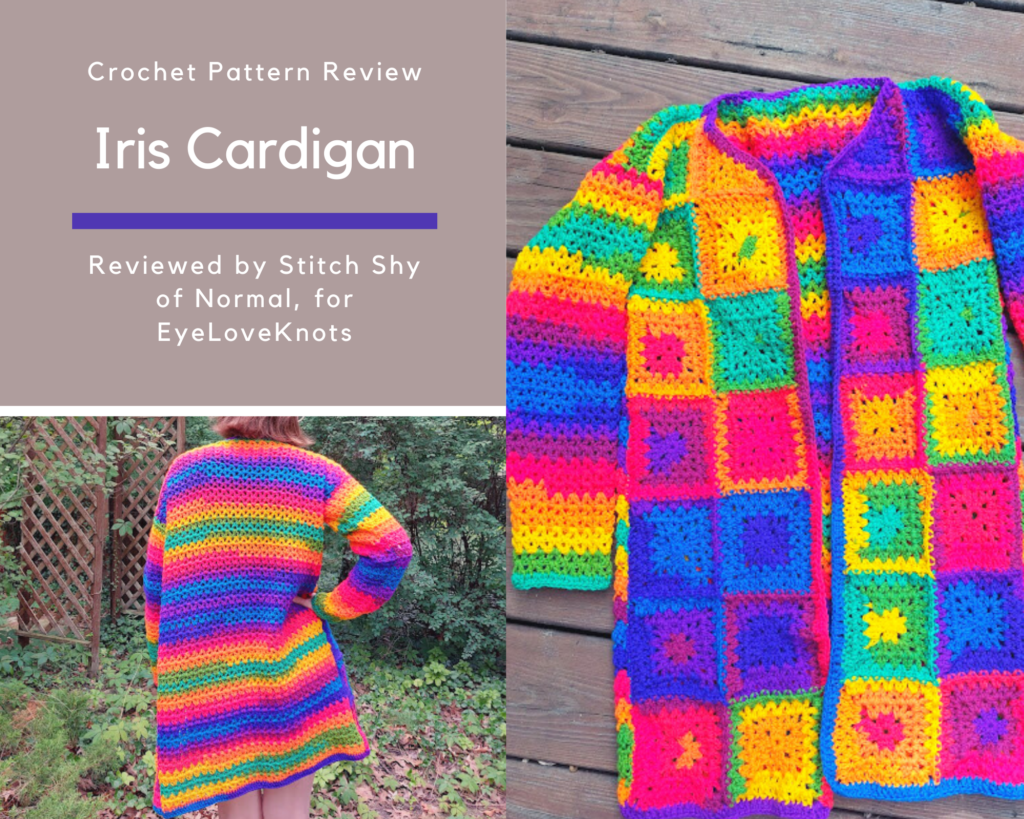 Visit with me on Instagram @astitchshyofnormal for all kinds of awesome crochet makes and inspiration!
Remember that unbelievably colorful Samira Top I reviewed last month? Well, apparently with my next review pattern for August, I wanted to see if I could outdo myself in terms of color. I spotted a lovely granny-square cardigan on Ravelry from Toni Lipsey of TL Yarn Crafts, one of my favorite designers, and my first thought was that it would be fun in Red Heart Super Saver Stripes. It was written for DK yarn, but rules are made to be broken as long as you're comfortable with it! Once I got to the store and looked at the colorways available, I heard a voice in my head saying the intense classic rainbow was the one I needed. I briefly considered whether it might be possible for a sweater to be too bright, and then I realized I didn't care about the answer and put it into my cart.
The result was so totally worth it. This pattern was fun, it's well-written and easy to understand, and it looks so cool! It'll definitely be a conversation piece once it's cool enough to wear this out. I'm hoping early fall will be a good season for it, given that it's not a super warm or thick sweater but it does add a layer of warmth.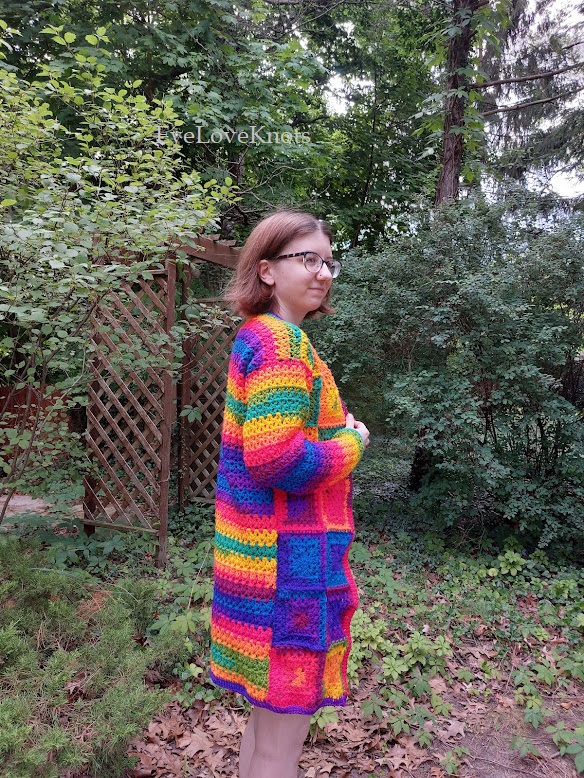 What Materials Do I Need to Make This Cardigan?
Material Notes:
This yarn actually ended up being a great fit, both in terms of gauge and color! While the pattern's suggested yarn is Hobbii Rainbow Cotton which is labeled as a category 3, when I divided the yards per ounce it ended up being about 45-46. And for comparison, RH Super Saver Stripes came out at 47 with the same math. This isn't always a perfect comparison, but I knew this meant the gauge would be kind of similar and I could make it work out. My biggest "mistake" was thinking the yardage would still be identical and buying too many skeins of this lovely rainbow yarn…but I'm not exactly mad about having a few extra skeins of this lovely colorway!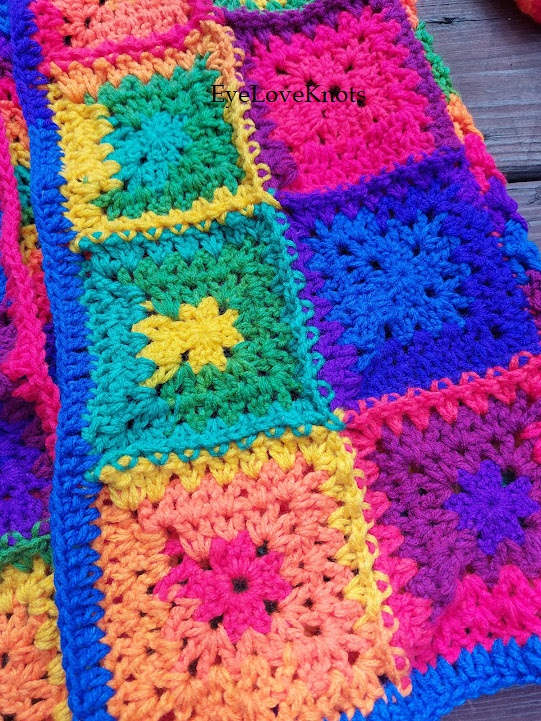 The pattern actually uses solid colors, and stripes them throughout the squares and the rest of the body. I like this sort of technique, but wanted to take a "shortcut" by using a striped yarn instead. The downside to this is that my colors changed in the middle of the round sometimes, rather than being nice and neat. But I also had fewer ends to weave in, so it's about even in my mind.
As far as the yarn texture, you probably know what Super Saver feels like. Could it be softer? Absolutely. But if you used it several years ago (like when I started crocheting about a decade ago), it used to be so much worse. It's far softer but still has the same durability, plus it's nice and cheap. So for something like a cardigan worn over other layers, it's perfectly fine and I've used it for many sweaters before! Once you wash the cardigan, it softens up a lot. If the yarn bothers you to work with in it's scratchier state, consider washing the skeins prior to crocheting with it.
What can I say about the colorway? Words fail me. It's the most perfect thing I've ever seen. The colors striped up so wonderfully in the granny squares, with every shade getting to play its part and no single one being the star or fading into the background. When I took it out into the sunshine, the colors nearly blinded me and to me that's considered a good thing. I'm going to have to be careful where I wear this one!
I've recommended this yarn before and I would very much recommend it in this case. It's affordable, available at most of the big craft stores, and a decent quality that should hold up through lots of wear and love. Would I use it again? For sure. I'd pick a different colorway for my second one, of course, but that's just because I already have this beauty! I'm thinking I would choose either Fruity Stripe for its pink/purple/orange color combination, or Sutherland which my store didn't have but it seems to be a tan striped with lighter blues and greens.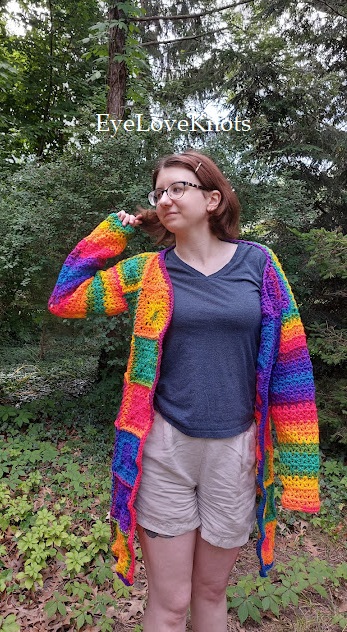 How Long Does it Take to Crochet a Cardigan?
I spent a few weeks working on this one on-and-off, and this was a great project for this kind of craft schedule. You can work one square at a time or ten, and because they're "join-as-you-go", you're sewing the sweater together as you stitch it up! The back is just a large simple panel once you finish the squares, and the sleeves follow the same sort of stitch pattern. You could get this done in a couple of weeks, reasonably.
Gauge:
Toni calls for the gauge to be 7 V-stitches or 10 rows per 4 inches.
Mine ended up being 6.5 stitches and 7-8 rows. This is a little short in height but I knew if the squares worked out, I could just do extra rows on the back. And the weight of the assembled cardigan stretches the height out a bit too, so it worked out.
Measurements:
I made the XS/S listed size, so that's what I'm comparing this to.
This size is intended to have a 40″ bust, but it's an open cardigan so I'm guessing this is the width of the back doubled. My back is 21″ wide so I'm right about perfect! (This is written to have a lot of positive ease to be nice and comfy.)
The suggested length is 35″, and mine came out about 33-34″. It's hard to measure this accurately. So I might have lost a little bit of height, but I was fine with this because I'm 5'3″ and this cardigan falls at a good length for me at just above my knees.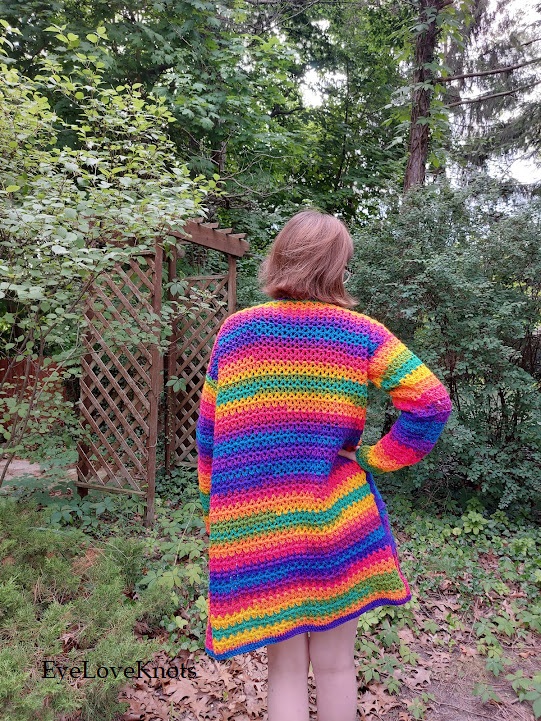 Pattern Notes:
So quick. The squares took like 5-10 minutes each for me, you just need to make a lot of them. I think my size was 27, and the sizes just vary a little bit on the number of squares and how many rounds they each have.
The first square is a little bit challenging to figure out exactly what you're doing, you just have to read carefully. But once you have the first one down, the rest is so simple! You then work a similar stitch pattern for the back and the sleeves, with a very simple edging. Just pay attention when joining the squares to make sure you lay them out correctly! I sometimes struggled to visualize where mine needed to go.
The join-as-you-go technique is very convenient, you don't end up with piles of squares to sew together at the end and you can see the project growing with each square! You will end up with quite a few ends to weave in, especially if you stripe the squares with different solid shades like the pattern suggests, but fewer than if you had to also sew the squares together at the end.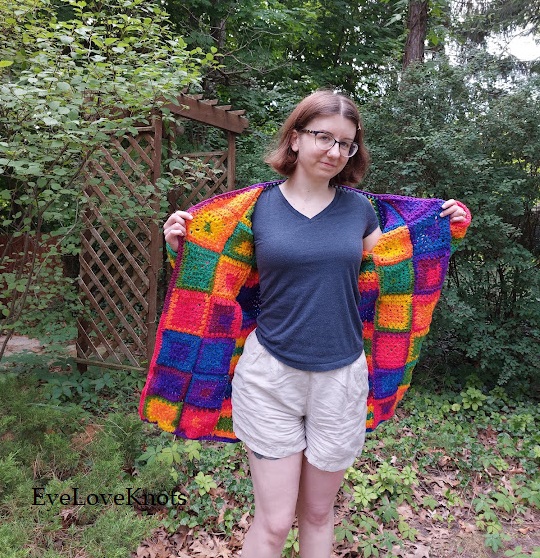 There are so many color options available for this project. You can stripe them like Toni did, which can yield so many gorgeous combinations of shades! You could also work this in one solid color the whole way throughout, and let the texture be the star instead of the colors. Or you can be like me and make a cardigan that can probably be seen from space. And anything else along this spectrum! I'd love to see it done in different shades of gray, like a grayscale sweater. That could be lovely.
I'd rate this one a 10/10, would (and probably will) make again. I like the style of long cardigans, they add such a striking look to an outfit that gives it pizzazz. It's easy to throw on some basic jeans, a solid tee, and a cardigan like this just turns it into a total look! Definitely check this one out, as well as all the other wonderful designs from Toni. She's one of my favorite designers for good reason.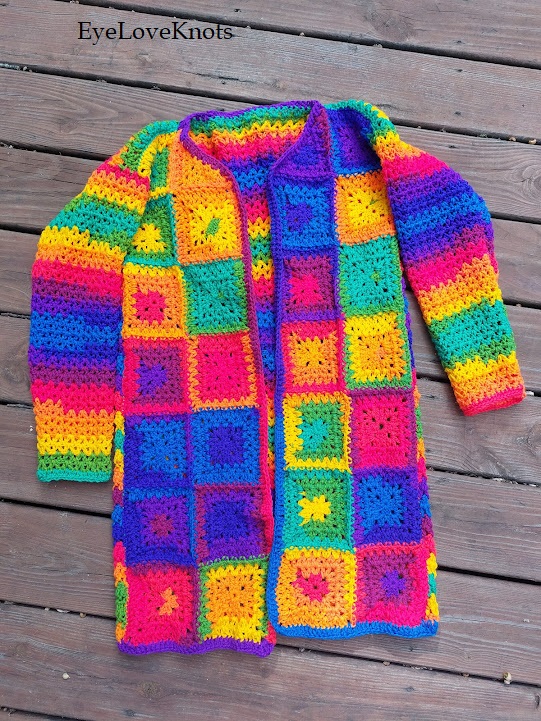 Don't forget to visit with me on Instagram @astitchshyofnormal for all kinds of awesome crochet makes and inspiration.
Join one of our awesome Facebook groups to share your creations, and see what others are up to!
– EyeLoveKnots Crochet & DIY Community
– DIY Home On Rockwood Lane
– Alexandra Lane Lifestyle
Linked Up To…
Turning Heads Tuesday – Elegantly Dressed and Stylish
Confident Twosday – I do deClaire
Style with a Smile – Style Splash
Spread the Kindness Link Up #288 – Shelbee on the Edge
Weekday Wear Link Up – Away from the Blue
Link Up – Fine, Whatever
Style on the Daily – Straight A Style
Wow on Wednesday – Is This Mutton?
Ageless Style Link Up – Chez Mireille
Chic and Stylish Link Up – Mummabstylish
Thursday Fashion Files – Doused in Pink
Link Up on the Edge #309 – Shelbee on the Edge
Fancy Friday – Nancy's Fashion Style
Craft Schooling Sunday – Creative Jewish Mom
Handmade Monday #289 – Sum of their Stories
Craftastic Monday Link Party – Sew Can Do
Happiness is Homemade Link Party – Decor Craft Design
You're the Star Blog Hop – Decor Craft Design
650th Inspire Me Tuesday – A Stroll Thru Life
Fabulous Party 437 – Lou Lou Girls
The Happy Now Blog Link Up #333 – JENerally Informed
Linky Ladies Party #227 – The Purple Poncho
Hello Monday – Pink Lady
The Really Crafty Link Party #328 – Keeping it Real
Share the Wealth! Linky #25 – My Big Fat Menopausal Life
The Wednesday Link Party 464 – Oombawka Design Crochet
The Loop Scoop #44 – Moogly Blog
Team Creative Crafts Link Party #107 – Artsy-Fartsy Mama
Wonderful Wednesday – Oh My Heartsie Girl
Wednesday Link Party #309 – To Grandma's House We Go
Thursday Favorite Things #554 – An Artful Mom
Creatively Crafty Link Party #341 – Try It – Like It – Create It
Encouraging Hearts and Home Blog Hop – My Slices of Life
Grace at Home No. 479 – Imparting Grace
Linky Party – Karins Kottage
Crafty Creators Link Party #31 – Life as a LEO Wife
Create, Bake, Grow & Gather Party #533 – Shabby Art Boutique
Funtastic Friday Link Party #398 – Simply Beautiful by Angela
Saturday Sparks Link Party 528 – Pieced Pastimes
Pink Saturday – How Sweet the Sound
A Morning Cup of Joe – The Cottage Market
Sundays on Silverado #107 – The House on Silverado
Anything Goes Linky 342 – My Random Musings
Talent Sharing Tuesday – Scribbling Boomer
Style with a Smile – Style Splash
Neverending Style link-up – The Grey Brunette
Songful Style Link Up – The Grey Brunette