This is a crochet pattern review of the Pane Sweater pattern from the designer By Katerina. Review done by A Stitch Shy of Normal for EyeLoveKnots.
This post contains affiliate links for Annie's Catalog, WeCrochet and Lion Brand Yarn. If you make a purchase by clicking on them, I make a small commission at no extra cost to you. Thanks for your support!
Find the crochet pattern review below, find the free crochet pattern on By Katerina blog, or click here to buy a PDF of it through the Annie's Catalog website!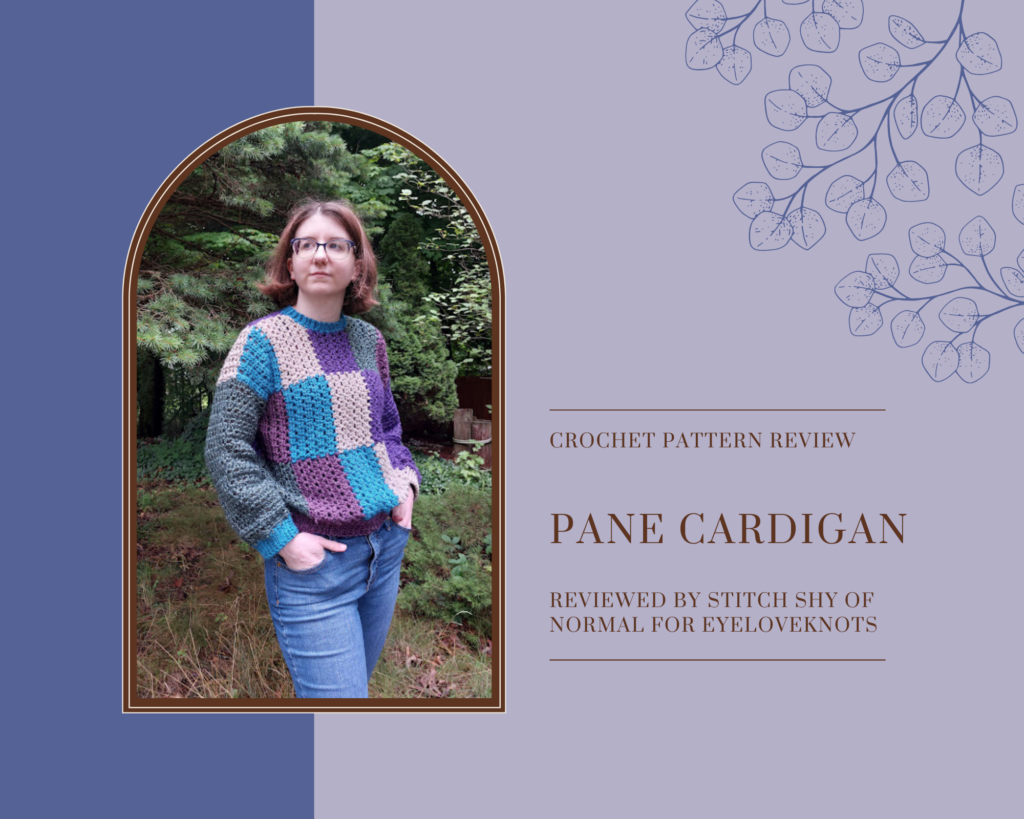 Visit with me on Instagram @astitchshyofnormal for all kinds of awesome crochet makes and inspiration!
Whether we like it or not, fall is definitely on the way. I've noticed more pumpkin spice products available in the grocery aisles, and apple-scented candles and soaps are beginning to appear from various makers I like to follow. It's still shorts weather up here in Michigan most days during the afternoon, but in the early mornings on my way to work I've started putting on a sweatshirt because it's just a little bit chilly. All of this is to say that cooler weather, with all of the crochet and knitting opportunities, is beginning to approach. And I'm getting very excited to pull out my stash of sweaters.
However, can one ever really have enough sweaters? I've noticed that as my collection grows, I still always want more. I'm usually cold so I can never have enough pieces to layer and cover up! In the next month or so, while we're stuck in that weird in-between season where you can't wear tank tops and sandals as often anymore but there's no sense pulling out all of your hats and scarves quite yet, we all need things to wear that fit this confusing weather. So for this reason, as I was browsing on the Annie's Catalog website hoping they'd have fall designs out already, the Pane Sweater crochet pattern from By Katerina caught my eye. It looked warm enough to block wind while having the holes and light drape so you wouldn't feel stuffy. It has the old-fashioned vibes of a patchwork grandpa sweater (which I think is cool again) but she chose a modern and fashionable color scheme which makes it feel new and hip, if we still use that word. I loved the process of making this almost as much as I love wearing it, and I hope you agree.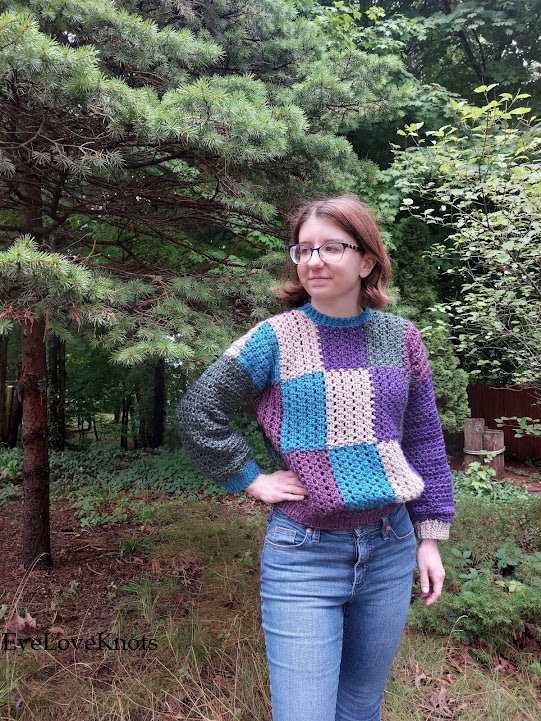 What Materials Do I Need to Make This Sweater?
Material Notes:
The designer chose to use Merino Aran by a brand called Katia, and unfortunately being in the United States I'm not even able to view their page to link it for you. But here is the Ravelry page on this yarn so you can see the information for it. I went in a totally different direction for my sweater but it was an attempt to find a similar weight. I divided the meters per gram based on the information in the pattern and compared that to some of my favorite worsted weight yarns that I knew were affordable and came in suitable shades. The listed yarn has 1.55 meters per gram, while Lion Brand Heartland came out as 1.62. I felt this was close enough as long as I kept my eye on my sizing, so I went shopping.
I wanted a color scheme along the same lines as the pattern picture, a combination that sort of went together but had some stand out colors. I stood in the aisle of Joann forever picking up colorways and holding them together to see what I liked. All blues = too boring. Blue + purple = lovely, but a few of the shades of each were too similar. Add in gray = clashes with the purple. I ended up selecting the 5 colorways I listed above, which gave me a blue, two purples, a green, and a tan to tie them all together. The brighter blue adds a pop, the green and purples really stand out next to everything else, the tan calms everything else so it doesn't feel too busy.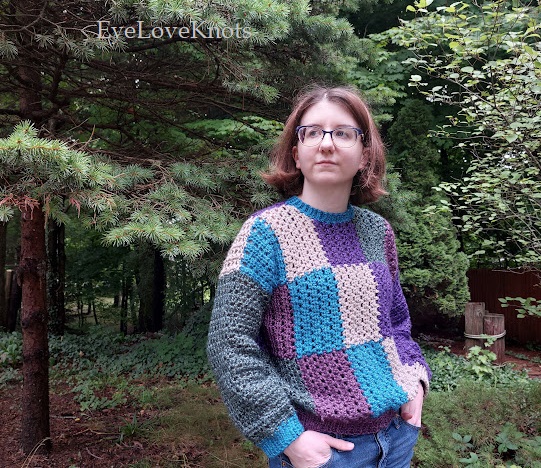 I think this yarn worked out great. My gauge was pretty close to the pattern, and my sizing came out fairly accurate. The sweater hits me at a good level but not quite as long as the pattern picture, plus I had to make the sleeves a bit longer, so I'm pretty sure mine ended up a little smaller than intended. But because this is meant to be a large boxy fit, there's some room to play around with the gauge and fit. And it's still a loose drape even being a touch smaller! Would I use this yarn again with this pattern? Absolutely. I can imagine so many fun color combinations, especially because Lion Brand keeps coming out with new shades!
How Long Does it Take to Crochet a Sweater?
This project took me around 18-20 hours by my calculation, which is on the quicker side for a sweater in my experience! Honestly even though the assembly is pretty simple, weaving in all the ends was the most time-consuming portion. I just put on a good show on my laptop and sat on the floor with my sweater and a needle, painstakingly weaving in end after end. You do it as a "join-as-you-go" method, adding on each row at a time, so you barely have any sewing beyond seaming up the sides, but you still change colors many times so all those ends are waiting for you at the end.
Gauge:
I did check this before I started and it ended up being pretty close for the swatch. I remember it being just under 4″, something like 3.75″ for the numbers listed, and I figured it's a loose boxy sweater so if I'm pretty close that will work. I ended up being right on that, it did work, but I'll still list the data for you guys.
The designer suggests 10 cm (just shy of 4″) should be 12 stitches wide and 8 rows of the alternating pattern.
In my finished sweater, it's about 13 stitches and 9 rows. This explains why my listed dimensions are just slightly off (see below). If I have a little bit higher numbers within the 10cm guideline, that means over the course of dozens of rows/stitches, I lose a few inches.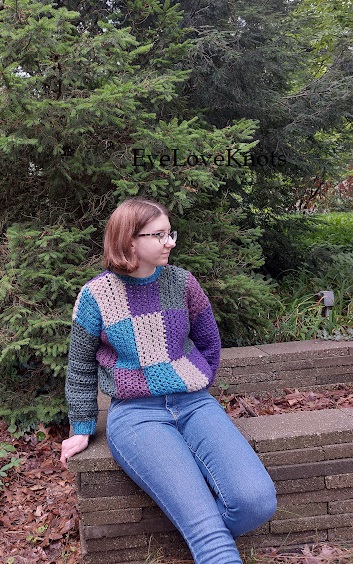 Measurements:
The given measurements (for the size I made, the smallest listed) are listed below. They were given in centimeters but I converted them and rounded, so these aren't going to be perfect conversions:
Bust width: 24.5″
Sleeve length: 15.4″
Length: 22.6″
My width (measured laying flat) ended up being right about 22″, which is smaller than intended.
I knew without measuring it that my sleeves came out short, because I had to add 4 rounds to them after trying the sweater on. This was easy to do but it means I came up short on the listed sizing. They're now 15″ long, and that's with my added rows, so I was probably right around 13 inches long before fixing it.
My overall length came out as abut 20″. So all around, I ended up shaving off a few inches here and there just like my gauge would suggest. But like I said, with this being such a loose and boxy fit, you can have a little room to play with the sizing. If you want a tighter fit you could drop down a size, or cut out a few rows from each square. You could also add more squares or rows for an even looser style.
Pattern Notes:
This pattern was simple enough. It wasn't necessarily the easiest thing I've ever made, but once I figured out the very first square then literally everything else in this sweater is just doing that same thing over and over again. You work the same number of rows each time, even when the stitch counts change like on the neckline. The color pattern seems random but it has a rhythm to it and you have a chart (in the purchased versions) that you can cross off as you go. I also chose to label my squares with the actual colorways they represented, because I was getting confused otherwise. It might take a few practice tries to get through the first square (it did for me) but once that clicks you'll be just fine.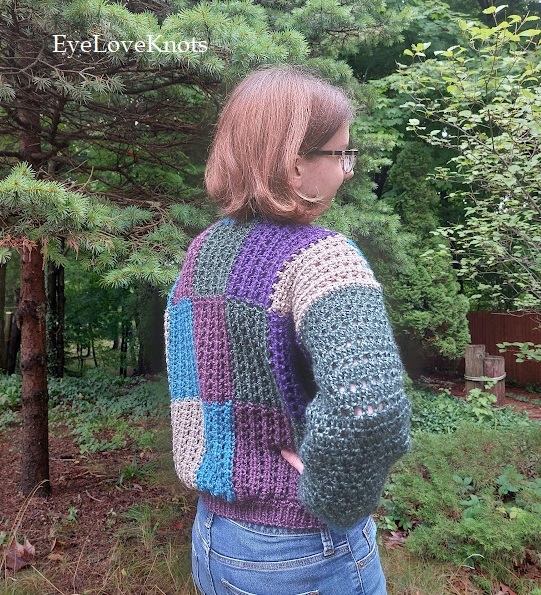 I might have just missed something here, but I've read the pattern a couple times through even after finishing it to try to figure this out. I don't think the color pattern for striping the sleeves is mentioned at all. In the pattern picture it looks like they're basically made to be more blocks, but I wasn't sure how many rows to do of each. So I made a decision and chose to make my sleeves a solid color, using the one color that wasn't present in the 4 blocks touching the sleeve. I'm lucky that it worked out that way! If you notice that the cuffs are different, that wasn't intentional. I ran out of both of those colors. I had a stash skein of the purple but not the green, so I wanted to make them "match" (by not matching at all) and just picked a random other colorway from the sweater to make a clashing cuff. If the designer lists the sleeves somewhere and I just keep missing it, then I'm incorrect. But at least I was able to make it up on my own and have it come out pretty dang cute!
On that note, it's definitely not the fault of the pattern but make sure you plan your colors better than I did. You use slightly less of the colors used in the front squares on the neckline, but other than that until you get to the ribbing you're using roughly the same amount of each. So be more intentional about it and purchase more of the colors you want to use for these things like the edging and the sleeves! I didn't do this. I had extra skeins of the blue and the tan, and I didn't use these for the sleeves because of my color scheme plans. I could have instead done color blocking in the sleeves and not run out of two of my shades!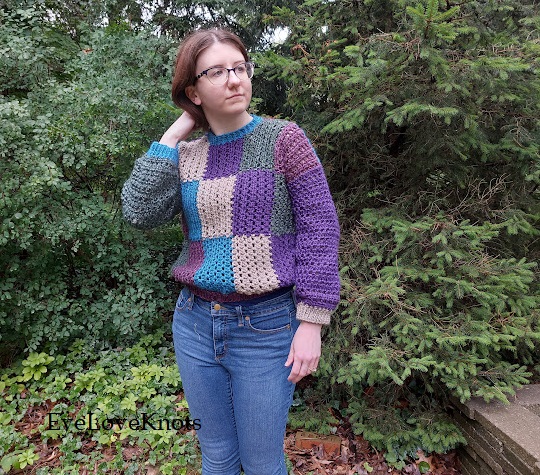 I cannot overstate how comfortable this piece is. I realize part of that is to the credit of Lion Brand Heartland yarn, which is one of my all-time favorites for that exact reason. It's so luxuriously soft and perfect for garments, so I knew it would be a great fit here. But I need to credit the designer as well. This shape is very boxy and simple, but having the edgings all pull in tighter and give it some flattering curves is so smart! It's light, it's comfy and warm but not too thick, and I can see myself wearing it all of the fall season. I personally wear it with a solid tank top underneath because I want to wear this to work, but you could definitely go for a cute bralette or maybe a crop top underneath for some added fun.
The colorwork is definitely a big draw for this pattern, but can you imagine this in a solid shade? It would be so sexy in a black yarn, with some jeans and boots. Perfect date night top, am I right? Or you could work each "row" of squares (actually vertical columns in the sweater when worn) as one color each. What I'm trying to say is although this is written with 5 colors, it has so much more potential. If you're willing to do some planning and math, you could probably make this one work with any number of colors!
I realize I say this a lot, but I only have good things to say about this pattern. I guess my one critique is that I wish the sleeve colorwork was explained, but that might just be me totally missing it somewhere (in which case what I'd say is that it needs to be more obvious where that information is). This one gets a 10/10 for me in fit, style, comfort, and just how much I love wearing it. If it felt this good in August, I can't wait to wear it on a cloudy October day with a coffee in my hand.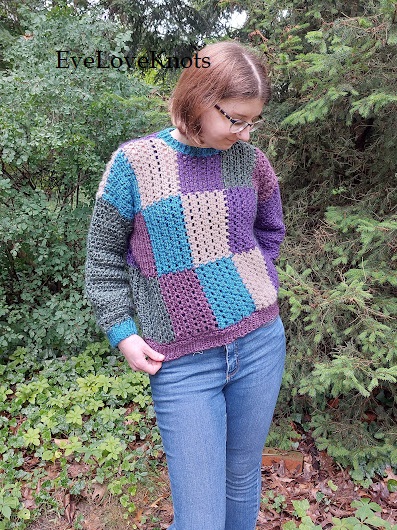 Don't forget to visit with me on Instagram @astitchshyofnormal for all kinds of awesome crochet makes and inspiration.
Join one of our awesome Facebook groups to share your creations, and see what others are up to!
– EyeLoveKnots Crochet & DIY Community
– DIY Home On Rockwood Lane
– Alexandra Lane Lifestyle
Linked Up To…
Weekday Wear Link Up – Away from the Blue
Confident Twosday Linkup – I do deClaire
Wow on Wednesday – Is This Mutton
Chic and Stylish Link Up – Mummabstylish
Thursday Fashion Files – Doused in Pink
Link Up on the Edge #310 – Shelbee on the Edge
Fancy Friday Linkup – Nancy's Fashion Style
Share the Wealth! Linky #25 – Big Fat Menopausal Life
Craft Schooling Sunday – Creative Jewish Mom
Happiness is Homemade Link Party – Decor Craft Design
Sundays on Silverado #107 – The House on Silverado
Handmade Monday #290 – Sum of their Stories
Craftastic Monday Link Party – Sew Can Do
You're the Star Blog Hop – Decor Craft Design
Hello Monday – Pink Lady
Anything Goes Linky 342 – My Random Musings
651st Inspire Me Tuesday – A Stroll Thru Life
Fabulous Party 438 – Lou Lou Girls
Talent Sharing Tuesday – Scribbling Boomer
The Happy Now Blog Link- Up #335 – JENerally Informed
Linky Ladies Party #227 – The Purple Poncho
The Wednesday Link Party #465 – Oombawka Design Crochet
The Loop Scoop #44 – Moogly Blog
Team Creative Crafts Link Party #108 – Artsy-Fartsy Mama
Wonderful Wednesday – Oh My Heartsie Girl
Wednesday Link Party #310 – Grandma's House We Go
Thursday Favorite Things #555 – An Artful Mom
Creatively Crafty Link Party #34 – Try It – Like It – Create It
Encouraging Hearts and Home Blog Hop – My Slices of Life
Grace at Home No. 480 – Imparting Grace
Linky Party – Karins Kottage
Crafty Creators Link Party #32 – Life as a LEO Wife
Create, Bake, Grow & Gather Party #534 – Shabby Art Boutique
Saturday Sparks Link Party 529 – Pieced Pastimes
Anything Goes – How Sweet the Sound
A Morning Cup of Joe – The Cottage Market
Turning Heads Tuesday – Elegantly Styled and Dressed
Style with a Smile – Style Splash
Spread the Kindness Link Up #290 – Shelbee on the Edge
Style on the Daily – Straight A Style
Neverending Style link-up – The Grey Brunette