This is a crochet pattern review of the Sun Ray Beret pattern from designer My Dancing Hook. Review done by A Stitch Shy of Normal for EyeLoveKnots.
This post contains affiliate links for WeCrochet. If you make a purchase by clicking on them, I make a small commission at no extra cost to you. Thanks for your support!
Find the crochet pattern review below, or check out the Ravelry page here to buy the pattern!
In a hurry? Pin this for later when you have more time.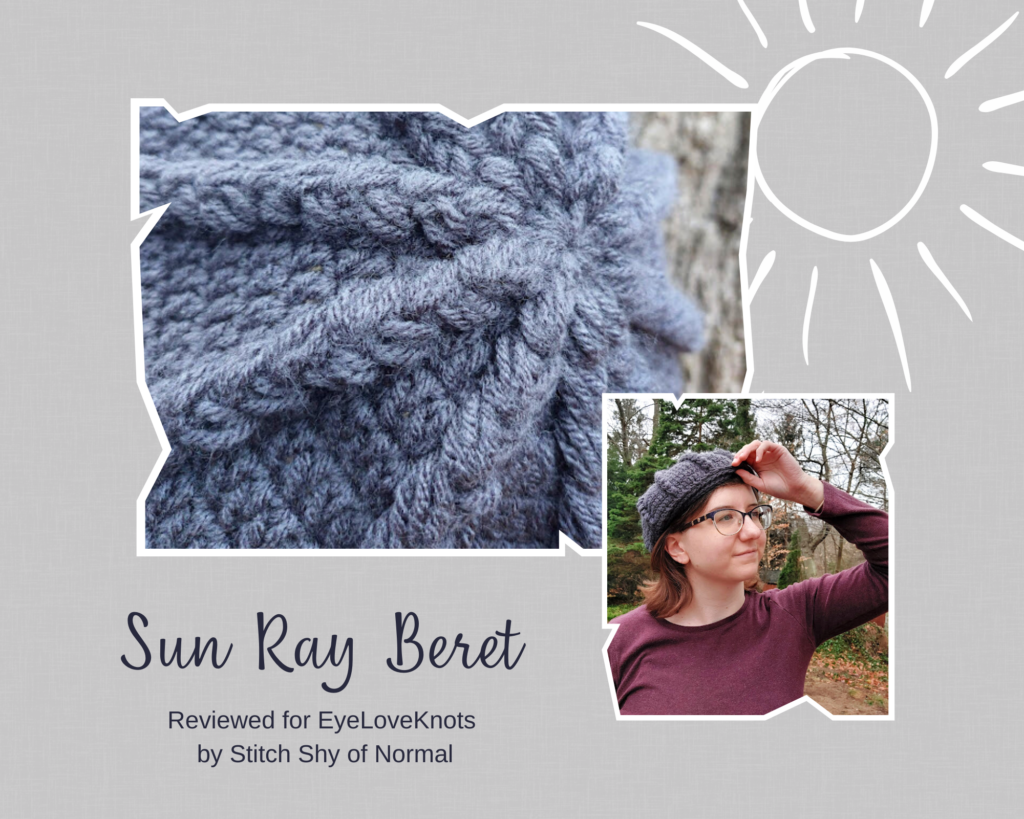 Visit with me on Instagram @astitchshyofnormal for all kinds of awesome crochet makes and inspiration!
You can probably tell by now that I like a big and involved project. I love the commitment for something big like a sweater, and one day I'll actually follow through with a full-size blanket! But when I'm stuck in the middle of several large WiPs, and feeling like I'll never finish anything, I love a quick and satisfying project to feel like I got something done.
I realize it seems counter-intuitive, as the couple of hours I spend making that small thing could have gotten me a couple of hours further in my large projects. But I can't be alone in this mindset! Both are good but there's just more satisfaction for me in starting and finishing something like a hat versus getting from row 90 to row 108 in a giant blanket project, when they take the same amount of time.
So when I was feeling this sort of feeling a couple weeks back, I dove into Ravelry looking for a fun and quick thing to whip up–something like a small pouch, a cowl, or a hat. Then I stumbled across the cutest little beret I had ever seen! I looked into it and couldn't help myself, this pattern had all of my favorite things. It has a fun texture, it's made using basic worsted weight yarn, and it wasn't just a basic beanie. I love my beanies but I have dozens on my shelf at this point. But a beret is something everyone needs in their wardrobe! I've made a few in the past but they didn't always turn out, mostly from when I was a beginner. This one looked very approachable so I grabbed the pattern and checked my yarn stash!
What Materials Do I Need to Crochet a Beret?
150-ish yards worsted weight yarn, I used Red Heart Super Saver in "Gray Heather" (I believe this is the colorway, the label was lost to time)
4.5mm Crochet Hook- I like to use Clover Amour Ergonomic Hooks
Scissors and yarn needle for finishing
Sun Ray Beret, Paid Crochet Pattern via Ravelry from My Dancing Hook
Material Notes:
I loved this. Again, just to clarify, I'm only about 90% sure of the yarn used. It no longer had a label but if there's a basic worsted weight yarn in my stash in the skein format it's almost certainly Red Heart Super Saver. You just kind of get a feeling for it, you know? Once you've used a certain yarn for a decade you get pretty familiar. So I'm willing to bet money it's Super Saver, and the colorway was a guess between the 2-3 deeper gray colors they had.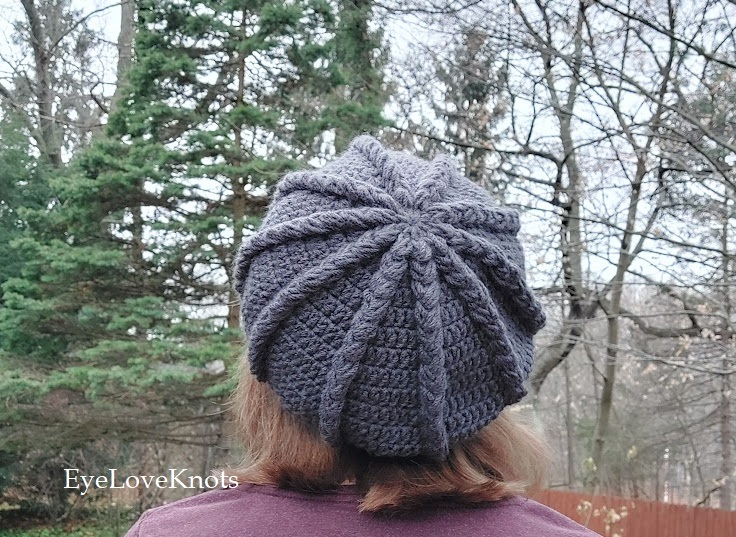 You could use almost any worsted for this pattern, however. I can see it working beautifully with almost any of them! The only thing to note is to make sure it's not overly thick or thin, as some on the outer edge of worsted can be sometimes. And you wouldn't necessarily want one that's textured with like sequins or something. But beyond that, go to town. I could picture this in variegated yarns although the texture would obviously change, or any solid would be gorgeous. Bright shades, dark shades, neutrals, or maybe a sparkly yarn! And even the adult size is supposed to take only about 150 yards of yarn, so you should be able to make this using a single skein of most worsted yarns.
Would I use this again? There's zero doubt in my mind. Red Heart Super Saver has so many colors available and it's a durable option that can be found in most of the big craft stores. It's affordable, it has nice colors, and it holds up great to being worn and washed and stored for the next winter! I would also love to use other yarns for this, of course. I want to try one in a blinding neon shade, like a hot pink or electric green. I just think it would be fun. I don't have anything like that in my stash so I'll keep my eye out for the perfect shade at the store!
How Long Does it Take to Crochet a Beret?
This project only took me a couple of hours, I did this one in one day. I was home on a Sunday I believe, found this pattern, and wanted to wear the hat the next day to work. So it's not that time-consuming at all, and that was the adult size! You could make one of these for a last-minute holiday gift if you wanted, without taking up too much time. Or just for yourself to match an outfit you have planned!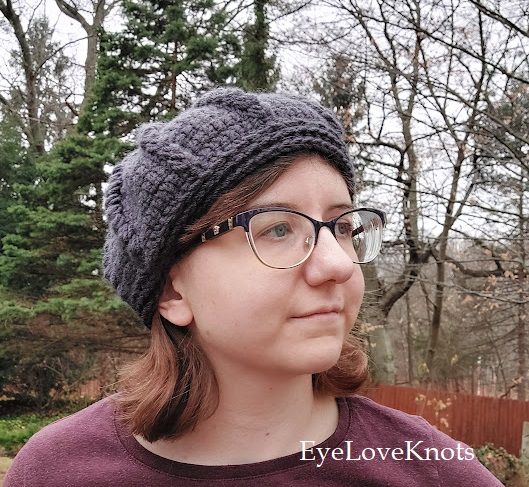 Gauge:
The listed pattern gauge is 8 stitches by 4 rows in double crochet should equal a 5cm square (1.96 inches).
I didn't stress too much about gauge, knowing that this yarn has some stretch when worn. But I wanted to make sure I was in the ballpark.
My original swatch measured right about 2 inches square, maybe a hair over, and I figured that was good enough. My head is on the larger side anyway so that would work great if I was a fraction larger than intended!
Measurements:
The adult size of this hat is meant to fit a head between 53-56cm circumference, or about 20.8 to 22 inches around.
The flat diameter after you finish increasing is supposed to be roughly 23cm across or about 9 inches, and mine measures about 9.25″ now after a few times wearing it so that's probably about right. It tends to stretch a bit from being put on and taken off.
A beret also doesn't need to fit as snug as a beanie, so if you're pretty close to the designer's sizing like I was it should work out!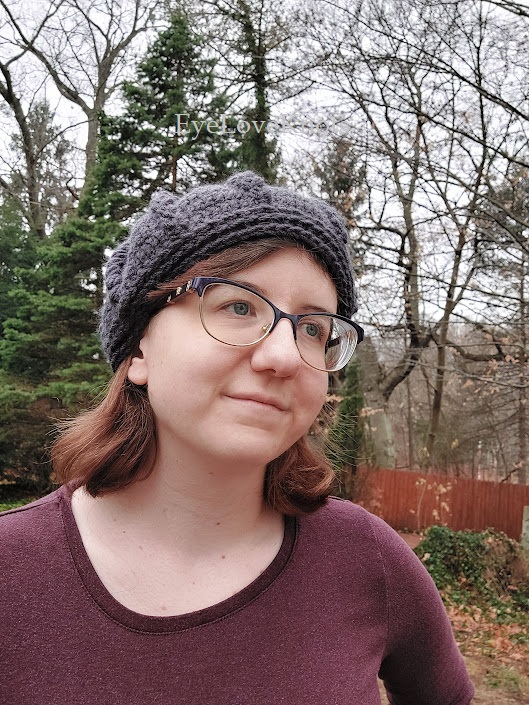 Pattern Notes:
This pattern is a great blend of simple and challenging. At its core, it's a simple circle like any beret. This can help you practice your increases and counting stitches, and watching your tension to keep it smoothly growing. However, as you might have noticed, it has those beautiful "sun rays" coming out from the center. That's probably the most difficult part of this pattern. Those are actually made of a puff stitch variation called Front Post Puff Stitch! I hadn't heard of that technique before and I loved trying it out.
Those puff stitches can be a little confusing at the beginning, but once you get the hang of them it's really not too bad. And in the first few rounds, you haven't gotten very far so it doesn't really hurt to frog it back and start over when the puffs aren't looking right! I like to be honest with you guys, and I can say that I did have to frog this one maybe twice. I struggle with tension on things like puffs or cables, and these were no exception. But once I got it down to a nice rhythm, the rest was just repetition! Plus these "rays" are just straight out, so you don't need to stress too much about counting. You just always work a puff stitch around the previous round's puff.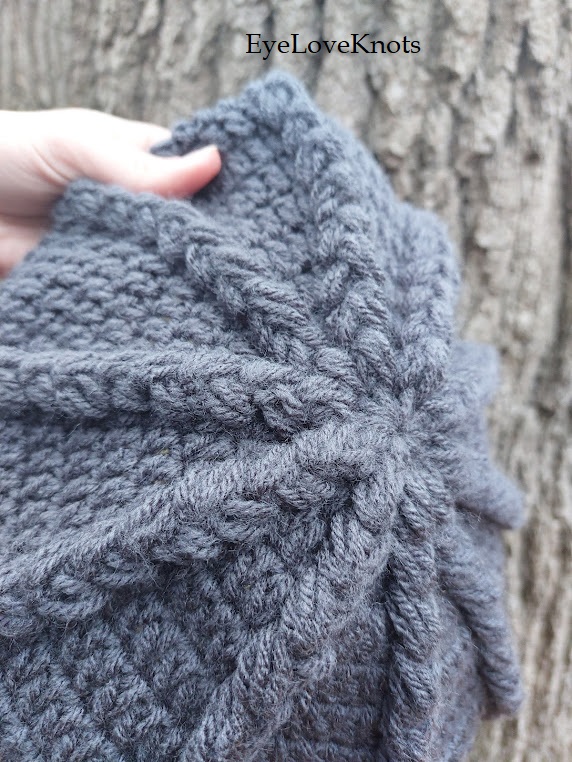 Like I mentioned before, this pattern is quick! I was making the largest of the three sizes given and I stitched the whole thing up in one afternoon. Yes, it was a weekend afternoon with not much else to do, but this pattern was great for picking up to work a couple rounds and then setting it down to bake some cookies or switch the laundry. It's not too complex, it has some simple stitching to offset the more complicated puffs, and it holds your interest as you work. If I was only able to pick it up for a little bit in the evening (like during my work week), I can see it still only taking a few days to complete.
I've mentioned this to you guys before, but I'm not very knowledgeable on fashion. I'm trying and I think I'm learning, but I'm not really that up to date on what's cool. But what I love about this pattern is that a simple beret, especially in a neutral, is literally always cool. It's flattering on so many different people, and you can wear it all year-round! You can see from the pictures that you can also wear this pulled down more like a beanie (just a short one I guess), or perched up like a traditional beret.
I guess I should mention that, it's my one slight issue with my finished hat. It doesn't hold the stiff shape of a beanie the way other patterns do. You don't really sharply decrease until the very end, so the middle circle can stretch more than you think. So it looks great still, but it doesn't hold the traditional silhouette without a little bit of work. That could also be attributed to things like my tension, my yarn, my head shape…so I'm not blaming the pattern itself! I'll try this one again and do my best to really get a tight decrease to hold that classic shape a little better next time.
My overall feelings on this pattern are so very positive. It was simple to understand, fun to make, and so lovely to wear! The shape is gorgeous and the stitches add a fun visual pop. Plus I got to try a new stitch and get plenty of practice on it to get better! I would recommend this pattern for sure if you're comfortable with puff stitches and/or post stitches. If you're only okay with one of those, maybe this will be a good chance to challenge yourself! Go make one of these in every color and when we cross paths on the street we can match!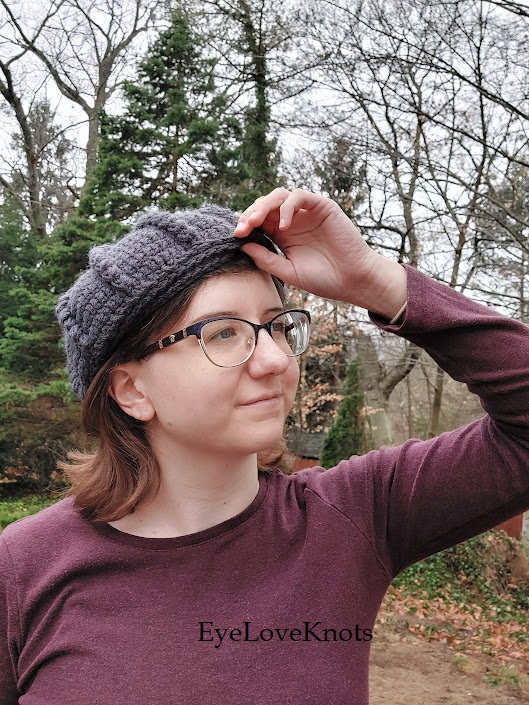 Don't forget to visit with me on Instagram @astitchshyofnormal for all kinds of awesome crochet makes and inspiration.
Join one of our awesome Facebook groups to share your creations, and see what others are up to!
– Yarn Crafts & Coffee Community
– DIY Home On Rockwood Lane
– Alexandra Lane Lifestyle
Linked Up To…
Craft Schooling Sunday – Creative Jewish Mom
Happiness is Homemade Link Party – Decor Craft Design
You're the Star Blog Hop – Decor Craft Design
Sundays on Silverado #120 – The House on Silverado
Share the Wealth Link Up #31 – Big Fat Menopausal Life
Beautifully Made Home Decor Link Party 241 – Across the Boulevard
All About Home #172 – Common Ground
Tuesday Turn About #179 – My Wee Abode
Home Matters Linky Party #408 – Modern on Monticello
Farmhouse Friday 280 – County Road 407
Anything Goes Linky #356 – My Random Musings
Linky Ladies Party #231 – The Purple Poncho
The Loop Scoop 51 – Moogly Blog
Handmade Monday #304 – Sum of their Stories
The Really Crafty Link Party #341 – Keeping it Real
Craftastic Monday Link Party – Sew Can Do
You're the Star Blog Hop – Decor Craft Design
Hello Monday – Pink Lady
664th Inspire Me Tuesday – A Stroll Thru Life
Fabulous Party 452 – Lou Lou Girls
Talent Sharing Tuesday – Scribbling Boomer
The Happy Now Blog Link- Up #349 – JENerally Informed
Link Party 479 – Oombawka Design Crochet
Team Creative Crafts Link Party #122 – Artsy-Fartsy Mama
Wonderful Wednesday – Oh My Heartsie Girl
Wednesday Link Party #324 – To Grandma's House We Go
Thursday Favorite Things #568 – An Artful Mom
Creatively Crafty Link Party #356 – Try It – Like It – Create It
Encouraging Hearts and Home Blog Hop – My Slices of Life
Grace at Home No. 488 – Imparting Grace
Crafty Creators Link Party #45 – Life as a LEO Wife
Create, Bake, Grow & Gather Party #548 – Shabby Art Boutique
Funtastic Friday Link Party #413 – Simply Beautiful by Angela
A Morning Cup of Joe – The Cottage Market
Pink Saturday – How Sweet the Sound
Share Your Crafts Link Party #1 – White House Crafts
Craftastic Monday – Sew Can Do
Linky Ladies Party #232 – The Purple Poncho
The Loop Scoop 53 – Moogly Blog
The Wednesday Link Party 484 – Oombawka Design Crochet
Team Creative Crafts Link Party #157 – Artsy-Fartsy Mama
Creatively Crafty Link Party #361 – Try It – Like It – Create It
Saturday Sparks Link Party 547 – Pieced Pastimes
Happiness is Homemade Link Party – Decor Craft Design
Sundays on Silverado #126 – The House on Silverado
Handmade Monday #308 – Sum of their Stories
The Really Crafty Link Party #346 – Keeping it Real
Hello Monday – Pink Lady
668th Inspire Me Tuesday – A Stroll Thru Life
Fabulous Party 457 – Lou Lou Girls
Talent-Sharing Tuesdays Link-Up 47 – Scribbling Boomer
The Happy Now Blog Link-Up #354 – JENerally Informed
Wednesday Link Party #329 – To Grandma's House We Go
Wonderful Wednesday Blog Hop – My Life Abundant
Thursday Favorite Things #572 – An Artful Mom
Encouraging Hearts and Home Blog Hop – My Slices of Life
Grace at Home – Imparting Grace
Linky Party #303 – Karins Kottage
Crafty Creators Link Party #50 – Life as a LEO Wife
Create, Bake, Grow & Gather Party #553 – Shabby Art Boutique
Funtastic Friday Link Party #418 – Simply Beautiful by Angela
A Morning Cup of Joe – The Cottage Market
Pink Saturday – How Sweet the Sound
The Sunday Showcase – Chez Mireille