This is a crochet pattern review of the One-Row Ruana pattern from designer Angela Ader for Annie's Catalog. Review done by A Stitch Shy of Normal for EyeLoveKnots.
This post contains affiliate links for Annie's Catalog, Lion Brand Yarn, and WeCrochet. If you make a purchase by clicking on them, I make a small commission at no extra cost to you. Thanks for your support!
Find the crochet pattern review below, or head to the Annie's page here to pick up the pattern!
In a hurry? Pin this for later when you have more time.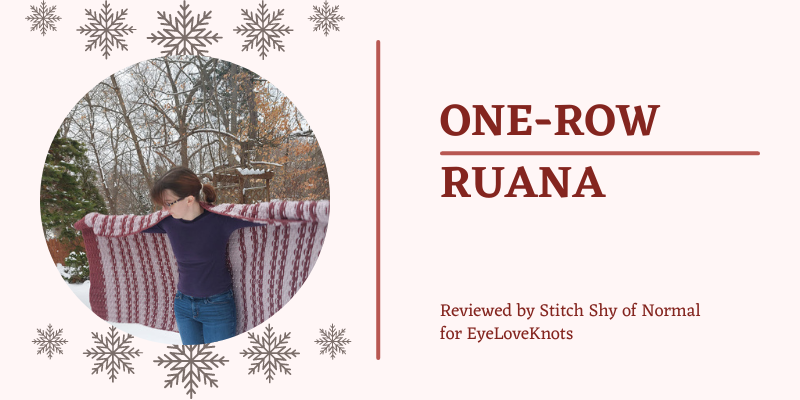 Visit with me on Instagram @astitchshyofnormal for all kinds of awesome crochet makes and inspiration!
What Materials Do I Need to Crochet a Ruana?
Lion Brand Pound of Love in "Cinnabar" and "Quartz", two skeins of each color (note: I don't see either of those colorways on the Lion Brand page for this yarn but I do on the Joann website. They might be switching some colorways up!)
K10.5/6.5mm crochet hook – I like to use Clover Amour Ergonomic Hook
Needle for assembly
Sew-on toggle (another note: I did not receive mine in time for this review but I will be adding this later on)
One-Row Ruana, Paid Crochet Pattern via Annie's Catalog, Designed by Angela Ader
Material Notes:
This yarn was a pretty good choice. I don't think it was the most perfect decision, as the full ruana is a little bit heavy, but it's not necessarily a problem. And to be fair I have no idea what it would feel like when made with the suggested yarn of Cascade Pacific worsted. I looked up that option and found it was a wool blend which I do try to avoid, so I decided to look at Joann for a nice worsted of my choice.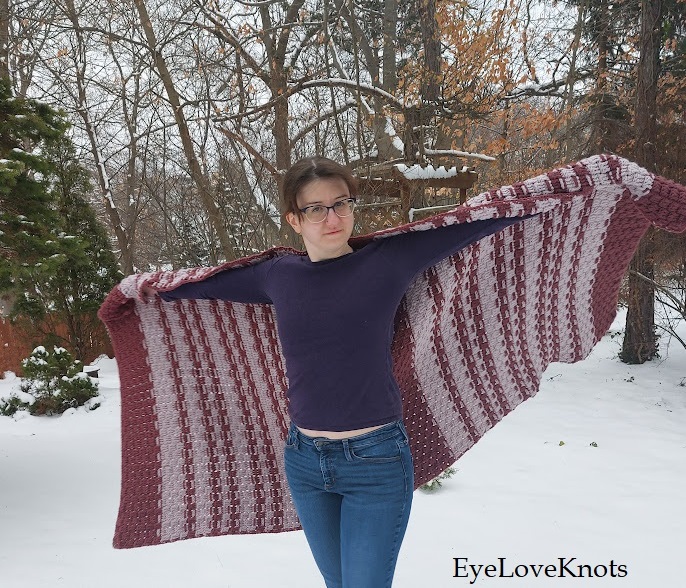 I've really started to reach for Pound of Love when I'm looking for large quantities of worsted weight for something like a sweater or blanket. It's cheap and sturdy, comes in a lot of cute colors (but not a ton), and is nice and soft for garments that will touch the skin. And if you're strategic with your Joann coupons or sales, you can get a really nice deal on them for quite a bit of yardage!
So to use my usual summary, would I use this again for this project? Probably. I would like to try it with something else but this yarn certainly did give me a gorgeous result and a nice warm accessory. Would I want to try with something else? For sure. I'd like to find a yarn that's more of a light worsted to see if that makes it a better transition garment for spring and fall. This one is best in the middle of a chilly winter, which is when I made it so that's perfect! And I got lucky with tons of snow falling just days after I finished the final stitch.
How Long Does it Take to Crochet a Ruana?
I'm going to be honest…it's a while. I did the math early on and it took me about 7ish minutes per row, and there's 140 rows, not even counting the edging. If you do that math it gives you about 16 hours, and that would be assuming I did every row at my perfect speed which obviously is not going to be the case. I would estimate I put close to 20 hours into this! And I did cut out a few clusters for my gauge modifications, so technically if I was using a thinner yarn I would have been doing more stitches…
Now, you certainly get a very large project for that time invested! This ruana is quite large and it feels like wearing a blanket wrapped around your shoulders. I consider it totally worth my time. I just want you to know what you're going into with this.
Gauge: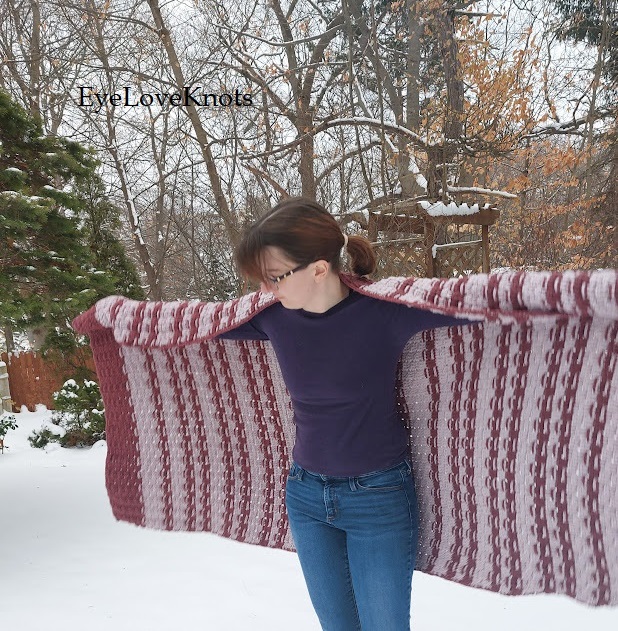 Pattern gauge says 15 stitches by 8 rows equals 4 inches square. I did not choose to check this gauge in a swatch before I started because it goes on to clarify that gauge is not totally vital, it will just affect your finished size and the yardage used. With this being a simple rectangle in shaping, I knew I could just match my first row to the intended width and be alright. (Although I didn't think about the color shaping affecting the other sizing factor, so I was unable to cut out any rows while also keeping it symmetrical.)
My gauge measured on my finished ruana (which has likely stretched out a little as well) is 13.5 stitches by 8 rows. I got that pretty close, actually!
The only alteration I made was instead of a width of 135 stitches, I went with 117. I just measured my project after a couple of rows (the first time) and found it was above 40″ wide when it's supposed to be more like 36″. I didn't want it that large especially with my shorter torso, so I frogged it and cut out 6 clusters' worth of stitches. I then measured it and got roughly 36-38″ across (this pattern is very stretchy!) so I decided that was pretty good.
Measurements:
Measuring my finished project, which I've worn a few times so it may have stretched a bit, gives me 36.5″ across by about 68″.
The intended sizing is 36″ by 70″. That's just about perfect! The small differences there can entirely be due to stretching or just measuring it flat on the ground versus held up on the body. So you can see here that I did it just about right in what I cut out. If I had kept the original stitch count my rectangle would be 40-something inches by 70, and that's just huge!
I also did not block this project. I simply didn't have the space or resources to properly block something this large, and I didn't care about precise sizing. But the pattern does recommend it and that might help your sizing get closer to exact.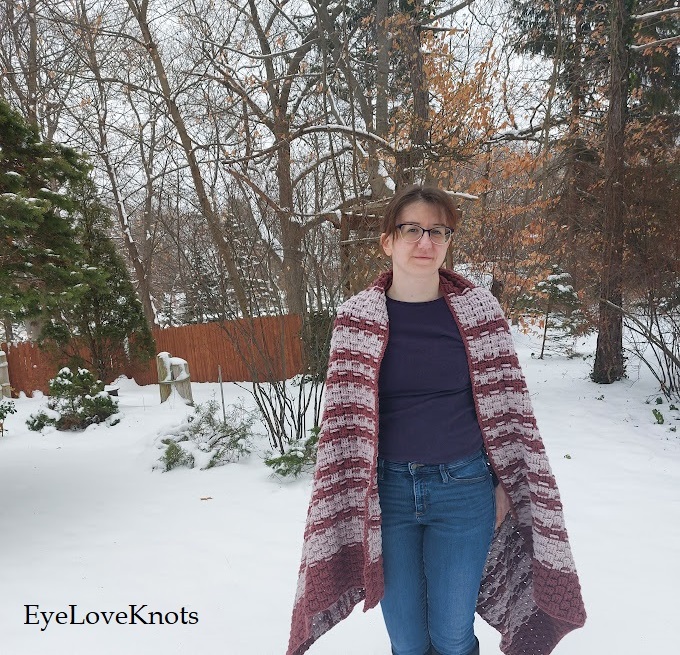 Pattern Notes:
My best summary for this pattern is that it's time-consuming but simple. Once you get going, this is just the same row over and over! (Hence the name of One-Row Ruana). So you can just mindlessly stitch away with a movie on and just pay attention to your color changes. You even carry the yarn up one side and cover the floats with a border at the end, so you don't have a zillion ends to weave in. A few times (or maybe close to a dozen), I did forget this and snip the yarn at a color change, so I had a few ends to weave in anyway along with having to add in my second skeins. But this was worth every minute.
It's also just so cute! This piece is definitely a conversation starter, with the casual and comfy vibes and a fun color combination. I can see it being perfect for fall with some boots and a cute hat, and I love it in winter as a warm topper layer in the cold! I recommend using a durable yarn like I did if you're going to use it regularly for outerwear, as it's so long that you'll probably get it a bit dirty. But I imagine it's simple to spot clean and I want to try machine-washing it to see how it holds up! (I would hang it to dry though rather than sending it through the dryer.)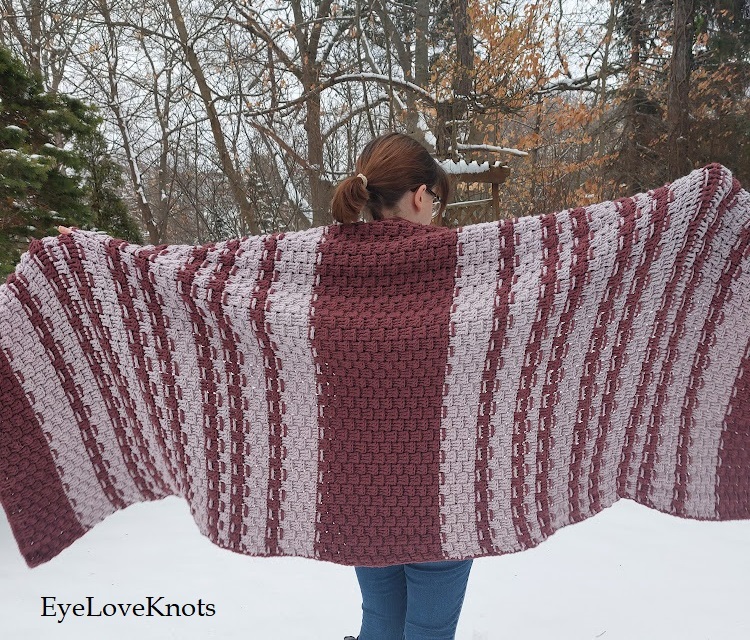 You can probably tell from the pictures or how often I've mentioned it, but this thing certainly stands out in size. It's less ruana and more blanket. I can see it easily working for a quick nap while traveling, even. You can wear it as an outer layer while walking through the airport and then use it to snuggle up and sleep on a plane. I plan to wear it to work and use it as a lap blanket at my desk. It's just sincerely impressive in size and also fashion. I love it.
I recommend this crochet pattern to anyone who feels confident with post stitches. It is a slight variation on them, with what the designer calls an "extended" post stitch, and that made for a fun and challenging project while I struggled to remember to do the extended version of the stitch. I won't lie, several times I picked up this project after a couple days off and started doing regular post stitches then wondered why it didn't look right. I never got too far with that mistake though, thankfully. It's great practice! I would call it suitable for an advanced beginner to intermediate crocheter.
I loved this pattern and love the finished result. Definitely pick up a copy for yourself and get stitching! There's plenty of winter weather left and if you start soon, you can wear it while January is still hanging around so you'd get a lot of warm cozy days out in the snow with this ruana.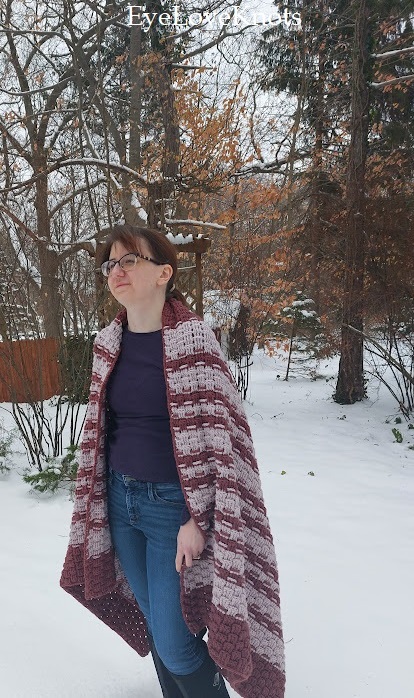 Don't forget to visit with me on Instagram @astitchshyofnormal for all kinds of awesome crochet makes and inspiration.
Join one of our awesome Facebook groups to share your creations, and see what others are up to!
– Yarn Crafts & Coffee Community
– DIY Home On Rockwood Lane
– Alexandra Lane Lifestyle
Linked Up To…
Link-Up – It's All Fine, Whatever
Weekday Wear Linkup – Away from the Blue
The Really Crafty Link Party #347 – Keeping it Real
Talent Sharing Tuesday Link Up – Scribbling Boomer
Turning Heads Tuesday – Elegantly Dressed and Stylish
Style with a Smile Link Up – Style Splash
Confident Twosday Linkup – I do deClaire
Style on the Daily – Straight A Style
Wow on Wednesday – Is This Mutton
Thursday Fashion Files – Doused in Pink
Chic and Stylish Link Up – Mummabstylish
Spread the Kindness Link Up on the Edge #635 – Shelbee on the Edge
Fancy Friday – Nancy's Fashion Style
Neverending Style Link Up – The Grey Brunette
You're the Star Blog Hop – Decor Craft Design
Happiness is Homemade – Decor Craft Design
Sundays on Silverado #127 – The House on Silverado
Handmade Monday #309 – Sum of their Stories
Craftastic Monday – Sew Can Do
Hello Monday – Pink Lady
Anything Goes Linky 360 – My Random Musings
669th Inspire Me Tuesday – A Stroll Thru Life
Fabulous Party 458 – Lou Lou Girls
The Happy Now Blog Link-Up #355 – JENerally Informed
Linky Ladies Party #232 – The Purple Poncho
The Wednesday Link Party 485 – Oombawka Design Crochet
Team Creative Crafts Link Party #128 – Artsy-Fartsy Mama
Wonderful Wednesday Blog Hop – My Life Abundant
Wednesday Link Party #330 – To Grandma's House We Go
The Loop Scoop 53 – Moogly Blog
Thursday Favorite Things #574 – An Artful Mom
Creatively Crafty Link Party #362 – Try It – Like It – Create It
Encouraging Hearts and Home Blog Hop – My Slices of Life
Linky Party – Karins Kottage
Crafty Creators Link Party #51 – Life as a LEO Wife
Create, Bake, Grow & Gather Party #554 – Shabby Art Boutique
Funtastic Friday Link Party #419 – Simply Beautiful by Angela
A Morning Cup of Joe – The Cottage Market
Saturday Sparks Link Party 548 – Pieced Pastimes
Pink Saturday – How Sweet the Sound
The Sunday Showcase – Chez Mireille