This is a crochet pattern review of the Aria Button Down Cardigan pattern from For The Frills. Review done by A Stitch Shy of Normal for EyeLoveKnots.
This post contains affiliate links for Etsy, Lion Brand Yarn and WeCrochet. If you make a purchase by clicking on them, I make a small commission at no extra cost to you. Thanks for your support!
Find the crochet pattern review below, find the free crochet pattern on the For the Frills blog, or click here to buy a PDF of it through Etsy!
In a hurry? Pin this for later when you have more time.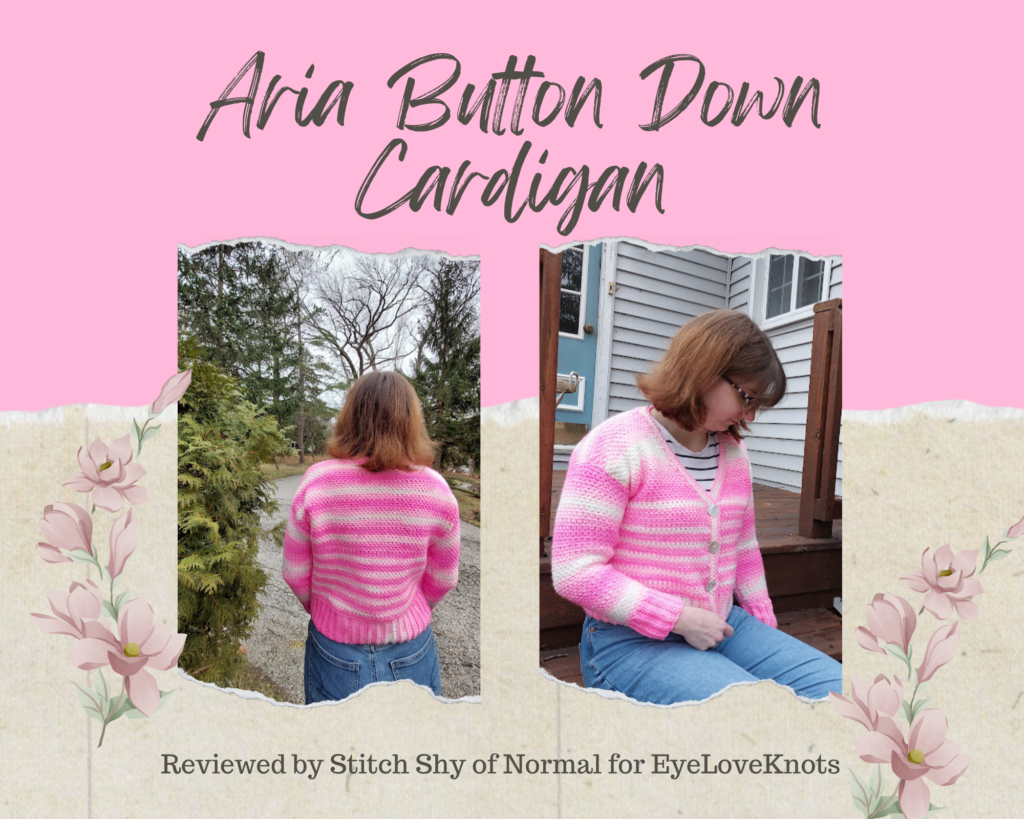 Visit with me on Instagram @astitchshyofnormal for all kinds of awesome crochet makes and inspiration!
Here we are again, past the holiday season! It's so weird that it's a new year, 2023 doesn't sound like an actual year that should exist. I'll get used to it eventually, I hope. I have to fill out a lot of dates on reports at work so it's already becoming a hassle for me to figure out what year it is.
But anyway, it's time to dive into some new projects for the new year! And since it's January, I thought I'd stitch up a lovely heavy and thick sweater to stay warm in the single digits. At least, that's what I thought I'd do. But since our big blizzard that came right before Christmas and was gone by the new year, the temperature hasn't dropped below 30 for very long at all and I really don't need anything that warm!
So I was surprised that this light spring cardigan that I had started on in mid-December, thinking it would be smart to have something like this ready for spring in advance…well, I'm planning to wear it to work this week. Crazy world, right? Anyway, that's my anecdote for today, so let's get into the actual details on this project. It was a very enjoyable make that I definitely recommend. And it actually will be great for the warmer seasons, or if you live in a hotter state.
What Materials Do I Need to Crochet a Cardigan?
5 skeins of Lion Brand Ice Cream in "Birthday Cake" for size Small (I didn't use all of the final skein but more than half of it).
4.5mm hook, although the pattern does call for H/5mm (I sized down for gauge) – I like to use Clover Amour Ergonomic Hooks
3-4 3/4″ buttons, I used 3 while the pattern suggests 4
Scissors, yarn needle, etc for assembly
The Aria Button Down Cardigan Pattern, available here for free on For the Frills blog (which I used to make mine), or here on the Etsy if you want a printable PDF (which you may want so you can write on it, and work from anywhere).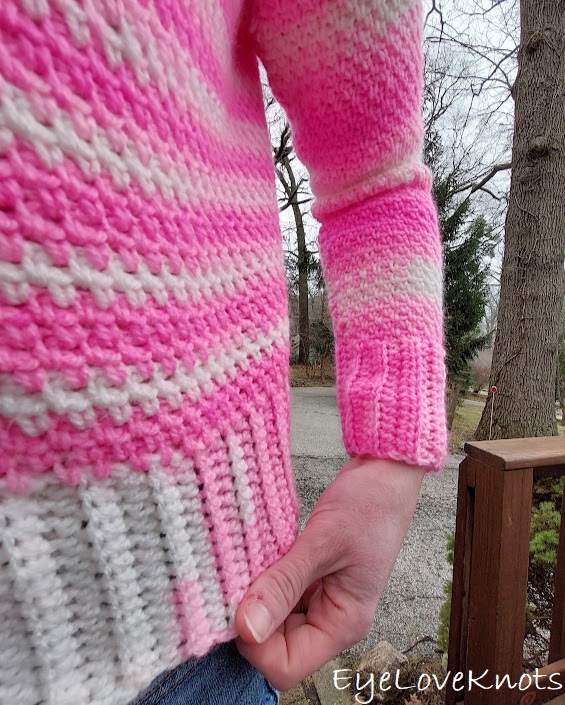 Material Notes:
This combination worked okay. I wouldn't necessarily recommend it unless you have some patience to force your gauge to work. In the interest of full honesty, I'll tell you that I bought this yarn for an entirely different sweater project. That gauge swatch didn't even come close and I would have had to greatly alter my hook size, the stitch count, and the row count. I decided it was a gorgeous yarn that deserved a sweater anyway so I went on a hunt to find the right pattern for it! I believe this was my third or fourth try, and it came out mostly correct in the gauge swatch with one hook size down, so I decided to proceed.
In the end, I was able to make my written size with some level of confidence since my swatch was actually pretty good on width but mildly off on height. So I knew I would get an acceptable fit and would just need to keep an eye on the height of my panels and sleeves to get the cardigan style I wanted.
Would I use this Ice Cream yarn again? I'm not sure. I wouldn't be against it since I've now figured out my own way to make it work, but I'm not sure I would want to start from scratch again with this yarn and this pattern. I would love to try another DK weight yarn for a solid-color option, something like the designer's recommendation of the WeCrochet Alpaca Cloud DK. I'm sure that feels absolutely luxurious in a lightweight cardigan like this.
How Long Does it Take to Crochet a Cardigan?
My best estimate for this one is about 14 to 16 hours.
I lost track because it was during the holiday season, so I was picking it up and then putting it down all the time to take something out of the oven, or wrap a present…and then we had a pretty intense blizzard show up so that threw a wrench into everyone's routine even more! So I didn't really struggle to finish this piece because after all the holiday celebrations are over there's a quiet time to work on things again, but I did lose track of my hours spent. I recorded about ten hours on my notes but I know I didn't always have those notes available as I worked on it.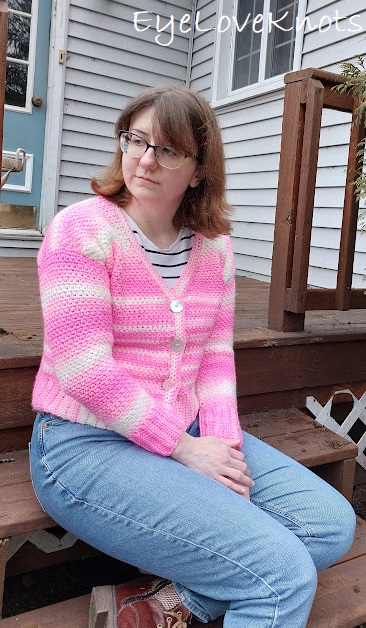 Gauge:
The pattern gauge is written as 22 stitches by 21 rows = 4″ square.
My own gauge swatch has disappeared but measuring it on the finished cardigan I get 4″ equaling 22 rows and 24 stitches.
This doesn't necessarily mean I'm off from the intended gauge, linen stitch can be difficult to measure accurately as it stretches in both directions pretty easily! My gauge swatch I believe was right about perfect, and if I measure in a different area or steam block this sweater it would likely change gauge measurements again. I consider this pretty close.
Measurements:
I made the listed size Small, which is written to be about 19″ across on the back (flat) and 18″ long top to bottom. The sleeves are also meant to be about 16″ long.
My width laying flat comes out to 19.5″ and the height about 18.25″, with my sleeves measuring around 16.75″. So I came out with slightly higher measurements all around. But again, I have worn this now for photos (and maybe around the house that afternoon a little bit to show it off), so the stretch from putting it on likely contributed. If I wash and hang-dry this it might measure closer to the written sizing. The designer does even mention this in the pattern and suggests you size down if you fall between sizes.
Pattern Notes:
This was an enjoyable project! It's not overly complicated to size, since it's a fairly boxy cropped cardigan. You just pick the size that fits you pretty close, and you should get a good range in each size since it has some extra room. You can size down if you want a closer drape or size up for a really slouchy look! (I've heard that's cool again, right?) I love how this came out in a striping yarn and want to see it in something even more colorful, but at the same time I also want one in a nice soft silver or pale green. The options are endless!
I didn't really have much confusion while working this one up, but I'll try to share the parts that threw me off a bit so you can be prepared for yourself. Again, I did use the free version of the pattern for this so I don't know how much help the paid version adds in, but the free one was everything I needed! I liked having the designer's photos on there as a reference for how my cardigan was intended to fit.
I was surprised that the first thing to confuse me a little was the first row of the main body! I had never before done a linen stitch pattern where you start the linen stitch directly into the ribbing, instead of working a row of normal single crochet first. But it wasn't so bad once I got the hang of it. You just have to pay attention to how your ribbing lays, and be careful to get the correct number of stitches per row of ribbing so you don't end up stretching it out or making it ruffle. Once you get that correct, though, the rest of the panel is pretty much smooth sailing.
The designer helpfully adds notes throughout the pattern of when you can alter the size and how to do so. I really appreciate this, especially in these free patterns where it's harder to constantly scroll back up several pages to check the notes on how to customize my own sizing! I did not end up doing any alterations in this case but I feel like it would be pretty approachable to do so if you wanted a different length. I can see this one being very cute in a more full-length option that goes down to about the hips.
The neckline shaping can be a little intimidating at first. I had to frog and repeat a couple of rows before I got the hang of it! That's a normal thing when you're shaping a garment with linen stitch, it's not the simplest stitch to increase or decrease. But just like I mentioned with the initial stitch count, stick with it and once you figure it out the first time it stays pretty consistent throughout the pattern!
I think that's just about it for notes I had. I was able to understand the assembly pretty well and I can't see anything that should trip someone up too badly. This pattern is a great choice if you're looking to try your first sweater and you want a pattern that really walks you through things! This pattern is rated by the designer as slightly more challenging than beginner level, due to the button holes and minor shaping for the V-neck. I agree with this assessment as well! Linen stitch is a simple enough stitch for newer crocheters, although an easy one to mess up your tension if you're not careful.
In the end, I would make this again. I would just choose a different yarn next time and I want to see all the different options available in DK. It's not a category I buy that often and I need to open my mind a little more! What yarn would you want to use with this pattern for a light and comfy cardigan? Solid, colorful, or anything in between is fine by me!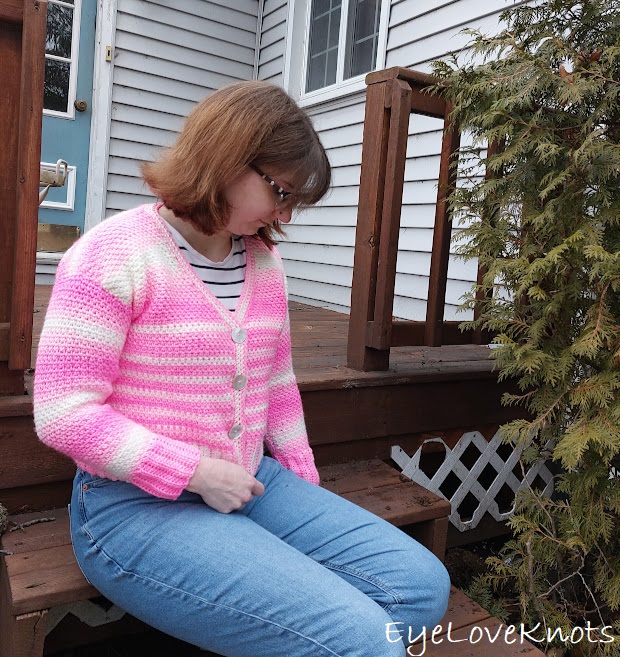 Don't forget to visit with me on Instagram @astitchshyofnormal for all kinds of awesome crochet makes and inspiration.
Join one of our awesome Facebook groups to share your creations, and see what others are up to!
– Yarn Crafts & Coffee Community
– DIY Home On Rockwood Lane
– Alexandra Lane Lifestyle
Linked Up To…
Weekday Wear – Away from the Blue
Style on the Daily Weekly Link Up – Straight A Style
Confident Twosday – I do deClaire
Turning Heads Tuesday – Elegantly Dressed and Stylish
Thursday Fashion Files – Doused in Pink
Chic and Stylish Link Up – Mummabstylish
Spread the Kindness Link Up on the Edge #637 – Shelbee on the Edge
Fancy Friday – Nancy's Fashion Style
Sundays on Silverado #129 – The House on Silverado
Handmade Monday #311 – Sum of their Stories
The Really Crafty Link Party #349 – Keeping it Real
Craftastic Monday – Sew Can Do
Happiness is Homemade – Decor Craft Design
You're the Star Blog Hop – Decor Craft Design
Hello Monday – Pink Lady
Anything Goes Linky 362 – My Random Musings
Fabulous Party 460 – Lou Lou Girls
Talent Sharing Link Up – Scribbling Boomer
The Happy Now Blog Link Up #357 – JENerally Informed
Linky Ladies Party #232 – The Purple Poncho
The Wedesday Link Party 487 – Oombawka Design Crochet
The Loop Scoop 54 – Moogly Blog
Wednesday Link Party #332 – Grandma's House We Go
Wonderful Wednesday Blog Hop – My Life Abundant
Team Creative Crafts Link Party #130 – Artsy-Fartsy Mama
Thursday Favorite Things #576 – An Artful Mom
Creatively Crafty Link Party #364 – Try It – Like It – Create It
Encouraging Hearts and Home Blog Hop – My Slices of Life
Grace at Home No. 493 – Imparting Grace
Crafty Creators Link Party #53 – Life as a LEO Wife
Create, Bake, Grow & Gather Party #556 – Shabby Art Boutique
Funtastic Friday Link Party #421 – Simply Beautiful by Angela
A Morning Cup of Joe – The Cottage Market
Saturday Sparks Link Party 550 – Pieces Pastimes
Pink Saturday – How Sweet the Sound
Share Your Crafts Link Party #2 – White House Crafts
April Sunday Showcase – Chez Mireille