This is a review of the Easter Bunny Crochet Garland crochet pattern designed by The Knotted Nest. Review done by Jessica Munroe for EyeLoveKnots.
This post contains affiliate links for Etsy and Amazon. If you make a purchase by clicking on them, I make a small commission at no extra cost to you. Thanks for your support!
Find the crochet pattern review below, or click here to purchase the crochet pattern on Etsy!
In a hurry? Pin this for later when you have more time.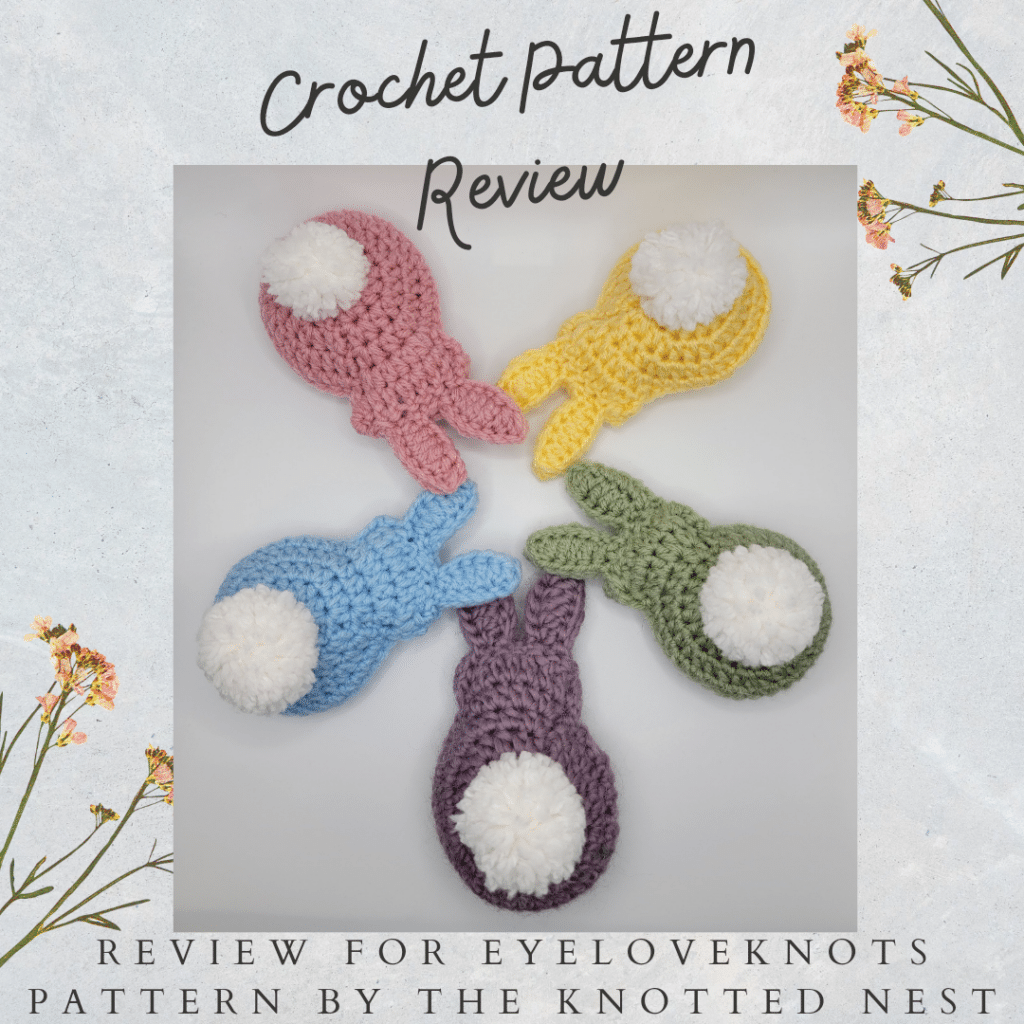 It's me, Jessica with Nice and Knotty.
Visit with me on Facebook or Instagram for all kinds of awesome crochet makes and inspiration.
Spring is here! Easter is coming! I've always found Easter a little difficult to decorate for. But when I came across this versatile bunny decoration crochet pattern, I was so excited! There are multiple uses and variations for this pattern!
You can make little bunny centerpiece, use them as mantle or shelf décor, string them together to make a garland or even use them as bunny toys to stuff in Easter baskets. I chose to make the garland with them, and I am going to use it to decorate the front of my desk at work.
WHAT MATERIALS DO I NEED TO CROCHET A GARLAND?
Worsted Weight Yarn – I used Red Heart Super Saver in Frosty Green, Sky Blue, Pale Yellow, White, & Light Raspberry and Patons Classic Wool in Frosted Plum
Size G6/4mm crochet hook
Yarn needle
Scissors
Fork (or pom-pom maker)
Easter Bunny Garland, Paid Crochet Pattern from TheKnottedNestShop on Etsy
MATERIAL NOTES:
This pattern uses worsted weight yarn. However, I didn't have the shade of purple I wanted in Red Heart Super Saver so that's why I used wool for the purple.
I also mentioned that you could use a pom-pom maker instead of a fork to make the bunny tails. I used the smallest one from this set.

HOW LONG DOES IT TAKE TO CROCHET A GARLAND?
The garland took me about 4 hours in total. If you just make the bunny toys and you don't make the garland, that will save you about 1 hour.
MEASUREMENTS:
The dimensions given in the pattern are that a finished bunny is approximately 6 inches in height. However, given my gauge ended up tighter than the pattern's gauge, mine were a little shorter. However, this seems to be one of those patterns where you can feel free to adjust the size of your hook to make larger or smaller bunnies (within reason), so I was not concerned about that.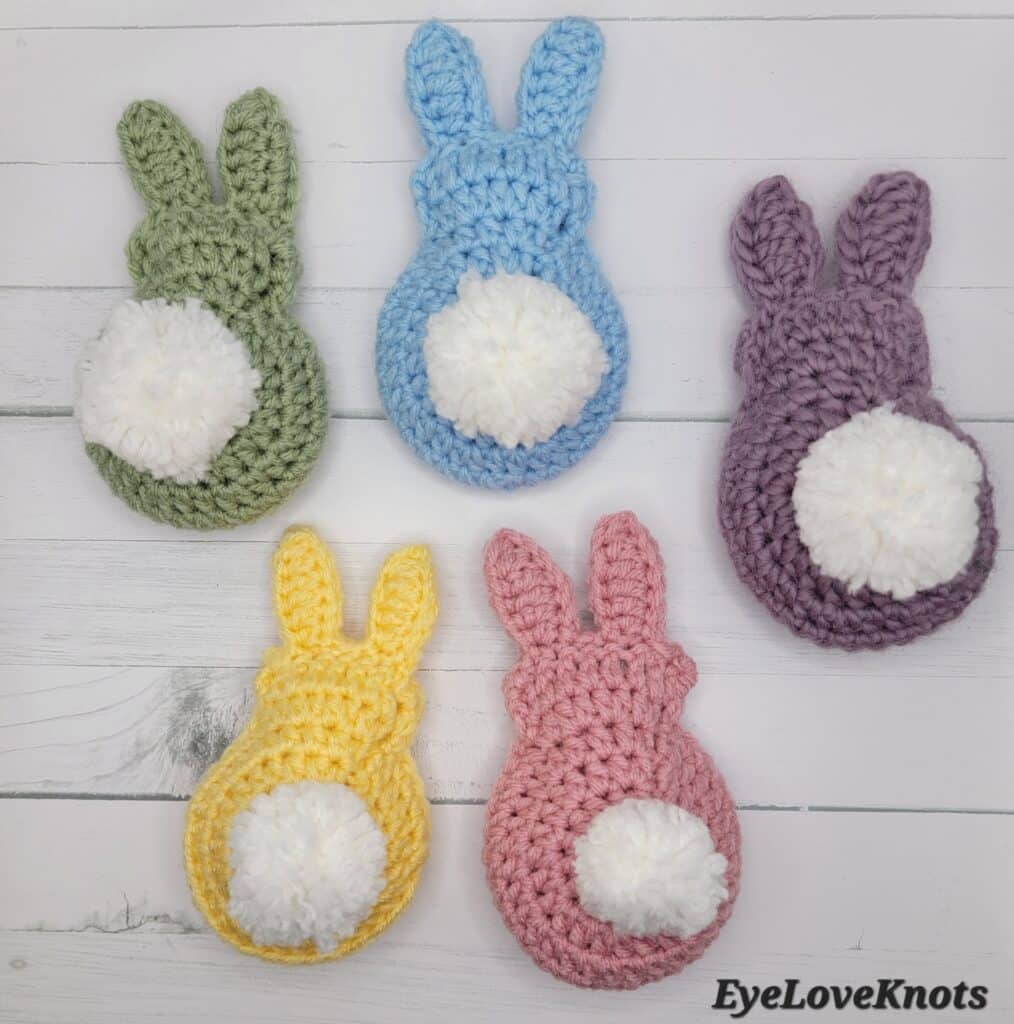 GAUGE:
The gauge given to us by the designer is the diameter of the circle you start the bunnies with after Round 4 is equal to 3 inches. I am aware that I have a tighter tension, so my gauge was 2.5 inches, but it still worked out nicely, in my opinion.
PATTERN NOTES:
This pattern makes up such a cute little Easter garland! You just have to try it! Plus, the additional versatility to use the bunnies as adorable additions to Easter baskets is so great!
What which decoration will you choose? What color bunnies will you make?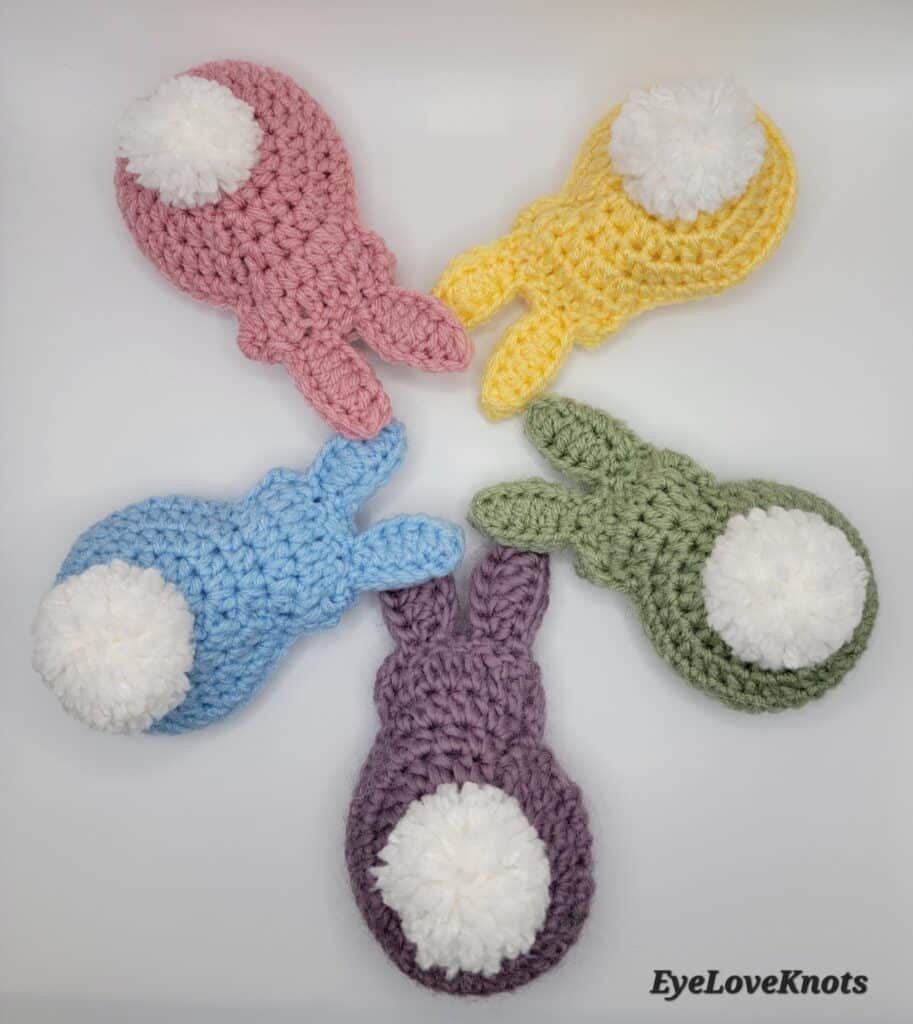 Don't forget to visit with me on Facebook for all kinds of awesome crochet makes and inspiration.
Join one of our awesome Facebook groups to share your creations, and see what others are up to!
– EyeLoveKnots Crochet & DIY Community
– DIY Home On Rockwood Lane
– Alexandra Lane Lifestyle