This is a crochet pattern review of the Half & Half Crochet Cardigan pattern by the Yarnspirations Design Studio. Review done by A Stitch Shy of Normal for EyeLoveKnots.
This post contains affiliate links for WeCrochet and Lion Brand. If you make a purchase by clicking on them, I make a small commission at no extra cost to you. Thanks for your support!
Find the crochet pattern review below, or click here to find the free downloadable pattern on Yarnspirations!
In a hurry? Pin this for later when you have more time.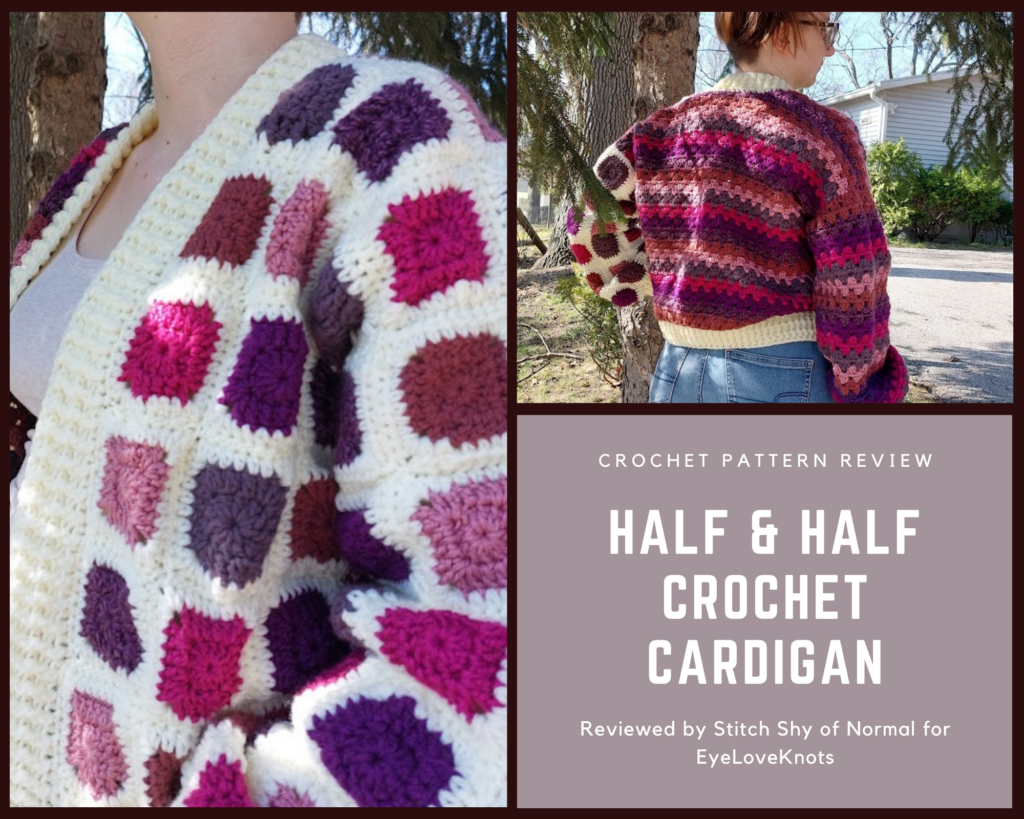 I love a fun and funky pattern. This crochet pattern in particular only lived on my Ravelry "favorites" list for a week or two before I couldn't take it any longer and had to dive in. I was originally thinking of shopping for yarn and coming up with an adorable fun color scheme (like the semi-rainbow in the pattern pictures!) but I then realized it would be fun to try using my stash only for this. I challenged myself to pick a color scheme and hopefully only have to buy a main color to tie it all together. And I got away without even needing to do that, as I had picked up a few neutral Pound of Love skeins recently so I had a gorgeous off-white shade that went with my colors perfectly!
This ended up a unique piece with tons of character and will certainly make for a good conversation starter when I wear it out and about. It will not match a single thing and I love that, it's so colorful and in-your-face and I think it'll become a favorite of mine! I hope you enjoy my thoughts on this pattern and making one of your own since this pattern can be downloaded for free!
Visit with me on Instagram @astitchshyofnormal for all kinds of awesome crochet makes and inspiration!
What Materials Do I Need to Crochet a Cardigan?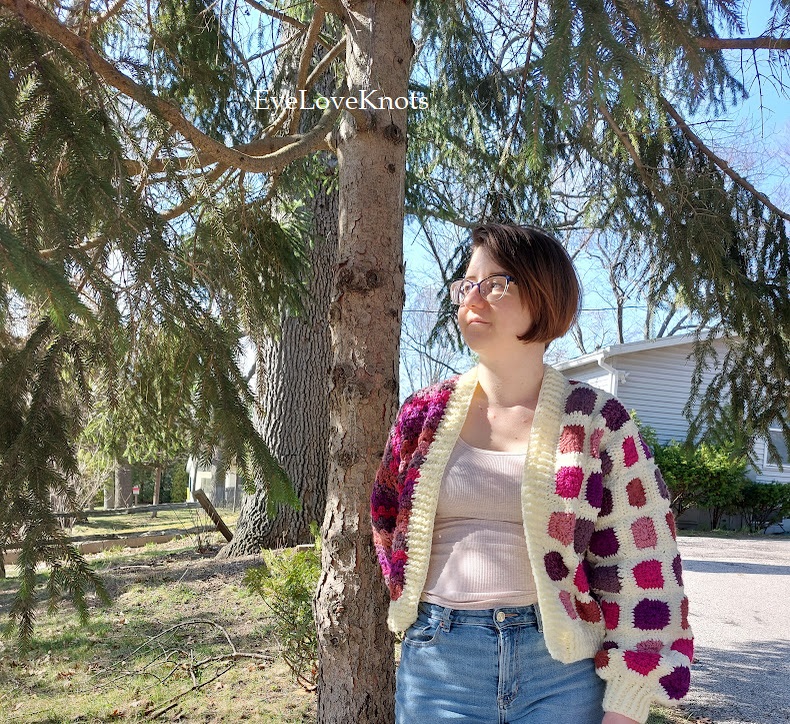 Material Notes:
This is a little harder to judge on a pattern like this when I chose to use stash yarns. The yarns I know I used vary quite a bit from the thinner Caron Simply Soft to the relatively thick mystery lavender/gray shade I had. I really want to know what that one was so I can advise you stay away from it for this pattern alone–my best guess from online searching is Joann's "Big Twist Value" called Medium Gray, because it looks like a slightly purple-ish gray that kind of matches my yarn. But don't quote me on that.
I recommend keeping it to the light-to-medium worsted yarns for this pattern. If you're using thicker worsted then maybe you don't want to also use ones on the thinner side like Simply Soft. I struggled to get my squares to lay flat when some were larger or wanted to bulge because they were all within the recommended size but side by side they were not exactly the same. I'm not going to advise you to stay away from any yarn in particular because the one I didn't have much luck with was a mystery, but I can suggest that if you're gathering up stash yarns for this and one of them is noticeably thicker/thinner than the rest, maybe reconsider that and find ones that are all pretty similar in thickness.
The pattern does call for Simply Soft and even gives you the recommended amount needed (3-4 skeins of the main color and 1-2 skeins each of the other colors, depending on size). I would definitely recommend using that yarn line for this pattern, it worked very well for me with the two colorways I did use. Like I said, I think I also had Red Heart Super Saver & With Love in here, both of those worked great too along with Lion Brand Heartland. And Lion Brand Pound of Love was awesome for the main color as well! It's just the thickest yarn I had that caused issues, and I'll never know the truth on that one.
I'll ask my usual question in both ways here–would I use the exact yarn lines I used to make another one of these? Except that one thick one, yes! All of the yarns I can identify here I would use again. Speaking in more general terms, would I "shop my stash" to make one of these again? Absolutely. I think it was a really fun way to get a great color combination and also use up some stash yarns.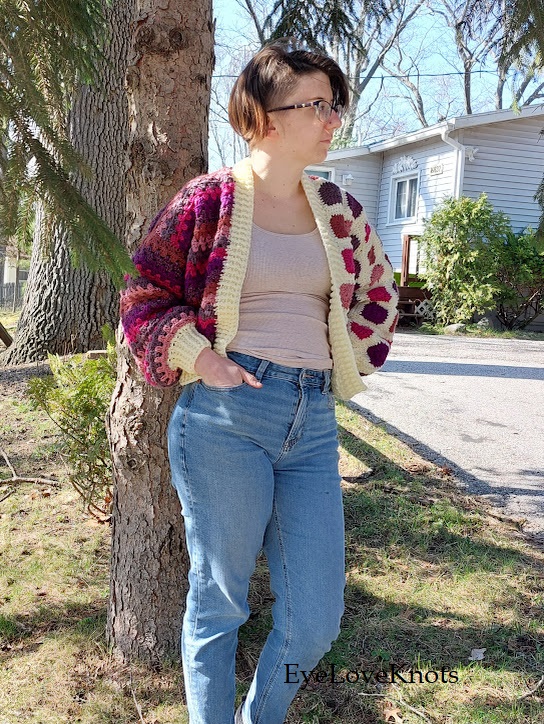 How Long Does it Take to Crochet a Cardigan?
This one does take some time. The stitching isn't that time-consuming but there is a lot of sewing on the square side, which is why I'm grateful the designer chose to make the back the granny stripes all the way across!
All in all, I believe I put in maybe 14-16 hours of work on this one. It wasn't ridiculous at all, I've made slower sweaters. It just drags on when you're sewing together all the squares. But then the granny stripe sections seem to fly by!
Gauge & Measurements:
The pattern gauge calls for each square to measure 3″, or if you'd rather work up a swatch then 4 inches should be 13 SC or 14 rows. I chose to check my squares as I worked them up in each yarn (since I had so many different yarns used), and each came out just under or just over 3 inches across so I decided to move forward with all of them. I did not check the gauge in the other way.
The intended measurements for this cardigan in the size I made (XS/S/M) is supposed to be 44″ at the chest, with a 21″ length for the body and 18″ sleeves.
My finished cardigan which I did slightly customize to my body is 21.5″ at the chest laying flat which should be a 43″ chest circumference, 21.5″ length, and 20.5″ sleeves.
I got it pretty much spot on in my panel sizing, my chest measurement being only an inch off doesn't even really matter all that much as that will be affected by the stretching of yarn and mine could easily get that if I stretched it out a bit. Same with my panel length of half an inch over, that's very easy to explain and won't affect fit. It seems like my sleeves are the only thing noticeably longer, but I like a good balloon sleeve so that doesn't bother me in the slightest! You could also do more/less ribbing on your sleeve cuffs if you need to fix the length by an inch or two.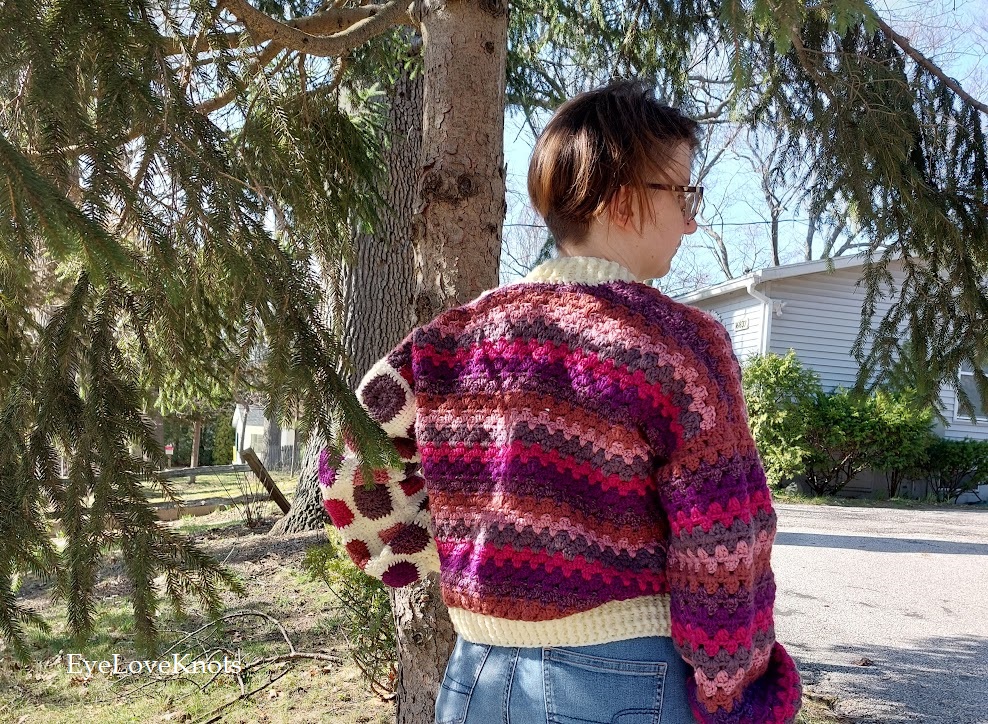 Pattern Notes:
I appreciated this pattern being very straightforward on sizing. The sizes given should fit a range of bodies, and you could easily size up or down if needed. I fit squarely in the middle of the first size range (XS/S/M) so I chose this one because I could be slightly off in gauge and I could still handle it being a couple inches larger or smaller. I believe the pattern is written with a good amount of positive ease so you can find what fits you best make customizations from there.
This idea with 6 colors + a main, and then having it a half and half design on top of that, leaves so much to your choices and imagination and I love that! You could keep it to neutrals or various shades of a color you enjoy like blues. You can go all out with neons and intense shades. You could even do holiday options like a few red and green shades with a silver and a white, or a bunch of pastels for spring! My mind is racing with ideas.
Or, like me, you can "shop your stash" for this and not have to spend a dime! We all have so much worsted yarn sitting around on our shelves and most full skeins should be enough to substitute for the 315 yards of a Simply Soft Skein. I only ran into one issue with this method when I ran out of my Lion Brand Heartland purple, but all I did was find another purple colorway of the same yarn. Since this pattern is so colorful, even this clashy choice blends in just fine and I can't even remember where this happened! I think it was near the end of my sleeve in the granny stripes, so one or two rows of that color is different. But if nothing matches, you can get away with anything!
If you do this and use stash yarns, just make sure you check your square sizes as you make them (since that's the half you start with). If one of your yarns is giving you squares that are way outside of the suggested 3 inches then you'll run into some trouble. I think even my worst (thickest) yarn was coming out about 3.25″ across which was pushing the limits a little bit but I decided to power through it.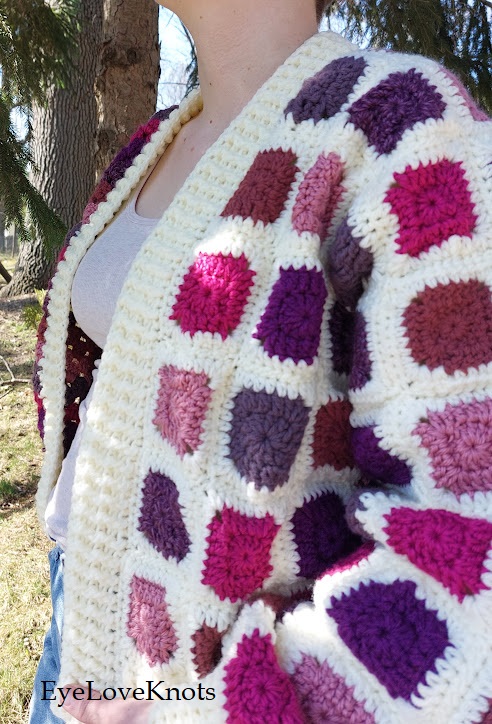 I didn't modify much at all in this pattern that I know of. A lot of it in the granny stripe section is simply working to a certain length so it's left up to you and the tension you're getting. I did choose to leave off the buttons and buttonholes for this one, just because I didn't have any buttons I liked and I wanted to keep this a "no buy" project. Also to compensate for this I left off the last two rows of front/collar ribbing, which I think was also to balance the buttonholes anyway. I just felt it looked good at 6 rows of ribbing instead of the listed 8 so I stopped.
I was incredibly happy with the process and my results in this project. It's eye-catching, fun, and comfy! The pattern was simple to understand and even the sewing wasn't hard. It just takes time to put all the squares together, that was the worst part. You just have to remember that at the end, you'll have a gorgeous cardigan to show off to the world!
What colors would you use for this? Rainbow? Pinks and purples like me? Neutrals? I'd love to know!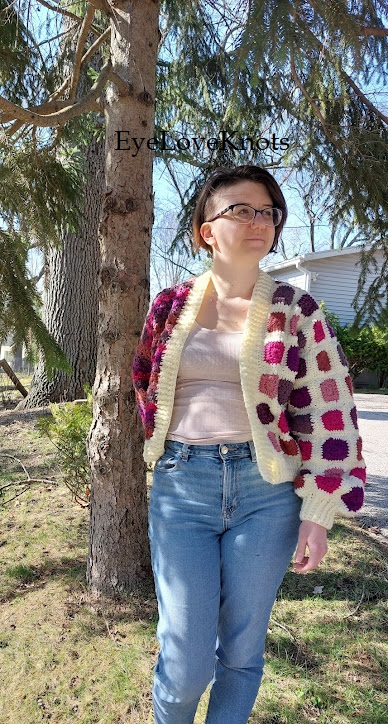 Don't forget to visit with me on Instagram @astitchshyofnormal for all kinds of awesome crochet makes and inspiration.
Join one of our awesome Facebook groups to share your creations, and see what others are up to!
– Yarn Crafts & Coffee Community
– DIY Home On Rockwood Lane
– Alexandra Lane Lifestyle
Linked Up To…
Craftastic Monday Link Party – Sew Can Do
Weekday Wear Linkup – Away from the Blue
Linky Ladies Party #235 – The Purple Poncho
Style with a Smile Link Up – Style Splash
Confident Twosday – I do deClaire
Turning Heads Tuesday – Elegantly Dressed and Stylish
Loop Scoop #60 – Moogly Blog
Team Creative Crafts Link Party #141 – Artsy-Fartsy Mama
The Wednesday Link Party 500 – Oombawka Design Crochet
Creatively Crafty Link Party #377 – Try It – Like It – Create It
Wow on Wednesday – Is This Mutton?
Chic and Stylish Link Up – Mummabstylish
Thursday Fashion Files – Doused in Pink
Spread The Kindness Link Up On the Edge #649 – Shelbee on the Edge
Fancy Friday Link Up – Nancy's Fashion Style
Neverending Style Link Up – The Grey Brunette
Craft Schooling Sunday – Creative Jewish Mom
Happiness is Homemade 475 – Decor Craft Design
Sundays on Silverado #141 – The House on Silverado
Handmade Monday #323 – Sum of their Stories
The Really Crafty Link Party #361 – Keeping it Real
Hello Monday – Pink Lady
Anything Goes Linky 374 – My Random Musings
679th Inspire Me Tuesday – A Stroll Thru Life
Fabulous Party 472 – Lou Lou Girls
The Happy Now Blog Link- Up #369 – JENerally Informed
Linky Party #316 – Karins Kottage
Crafty Creators Link Party #64 – Life as a LEO Wife
Wonderful Wednesday Blog Hop – My Life Abundant
Wednesday Link Party #345 – To Grandma's House We Go
Create, Bake, Grow & Gather Party #569 – Shabby Art Boutique
Funtastic Friday Link Party 434 – Simply Beautiful by Angela
A Morning Cup of Joe – The Cottage Market
June Sunday Showcase – Chez Mireille