This is a crochet pattern review of the Mini Belly Ellie designed by Madeline Spence of Madeline Mae Co. Review done by Candace of T&C Crafters for EyeLoveKnots.
This post contains affiliate links for Etsy, WeCrochet, and Amazon. If you make a purchase by clicking on them, I make a small commission at no extra cost to you. Thanks for your support!
Find the crochet pattern review below, or click here to purchase the pattern from MadelineMaeCo on Etsy!
In a hurry? Pin this for later when you have more time.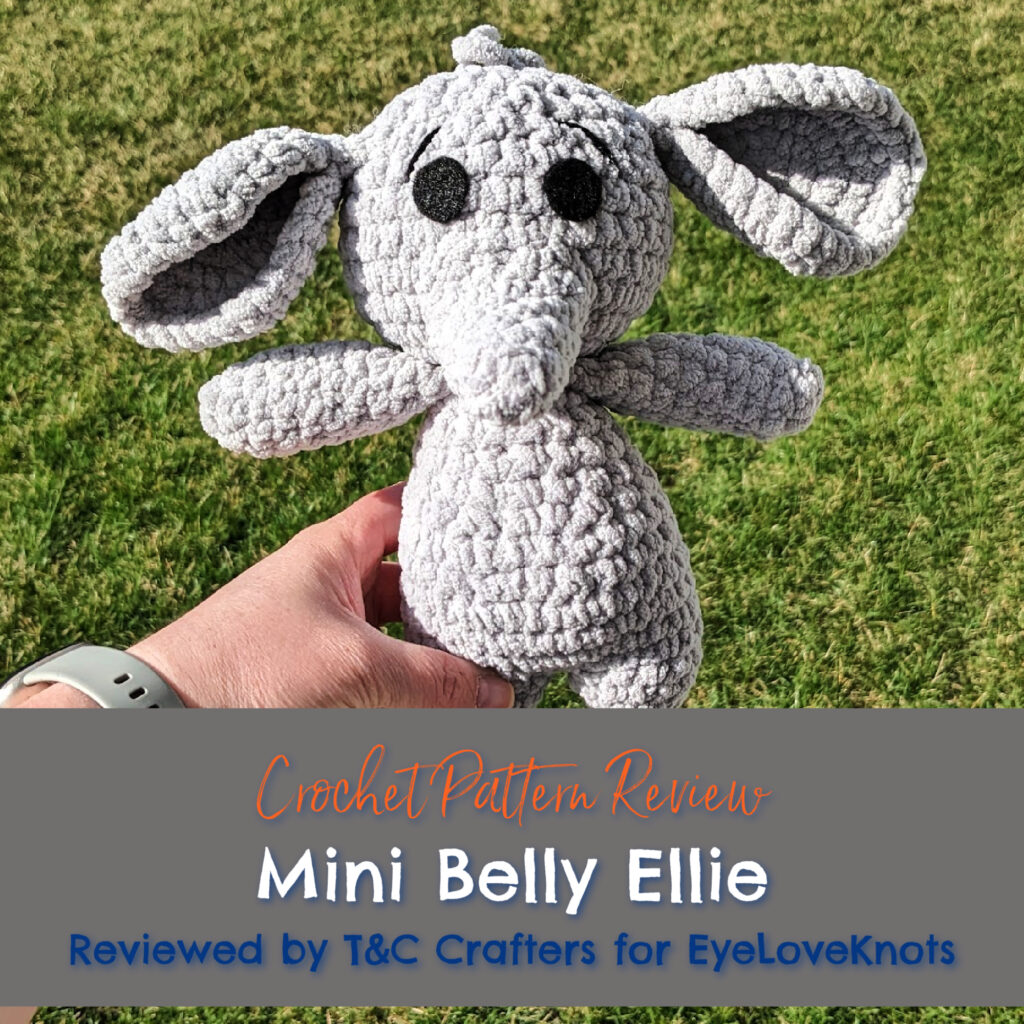 Visit with me on Facebook and Instagram for all kinds of awesome crochet makes and inspiration.
A few months back, I saw a post in one of my favorite Facebook crocheting groups about an adorable set of patterns for stuffies that all featured the cutest little bellies. I had them saved as favorites on Etsy for quite some time, and once I heard the designer was having a sale, I knew I needed to buy them! To say I'm obsessed with these cuties is an understatement!
The first pattern I worked up from Madeline Mae Co was the Mini Belly Ellie, and I have since made 5 more! This pattern works up super easily, and the finished project is nothing shy of adorable! I'm currently in full market-prep mode, and this pattern has been a lifesaver for working up medium-sized stuffies in blanket yarn to fill up my stand. Best part of this pattern– there is a bonus mod for a completely different design included in the already reasonably-priced pattern!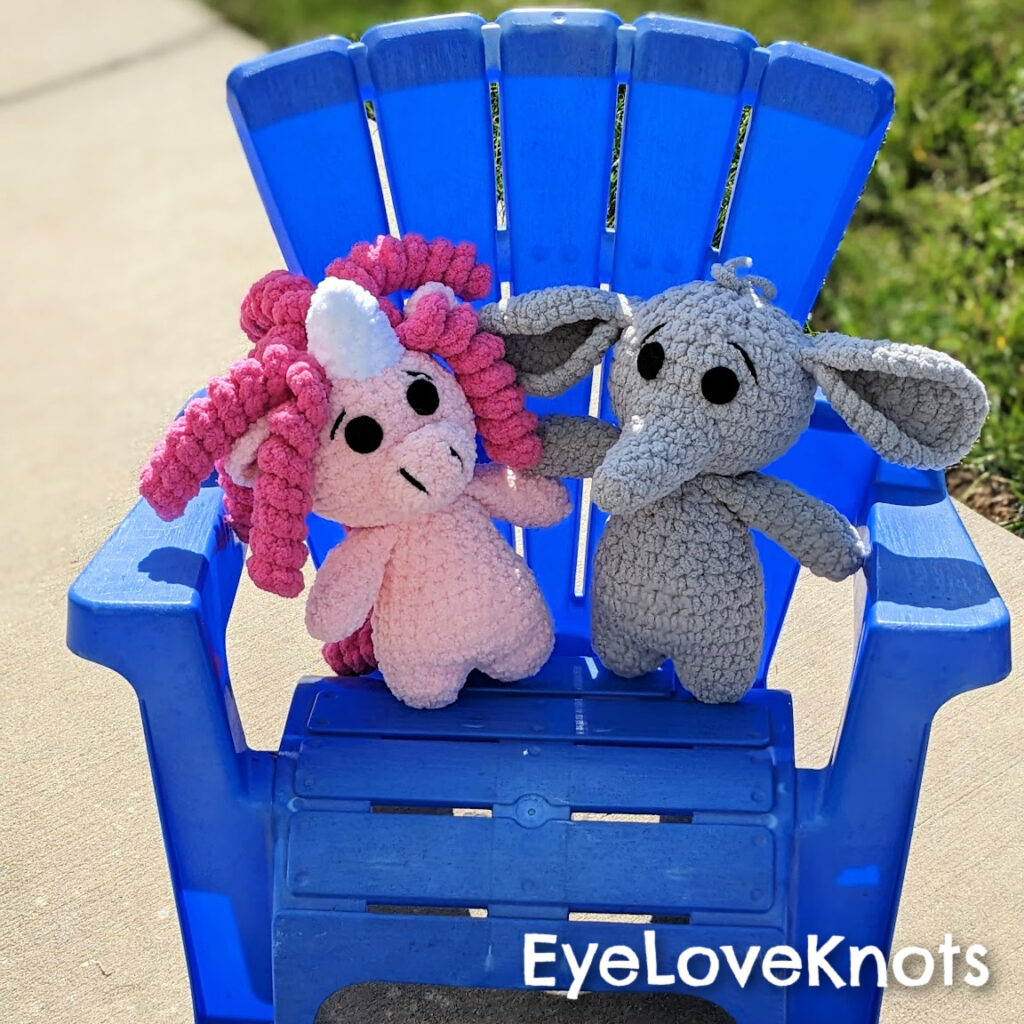 The Mini Belly Ellie is part of MadelineMaeCo's Belly Friends collection. You can buy each design individually, or splurge for a bundle of all of her awesome patterns! I have also made her larger belly giraffe, her mini belly giraffe, and her mini belly frog. All the patterns are pretty similar, so if you understand the process to make one, the rest are a breeze. All of Madeline Mae Co's patterns are really easy to read and work up super easily. Her patterns include beautiful, easy-to-read layouts and quality pictures. I have bought pretty much every one of her patterns, and I can't wait to make the rest!
What Do I Need to Make a Mini Belly Ellie?
For the Elephant: Mainstays Cozy Chenille Yarn in Grey
For the Surprise Unicorn Mod: Big Twist Cuddle in Blush (Body, Muzzle, and Ears) and Bright White (Horn) and Bernat Baby Blanket Sparkle in Hot Pink (Mane and Tail)
Small Amount of Black Worsted Weight Yarn for Embroidering Facial Features
J10/6mm Crochet Hook – I Used My WeCrochet Dots Hook.
Black Felt Eyes (Or Safety Eyes)
Yarn Needle – I Love This Set!
Mini Belly Ellie, Pattern by MadelineMaeCo via Etsy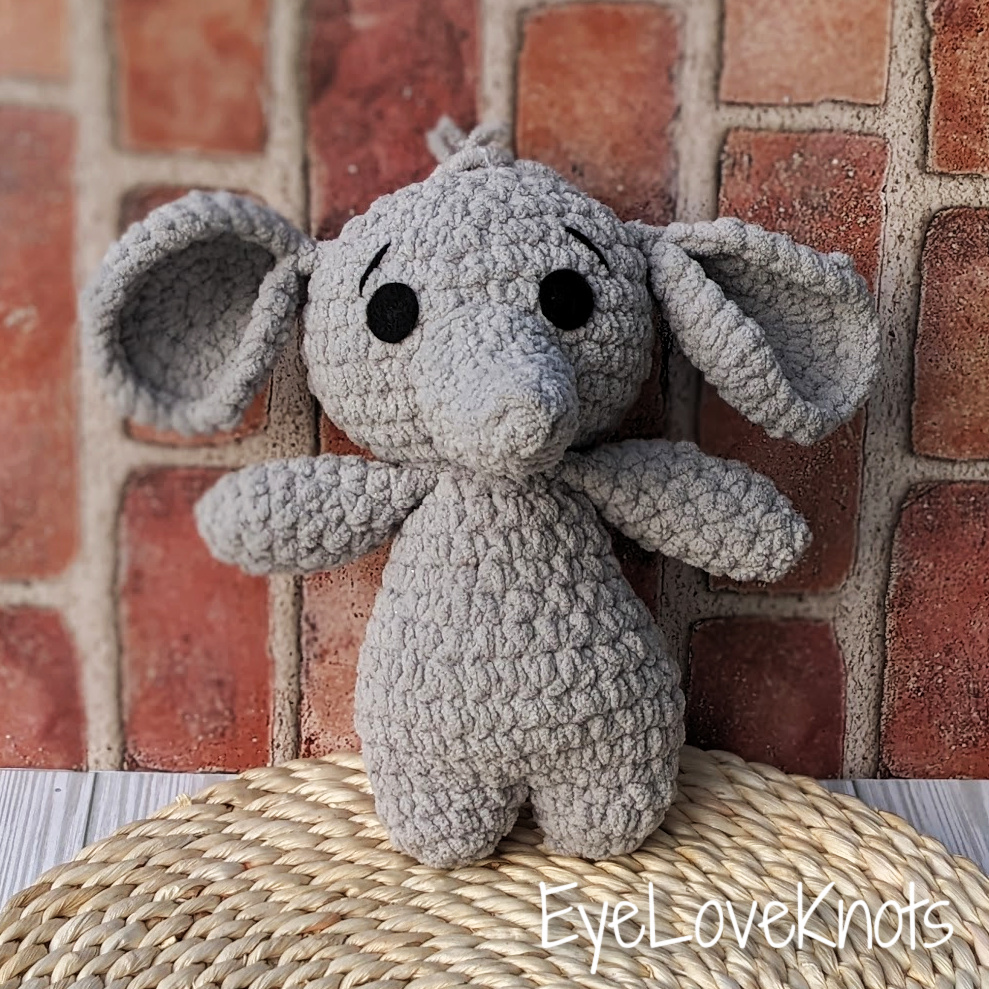 Material Notes:
This pattern works up really well in chunky, plush yarn. I used a combination of different blanket-style yarns when making both the elephant and the unicorn mod, and they made an adorable small/medium stuffed toy. You could also use a thicker plush yarn like Sweet Snuggles with a larger hook size if you wanted to make a larger stuffie with the same number of stitches.
While I did not make the elephant or unicorn patterns in another other weights yet, I have made some of Madeline Mae Co's other mini belly patterns in velvet yarn, and they have come out to be the perfect size to fit in your hand. Using worsted weight yarn would also make them come out about that size.
When making the elephants, I was able to make about 2 and a half elephants with one skein of Mainstays Cozy Chenille yarn. For the unicorns, I used about one third of a skein of the Big Twist Cuddle yarn to make the body, ears, and muzzle, and I used about a third of a skein of Bernat Baby Blanket Sparkle to make the mane and tail curls.
I stuffed all of my finished projects very full to make them squishy but rigid. If you are making a lot of these stuffies, you will quickly use up a lot of Poly fill. If you only plan to make one or two, a smaller bag of Poly fill should suffice.
Since I have two small children, I always opt to use felt eyes on my finished pieces rather than safety eyes, as safety eyes can potentially work their way out of crocheted pieces. I simply cut out two 15 mm black circles from felt I had on hand and used my hot glue gun to attach them in place after the stuffies were finished. If you would prefer to use safety eyes, I recommend using some sort of mesh or fabric backing inside the stuffed toy to prevent them from coming loose with wear.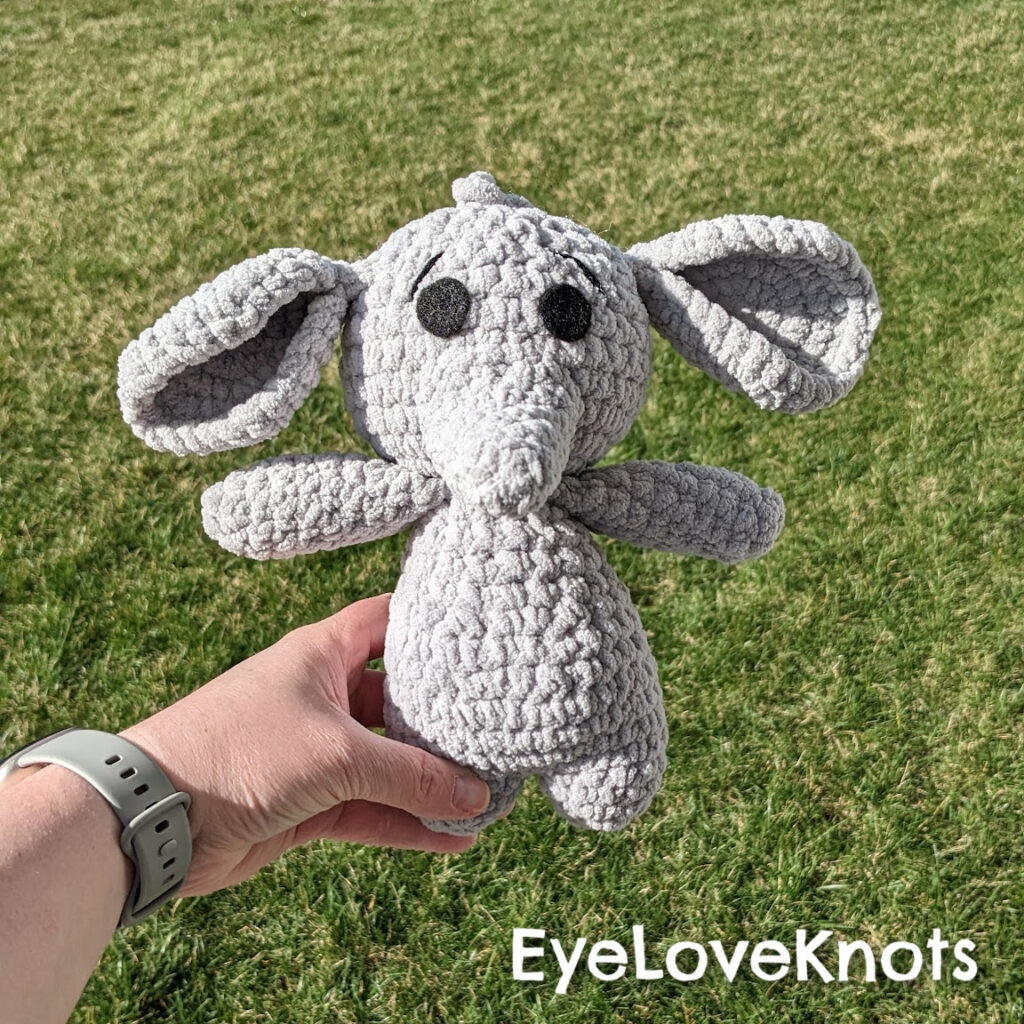 How Long Does it Take to Make a Mini Belly Ellie?
Each of the elephants took me just under three hours from start to finish. To speed up the process, I batch-made five of them by making all the same pieces at one time, and then attaching all the features in an assembly-line style at the end. By doing it this way, I was able to average about two and a half hours per elephant instead.
The unicorn took the same amount of time for the body, but the curls for the mane and the tail took a little longer to make than the features for the elephant. The finished unicorn took closer to three and a quarter hours.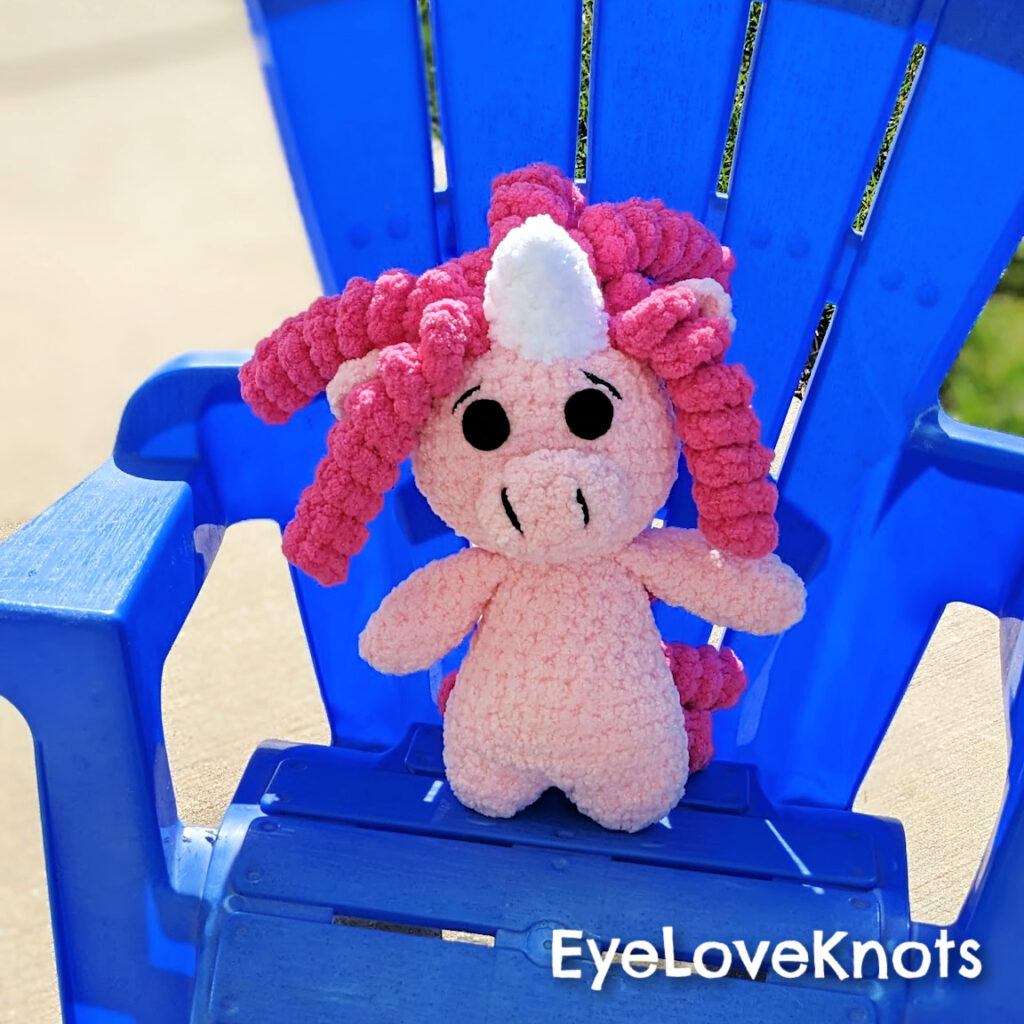 How Big Is the Mini Belly Ellie?
The finished elephant measured 9 inches tall and 10 inches wide. The finished unicorn measured 11 inches tall and 6 inches wide.
Gauge:
Gauge is not critical for this type of project, but you do need to make sure that your stitches are close enough together that stuffing doesn't get through between the stitches.
If you want to make your elephant and unicorn the same size as mine, a magic circle with 6 single crochets made with chunky blanket yarn and a J10/6 mm hook should measure 1.25 inches in diameter. After increasing in each stitch around, it should measure 1.75 inches in diameter.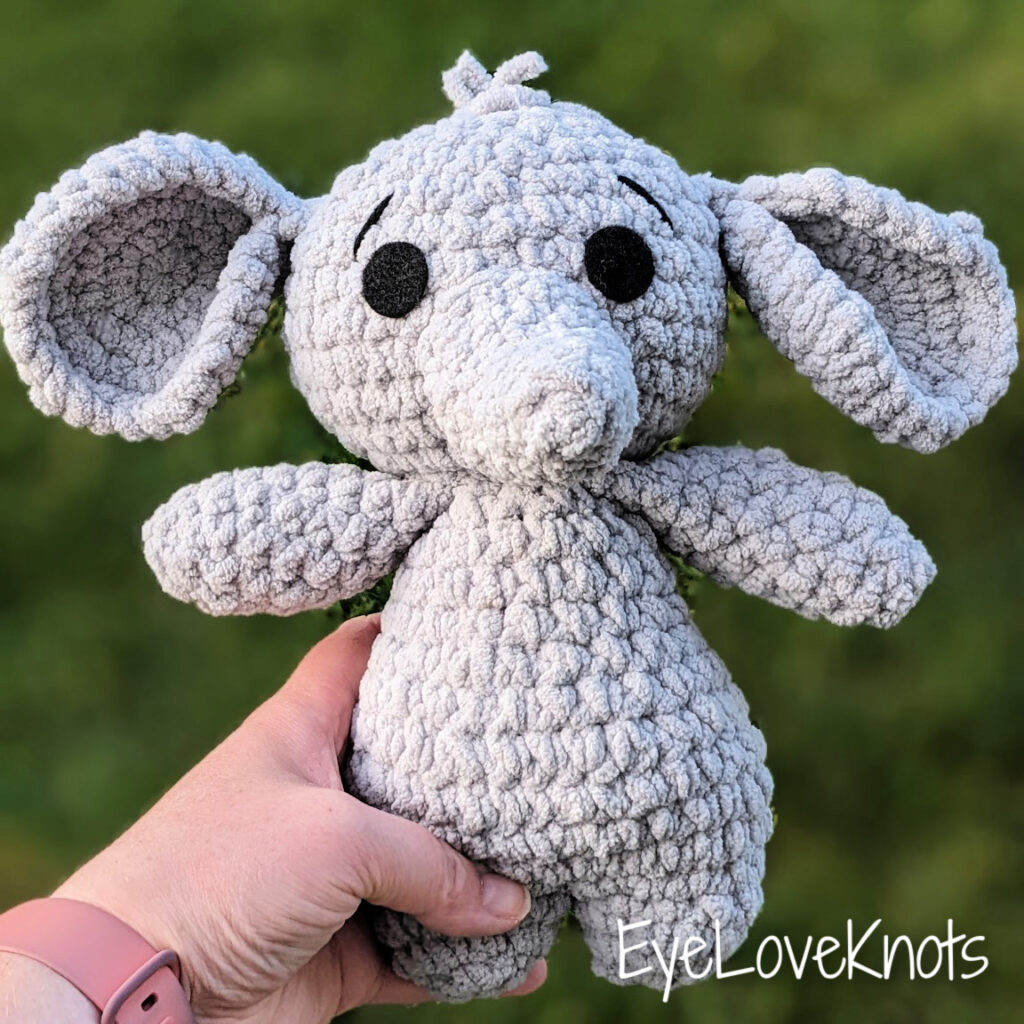 All About the Mini Belly Ellie Pattern:
The Mini Belly Ellie pattern works up really quickly and easily. You start by crocheting and lightly stuffing both arms, and then the body and head are constructed in one piece with the arms attached as you go. The whole body is worked in continuous rounds using single crochets, increases, and decreases.
If you are using safety eyes when making your elephant, the pattern provides clear directions on where to place them as you are crocheting so you can put them in before finishing the top. If you are using felt eyes like I did, you can just glue them on at the end. Within the pattern, the designer provides directions for when to add stuffing to make sure that you can adequately stuff your elephant body.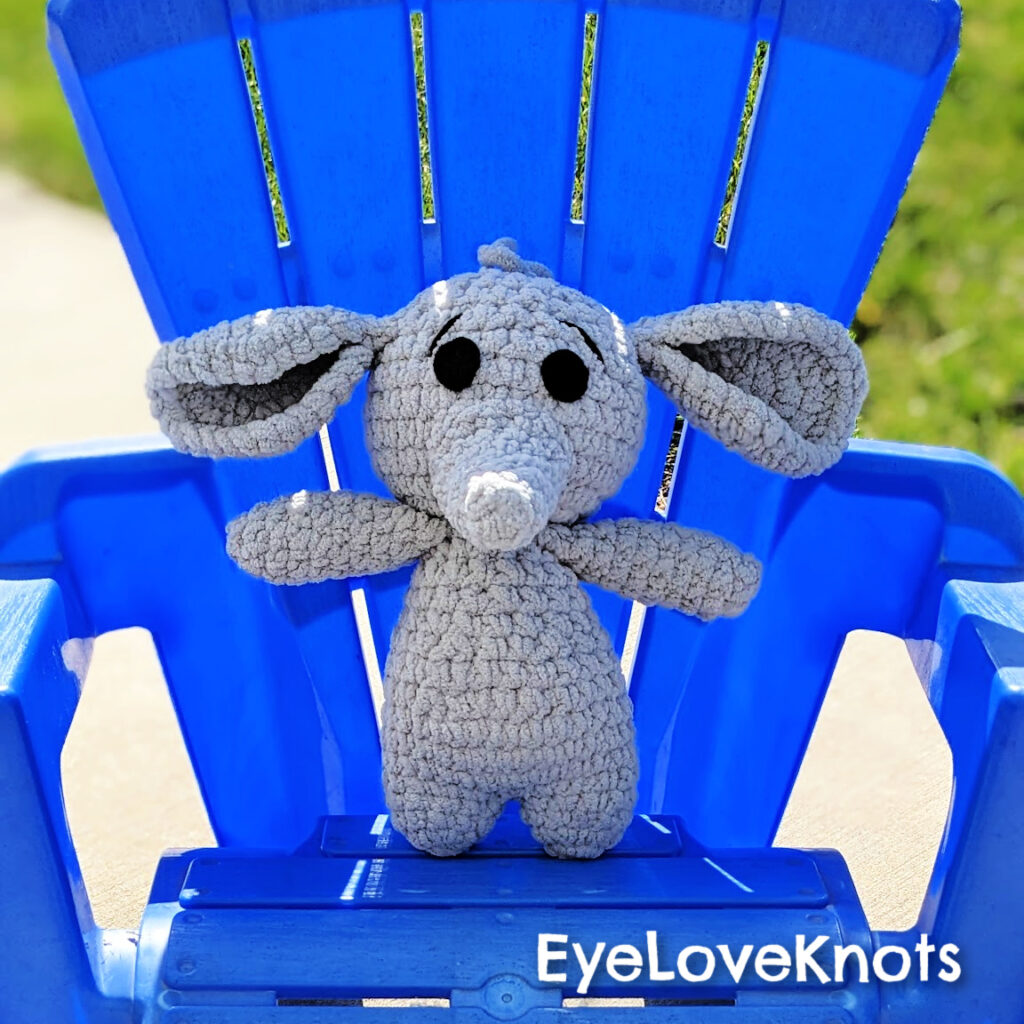 To finish the elephant, you will have to also crochet the two ears and the trunk separately and then attach them. The ears and the trunk are all worked in the round. Within the pattern, the designer again provides clear directions of where the sewing takes place to attach these features.
The final embellishments for the elephant include adding a tuft of hair at the top and adding eyebrows. I used three pieces of the blanket yarn to add my tuft at the top, but if you wanted a furrier look, you could use worsted weight acrylic yarn for this part and spread out the fibers more. You definitely don't want to skip out on adding the eyebrow embellishments. They add such personality to this little elephant! I have now started adding these cute eyebrows to every stuffed animal I make because I loved how they looked so much.
This pattern includes a surprise modification for how to turn the elephant into a unicorn! To do this, you use the same body pattern, but then add on a muzzle in place of the trunk, two smaller ears, a horn, and some curls for the mane and tail. These modifications were all really easy to make and turned out really cute!
When making the curls for the mane and the tail, I used the smaller range of what was suggested for the number of curls. In the future, I think I am going to keep the same number of curls for the mane, but only do three to four curls for the tail. I also think that the tail curls were a little long, which was likely due to the slight size discrepancy from using a different brand of yarn for the curls than the body. If I do that again in the future, I think I will just make the tail curls a little shorter.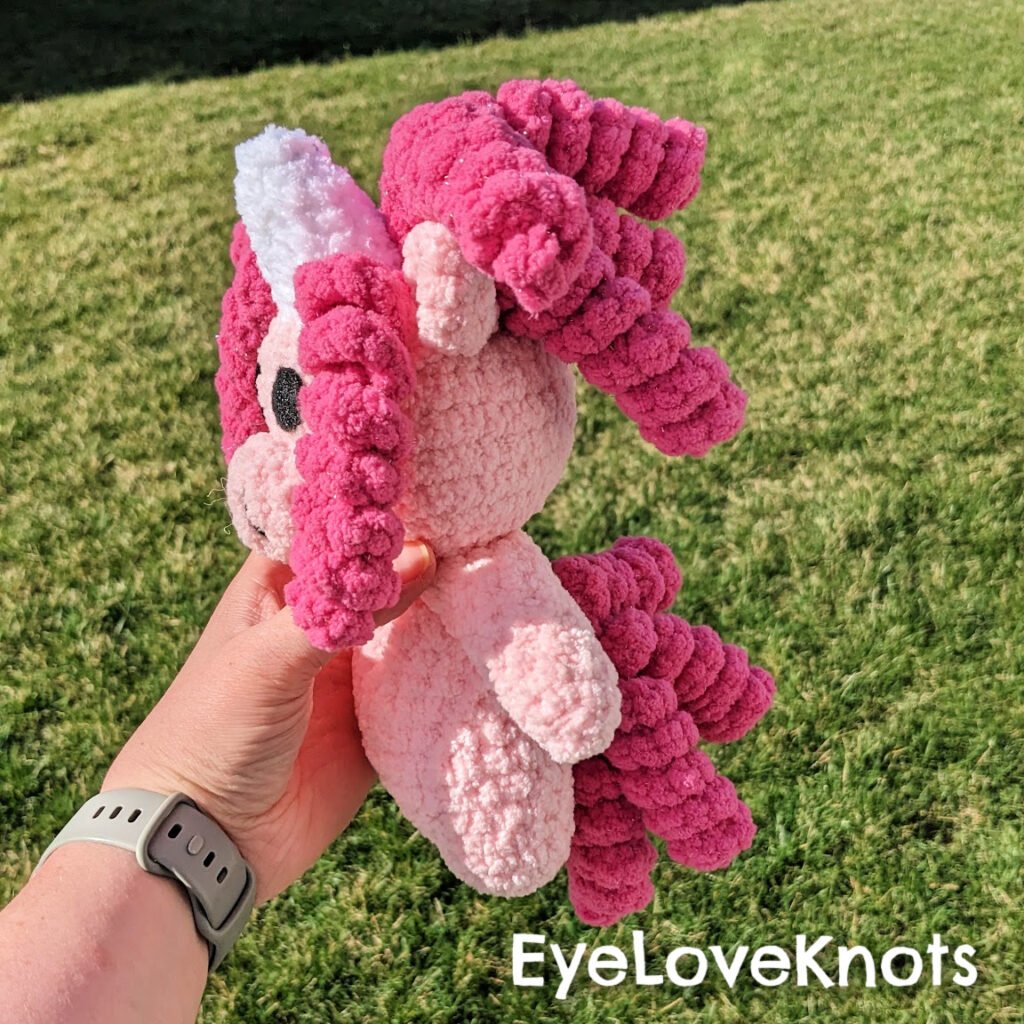 The possibilities for how to customize the colors of the unicorn modification are endless, and I am so excited to make more of these cute unicorns! I think both the Mini Belly Ellie and the unicorn mod are going to be some of my best sellers at my market, and I can't wait to see how happy they make their recipients.
I definitely recommend the Mini Belly Ellie and all of Madeline Mae Co's other patterns! If you decide to make some, please be sure to tag the designer (@madelinemaeco), EyeLoveKnots (@eyeloveknots), and me (@tandc_crafters) so we can see what you made! Plus, be sure to check out some of my other cute plush stuffed toy reviews including Frank the Frog, Tank the Turtle, and Sydney the Snake!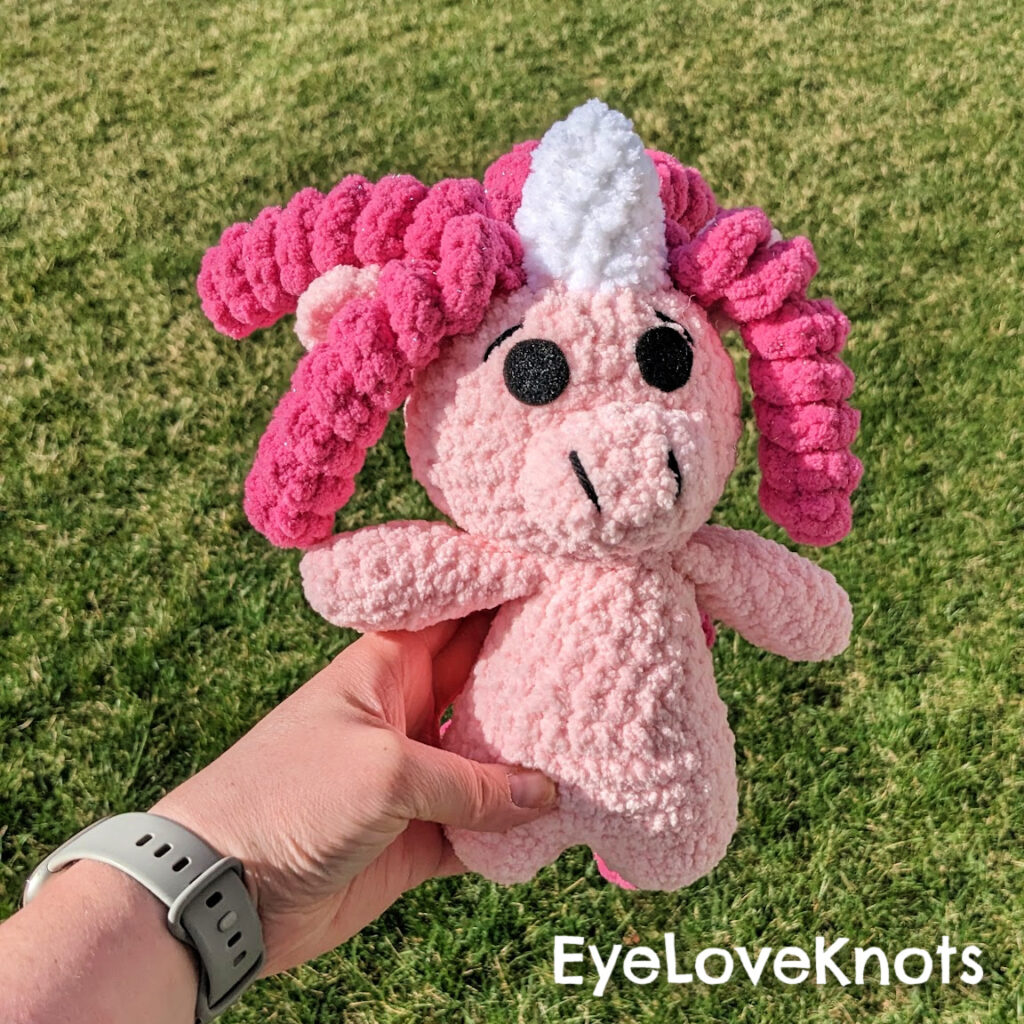 Don't forget to visit with me on Instagram for all kinds of awesome crochet makes and inspiration.
Join one of our awesome Facebook groups to share your creations, and see what others are up to!
– Yarn Crafts & Coffee Community
– DIY Home On Rockwood Lane
– Alexandra Lane Lifestyle
Linked Up To…
Craftastic Monday Link Party – Sew Can Do
Linky Ladies Party #235 – The Purple Poncho
Creatively Crafty Link Party #375 – Try It – Like It – Create It
Vintage Charm Party 384 – My Thrift Store Addiction
The Loop Scoop 59 – Petals to Picots
The Wednesday Link Party 498 – Oombawka Design Crochet
Team Creative Crafts Link Party #141 – Artsy-Fartsy Mama
Beautifully Made Home Decor Link Party 258 – Across the Boulevard
All About Home #191 – Common Ground
Handmade Monday #322 – Sum of their Stories
The Really Crafty Link Party #360 – Keeping it Real
You're the Star Blog Hop – Decor Craft Design
Happiness is Homemade 474 – Decor Craft Design
Hello Monday – Pink Lady
Anything Goes Linky 373 – My Random Musings
Craft Schooling Sunday – Creative Jewish Mom
Sundays on Silverado #140 – The House on Silverado
678th Inspire Me Tuesday – A Stroll Thru Life
Fabulous Party 471 – Lou Lou Girls
The Happy Now Blog Link- Up #368 – JENerally Informed
Grace at Home No. 504 – Imparting Grace
Crafty Creators Linky Party #63 – Life as a LEO Wife
Create, Bake, Grow & Gather Party #567 – Shabby Art Boutique
Funtastic Friday Link Party #432 – Simply Beautiful by Angela
A Morning Cup of Joe – The Cottage Market
Pink Saturday – How Sweet the Sound
Wednesday Link Party #343 – Grandma's House We Go
Wonderful Wednesday Blog Hop – My Life Abundant