This is a crochet pattern review of the Kitten Keychain designed by Antonina Naimonova of ToyStoryPatternsAU. Review done by Candace of T&C Crafters for EyeLoveKnots.
This post contains affiliate links for WeCrochet, Etsy, and Amazon. If you make a purchase by clicking on them, I make a small commission at no extra cost to you. Thanks for your support!
Find the crochet pattern review below, or click here to purchase the pattern from ToyStoryPatternsAU on Etsy!
In a hurry? Pin this for later when you have more time.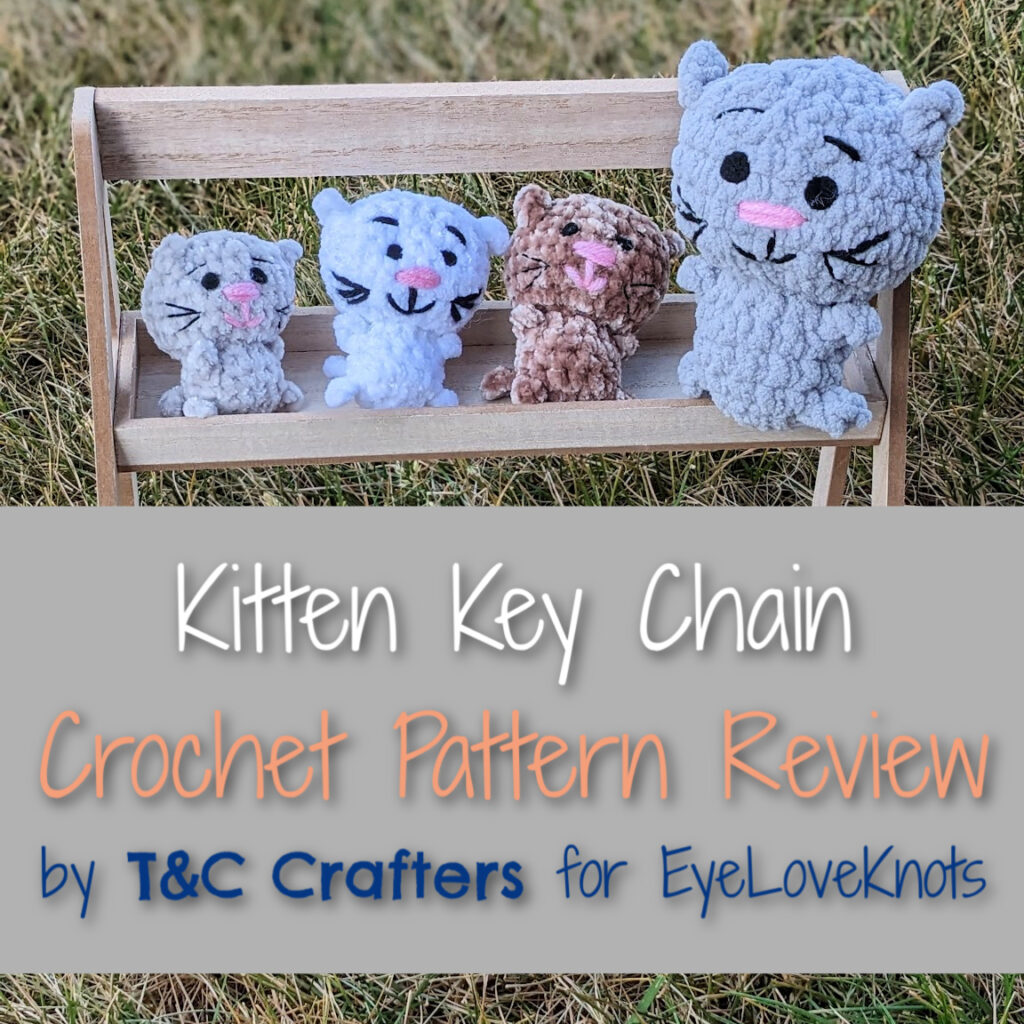 Visit with me on Facebook and Instagram for all kinds of awesome crochet makes and inspiration.
At my last market this spring (catch a peek on Instagram), my best sellers were my little pocket pals. Since then, I have been searching for some great new mini crochet patterns that would work up quickly and catch attention, and be able to add to my Ultimate Free Mini Crochet Patterns list. When I saw a fellow crocheter share about an awesome keychain pattern that they made in just a few minutes, I wanted to check it out right away!
ToyStoryPatternsAU has some absolutely adorable patterns, including some quick and adorable key chain patterns. I snatched up the patterns for the Kitten Keychain, the Sloth Keychain, and the Chick Keychain. The kitten was the first pattern I worked up, and I can honestly say I am hooked! It is taking all that I have not to go back and buy every single key chain pattern from this designer!
The Kitten Keychain crochet pattern by ToyStoryPatternsAU works up super quickly with very minimal yarn. It is a great stash-buster and works great for market prep! While the pattern can be a bit tricky for a beginner, it is a well-written pattern for crocheters with experience in working up amigurumi. I highly recommend checking it out if you need a quick and adorable pattern to make up for your upcoming markets or if you just want to make an adorable kitten key chain!
What Supplies Do I Need to Crochet a Cat Stuffie?
Bernat Baby Velvet in Misty Gray [Worsted Weight Yarn], Premier Just Chenille in White [Super Chunky Yarn], Bernat Velvet [Chunky Yarn] in Mushroom, and Mainstays Cozy Chenille Yarn in Grey [Super Chunky Yarn]
G6/4mm Crochet Hook (used with Bernat Baby Velvet, Premier Just Chenille, and Bernat Velvet) and J10/6mm Crochet Hook (used with Mainstays Cozy Chenille) – I used my favorite WeCrochet Dots Hooks!
Black and Pink Worsted Weight Yarn and Black Crochet Thread for Embellishments
Yarn Needle
Optional: Split Keychain Ring
Kitten Keychain, Crochet Pattern by ToyStoryPatternsAU via Etsy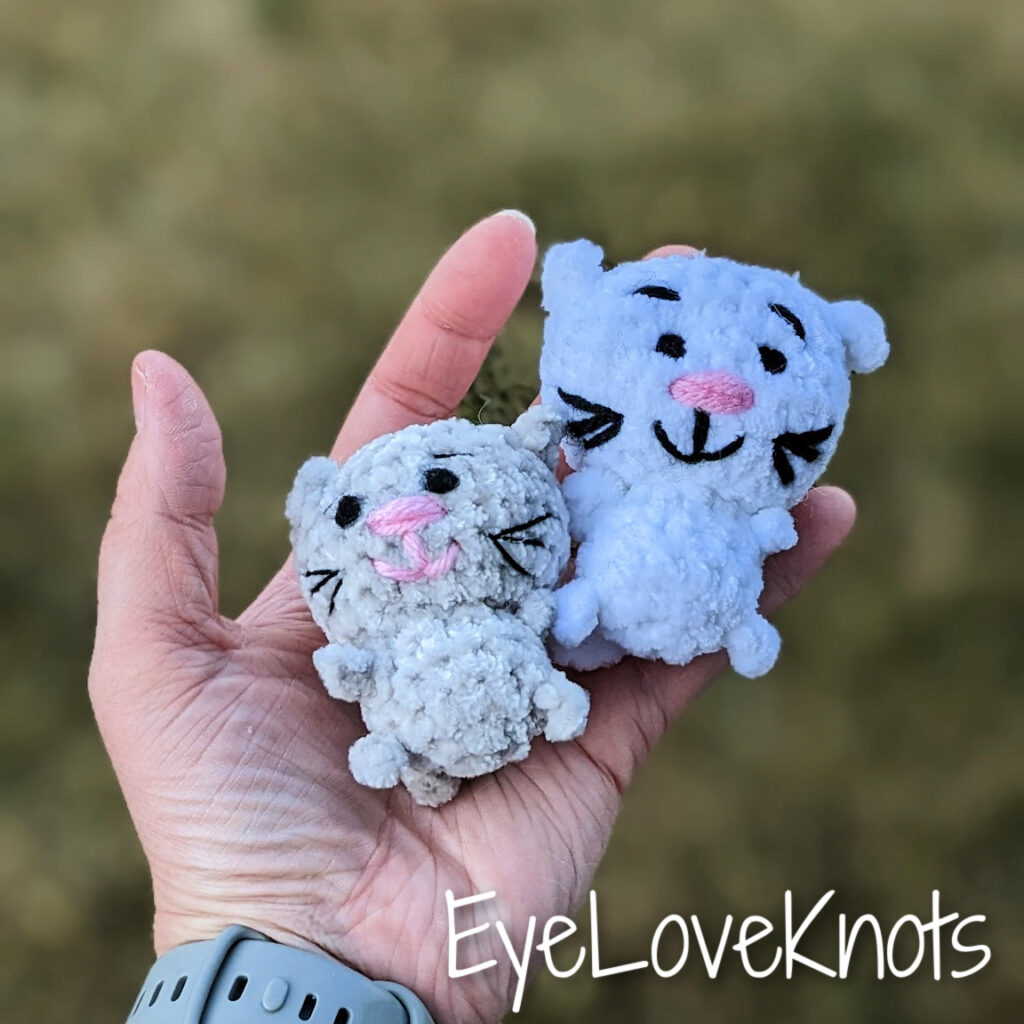 Material Notes:
The written pattern calls for Himalaya Dolphin Baby yarn, which is a super bulky chenille yarn. I chose to use yarn that I already had in my stash, so I worked the pattern up in some other brands and weights of chenille yarn. The Bernat Baby Velvet yarn created the smallest finished kitten, which was great for a key chain size. The Bernat Velvet yarn and Premier Just Chenille both turned out about the same size, and make great larger key chains or pocket pets. The Mainstays Cozy Chenille yarn is a thicker blanket-style yarn, and created a small stuffed toy that is great for little hands.
I used my G6/4mm WeCrochet Dots hook for the three smaller kittens and a J10/6mm hook for the largest kitten. The pattern calls for a 4.5mm crochet hook or any hook that matches your yarn. You will also need a yarn needle to weave in ends and to sew on embellishments. I recommend using a metal yarn needle for this, as it is easier to push through the fiberfil when working with amigurumi.
This pattern only requires a small amount of materials. I hardly made a dent in any of my skeins of yarn when working up these kittens, and I used only about a fist full of fiberfil for each one. For the embellishments, I opted to use black felt for the eyes, and to sew on the nose, mouth, and other features with yarn. I was able to include all the details on the face without having to purchase anything extra, which is nice.
The pattern calls for 8mm safety eyes and a 8mm safety nose, which you can certainly use instead. I like to make sure all of my finished pieces are as safe as possible for children, which is why I chose to use felt eyes and embroidered facial features instead. For the larger kittens, I used pink and black worsted weight yarn for the facial features. For the smaller ones, I used pink worsted weight yarn for the nose and mouth, but I switched to black crochet thread for the other details so the lines wouldn't be too thick.
As the name suggests, this pattern is meant to be worked up as a keychain. You will need some sort of keychain to use. I used a split ring key chain for mine, but there are lots of different options you could go with if you were looking for something different.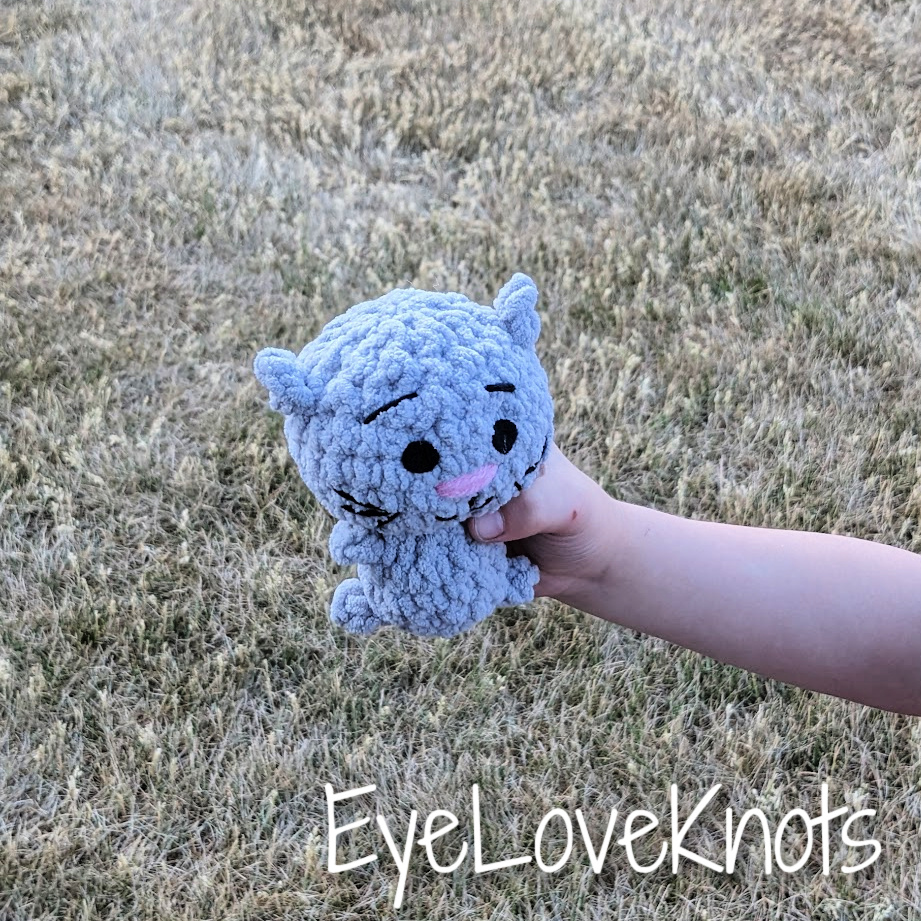 Time Spent:
Once I got the hang of this pattern, each of these little kittens worked up quickly – in less than 30 minutes! My first kitten took just under an hour to get used to the pattern and embellish all the details. If you make a lot of these at once, you can probably shorten your time per piece by adding all the embellishments at the end in an assembly-line style.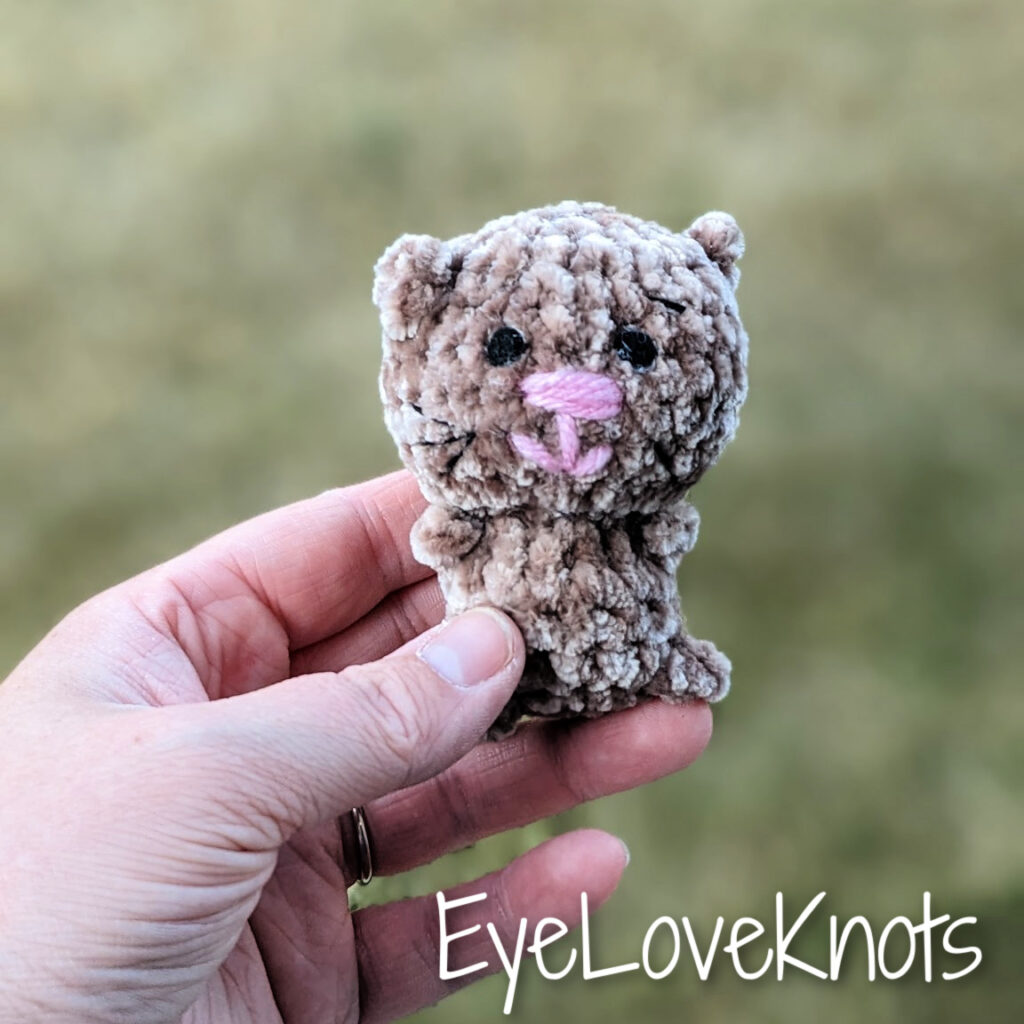 Measurements:
I made these little kittens up in several different weights of yarn. Here are the sizes for each according the yarn that was used:
Bernat Baby Velvet: 2.75 inches tall and 2 inches wide
Bernat Velvet/Premier Just Chenille: 3.5 inches tall and 2.5 inches wide
Mainstays Cozy Chenille: 5 inches tall and 3.75 inches wide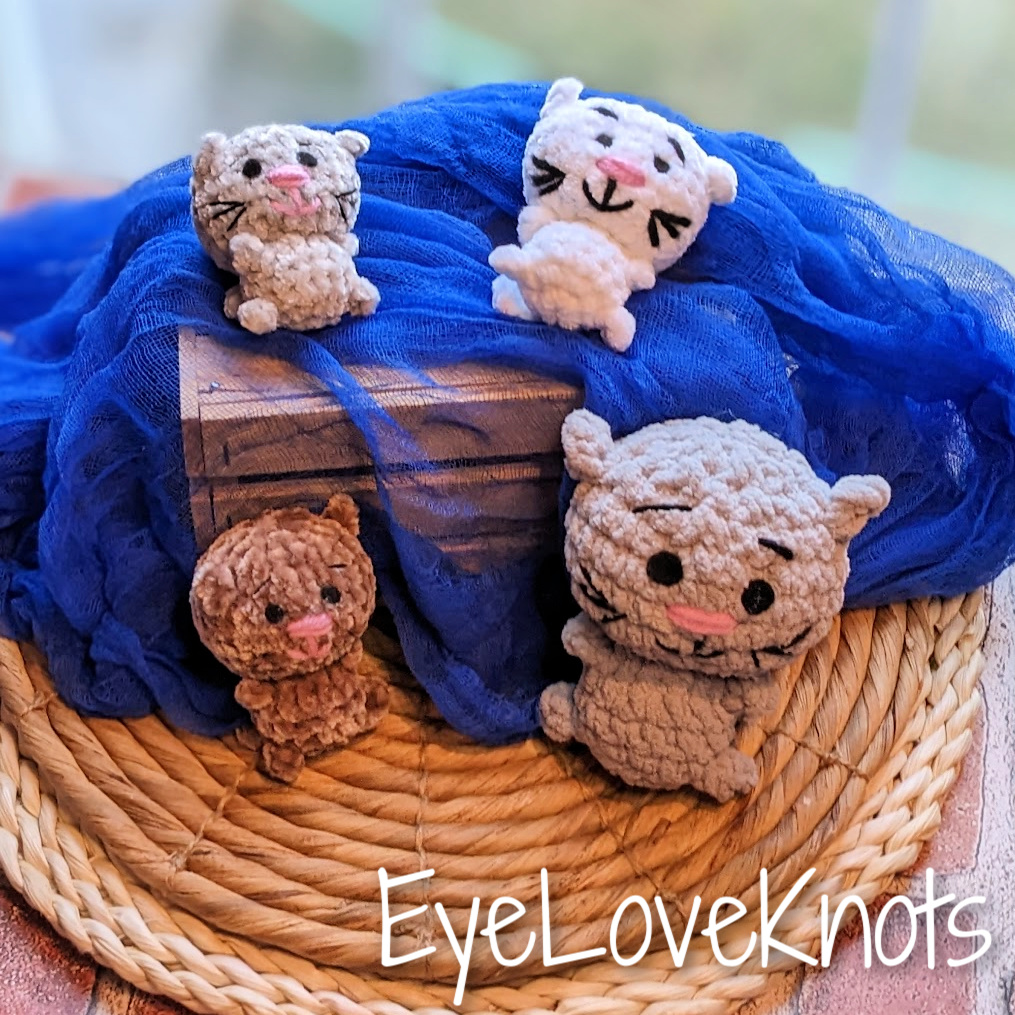 Gauge:
Gauge is not overly important for this pattern. You just need to make sure you use a small enough hook that there are not gaps between your stitches that would allow your stuffing to poke through.
If you would like your project to be the same size as mine, here are some gauge measurements to follow:
A magic circle with 6 single crochets made with Bernat Baby Velvet and a G6/4 mm hook should measure 1/2 inch in diameter.
A magic circle with 6 single crochets made with Bernat Velvet or Premier Just Chenille and a G6/4 mm hook should measure 3/4 inch in diameter.
A magic circle with 6 single crochets made with Mainstays Cozy Chenille and a J10/6 mm hook should measure 1.25 inches in diameter.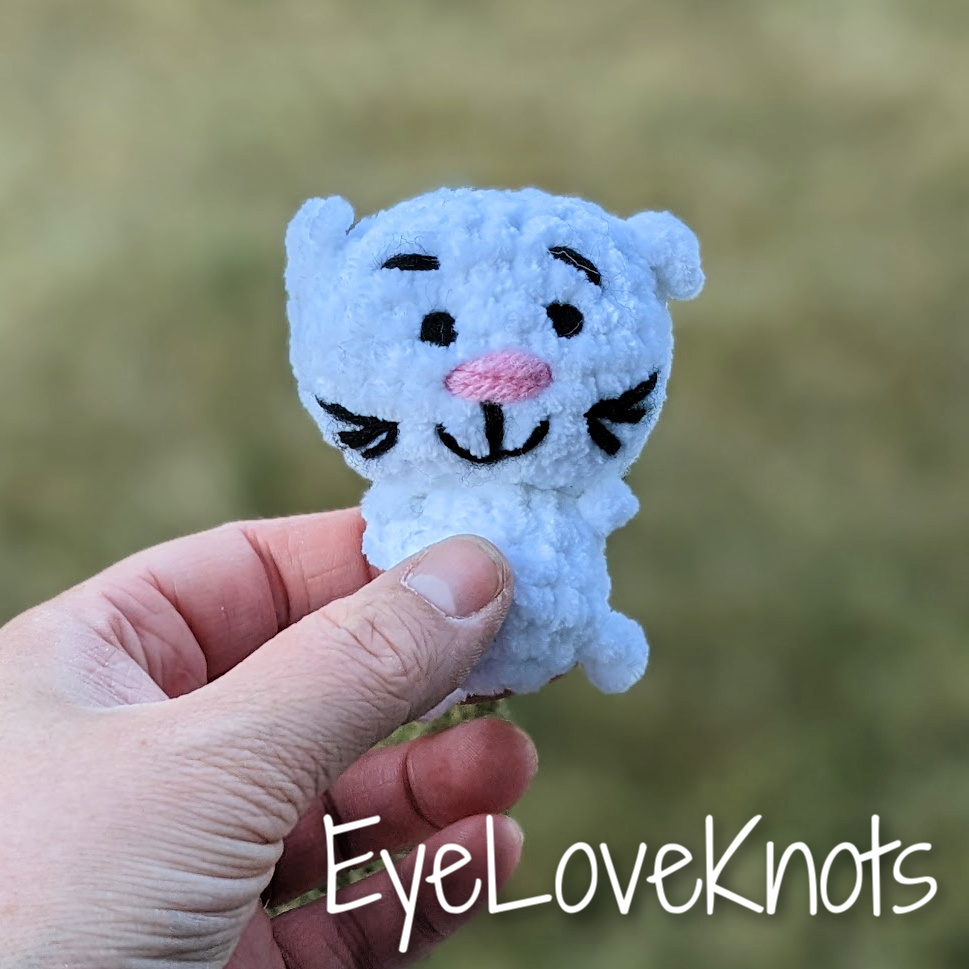 Pattern Notes:
While I absolutely love how quickly this pattern works up and how adorable the finished product looks, I want to make it clear that this is not a very beginner-friendly pattern. In order to make this quick make, you will need to have a pretty solid understanding of reading patterns, different types of stitches, and the typical process for making amigurumi in the round. To tackle this pattern, make sure you consider yourself an intermediate or advanced crocheter.
Although the process for making these cute little kittens can be tricky at first, the pattern is really well-written and even includes stitch diagrams to show you how to work up the confusing parts of the pattern. There are a few parts of the pattern where you may need to make some additional stitches to make sure all the parts of the kitten's body line up correctly, which is mentioned in the pattern.
This kitten keychain is worked up in all one piece and made in only 16 rows! You start off by making the tail and legs, then move up in the rounds and create the arms. I typically found myself needing to add a few extra stitches to line up the arms correctly at this part, but I may have had my stitches off a little after working above the legs and tail. When moving on to the head, I at first thought it looked way too big, but you just need to trust the pattern! After the decreases at the top of the head, the finished product turns out to be an adorable kitten!
This pattern is very thorough, and includes directions on where to add stuffing, when to add safety eyes and a nose, and when to fasten off. There are pictures of most of the steps, and helpful tips included throughout. The pattern also includes photo instructions on how to shape the face at the end. While it may seem like this is an optional step, I highly recommend you use this tutorial to shape the face, as it makes a drastic difference!
If you are an experienced crocheter, I highly recommend you try out this pattern! I know I personally will be making plenty more of the patterns by this designer. If you decide to make a kitten keychain, I'd love to see it! Be sure to tag ToyStoryPatternsAU, EyeLoveKnots, and T&C Crafters in any social media posts so we can see what you made!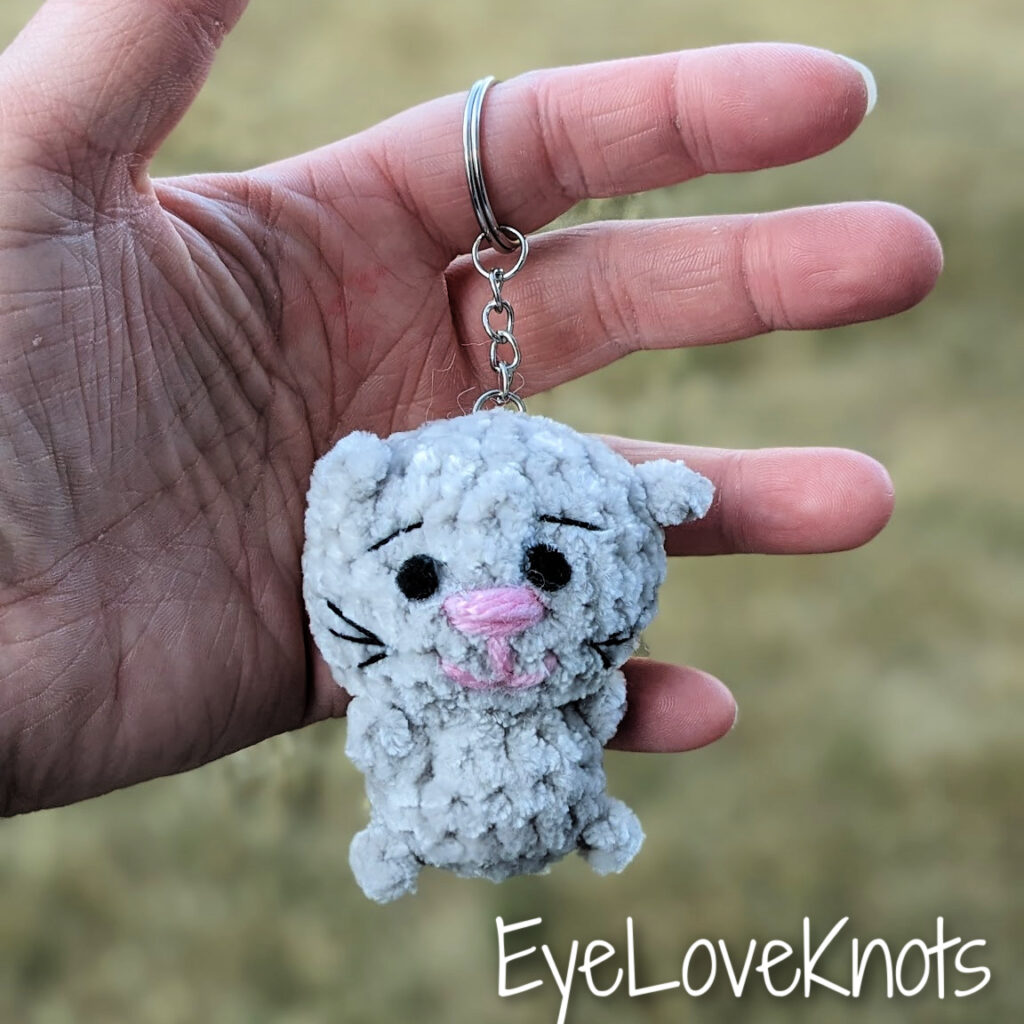 Don't forget to visit with me on Instagram for all kinds of awesome crochet makes and inspiration.
Join one of our awesome Facebook groups to share your creations, and see what others are up to!
– Yarn Crafts & Coffee Community
– DIY Home On Rockwood Lane
– Alexandra Lane Lifestyle
Linked Up To…
Home Matters Linky Party #442 – Modern on Monticello
Linky Ladies Party #239 – The Purple Poncho
Loop Scoop 67 – Moogly Blog
Craftastic Monday Link Party – Sew Can Do
Team Creative Crafts Link Party #158 – Artsy-Fartsy Mama
Wednesday Link Party 515 – Oombawka Design Crochet
Saturday Sparks Link Party 577 – Pieced Pastimes
Handmade Monday #334 – Sum of their Stories
Happiness is Homemade 489 – Decor Craft Design
Hello Monday – Pink Lady
Anything Goes Linky 386 – My Random Musings
Tuesdays with a Twist #535 – God's Growing Garden
Love Your Creativity Link Party #211 – Life and Linda
271 Senior Salon Pit Stop – Esme Salon
Craft Schooling Sunday – Creative Jewish Mom
Sundays on Silverado #155 – The House on Silverado
692nd Inspire Me Tuesday – A Stroll Thru Life
Fabulous Party 486 – Lou Lou Girls
The Happy Now Blog Link-Up #384 – JENerally Informed
To Grandma's House We Go Link Party #360 – Grandma's House DIY
Wonderful Wednesday Blog Hop – My Life Abundant
Traffic Jam Friday Reboot – Is This Mutton?
Create, Bake, Grow & Gather Party #584 – Shabby Art Boutique
Morning Cup of Joe – The Cottage Market
Pink Saturday – How Sweet the Sound
Encouraging Hearts and Home – My Slices of Life
Crafty Creators Link Party #7 – Life as a LEO Wife
Thursday Favorite Things #622 – An Artful Mom
Vintage Charm Party 400 – My Thrift Store Addiction