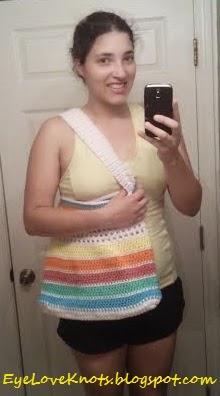 *Note: I DO NOT get endorsed or paid to mention such products. I simply went to Big Lots, walked up and down aisles with my boyfriend, Chad, and these are what I picked.


After receiving my June 24th email of recommendations from YouTube and trying my hand at the Crochet Handbag Purse (post to come as soon as I finish the sewing!) I checked out the Stylen with Cstyles Bag O Day Facebook page to see what else was out there. Absolutely gorgeous and fun purses/handbags and beach/tote bags.


I had purchased some materials to make my cousin, Tiffany, the Children of Mine Bracelet for her birthday but once I received my supplies I realized I forgot one important component – 2 crystal bicones to represent her daughter Madison!
So… I decided for the time being that I would make her this Rainbow Bright Beach Bag and fill it with lots of goodies!
I used Caron One Pound in Bright White and Red Heart Super Saver in Turqua, Bright Yellow, Glow Worm, Pumpkin and Light Raspberry (you could use Pretty 'n Pink instead if you wanted a brighter pink color). It doesn't require much yarn – you could easily make multiple tote bags with the same selection of yarns.
I'm planning on make some more of these beach bags. I think one in alternating white and another color would look nice, one with only the strips throughout (no mesh) would look nice, etc… Oh the possibilities!
This Rainbow Bright Beach Bag YouTube video is very easy to follow along with. There is no written pattern but it's easy enough to jot down some notes to self and/or simply watch again! The video is short and sweet.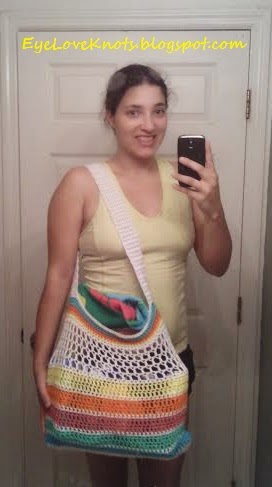 The bag is nice sized! It measures approximately 11″ wide by 14.5 tall. It stretches to accommodate your goodies – stretched 15″ to accommodate mine! I was able to fit a small lunch bag/cooler (filled with small bottles of Gatorade and Luna Bars), some sunscreen, a new beach towel, some lip balm (since sunscreen doesn't really taste too good!) and two magazines – Cooking Light for Cooking Inspiration and Mixing Bowl for Baking Inspiration (but it's an all around cooking/baking magazine).
I then put the bag over my shoulder to see how it held up. Because it is made from yarn and has the weight in it, it will stretch ESPECIALLY the strap, but I walked around for a few minutes with it on and didn't have any concerns. If you would like to make your bag extra secure, for the last round and the straps just double the thickness like the bottom of the bag is made. OR you can use cotton yarn (ie Lily's Sugar 'n Cream or Handicrafter Cotton) as it has less stress to it.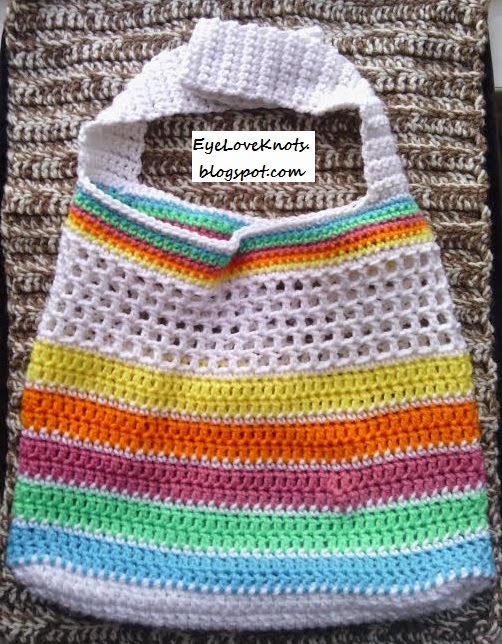 This bag worked up in roughly 3 hours. It was so much fun to make though that the time just flew by!


This video does not show how to insert a lining so if you make the bag as is, keep in mind pointy objects (ie keys, writing utensils) will poke through. No biggie for me though!

Overall, this beach bag was so much fun to create! It was an easy video tutorial to follow, used a minimal amount of yarn, and is a great tote bag.