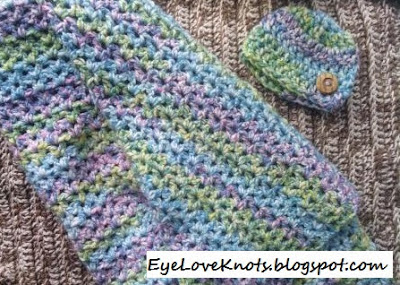 At the same time of purchasing the Kitty yarn I used in the Crochet Granny Square Baby Blanket and Hat Set, I also purchased this chunky yarn in Spring. This Spring yarn is such a neat color mixture – its yellow, green, blue and pinkish purple blended with white – reminds me dying Easter eggs!

This blanket is great for laying down to change the baby or to cover the grass so you can put the baby down in the park.
It works well for photo shoots too!

Materials:
     -4 Balls of Chunky Yarn – I used Deborah Norville's Serenity Chunky Yarn in Spring (or you will need about 8 balls of worsted weight)
     -L11/8mm Crochet Hook
     -Tapestry Needle for Weaving in Ends

Material Notes: 
     1 ball of the Deborah Norville yarn will give you 6″, and each remaining ball will increase the size by 6″ intervals.

Time Spent:
     Each row took me about 4.75 minutes for a total just shy of 3 hours. 

Gauge:
     Not important. 4 rows = 3″.

Measurements:
     GOAL was 30″ x 30″. Actual blanket measures 32″ wide by 30″ long.

Abbreviations:
     CH – Chain
     ea – each
     sp – space
     SC – Single Crochet
     FDC – Foundation Double Crochet
     DC – Double Crochet
     sl st – Slip Stitch
     v-st – V-Stitch (DC, CH 1, DC)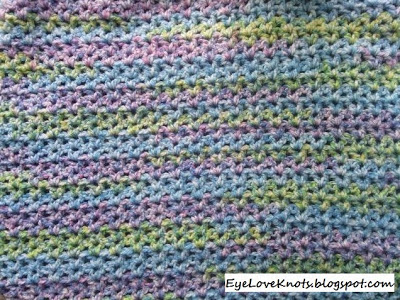 Pattern:
     FDC 90. 

Row 2: CH 3, V-St in 3rd (SK 2, V-St in next). Repeat across 26 more times.

Row 3: CH 3, turn. V-St in each V-St across. DC in last DC.

Row 4: CH 3, turn. V-St in each V-St across, DC in 2nd CH of turning CH.

Rows 5-34: Repeat Row 4.

Row 35: CH 1, turn. SC in ea st and CH-1 sp across.

Fasten Off, and Weave in Ends.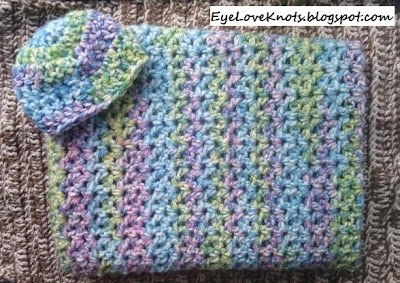 Please feel free to make and sell this blanket, but please DO NOT claim this pattern as your own nor should you sell my pattern, and DO NOT re-publish my photos as your own. DO NOT copy and paste my pattern anywhere, rather you should link to it. Thanks!

With so many size, yarn type and color options, I would love to see them! Join the EyeLoveKnots Crafting Community to share your creations, and see what other's are up to! 

Check out the EyeLoveKnots Ravelry page to keep track of all your EyeLoveKnots favorites in your que, and share your WIPS and finished projects!

Don't miss out on new crochet patterns, reviews, jewelry tutorials and more! Subscribe to EyeLoveKnots by using the box on the right side toolbar, or follow me via Bloglovin! You can also find me sharing on the EyeLoveKnots Facebook page, and @EyeLoveKnots on Twitter!