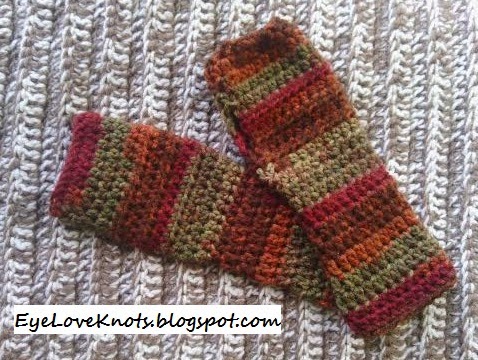 I'm working on an Autumn Hat, Scarf and Arm Warmer Set. In the next few days you will find my post for the Autumn Hat and Scarf but for now, here is the Arm Warmers!


I found this Simple Easy and Quick Arm Warmers pattern about six months ago! I have had it bookmarked just waiting for the right time.


I have searched through MANY arm warmer patterns and this is the first one that I loved from start to finish and at first glance! Corina over at Stitch11 has really awesome patterns available – make sure to stop by and check them out!


Materials:
I used about half a ball of I Love This Yarn in Autumn.


Notes About the Pattern Including Time Spent & Measurements:
I made a few minor changes to make these fit and look a tad bit better. Find my changes listed below:


– First, I started my arm warmers with a foundation single crochet (fsc) instead of a regular chain to make it more flexible. If you aren't familiar with the foundation single crochet, Tamara of Moogly has a really great video tutorial – Foundation Single Crochet. This technique is great when extra flexibility is needed (such as in a cowl, shirt, pants, skirt, dress or hat worked in the round) or when you aren't sure how many stitches you'll need to make to reach the necessary measurement.


– The beginning chain 23 was a bit tight. I worked my second one with a fsc 25 followed by a decrease row to get back on track according to the pattern.


– While I was working up the first arm warmer, I kept trying it on so I could see how it fit. I decided to note 4 sizes in case I wanted to make a shorter or longer pair. Keep in mind, the end number of stitches will vary.
6.5″ Long – Make Rows 1-14 followed by Rows 28, 29, 30. These take approximately 30 minutes each.
This length will cover your wrist.


9″ Long – Make Rows 1-19 followed by Rows 28, 29, 30. These take approximately 35 minutes each.
I LOVE this length – it reaches about mid forearm.


12″ Long – Make Rows 1-24 followed by Rows 28, 29 , 30. These take approximately 45 minutes each.
This length will almost completely cover your forearm. This is where I was going to stop, however, I felt that I would finish out the pattern to get the final measurements.


13″ Long – Follow the pattern as written. These work up in just under an hour each.
This length completely covered my forearm and reached the bottom of my elbow.


– To avoid having a visible seam, I worked everything (other than the few rows which are instructed to not join) in a continuous round.


These arm warmers were a great addition to my set – and unexpected as I wasn't meaning to add them to it.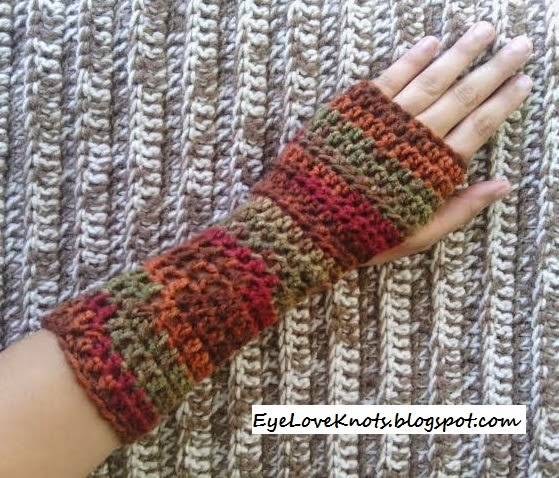 Top View, Modeled by Myself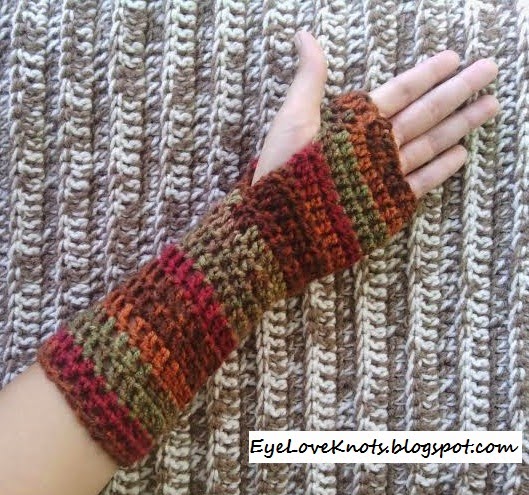 Bottom View, Modeled by Myself
Don't Crochet but Interested in Purchasing a Pair of Your Own?
I will be adding these to my Etsy shop. Feel free to send me a request with your custom color options! Find examples here – I Love This Yarn (acrylic), With Love (acrylic), Cotton Ease (cotton).
*ALSO AVAILABLE IN TODDLER AND CHILD SIZES!


Linked Up To:
The Creative Collection Link Party – The Cards We Drew
Hookin' On Hump Day #75 – Moogly Blog
6 Pallet Projects & Inspiration Monday Party – Scattered Thoughts of a Crafty Mom
Summer Creativity_Im Lovin It #217 – Tidy Mom
Show & Tell Saturday – Be Different Act Normal
Nifty Thrifty Sunday #165 – Nifty Thrifty Things
Think Pink Sunday #174 – Flamingo Toes
Craft Schooling Sunday – Creative Jewish Mom
Sharing Time Week 2 – Raising Memories
Serenity You #142 – Serenity You
Craft Showcase Link Party – Bowdabra Blog
Finding Peace Share Your Creativity Party #121 – Its Overflowing