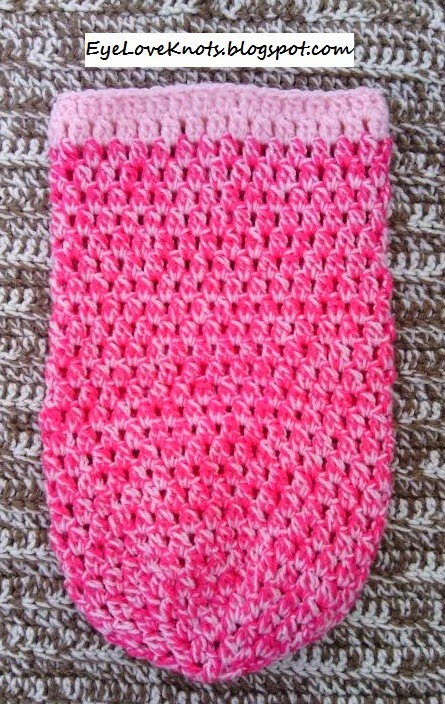 About a month ago, I posted the Crochet Newborn Bunting (Cocoon) and Hat Petals to Picots Pattern REVIEW using a light pink yarn. I intend on giving this set to a co-worker of mine who is expecting a little girl here shortly. I recently found out that a friend of my aunt is also having a little girl and so I decided to make another newborn cocoon using this GREAT pattern from Kara of Petals to Picots. 
This post will differ just slightly being that I used Sport Weight yarn instead of worsted weight yarn – because the worsted weight yarn I had on hand wasn't working out so well. It was Hobby Lobby's I Love This Soft Yarn but it wasn't so soft. It was about the equivalent to the Red Heart Super Saver (another great yarn but not for baby items). It is the first time this has happened to me before so I am not worried. I just improvised. Find my improvisations below.
Materials I Used:
   – 5.5mm Hook
   – #20 Tapestry Needle for Weaving in Ends
   – Newborn Bunting and Hat Pattern (for purchase)
   – 415 yards of I Love This Yarn Sport Weight in Pink and Pink Neon
*To get closer to the thickness of the worsted weight yarn, I used one strand of each of these yarns held together.
You will use ALL of the yarn in these two balls – keep in mind that the neon color series of the I Love This Yarn Sport Weight has less yardage than the regular one. That is why the top of my cocoon came out with two rounds in the solid light pink.
Quick Yarn Review:
   I haven't worked with the I Love This Sport Weight yarn too much but from what I have done, this yarn is soft and lightweight. I think it would be nice for hats, shawls and scarves especially around the spring time. It is 100% acrylic, machine washable and dryable and available in 24 colors! 
It worked great for this bunting – very soft and flexible! I have tried it on one other project – Lorene of Cre8tion Crochet's Rad Rayon Infant Donegal – and while it was soft and lightweight, the finished hat did not hold it's shape very well.
Time Spent:
   I was able to work up this cocoon in just under two hours – about an hour and a half faster than the cocoon made from worsted weight yarn.


Measurements:
   I made my cocoon to be 18″ in circumference and 15″ in length.


Pattern Notes: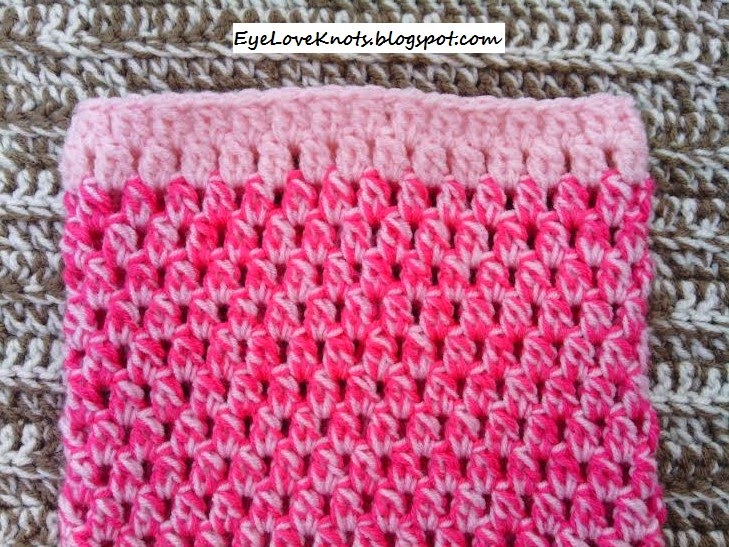 Use two strands of the sports weight yarn held together.


   To find out how to avoid a seam – please check out my original post – Crochet Newborn Bunting (Cocoon) and Hat Petals to Picots Pattern REVIEW 


   To change colors, work new color in on last yarn over.

   Cocoon:
   To get close to the 18″ circumference, I omitted the increase of Round 5 (otherwise, it would have come out too big).


   I repeated the pattern up until I ran out of the neon pink yarn. At the end of the last round made with the neon pink yarn, I joined the other tail end of the regular pink yarn at the slip stitch. I then worked two rounds with the regular pink yarn (until I ran out).


*Side Note: You may want to re-wind your yarn, otherwise you can (and will) run into some tangling.


   No additional border was worked (because I was out of yarn!) but the last two rounds in the solid light pink served as a nice border.


Because I was out of this mixture of yarn, I did not work a matching hat, but the other hats I made to go with this set will work great! Find them below.


I do have some other hats I will be giving as well, including: