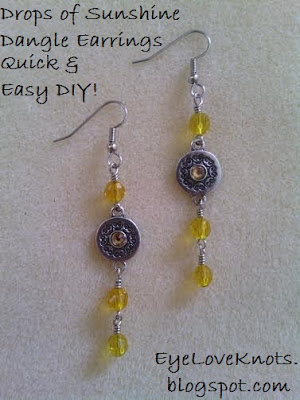 I have been sitting on this post for awhile. This is the third Thursday – Yikes! But I have been unable to decide on a name, finally I think these shall be the "Drops of Sunshine" Dangle Earrings. Thanks to my boyfriend, Chad, for the name. He's so supportive of my craft!

Materials I Used:
     – 2 10mm Gold Accented Charms of the Jewelry Basics Teardrop Accent Set Brown by Cousin (JoAnn's)
     – 6 (3 each) 6mm Round Gold Beads by Darice
     – 4 (2 each) 2″ Silver Plated Eyepins by Darice
     – 2 (1 each) 2″ Silver Plated Headpins by Darice
     – 2 (1 each) 20mm Surgical Steel Earring Wires (AliCsSupplyShop on Etsy)
     – 2 Round Nose Pliers 
     – Wire Cutters (also called Side Cutters)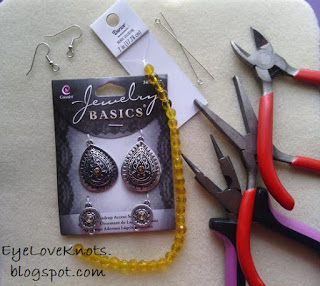 Material Notes:
     All supplies except the Earring Wires purchased at my local JoAnn's.     
I went back to JoAnn's to purchase some more of the gold accented charms but they were gone – neither of the JoAnn's in my area carry them in store anymore. I've linked to the Cousin site link above.
     The eyepins and headpins are not hypoallergenic, but since these pieces don't come in contact with the skin, it will be fine for anyone with sensitive skin. The surgical steel earrings wires are perfect for anyone with sensitive skin as they are hypoallergenic! If you don't have any allergies, feel free to also use silver plated earring wires too.
     I regularly like to use two pliers in my projects – one in each hand. Normally, I will note that one pair will suffice but for this particular pair, a second pair is needed to work the final step of this pair. This could vary depending on the materials you are using, and whether or not you follow all of my steps.

Time Spent:
     I had this pair of earrings done in about 15 minutes. It took me longer to brainstorm the layout than to assemble the earrings.

Measurements:
     These earrings measure 2.25″ in length. If you use the Basic Loop rather than the Wrapped Loop, your earrings will come out a smidgen shorter.

Tutorial Notes:
     I made wrapped loops for my pendants – I have a photo tutorial here, Forming a Wrapped Loop.
You could always just use a Basic Loop, but I like the stability and clean finish of the wrapped loop.

Tutorial: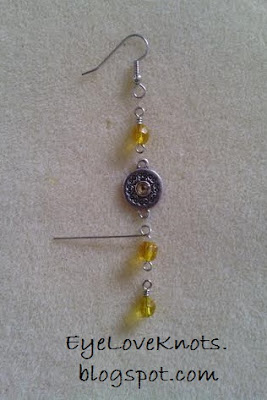 First things first, settle on the layout. I went through three different layouts before I decided on this one. Originally, I was going to make just one pair of earrings using both components from the Teardrop Accent Set and one wrapped loop charm but then I decided against it.
If you are following along with me, I first created one wrapped loop charm on an eyepin, one half wrapped loop charm on an eyepin, and one wrapped loop charm on a headpin – shown above.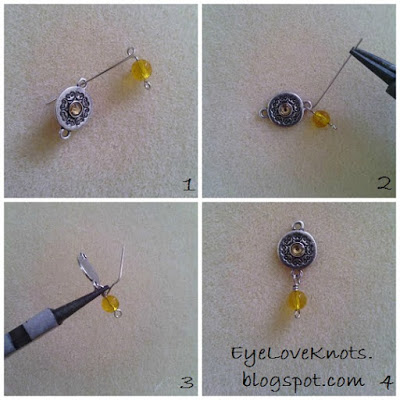 1 – Begin working the wrapped loop, but before you start
wrapping, make sure to string on your charm.
2 – Make sure when you string on your charm that the 
wrapping on the eyepin is going to be facing the direction that you want.
You want the wrapping of each to look consistent.
3 – I held my pliers at the join of the two pieces to stablize it, 
and used my other pair of pliers to work the wrapping.
4 – First dangle completed. The earrings would look nice with just a simple dangle. If you like it like this, just work the wrapped loop on a headpin instead of a eyepin and attach the earring wire to the top of the charm.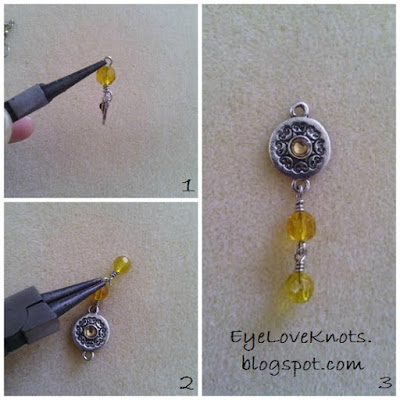 1 – Open the bottom loop of the charm you just attached.
Remember to open away from you, and not side to side.
2 – Attach the headpin, and close the loop.
3 – Again, you can stop here. Or you can continue.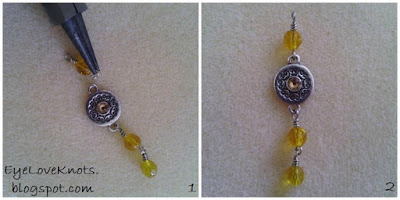 1 – Open the bottom loop of the remaining wrapped loop, 
and attach to the top loop of the charm. Close loop.
2 – One thing left to do before attaching the earring wire.
Notice the top loop is not facing the direction we need it to.
If you were to attach your earring wire now, they your earring would be hanging sideways.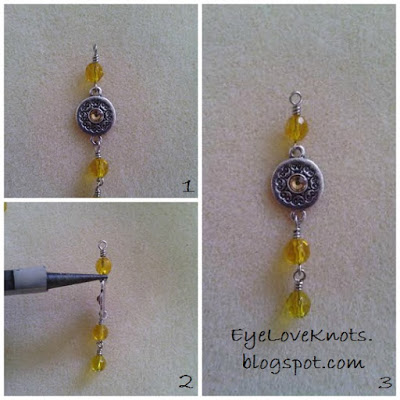 1 – Same photo as the last.
2 – Here you'll need both pairs of pliers.
Turn the pendant 90 degrees to the left, and with one pair of pliers
grab hold of the wrapped loop (shown). 
With the other pair of pliers, grab hold of the top wrapped loop (not shown).
3 – Turn hands inward enough so the top loop has the hole facing you while laying correctly. And now you are ready to attach your earring wire!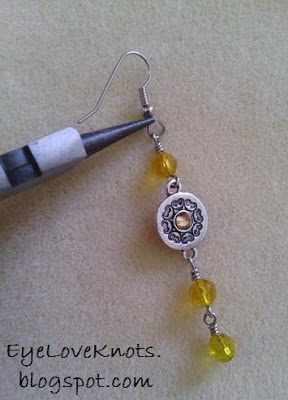 Open the loop of the earring wire, attach to your piece and close.
Make sure when you attach your earring wire that your piece is facing the correct way. It's very easy to attach it backwards. Hehe.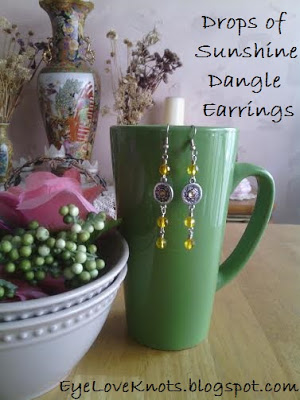 Now you have a beautiful pair of earrings that glisten like the sunshine!
This is one of my favorite ways to make earrings. I have several pairs made similarly. I would love to see your version! Please share on the

EyeLoveKnots Facebook

page.
If you enjoyed this tutorial, please make sure to subscribe directly or follow me on

Bloglovin

! New jewelry tutorials coming your way [nearly] every Thursday, and more craft projects through the week!