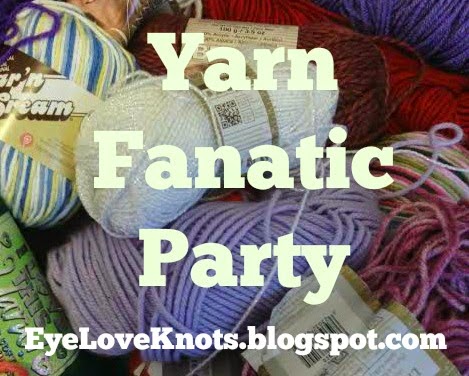 Welcome to the 48th Yarn Fanatic Link Party, and my 31st as co-host, alongside Rachel from The Philosopher's Wife.


Monday seems to have snuck up on me again! At least this week, I got the party posted on the correct day. 😉


I haven't shared anything since our last party, but I am glad to see that many of you are still chugging along! A few reminders on some CAL's I am/will be participating in…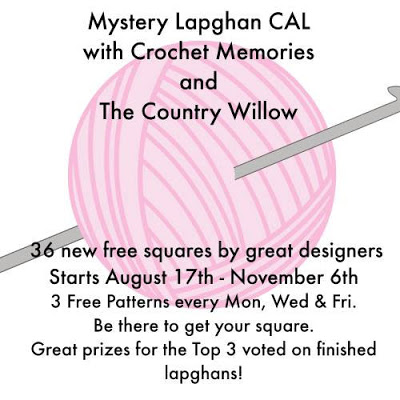 The

Mystery Lapghan CAL

is in progress!
Check out my post for a full list of all squares shared so far.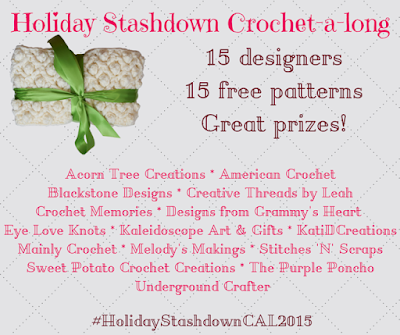 First project will be shared Monday, September 14th.

Most Clicked: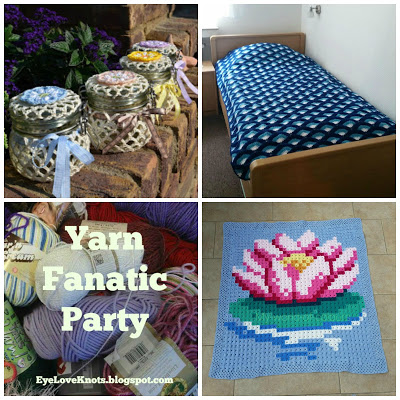 From Left to Right, Top to Bottom:


Jars, Jars, Jars from Atelier Marie-Lucienne – Crochet Inspiration. These jars came out beautifully! And I am sure will be great sellers at Marjans up coming fair. These jars would be cute for gift giving or using around the home. You can use them for some many things such as holding candies, potpourri as Marjan is thinking, cotton balls in the bathroom, wedding/baby shower favors, etc.
What would you use them for?
Stormy Seas Bedspread from My World of Crochet – Crochet Inspiration. This bedspread is gorgeous! And a name that rings true. It is a beautiful shell pattern, in colors of a Stormy Sea. So inspirational! I am thinking with a few different colors, you could also have a peacock like colored blanket, or a retro one with varied colors, or even a fun neon colored blanket!


Lily Pad Pixel Blanket from My World of Crochet – Tutorial Link Included. This Lily Pad Pixel Blanket is amazing! It looks just like a cross stitched project from afar, but up close you can see the individual squares. I just LOVE this idea! I have a few pixel blankets using small granny squares in the works, but I have been distracted and need to bring attention back to them. Beautiful blanket Lisa!

EyeLoveKnots Yarn Favorites: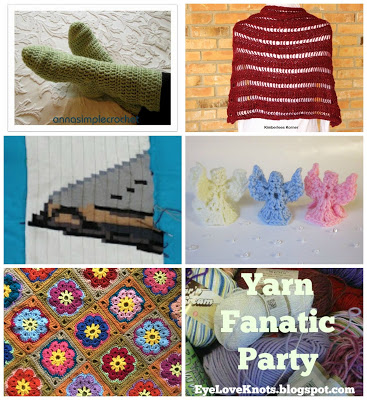 From Left to Right, Top to Bottom:


Slippers from Anna Simple Crochet – Crochet Inspiration. I love the look of these long crochet boots/slippers. I have tried crocheting one pair for myself but they came out too tight and I have been unmotivated to attempt another pair, but seeing these definitely makes me want to work up another pair right now!


Knit Lacy Wrap from Kimberlees Korner – Knitting Pattern (Paid). This is such a pretty, and simple design but with the warm, elegant yarn choice, it makes it a very beautiful piece that says a lot. You can easily wear it over a nice dress for dinner, or pair it with some jeans. I think a wrap like this would look really nice in the Swanky Yarn, or something similar with the sequins.


Story Time Blanket from Roses' Crafts. This blanket is so intriguing to me! There isn't much in the description underneath the WIP, which makes it more of a surprise, but also makes me want to see the final blanket even more! I am sure it's going to be neat! Can't wait to see! Make sure to head over to this post to see what else Richard has been working on 🙂


Magic Angel from Crochet is the Way – Free Crochet Pattern. These little angels are so precious! They would make great ornaments, or shelf decorations. You could add a little bell inside the dress part so they "sing". You could also hang in your car as a "guardian angel". I think I will be making a few for my tree this holiday season.


Summer into Fall Afghan from Kat Kat Katoen – Crochet Inspiration. This is such a pretty blanket, and will make a great addition to Sigrid's home come fall time. She explains color theory a little bit in this post, helping to guide us through her square placement. I know I have a hard time making random patterns – I like the consistency. Beautiful pattern though!

Have You Been Featured? Grab Your Button!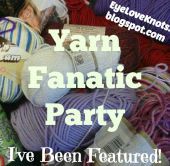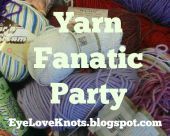 Are you a pattern designer – Crochet, knit, plastic canvas, embroidery, latch hook, pom pom crafts, and other yarny crafts… Or do you design yarn related graphics, shirts, buttons, printables, tote bags? Maybe you are a yarn dyer? Or perhaps you have a really large yarn stash and you are looking to do a de-stashing of them? We are in need of giveaway sponsors for the Yarn Fanatic Party! If you are interested in teaming up with Rachel of The Philosopher's Wife and I to sponsor a giveaway at one of our parties, PLEASE contact either Rachel or I.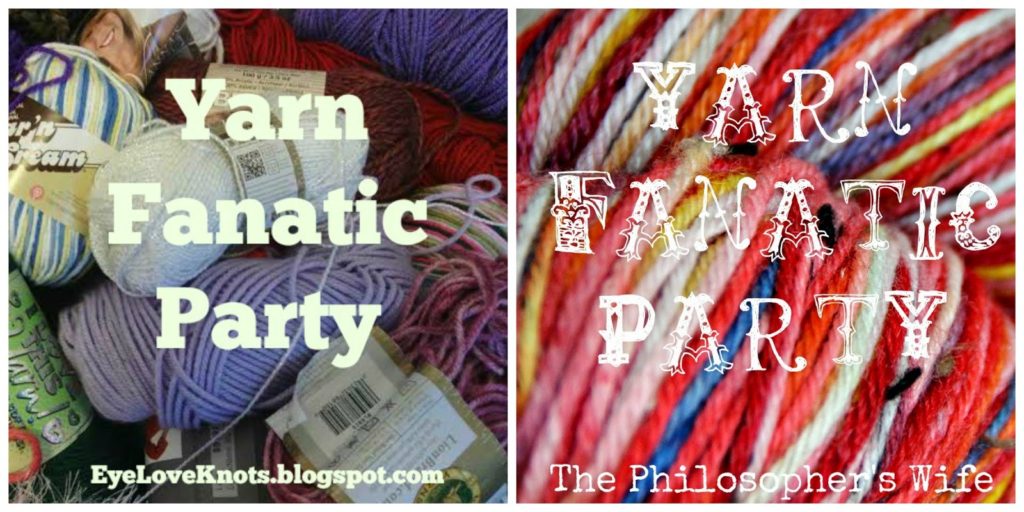 Join the Party!
The Yarn Fanatic Party will begin every Monday afternoon, and run through Sunday night. You have all week and weekend to post your fantastic yarn related projects!
Please share projects that are family friendly, and YARN RELATED; ie Crochet, Knit, with an extension to include Cross Stitch, Needlepoint on Plastic Canvas and Embroidery.
Also make sure you are linking up to your blog post, and just just your blog's home page.
*Become a Follower of the blog where you linked up. Following both is also greatly appreciated!
Alexandra of EyeLoveKnots
Rachel of The Philosopher's Wife
*Check out the other Great Projects that have been linked up!
*Spread the comment love!
Features will be chosen weekly. By linking up, you give us permission to feature your item.
*If you don't have a blog, you can still share with us by creating a Free

Flickr

Account – powered by Yahoo.
Add your projects there, and then come back here with the link for the project.
*Link ups cannot be to Etsy listings or Ravelry pages where patterns are sold. You can link to blog posts, Flickr or Facebook pages, Pins, etc that are directed towards it, but can't directly link to it.
To be clearer though, Raverly pages of finished projects are okay to share. Sorry for the inconvenience! That's per InLinkz guidelines. Thanks!