I received a set of Ergonomic Crochet Hooks from Haven for Hands in exchange for my honest opinion. Pattern found under hook Review.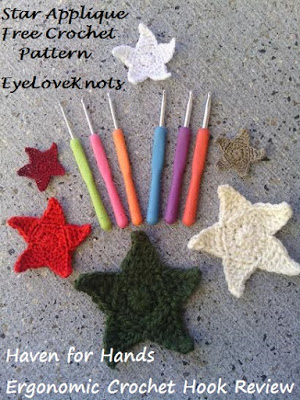 I was super excited when Sarah of Haven for Hands reached out to me and asked me to review these awesome Ergonomic Crochet Hooks. I jumped on the opportunity, and haven't put them down since receiving them.

They were packaged very nicely when I first got my package in the mail, but it didn't last because… well, I wanted to see them!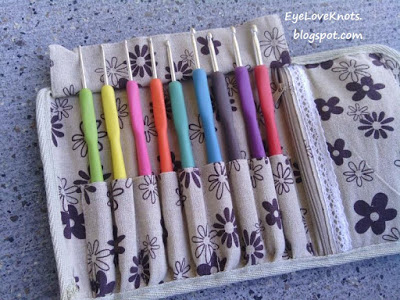 It is a set of nine (9) crochet hooks with ergonomic handles in a variety of fun colors. They come in a beautiful flexible cloth case with a zippered pocket containing a tape measurer, some stitch markers and a neat little pair of folding scissors.

I haven't been big into ergonomic handles – even though they are so much better for your hands! – because I couldn't find any that really fit right. The moment I held my new I9/5.5mm Crochet Hook, I knew I wouldn't be turning back!
I have found that similar hooks have handles that only reach about half of the hook leaving the thumb rest uncovered which makes for an awkward hold, but I LOVE that these crochet hooks have the thumb rest covered and shaped to fit perfectly. It is a nice, soft and consistent grip.

One slightly negative thing you may find is that the handles are made of clay and do smell of it. I like the smell, but it does transfer to your hands. I am not sure if this will slowly go away or not, but no complaints from me on this one.
**11.28.15 UPDATE: Sarah has informed me that the hooks are not made of clay but TPR or Thermoplastic Rubber – food grade quality. Not sure where the clay smell has come from, but is hoping over time it disappears.

Another great thing about these Ergonomic Crochet Hooks from Haven for Hands is the engraved US AND Metric sizing on the handles. No worrying about remembering what size the hook was – if you have covered your own hooks or purchased some others, then you know what this is like – or trying to think of the equivalent size if only one were given.
I will say though that some of the hook sizes are not the standard hook sizes I am used to but if you are a regular crocheter like me, you have practically a million hooks. I will be replacing my current set with this new set and just add in the hook sizes not included. Check your gauge before starting most projects and you will be fine!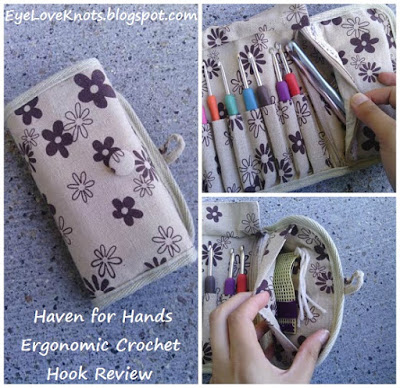 I was really pleased with the fabric on the case. First thing I thought was – this is so cute! It's a flexible burlap colored canvas fabric with brown floral pattern and one strip of lace. It is so simple, yet so cute!
The space for the crochet hooks fits them perfectly – not too loose or tight – and the zippered pocket to the right of the hooks is quite spacious. I've mentioned what can be found in this little pocket, but what I haven't mentioned yet is that I was able to fit five crochet hooks of different sizes from my now old crochet hook set, a pen and my memory stick in the pocket with the other accessories and still fold the case back up and button with no problem! I did leave out my tapestry needles, but they aren't far – just hidden under the flap just over the zippered pocket.
The button on the case is a little tough to get on and off so I haven't rebutton since I unbuttoned the first time. I am sure it gets better with time, but I think a tie option would be a great alternative.

I can't say enough good things about my new set of Ergonomic Crochet Hooks from Haven for Hands! I am so excited to have them, and very happy Sarah reached out to me and shared this new product with me!

Okay, okay. On to the pattern! Enjoy 🙂 PS I will have a set to giveaway during one of our upcoming Yarn Fanatic Parties so stayed tuned!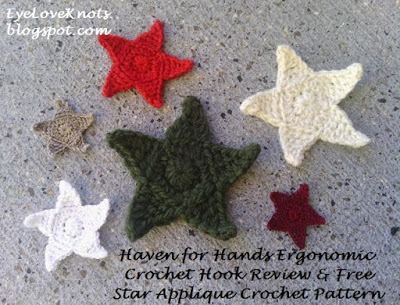 You may have seen this Star Applique in my recent Seeing Stars Basic Baby Beanie post, or my Star and Stripes Baby Beanie post from this past 4th of July. Ever since I put it down in writing, I have wanted to try out different yarn types to see what other size options I could get. When I received these hooks, it instantly clicked – same pattern, different size hooks with yarn out of my stash – and so here it is.

Materials:
– Cotton Thread – I used Aunt Lydias Classic Crochet Thread in Burgundy
– B/2mm Crochet Hook
– Sock Weight – I used Premier Yarns Wool-Free Sock Yarn in Pueblo
– D/3mm Crochet Hook
– Fine Weight (2) – I used Lion Brand's Vanna's Glamour in Diamond
– E/3.5mm Crochet Hook
– Light/Sport (3) – I used Hobby Lobby's I Love This Sportweight in Red
– 7/4.5mm Crochet Hook
– Worsted (4) – I used Hobby Lobby's I Love This Yarn in Ivory Sparkle
– I9/5.5mm Crochet Hook
– Chunky (5) – I used Deborah Norville's Serenity Chunky in After Dark
– J10/6mm Crochet Hook
– Tapestry Needle for Weaving in Ends – an #18 or #20 work great
– And my NEW Ergonomic Crochet Hooks from Haven for Hands! All sizes listed above under the respective yarn used

Material Notes:
Any weight yarn will do – star measurements will vary.

Some hook sizes listed above are not standard US hook sizes. You can change out to the closest one you have – for example, in my now old set I did not have a 2mm but I had a 2.25mm and I did not have a 4.5mm but I had a 4.25mm.

Time Spent:
I had each star ready to go in about ten minutes!

Measurements:
Burgundy Star Measures 2″ from point to point.
Pueblo Star Measures 2.25″ from point to point.
Diamond Star Measures 3″ from point to point.
Red Star Measures 3.5″ from point to point.
Ivory Sparkle Star Measures 4.5″ from point to point.
After Dark Star Measures 5.25″ from point to point.

Gauge:
Not essential for this project and will vary.

Abbreviations:
SC – Single Crochet
HDC – Half Double Crochet
DC – Double Crochet
TR – Triple Crochet [yarn over twice, insert hook into stitch, yarn over, pull through (4 loops on hook), (yarn over, pull through two loops) 3x]
QUAD – Quadruple Crochet [yarn over three times, insert hook into stitch, yarn over, pull through (5 loops on hook), (yarn over, pull through two loops) 4x]

Pattern Notes:
Join to first stitch, not beginning chain.

Pattern:
Chain 4. Join to form a ring. Chain 1, work 10 HDC into the ring. Join. (10 HDC)

R2: Chain 1, HDC in the 1st HDC, 2 HDC in each of the next 9 HDCs, HDC in the last HDC. Join. (20 HDC)

R3: (Chain 6 and work down the chain, SC in the 2nd chain, HDC in the 3rd chain, DC in the 4th chain, TR in the 5th chain and QUAD in the 6th chain; Back to the circle, skip the first stitch that the chain 6 is coming out of, and next three HDCs, slip stitch in the 5th stitch) 5x, ending with your slip stitch in the same stitch as you began the round.

Fasten Off, and Weave in Ends.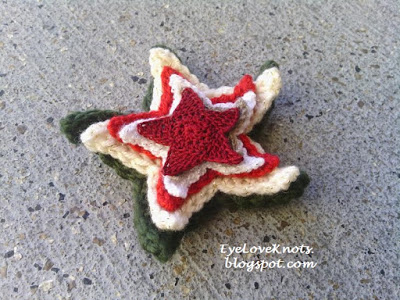 Please feel free to make and sell your own Star Appliques using this pattern, but please DO NOT claim this pattern as your own nor should you sell my pattern, and DO NOT re-publish my photos as your own. DO NOT copy and paste my pattern anywhere, link to it instead.
*If you would like a PDF version of this post, you may get one through my EyeLoveKnots Etsy Shop or EyeLoveKnots Craftsy Shop for a small fee. This fee is to compensate for the view/s lost once you no longer need to return to the blog for the information, as you will have your own copy. Plus! It helps fund supplies for new projects to share with you!
Shop EyeLoveKnots Etsy – Star Applique in 6 Sizes;
or EyeLoveKnots Craftsy – Star Applique in 6 Sizes.

With so many size, yarn type and color options, I would love to see them! Please share your photos on my EyeLoveKnots Facebook page!

Share your version of these Star Appliques on Ravelry – Star Appliques. Check out the EyeLoveKnots Ravelry page to keep track of all your EyeLoveKnots favorites in your que, and share your WIPS and finished projects!

Don't miss out on new crochet patterns, reviews, jewelry tutorials and more! Subscribe to EyeLoveKnots by using the box on the right side toolbar, or follow me via Bloglovin!


Don't Crochet but Interested in Purchasing some Star Appliques?
You can check out

EyeLoveKnots

on

Etsy

to see what I have available! Use the search box to type in what you have in mind, or feel free to send me a message with your custom request. I am happy to make in any custom size and/or color.
Adsense: