Free plastic canvas pattern for how to stitch a wavy flag.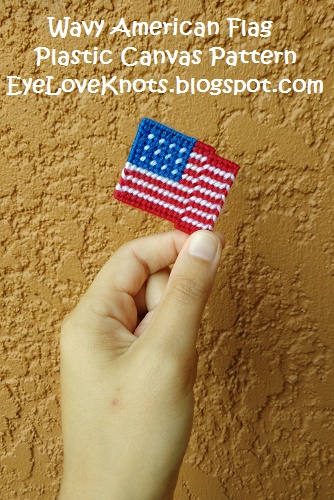 I was thinking about working up an american flag inspired pair of earrings, and so I set out working on this piece. After completing it, it took me a little longer than I would have liked for a pair of earrings, and was a little larger than I would have liked, though would still make a cute pair.
Alternatively, you could add a pin back to this, add a magnet or use in scrapbooking or on a card.
If you would like a PDF version of this post, you may get one through either my EyeLoveKnots Etsy Shopfor a small fee. This fee is to compensate for the views lost when you no longer need to return to the blog to for the information, as you will have your own copy. Plus! It helps fund supplies for new projects to share with you!
Shop EyeLoveKnots Etsy: Wavy American Flag.
Save This to Your Favorites On: AllFreeHolidayCrafts, FaveCrafts.
Materials:
Small Amounts of Light Weight/Sport Weight Yarn – I used Hobby Lobby's I Love This Sport Weight Yarn in Red, White and Blue
Small Piece of 10-Count Clear Plastic Canvas
Optional, Jewelry Pliers to Help Weaving
Time Spent:
About an hour, 15 minutes.
Measurements:
1 7/8″ (1.88″) Wide by 1 5/8 (1.63″) Tall
Pattern Notes:
If you need help with cutting or stitching, check out my Small Plastic Canvas Hearts post.
If you don't like the way your carried yarn looks on the back of your finished piece, you can add a piece of felt. I didn't, as I like the way it looks and it isn't really visible to anyone – but if I were adding a pin back, would definitely add a small piece of felt for an even surface.
Plastic Canvas Pattern:
As a blogger, I rely on views to my blog to earn money from my ads. Please do NOT share my graph photo, or save to Pinterest. Doing so, would allow makers to not have to return to my blog, which would result in a loss of views and income.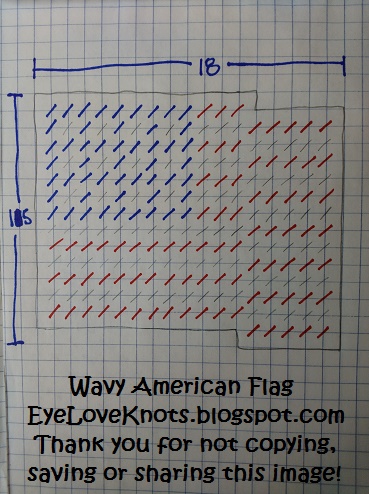 Tutorial:
Cut out Flag shape.
Work the slashes as continental stitches. Whipstitch around after.
Order I worked:
1. White Stars, but don't fasten off.
2. Blue Part around stars and whipstitch. Fasten Off.
3. White Stripes, but don't fasten off.
4. Red Stripes with whipstitch. Fasten Off.
5. White whipstitch. Fasten Off.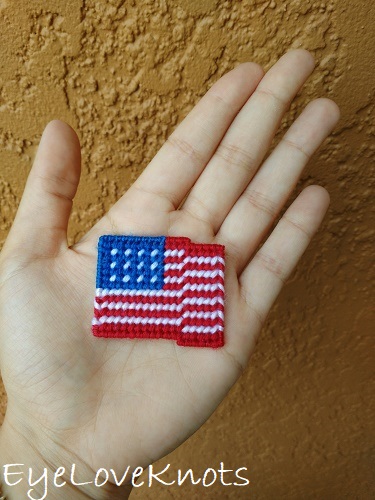 Please feel free to make and sell your own Wavy American Flag using this pattern, but please DO NOT claim this pattern as your own nor should you sell my pattern, and DO NOT re-publish my photos as your own. DO NOT copy and paste my pattern anywhere, link to it instead.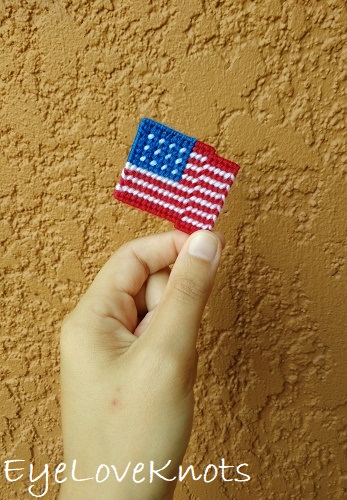 Join the EyeLoveKnots Crafting Community on Facebook to share your creations, and see what others are up to!