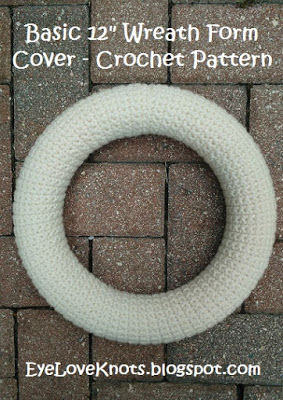 My mom goes to a friend's house for Halloween every year, and each year, I make her a different home decor piece to take over as a gift. This year, she asked for a Halloween themed wreath, but because it was on Halloween, we went with a Fall Wreath instead. Stayed tuned for that tutorial! For now, here is the base so you can make your own wreath for whichever holiday or season.

If you would like to see a specific type of wreath done, drop me a line below 🙂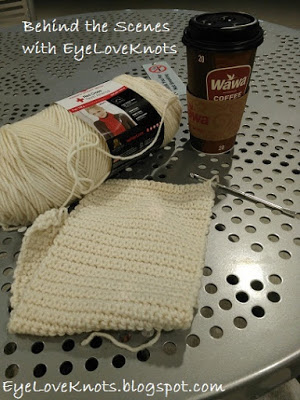 Behind the Scenes… Working away at one of my offices – my local Wawa. Hehe. In case you were wondering what the background is in the photos below.

Materials:
     – 185 yards of Worsted Weight Yarn – I used about half a skein of Red Heart's Super Saver in Aran
     – H8/5mm Crochet Hook
     – #18 Tapestry Needle for Sewing and Weaving
     – 12″ Styrofoam Form Wreath Form – I used a white Floracraft brand found at my local JoAnn's

Time Spent:
     I had my form cover ready in just over two hours.

Measurements:
     This cover will fit a 12″ foam wreath form.

Gauge:
      20 SC by 14 Rows = 6 1/8″ wide by 3 7/8″ tall

Abbreviations:
     SC – Single Crochet

Pattern:
     Chain 21. SC into the 2nd chain from the hook. (20 SC)

R2 – 130: Chain 1, turn. SC into the 1st SC, and each SC across. (20 SC)

Finishing: 
     Cut a long tail (I cut 60″ worth) for sewing.

Weave in beginning tail, then re-thread needle with ending tail.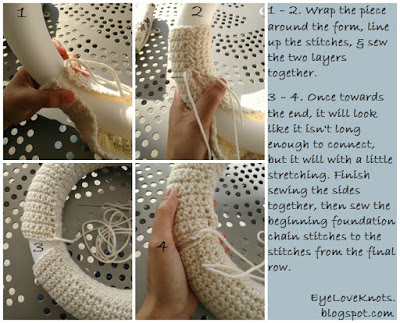 Wrap the piece around the form, line up the stitches, and sew the two layers together. Once towards the end, it will look like it isn't long enough to connect, but it will with a little stretching. Finish sewing the sides together, then sew the beginning foundation chain stitches to the stitches from the final row.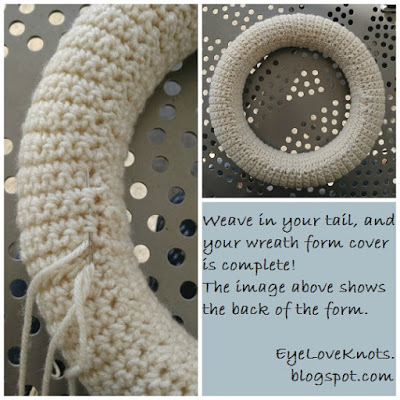 Weave in your tail, and your wreath form cover is complete!
Please feel free to make and sell your own Wreaths made using this Basic 12″ Wreath Form Cover, but please DO NOT claim this pattern as your own nor should you sell my pattern, and DO NOT re-publish my photos as your own. DO NOT copy and paste my pattern anywhere, link to it instead.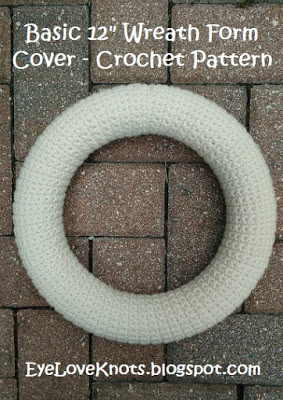 What kind of wreath will you make with yours?

With so many size, yarn type and color options, I would love to see them! Please share your photos on my EyeLoveKnots Facebook page, or join the EyeLoveKnots Crafting Community to share your creations, and see what other's are up to!

Check out the EyeLoveKnots Ravelry page to keep track of all your EyeLoveKnots favorites in your que, and share your WIPS and finished projects!

Don't miss out on new crochet patterns, reviews, jewelry tutorials and more! Subscribe to EyeLoveKnots by using the box on the right side toolbar, or follow me via Bloglovin!


*If you would like a PDF version of this post, you may get one through my EyeLoveKnots Etsy Shop or EyeLoveKnots Craftsy Shop for a small fee. This fee is to compensate for the view/s lost once you no longer need to return to the blog for the information, as you will have your own copy. Plus! It helps fund supplies for new projects to share with you!
Shop EyeLoveKnots Etsy – Basic 12 Wreath Form Cover; 
or EyeLoveKnots Craftsy – Basic 12 Wreath Form Cover.