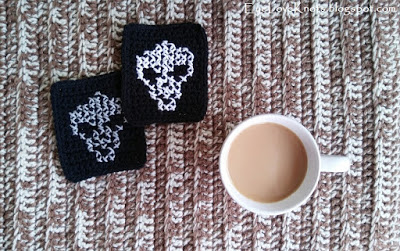 A few weeks ago, I settled on designing some skull coasters for this weekend. I drew out my skull stitch pattern on some grid paper – 3 different ones to be exact, and then I worked up a base to cross stitch into. As soon as I was done with my stitching, I turned my head and looked at my finished coaster, and I did not see a skull… I saw an alien! I think with some tweaking, it can definitely be a spooky skull, but I thought the idea of an alien was quite amusing! And so fun! And still a little spooky.

Materials:
– 15 Yards of Worsted Weight Cotton Yarn – I used Crafter's Secret Cotton Yarn from Hobby Lobby in Black, White and Gray
– H8/5mm Crochet Hook
– #18 Tapestry Needle for Weaving in Ends and Cross Stitching

Material Notes:
Yarn Alternatives: Lily Sugar n Cream, Bernat's Handicrafter, Peaches n Cream, Lion Brand's Kitchen Cotton

Time Spent:
I spent just over half an hour per coaster.

Measurements:
With border, 3.88″ Wide by 4.5″ Tall.

Abbreviations:
SC – Single Crochet

Pattern Notes:
How to Work an Invisible Join – see my Basic Washcloth Pattern for a photo tutorial.

How to Cross Stitch on Crochet – see my Cross Stitch Heart Earrings Tutorial for photo tutorial.

Patterns:

Coaster Base:
Chain 13. SC into the 2nd chain, and into each chain across. (12 SC)

R2 – 15: Chain 1, turn. SC into the 1st SC, and into each SC across. (12 SC)

Border: Chain 1, turn. SC into the 1st 11 SC, 3 SC into the next stitch – corner, evenly SC 14 down the side, 3 SC into the next stitch – corner, SC into the next 10 stitches working into the opposite side of the foundation chain, 3 SC into the next stitch – corner, evenly SC 14 up the side, 2 SC into the 1st stitch and slip stitch join OR 1 SC into the 1st stitch and work an invisible join.

Fasten Off, and Weave in Ends.

Alien: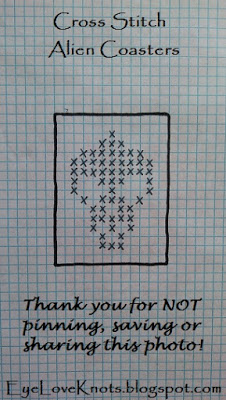 Cut a long piece of the contrasting color, and thread tapestry needle. Follow the chart to cross stitch alien on. I started at the top of the farthest left side, and worked my way across vertically. Make sure to anchor the beginning tail by weaving under several stitches, as well as weaving in the end tail at least twice under several stitches. The bold black line of the image represents your coaster prior to adding border.


If you are concerned with the visible stitching on the back, you could always sew or a piece of felt or cork to the back. Being that it will always be done, flat on a surface, it will hardly ever be seen.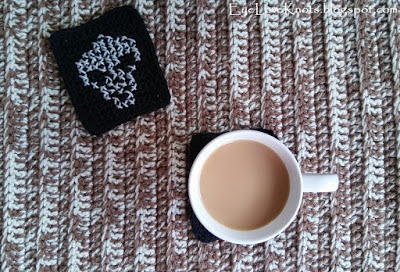 Weave in Remaining Ends, and Enjoy!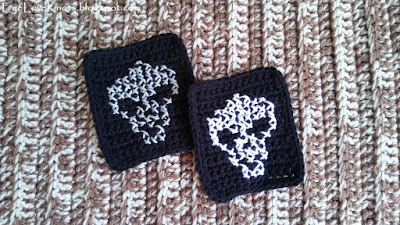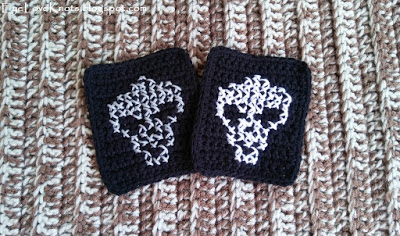 Please feel free to make and sell your own Cross Stitch Alien Coasters using this pattern, but please DO NOT claim this pattern as your own nor should you sell my pattern, and DO NOT re-publish my photos as your own. DO NOT copy and paste my pattern anywhere, link to it instead.
*If you would like a PDF version of this post, you may get one through my EyeLoveKnots Etsy Shop or EyeLoveKnots Craftsy Shop for a small fee. This fee is to compensate for the view/s lost once you no longer need to return to the blog for the information, as you will have your own copy. Plus! It helps fund supplies for new projects to share with you!
Shop EyeLoveKnots Etsy – Cross Stitch Alien Coasters;
or EyeLoveKnots Craftsy – Cross Stitch Alien Coasters.

Join the EyeLoveKnots Crafting Community to share your creations, and see what other's are up to!

Share your version of this project on Ravelry – Cross Stitch Alien Coasters. Check out the EyeLoveKnots Ravelry page to keep track of all your EyeLoveKnots favorites in your que, and share your WIPS and finished projects!

Don't miss out on new crochet patterns, reviews, jewelry tutorials and more! Subscribe to EyeLoveKnots by using the box on the right side toolbar, or follow me via Bloglovin! You can also find me sharing on the EyeLoveKnots Facebook page, and @EyeLoveKnots on Twitter!