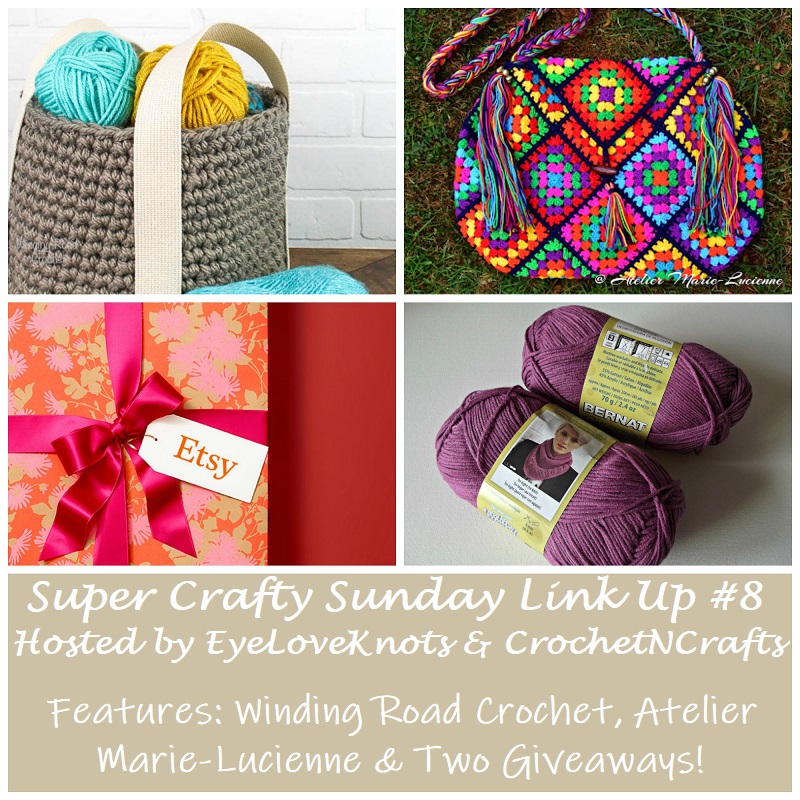 Welcome to the 8th Super Crafty Sunday Link Up!
Happy September to All! This month we have two awesome projects to feature (as chosen by YOU), and two giveaways! As you may have noticed, EyeLoveKnots and CrochetNCrafts are primarily crochet blogs, but we both love all kinds of crafts as well as cooking and baking, and we want this party to reflect all aspects – all family friendly posts are welcome, so to help include everyone, this month we have a yarn giveaway, and an Etsy gift card giveaway – something for everyone! If all goes well, maybe we will continue similarly. Please keep in mind that when Helena and I sponsor giveaways, it is with the money out of our own pockets (including shipping worldwide). As bloggers, we earn an income based on the number of views to our blogs, and commissions earned from purchases by you using our special affiliate links. Shares of this party, and visits to our other posts and pages are very appreciated! Thanks for all your support!
Since Last Month's Party, Here's What I've Been Up To: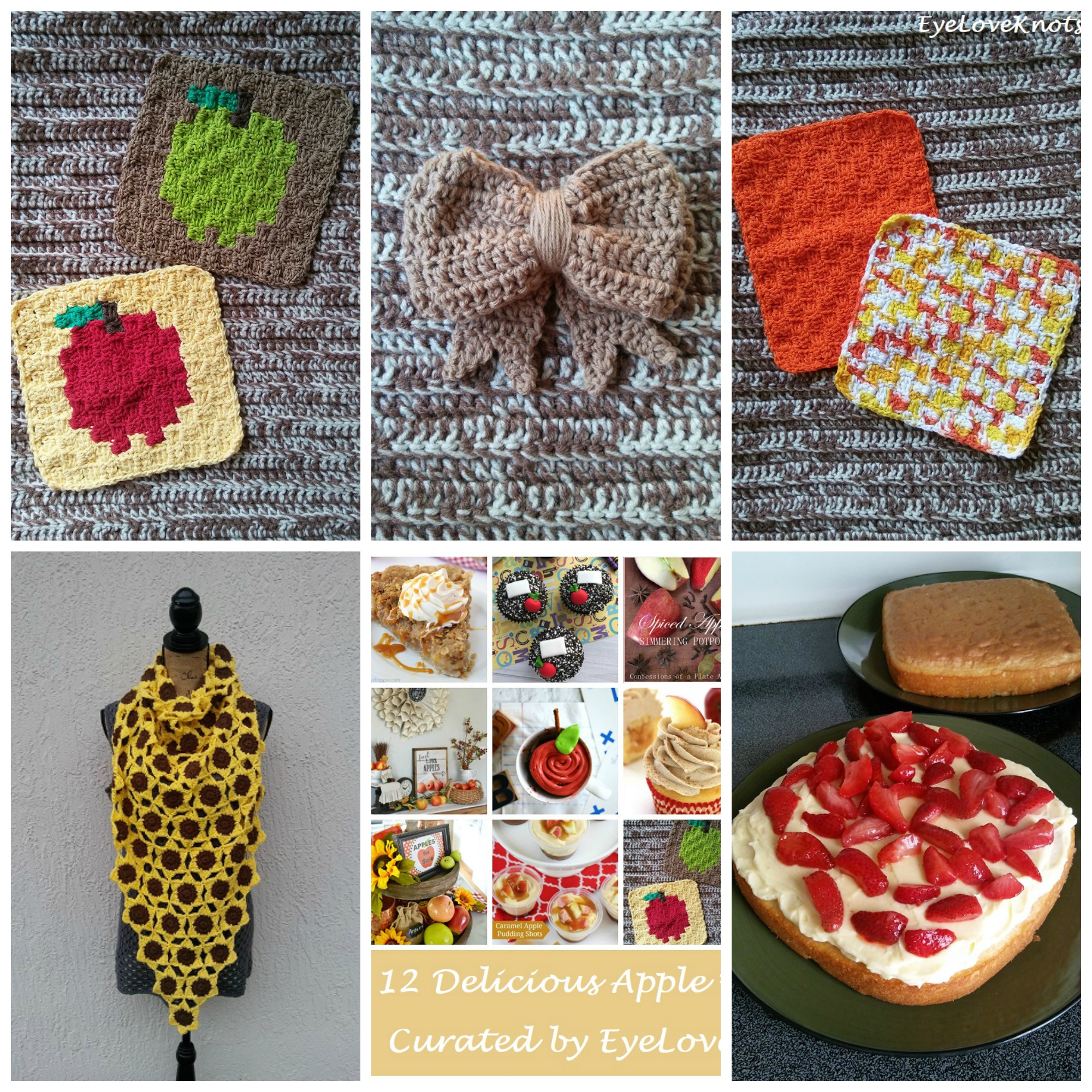 Top, Left to Right: C2C Apple Washcloths, Double Layered Bow, Basic C2C Washcloths (All Free Crochet Patterns)
Bottom: Sunflower Shawl (Free Crochet), 12 Delicious Apple Project Round Up, Strawberries & Banana Cream Cake Recipe
This Month's Most Clicked Projects: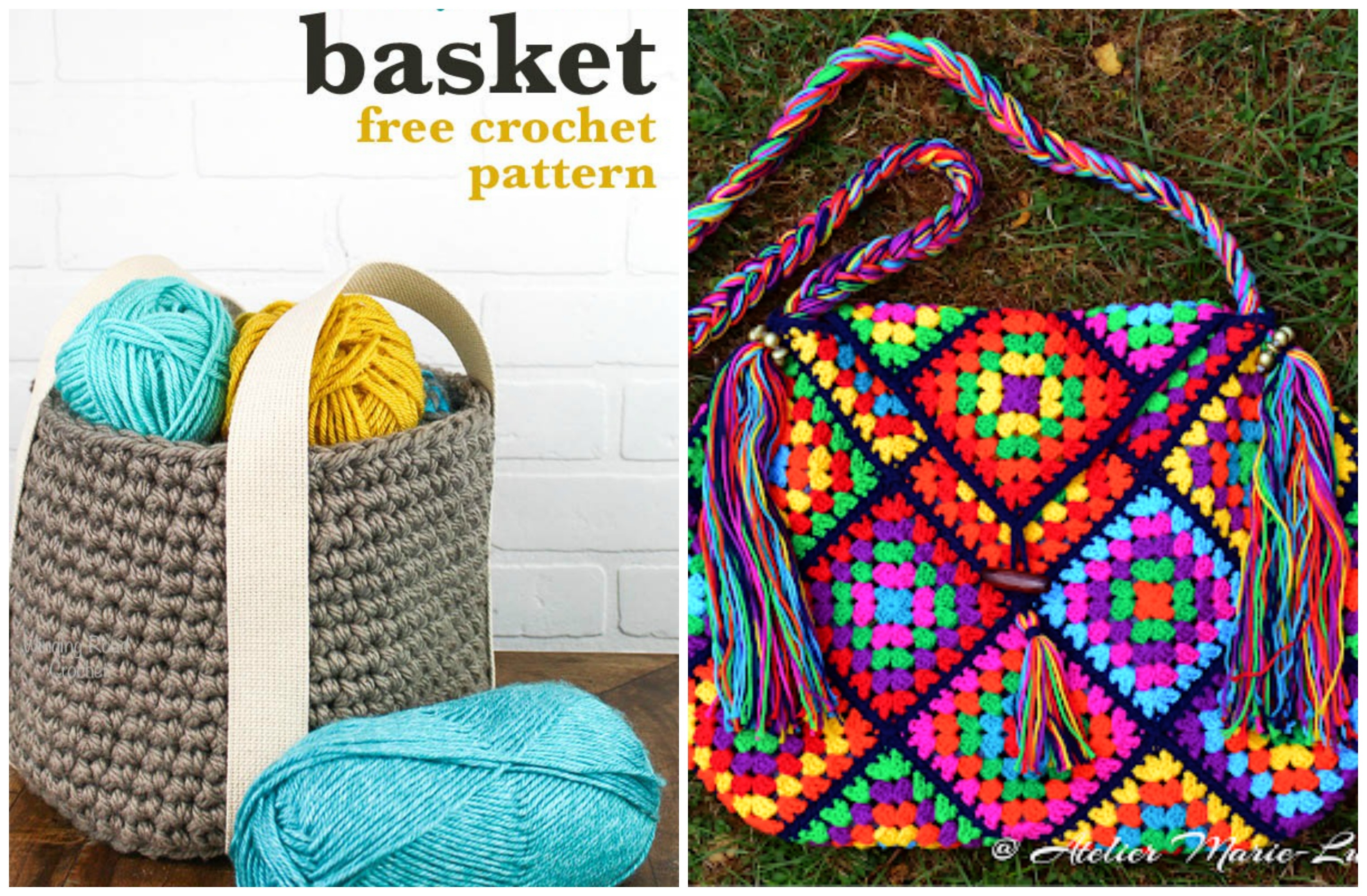 Left: Sturdy Bottom Basket from Winding Road Crochet (Free Crochet Pattern). Baskets are so fun for decorating in so many ways, plus they give the added resource of holding things. In Lindsey's case, she uses them to house her yarn, I use them to house my current WIPs, and my mom likes to use them in her bathroom to hold things like her make up, washcloths and bigger towels. You could also use them for some pumpkins for fall decorating, Halloween candy, ornaments for Christmas decorating, pine cones for Winter decorating, not to mention holding knick knacks among so many other things!
See those canvas handles? Lindsey says they are the perfect solution for keeping the shape of the baskets without putting extra strain on you when working up. I have used this canvas for tote bag straps before, and they are great because they are super sturdy, and don't stretch. Worked in the manner that Lindsey has, you can pick your basket up by the handles, and not have to worry about it growing six inches – you know what I mean!
Right: Bohemian Rhapsody Bag from Atelier Marie-Lucienne (Crochet Inspiration. Bright, cheery colors, granny squares to give a retro vibe and a neat braided strap – this bag has everything! With the black trim, it reminds me of a granny square blanket you might find on the back of someone's couch, hehe. Wish I could pull off a bag like this, but #1 I don't carry bags, and #2 it wouldn't look as good on me as it does on Marjan!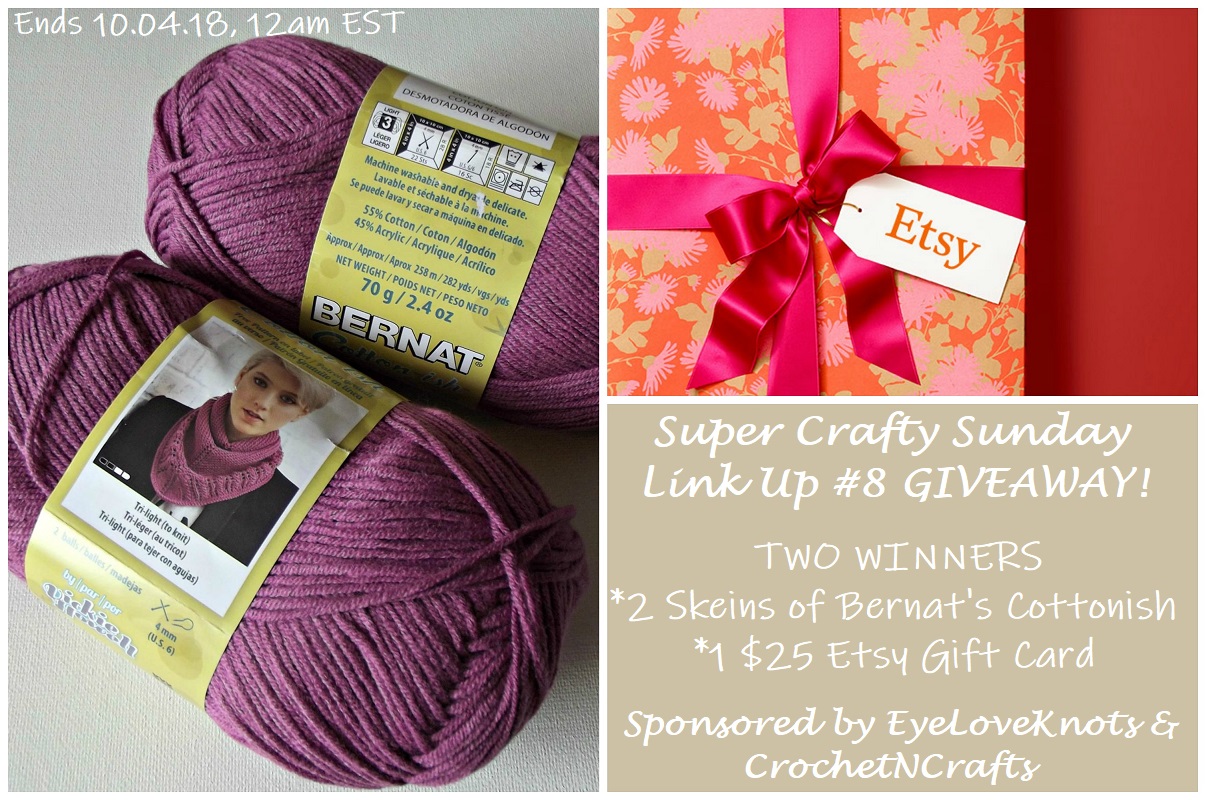 This Month's Giveaway is actually two! Enter in the respective giveaway below.
One winner will receive two skeins of Bernat's Cottonish Yarn. This is a beautiful lightweight #3 cotton/acrylic blend yarn that has sadly been discontinued. I have used this yarn in the past to make my Chevron Shoulder Bag. When Yarnspirations recently changed their site, they removed all the discontinued yarns from search as well as the patterns made from these yarns, so you can only find inspiration on Ravelry. There is also a knitted pattern on the label.
Another winner will receive a $25 Etsy Gift Card! It will be purchased in USD so if you use a different currency, to use the gift card, you will need to temporarily change your currency in the settings. Once finished with the purchase, change the currency back.
Must be 18 years or older to enter. Open to all countries. Void where prohibited. Winner has 48 hours to respond to email notification, or another winner will be chosen. Helena of CrochetNCrafts is responsible for Bernat Cottonish fulfillment, and Alexandra of EyeLoveKnots is responsible for Etsy Gift Card fulfillment.
Join the Party!
The Super Crafty Sunday Link Up is hosted by EyeLoveKnots, and CrochetN'Crafts, so when you link up to one of the blogs, it will show up on both! Double the exposure, woo hoo! It will go live on the first Sunday of the month, and end the Thursday prior to the next month's party starting. Post times will vary, but you will be able to link up from midnight EST through midnight EST on the indicated dates – check the top of the Rafflecopter for more details.
Please share projects, recipes, and other posts that are family friends, and not spammy. Feel free to reshare previously shared links, and links to giveaways and other link ups. Please make sure to link to a specific post, and not your blogs home page.
If you don't have a blog, you can still share with us several ways. You can create a free Flickr account (powered by Yahoo), upload your photos there, and share the link with us, or you can share links from Instagram, Twitter, and Pinterest – just make sure it's your own work please.
Link ups CANNOT be to Etsy/Crafty listings or Ravelry pages where patterns are sold, but you can share a link that is directed to it like from Pinterest. You CAN share Ravelry pages of finished projects. Sorry for the inconvenience! That's per InLinkz guidelines. Thanks!
You are voluntarily submitted your photos, links and email address (if desired) through InLinkz to link up with us, and by linking up, you give us permission to feature your item on either of our blogs and/or social media outlets. Features may be chosen at the discretion of each host.