This is a crochet pattern review of the Chic Aran Boot Cuffs by the designer My Hobby is Crochet.
This post contains affiliate links for WeCrochet. If you make a purchase by clicking on them, I make a small commission at no extra cost to you. Thanks for your support!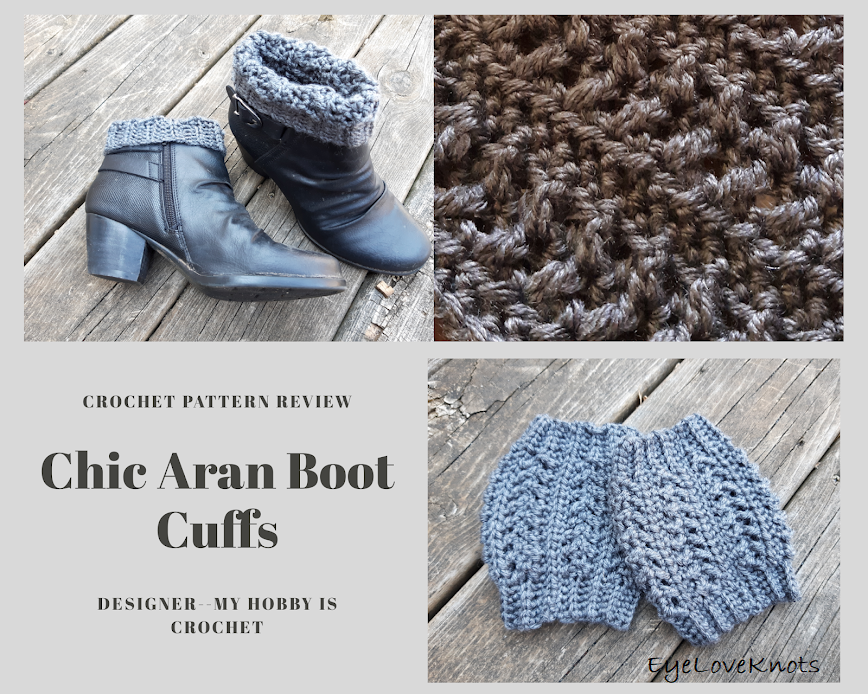 It's me, Abigail with A Stitch Shy of Normal.
Visit with me on Instagram @astitchshyofnormal for all kinds of awesome crochet makes and inspiration.
We all know right now that times are confusing and crazy. I can't be the only one trying to use the time inside to begin working through my stash…right? We can't really go yarn shopping right now, and it doesn't quite have the same charm doing it online when you can't feel all the soft squish. It's also a good time to do some organizing and cleaning up, and an overflowing stash shelf is a good place to start!
I personally have been attempting to go through a fairly large stash, and that stash is 90% single skeins of worsted weight yarn. I have sweater quantity of one colorway (also worsted weight), and then a few random DK skeins and the same for bulky. The entire rest of my stash is one skein of different colors of worsted weight. I just love medium weight yarn, I can't help it! It also happens to be a very easy weight to stash-bust! I've been going on Ravelry and putting in my estimated yardage (which is often challenging when the yarn I'm trying to use up is an unlabeled partial skein I bought in 2014) then selecting "random order" to find hidden treasure patterns I hadn't seen before. It's been so much fun and most of the time I fall in love with the designer's work, and then I have a new designer to follow on Ravelry and Instagram!
One of the skeins I needed to use up was a gorgeous deep gray Basic Stitch Anti-Pilling. This is a yarn I've fallen in love with recently. It's comparable to Heartland (one of my all-time faves!) in feel and in weight (although I think Basic Stitch Premium is a bit thinner than both), and has some beautiful colors available. It's probably my current go-to for accessories. Well, when I went to find a pattern to use this beauty up, I stumbled upon a pattern for boot cuffs that apparently had been on my Ravelry favorites list for a while. The picture looked slightly intimidating because of the intricate texture on the cuffs, which is probably why I hadn't attempted the pattern yet! But this deep charcoal gray was just begging to be my first try at this seemingly complicated pattern, and I had the time and desire to try. So I went for it!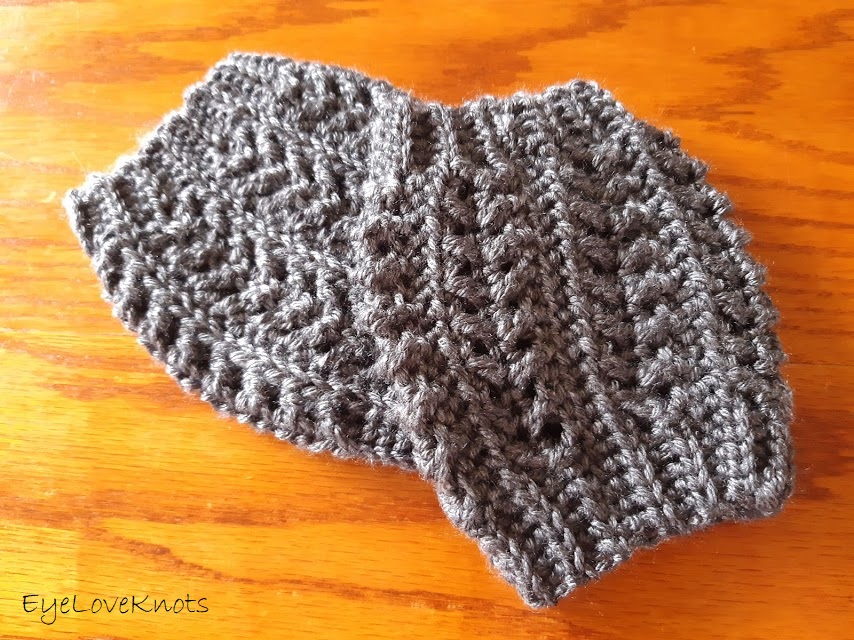 Spoiler alert–it's not scary at all. The texture LOOKS super intricate and difficult, but it's actually very easy to tackle! It's a unique stitch texture that I haven't seen anywhere else, and I'm glad I got a chance to use it! I will absolutely be making more of these for the fall, in all the deep jewel tones. Now that I have the ultimate neutral of charcoal gray, I'm thinking my next pair needs to be a deep teal or navy…then I need an emerald green pair…I can't stop!
Materials I Used
Material Notes:
I would use this yarn again, it worked very well for the fit and texture. It's slightly thicker than the suggested yarn so I did fewer repeats of the pattern.
The designer used Chic Sheep which is another gorgeous yarn, and she stated that she used one skein for the pair. Her estimate for the pattern was 120-150 yards, and my yardage was right in the middle of that. Both of our yarns used (Chic Sheep and Basic Stitch Anti-Pilling) should be able to get you a pair of these cuffs with one single skein!
Time Spent:
This pattern took me a little less than 3 hours, approximately.
It was done over a period of a couple of days, picking it up and putting it back down between other projects around the house. If I did it again, already being comfortable with the stitches used, it would almost certainly be between 2-3 hours.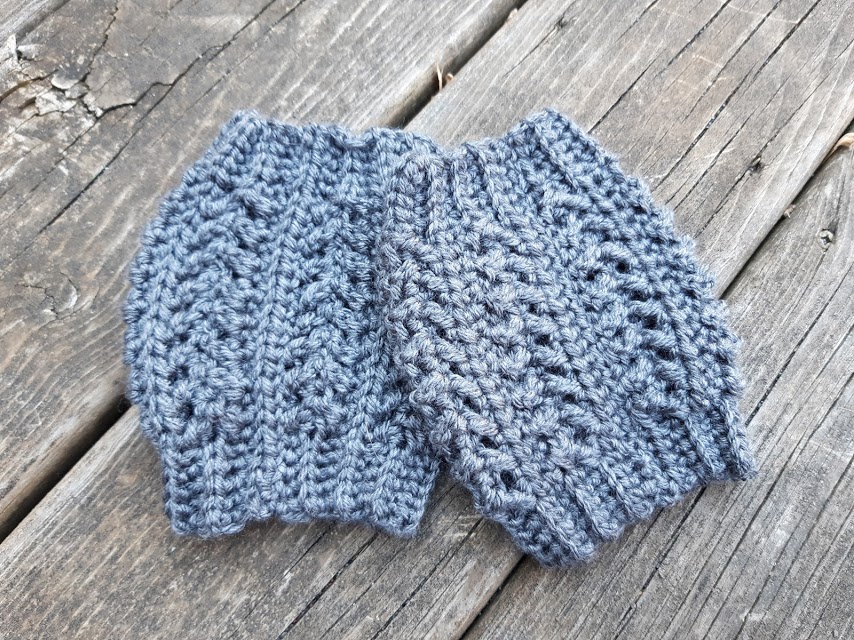 Measurements:
The pattern dimensions are about 9.5″ around and 5.5″ tall, and mine actually ended up exactly the same. My yarn is slightly thicker than what the designer used, so it makes sense that I needed fewer repeats to get the same size.
Gauge Info:
I did not do a gauge swatch for this pattern, since I looked ahead and saw that the instructions said to continue repeats until it was a sufficient size. This meant that even if my gauge was incorrect, I could just make my own custom fit.
However, I checked my gauge after finishing the cuffs and I was fairly close. Her notes suggest that three repeats should be 4 inches, and mine is about 4.5″ at that point.
Pattern Notes:
This pattern is very well-written and explained in great detail! The designer starts off with in-depth explanations of how to customize the size and get it to fit perfectly.
The stitches used are unique, but explained thoroughly, and she even links to videos or picture tutorials for many of them. This helps if you have any issues understanding it through the written explanation. I personally did not use the additional help, I was able to figure it out with what was written, but it was slightly difficult the first few times (as a relatively experienced crocheter) so I probably should have used the additional resources. I just wanted to figure it out on my own, I'm stubborn like that.
Once the pattern begins, everything is still explained very clearly and with stitch counts listed at every step. She goes through the pattern repeat the first time and then explains to keep going until it's the size you want, but explains that her cuffs were made with eight repeats. I appreciate when designers do this rather than leaving it totally open-ended, because I want to know if I should be checking for fit after just a couple of repeats or if it's not going to fit anyone until I've done the repeated section at least a dozen times! With a guideline like that, I knew to start checking the fit on myself by about the sixth or seventh repeat, and I did end up stopping at seven for myself.
The assembly was also well-explained, and she even gave some suggestions on how to wear them! I loved the suggestions to fold them down over boots, it adds such a cute touch.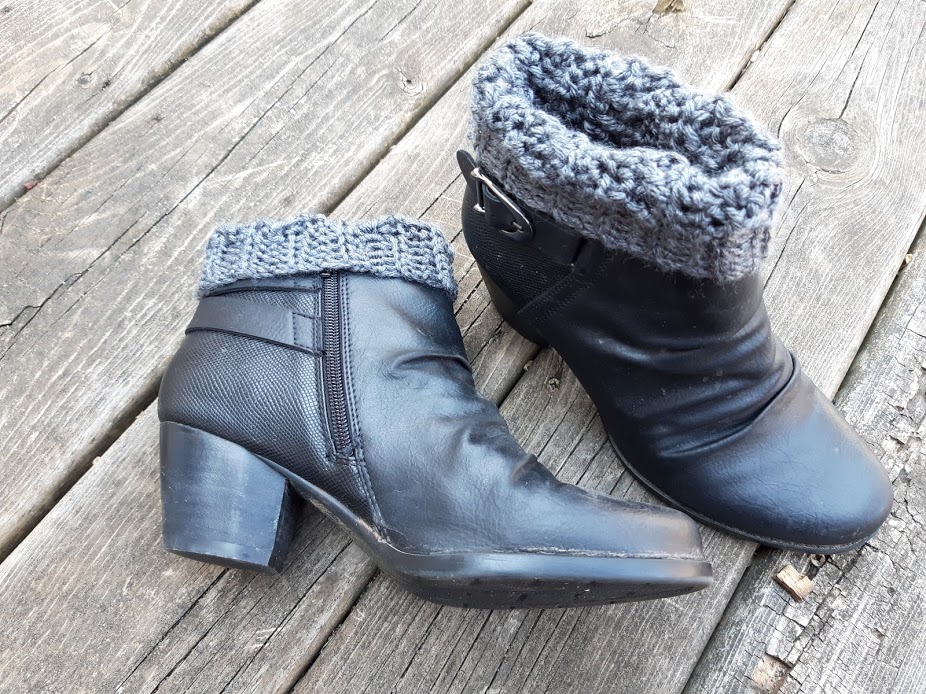 When I posted the picture of the finished cuffs on my Instagram, the designer commented on my post and pointed out to me that if I enjoyed this pattern so much (I did), I should check out the rest of her "Chic Aran" pattern line…somehow I had missed the multiple links to this collection on the pattern page! She also has a headband, a cowl, and a cardigan…I think I know what my next sweater project is going to be! I sincerely appreciated the personal touch of her suggesting these to me!
I will 100% do this pattern again, probably near the end of summer so I can have a whole wardrobe of boot cuffs for fall!
DON'T FORGET TO CHECK ME OUT ON INSTAGRAM @ASTITCHSHYOFNORMAL FOR ALL KINDS OF AWESOME CROCHET MAKES AND INSPIRATION!
DIY Lovers: Join the EyeLoveKnots Crafting Community on Facebook to share your creations, and see what others are up to!
Fashion Lovers: Join the Pretty Nails & Fun Fashion with EyeLoveKnots Facebook group to share, and see what others are up to!
Linked Up To…
Craft Schooling Sunday – Creative Jewish Mom
Happiness is Homemade Link Party – Create with Cynthia
A Themed Linkup 15 for Crafts and DIY – Grammy's Grid
Handmade Monday #172 – Sum of their Stories
The Really Crafty Link Party #214 – Keeping it Real
Craftastic Monday Link Party – Sew Can Do
Ginx Woolly Linx Party April – Ginx Craft
Weekday Wear Linkup – Away from the Blue
Fabulous Party #316 – Lou Lou Girls
544th Inspire Me Tuesday – A Stroll Thru Life
Linky Ladies Party #183 – The Purple Poncho
Turning Heads Linkup – Elegantly Dressed and Stylish
Confident Twosday Linkup – I do deClaire
{Wow Me} Wednesday #451 – Ginger Snap Crafts
Your Whims Wednesday #456 – My Girlish Whims
To Grandma's House We Go Link Party 189 – Chas' Crazy Creations
Waste Not Wednesday 202 – Faeries and Fauna
Tuesday Turn About #45 – My Wee Abode
Hookin on Hump Day #213 – Moogly
Style Six Linkup – The Queen in Between
Thursday Favorite Things #436 – An Artful Mom
The Wednesday Link Party 344 – The Stitchin' Mommy
Creative Compulsions Linky Party #56 – My Bijou Life
Creatively Crafty Link Party #220 – Life Beyond the Kitchen
Scrappy Stitchers Link Party #62 – Stitches n Scraps
Thursday Fashion Files Link Up #255 – Curly Crafty Mom
Trendy Thursday LinkUP – Thirty Minus One
Pin Party #365 – The Pin Junkie
Home Matters Linky Party #279 – Modern on Monticello
Create, Bake, Grow & Gather Party #416 – Shabby Art Boutique
April 2020 Best of the Month Party – Calypso in the Country
Style Link Up – Lizzie in Lace
Snickerdoodle Create Bake Make Link Party 332 – EyeLoveKnots
Link Your Stuff – Annemarie's Haakblog