Everything you need to know about Color Street Nail Strips!
This post contains affiliate links for Color Street. If you make a purchase by clicking on them, I make a small commission at no extra cost to you. Thanks for your support!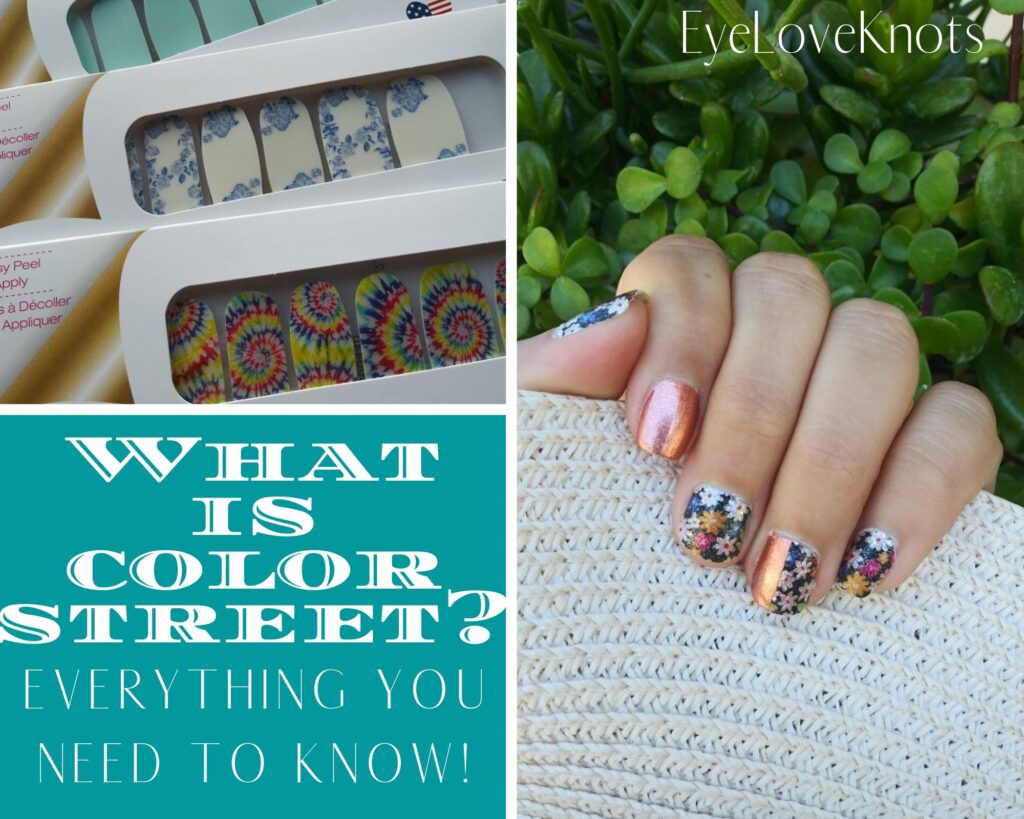 When I was younger, I used to paint my nails, and then take toothpicks, and draw on designers or add glitter to make designs. I loved every bit of it, but it seems that as an adult, I don't have the same level of patience that I used to. Now a days, I tend to put too much on at once, and am absolutely terrible at waiting for it to dry – it usually smudges, or gets that "wrinkly" look from being pressed against fabric. Can you relate?
I friend introduced me to Color Street nail strips six months ago, and it's been a game changer! I jumped in head first as a stylist (meaning I make a commission off sales using my unique shop link), and have enjoyed trying out the different color/print combinations, and sharing them with others!
So, what is Color Street?
100% real nail polish in easy to apply strips with no dry time! You heard that right! Real nail polish – easy to apply – no dry time. They are a base coat, paint coat, and top coat all in one that are chip resistant, and last longer than you can stand to not change things up!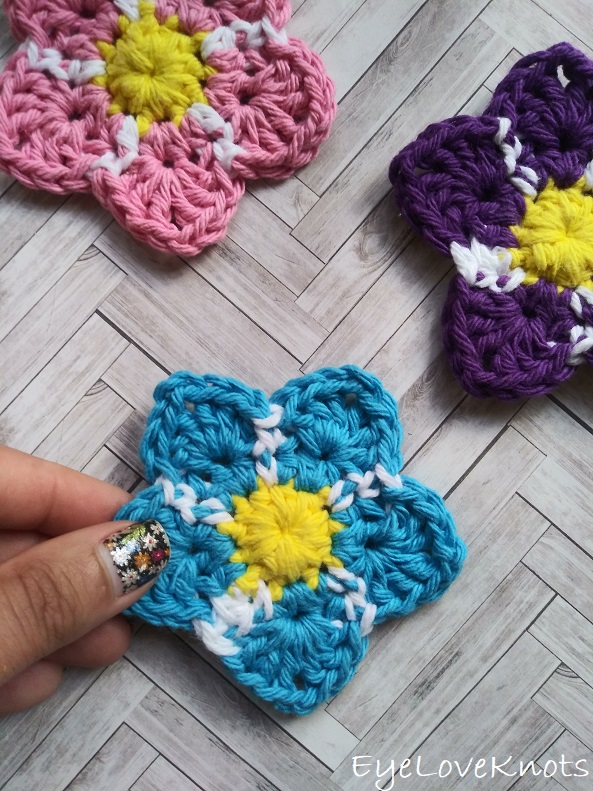 Seriously! This is on day 10! I changed them this night.
This is Day 7 after working in the garden on two separate days!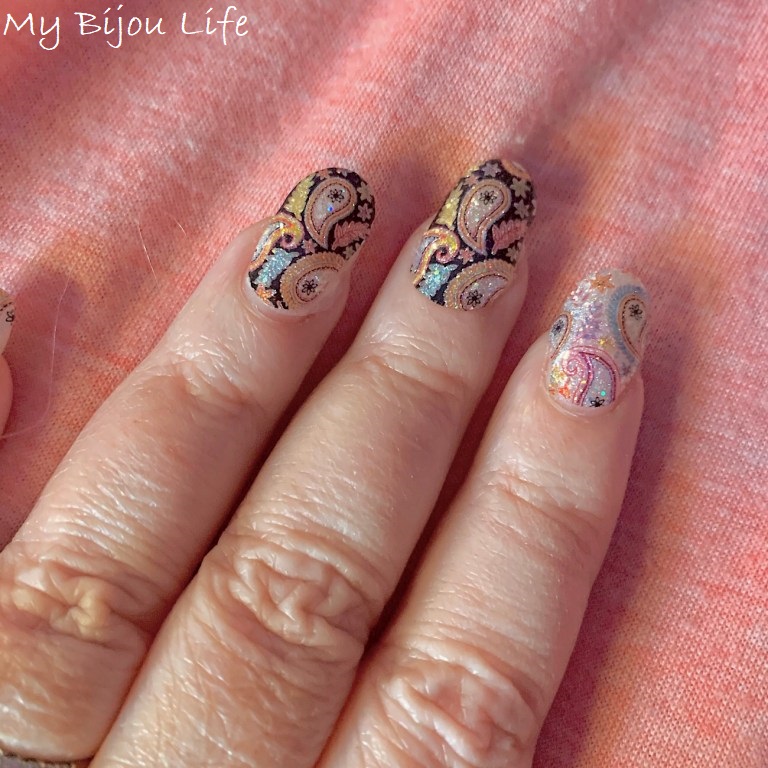 My friend, Michelle, of My Bijou Life shares her Color Street Review using Oops-a-Paisley on her acrylic nails.
How Can I Get Color Street?
Currently, Color Street is only available in the US, but they are working very hard to get it to Canada – very soon they are telling us!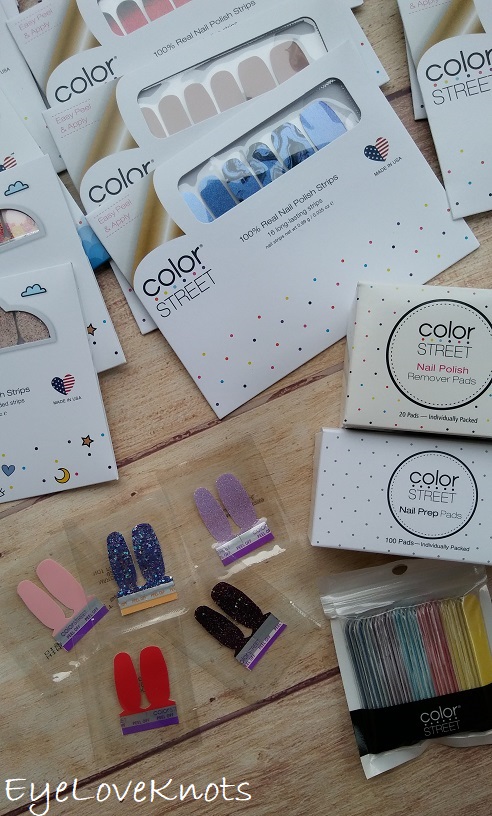 My starter kit came with lots of goodies, of which I share with YOU when you request a free sample – HERE.
Your sample comes in the form of an adorable little "twosie". Apply these as accent nails, and then paint your other nails to match.
I promise you, you will be shocked at how easy they are to apply, and how much longer they will last than your regular polish!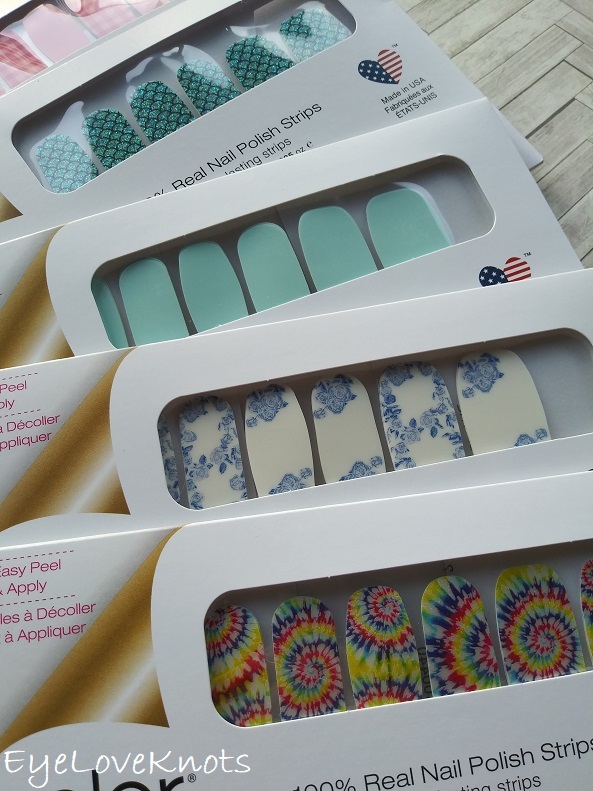 You can also head right to the Color Street shop, and place your order!
Buy 3, Get 1 Free with no code needed!
Show Me What it Looks Like!
I am showing you with a set called Pacific Waters. It is one of my favorites, but sadly, has been discontinued. Long Time, No Sea is similar.
Few things before hand:
Do your manicure first. Trim, file and buff your nails, cut your cuticles, apply any oils and lotions – pamper yourself! But then wash and dry your hands and nails well. Any oils, lotions and water left will make the nail strips peel up, and not adhere.
I don't use the nail prep pad – I find it dries my nail out. I apply a clear base coat first, and make sure it dries.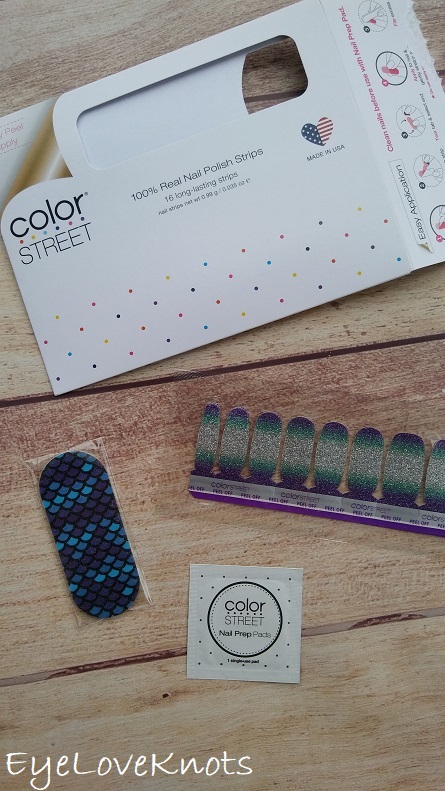 Color Street nail strips come in compact envelopes that are home to a cute little nail file (that make good gifts if you have enough already), nail prep pad and of course, your nail strips!
You'll see on the top right of this photo, there are instructions for applying on every package.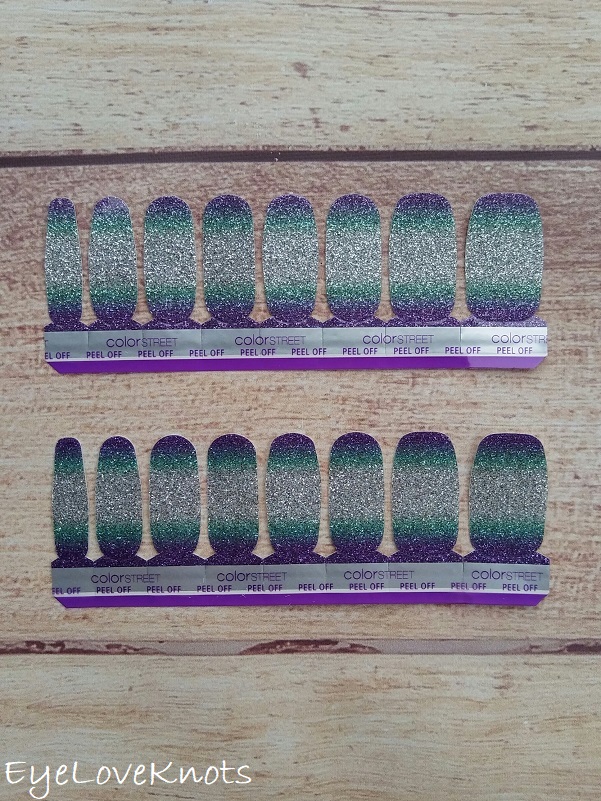 You get two separate pages of 8 nail strips.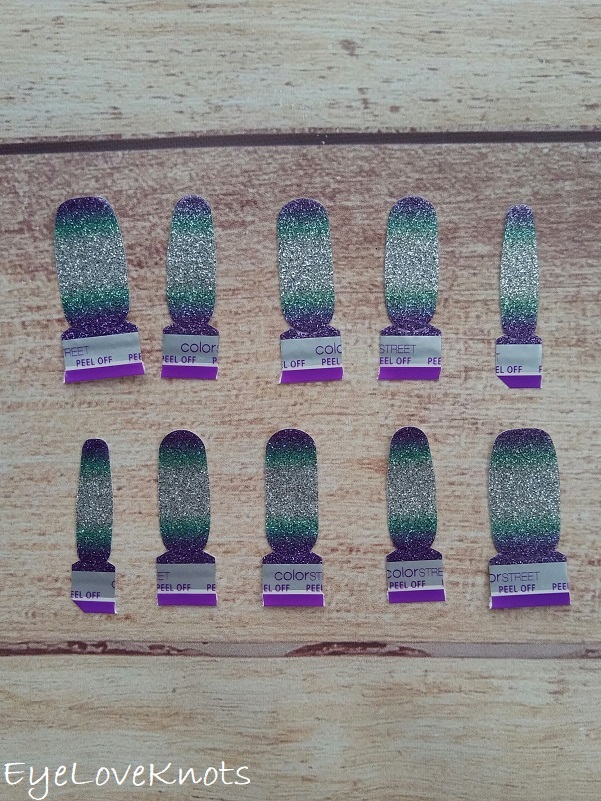 You can easily separate them from each other with the notched edges, and hold them up to your nails to see which one will fit the best – don't toss the others!
Remove the clear coat (there is a cover on each strip), peel the strip off the paper from the bottom up, then separate from the bottom tab (it's perforated).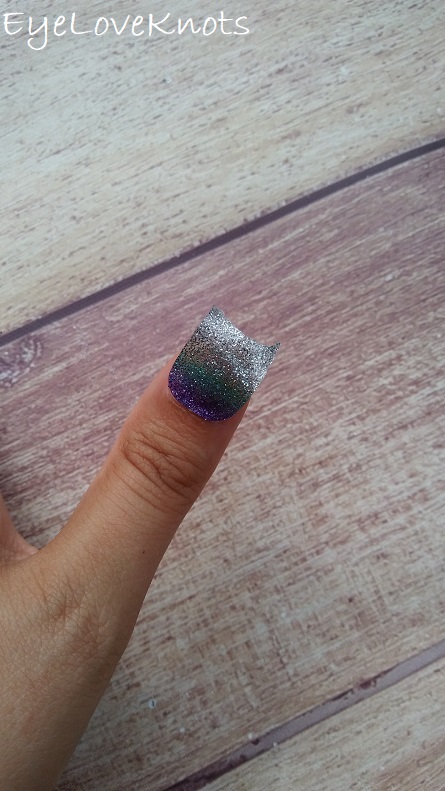 When I apply the strip, I line up the vertical center of the strip with the vertical center of my nail, taking careful measures to line up the rounded edges are the bottom of my nail – you may need to overlap the bottom of the strip with your finger to get the right fit, and then I gently lay it down, and begin pressing from the center out, stretching the strip to fit my nail perfectly.
While you are applying the nail strips, they are not totally dry making it flexible and can be repositioned to an extent.
I say "gently lay it down" because as long as it's not really on your nail, it's easy to pull it up, and reposition, but if it's actually sitting your nail, I wouldn't recommend peeling it off because it can damage your nail (the same way peeling gel polish off can), and you risk damaging the nail strip.
I also say "pressing from the center out, stretching" because as it's flexible, you can gently stretch it to fit the width of your nail, even if it doesn't look like it will fit at first. I only stretch by pressing because if you pull too hard, or use your nails, the nail strip will rip.
The best advice I can give (other than patience) is to leave your thumbs for last. I use my thumb to fold the excess part of the strip over the edge of my nail, and use the edge of my strip to cut the excess off. I also use my thumb nails to cut the excess that overlays my finger.
Using my thumb helps me save the rest of the nail strip because with the exception of one nail, am able to use one strip on two nails. I find using a nail file to take the excess off ruins the rest of the strip.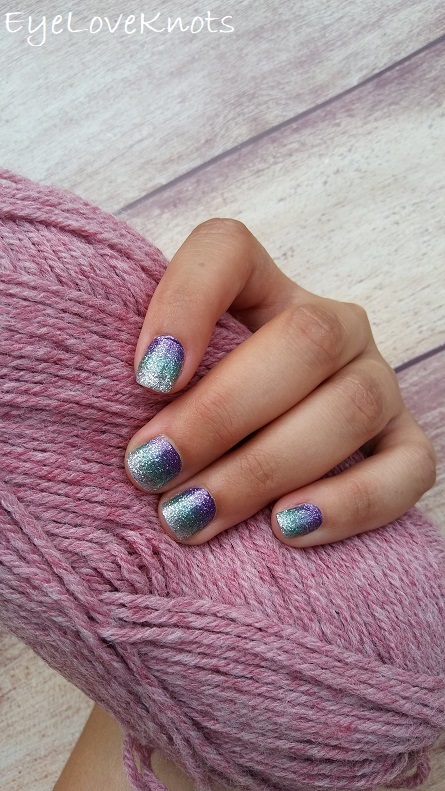 The nail strip will dry completely rather quickly, and you will best notice by the edges of your nails being rough. At this point, I lightly file my nail tips where needed, and apply a top coat (even though the strips have a top coat, it's to cover the edges that have been torn to fit). For any overlap on your finger, you can gently pull the paint up, and use finger nail clippers to take it off.
Easy Peasy!
I would say the whole process takes about 10 minutes to do from start to finish. While it is easy to apply, it make take a couple applications before you are comfortable with it, and get the stretching right.
What Do I Do If Part of My Nail is Exposed?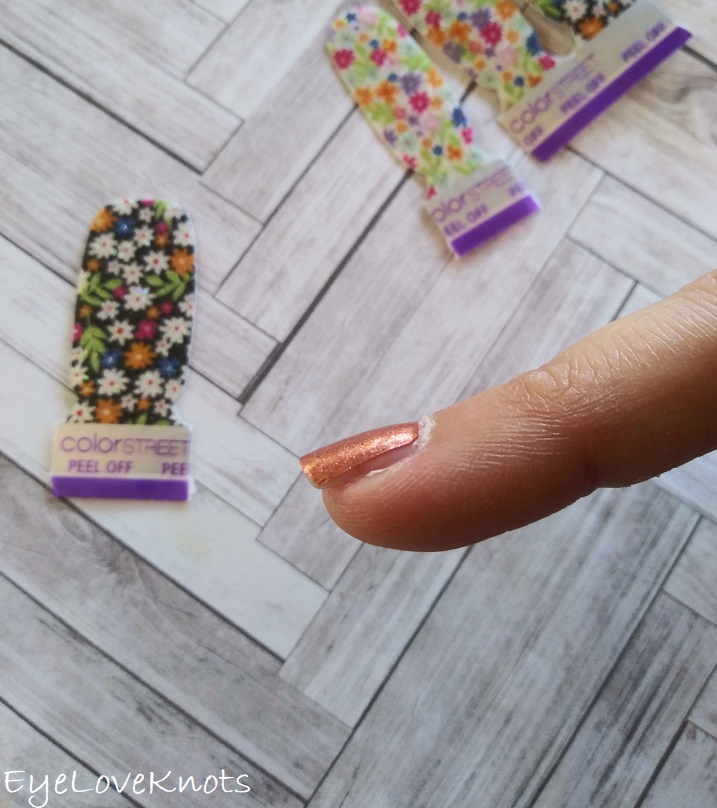 It happens to the best of us! You can overlap the same color in this space – it can even just be a sliver of it, or you can overlap another color (like I did with my ring finger in the second photo up).
How Can I Save My Unused Nail Strips?
I use a vacuum sealer to reseal the plastic the nail strips come in, but I have heard some others use their flat irons to reseal. Make sure your nail strips are not in the way of the heat, or those that are touched by the heat will be unusable.
How Do I Remove the Nail Polish?
When you are ready, simply use your regular nail polish remover! I have tried other nail strip brands in the past, and I think these are the easiest to remove. Fair warning, glitters do take more effort.
So, Where Can I Get Them Again?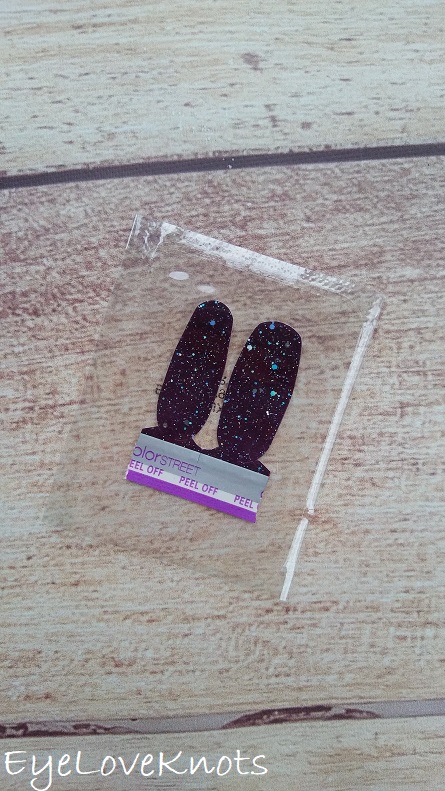 You can request a free sample – HERE.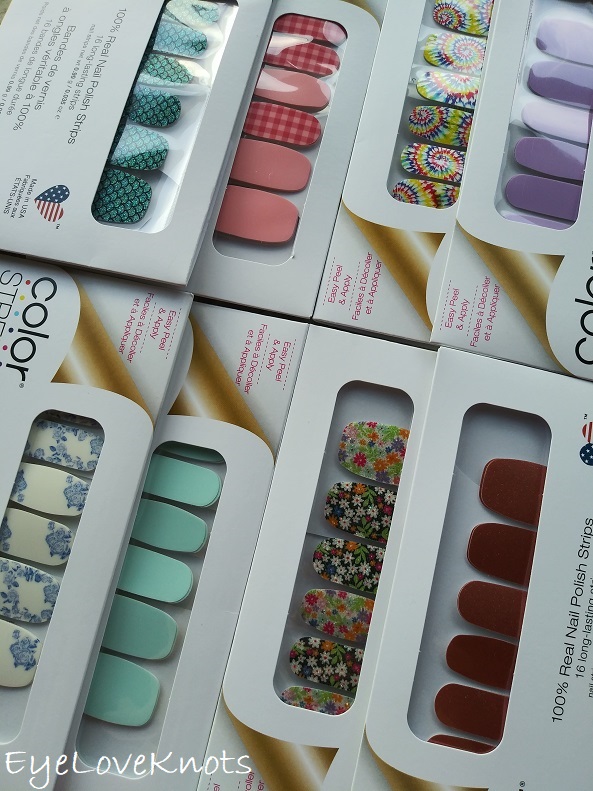 You can also head right to the Color Street shop, and place your order!
Buy 3, Get 1 Free with no code needed!
This is an open board where you can share photos of your nail art and nail inspiration, fashion tips, fashion finds, outfits of the day, make up and hair tutorials and lifestyle. If you DIY, you can share those projects here to IF they are FASHION RELATED.
I also want this to be a place we can ask for advice and suggestions, share resources, stories and experiences and just help each other grow along the way.
Linked Up To…
Craft Schooling Sunday – Creative Jewish Mom
Happiness is Homemade Link Party – Create with Cynthia
A Themed Linkup 15 for Crafts and DIY – Grammy's Grid
Handmade Monday #172 – Sum of their Stories
The Really Crafty Link Party #214 – Keeping it Real
Craftastic Monday Link Party – Sew Can Do
Weekday Wear Linkup – Away from the Blue
Fabulous Party #316 – Lou Lou Girls
544th Inspire Me Tuesday – A Stroll Thru Life
Linky Ladies Party #183 – The Purple Poncho
Turning Heads Linkup – Elegantly Dressed and Stylish
Confident Twosday Linkup – I do deClaire
{Wow Me} Wednesday #451 – Ginger Snap Crafts
Your Whims Wednesday #456 – My Girlish Whims
Style Six Linkup – The Queen in Between
Thursday Favorite Things #436 – An Artful Mom
The Wednesday Link Party 344 – The Stitchin' Mommy
Creative Compulsions Linky Party #56 – My Bijou Life
Creatively Crafty Link Party #220 – Life Beyond the Kitchen
Thursday Fashion Files Link Up #255 – Curly Crafty Mom
Trendy Thursday LinkUP – Thirty Minus One
Pin Party #365 – The Pin Junkie
Home Matters Linky Party #279 – Modern on Monticello
April 2020 Best of the Month Party – Calypso in the Country
Style Link Up – Lizzie in Lace
Snickerdoodle Create Bake Make Link Party 332 – EyeLoveKnots
Link Your Stuff – Annemarie's Haakblog
Unlimited Monthly Link Party 12 – Grammy's Grid