Free Crochet Pattern for how to crochet a lightweight geometric rectangle shawl perfect for cool Summer nights.
This post contains affiliate links for Lion Brand Yarns, LoveCrafts & Color Street. If you make a purchase by clicking on them, I make a small commission at no extra cost to you. Thanks for your support!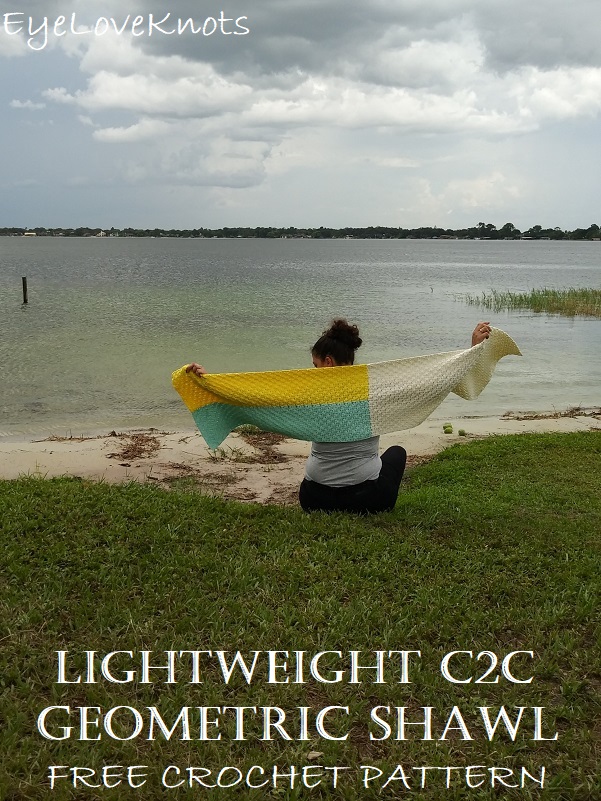 Last May, I was getting ready to visit with my family in New Jersey, and planning on a project to take with me. While at JoAnn's, I stopped to look at the Bernat's Softee Baby Cotton, as I did pretty much every time prior to this visit. I've always wanted to try it, but was either not in a financial position to, or couldn't think of what I'd use it for. This time, I envisioned this shawl when I saw the colors together, so in my basket it went as well as in my luggage.
This shawl wasn't a project I worked on a lot, and when the holidays came, it was put on the back burner, then there was the matter of running out of the cream yarn… JoAnn's had been out of the cream a couple of my visits, and when I finally was able to grab another ball, I had lost steam on the project.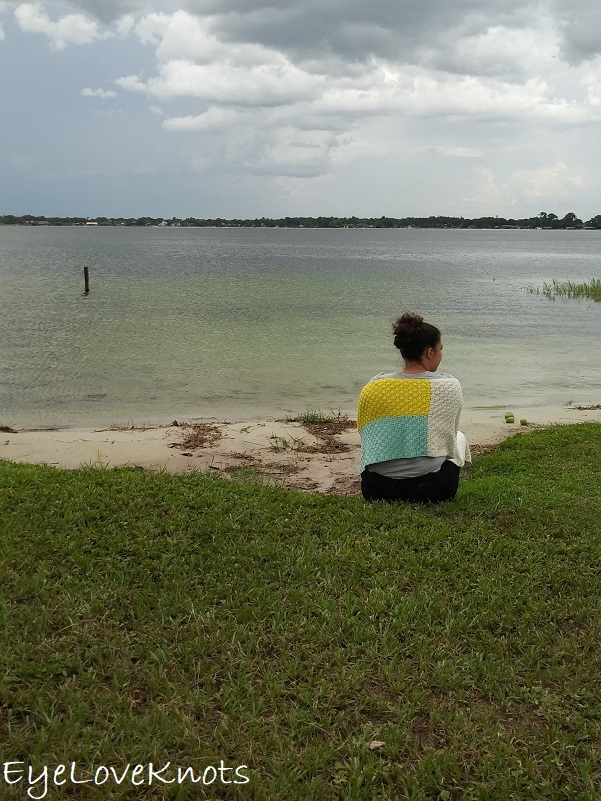 Recently though, I looked at it sitting on my desk, and was determined to get it finished up. As soon as I weaved in the last end, I grabbed my tripod, and headed down to the lake to take the photos.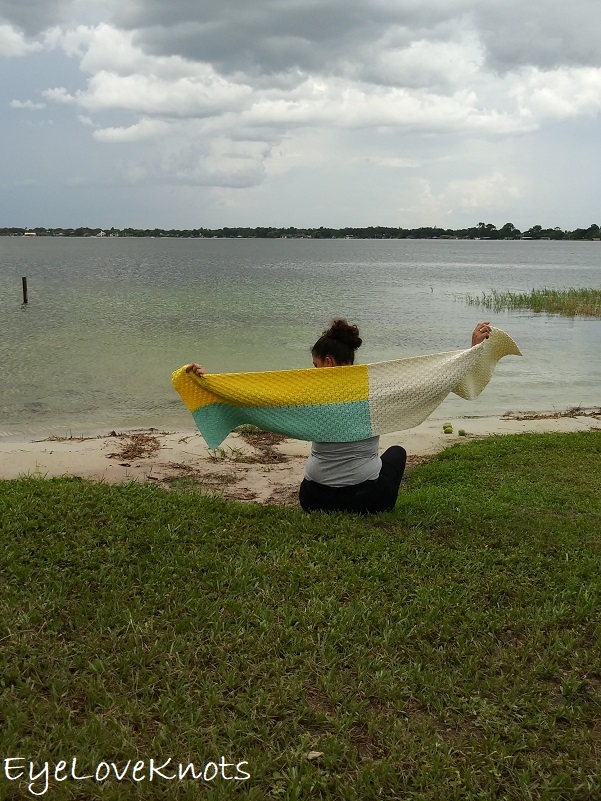 The sky was black, but the breeze was gorgeous, and I had some fun getting my photos, even while racing against mother nature (which I lost because it started raining on me while I was down there).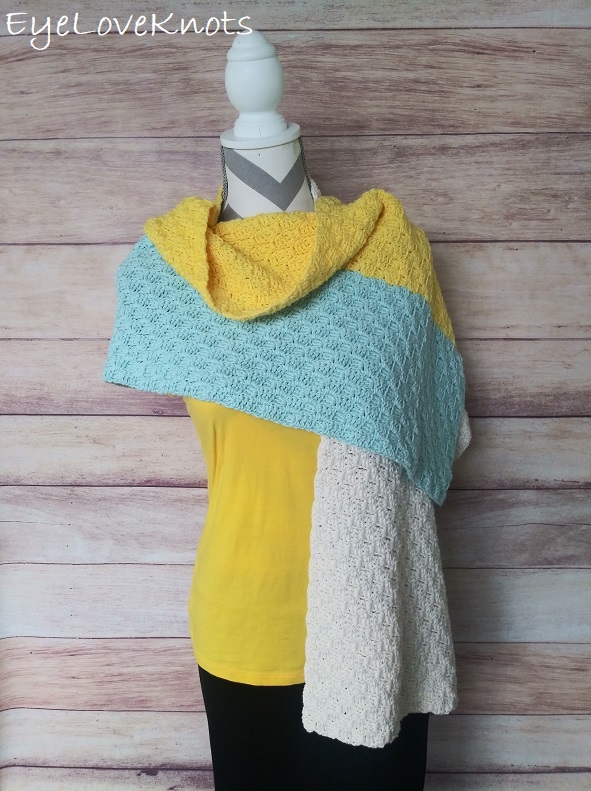 Ad-Free, Printer-Friendly PDF
If you would like a PDF version of this post, you may get one through either my EyeLoveKnots Etsy Shop or LoveCrochet Shop for a small fee. This fee is to compensate for the views lost when you no longer need to return to the blog to for the information, as you will have your own copy. Plus! It helps fund supplies for new projects to share with you!
Shop EyeLoveKnots Etsy: C2C Geometric Rectangle Shawl.
Shop EyeLoveKnots LoveCrochet: C2C Geometric Rectangle Shawl.
Are you a Raveler? Share your version of this project on Ravelry – C2C Geometric Rectangle Shawl.
Save this to your Favorites on: AllFreeCrochet (sub 07/26), FaveCrafts (sub 07/26), and Crochet Pattern Bonanza.
Materials:
1,175 Yards of Lightweight Yarn – I used Bernat's Softee Baby Cotton in Aqua Mist (Blue; 310 Yards), Duckling (Yellow; 310 Yards) and Cotton (Cream; 555 Yards)
H8/5mm Crochet Hook
Tapestry Needle
Material Notes:
This shawl was designed in a cotton blend, which is heavier with flat, more defined stitches – characteristics of the cotton fiber. If worked in another fiber, like wool or acrylic, it will come out smaller in size. To follow the same exact pattern, go up a hook size or use worsted weight yarn.
Softee Baby Cotton is also a heavier lightweight yarn. Yarn Alternatives Similar to Softee Baby Cotton: Cascade's Sarasota Yarn, Berroco's Modern Cotton (#4), and Lion Brand's Comfy Cotton.
Measurements:
15″ Tall by 60″ Wide
Gauge:
6 Boxes = 3.75″ by 4″
Abbreviation (US):
Pattern Notes:
This pattern is written with colors and boxes only. If you would like more details on how to work the corner to corner technique, check out my How to C2C in DC photo tutorial.
Beginning chain 2 counts as a double crochet.
A box is comprised of four double crochet's.
Working the final double crochet into the top of the chain from the previous row helps to keep the edge more even. After completing the first box, you may also need to lightly tug on it to keep it even as well.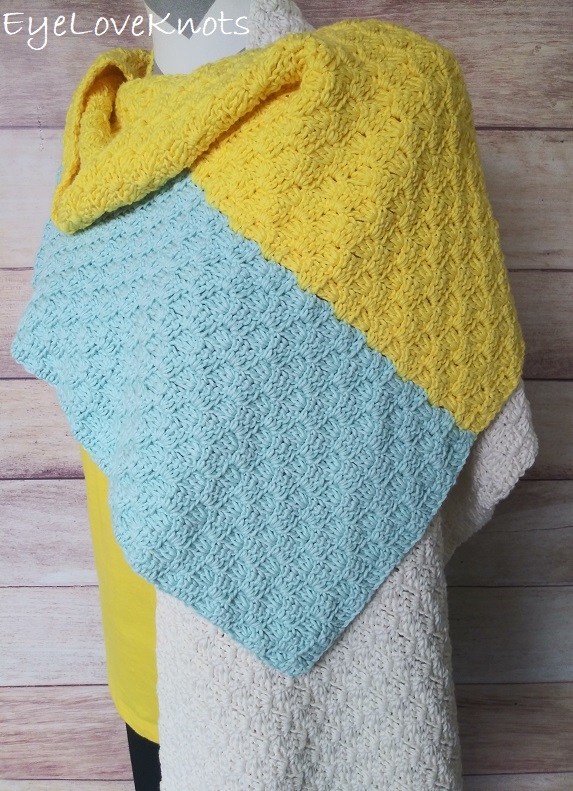 Pattern:
R1 – 13: Increase in Blue. (13 Boxes)
R14: 13 Blue, 1 Yellow. (14 Boxes)
R15: 2 Yellow, 13 Blue. (15 Boxes)
R16: 13 Blue, 3 Yellow. (16 Boxes)
R17: 4 Yellow, 13 Blue. (17 Boxes)
R18: 13 Blue, 5 Yellow. (18 Boxes)
R19: 6 Yellow, 13 Blue. (19 Boxes)
R20: 13 Blue, 7 Yellow. (20 Boxes)
R21: 8 Yellow, 13 Blue. (21 Boxes)
R22: 13 Blue, 9 Yellow. (22 Boxes)
R23: 10 Yellow, 13 Blue. (23 Boxes)
R24: 13 Blue, 11 Yellow. (24 Boxes)
R25: 12 Yellow, 13 Blue. (25 Boxes)
R26 (Last Decrease Row): 13 Blue, 13 Yellow. (26 Boxes)
R27 (Work Even): 13 Yellow, 13 Blue. (26 Boxes)
R28 – 50: Repeat Rows 26 and 27.
R51: 1 Cream, 12 Blue, 13 Yellow.
R52: 13 Yellow, 11 Blue, 2 Cream.
R53: 3 Cream, 10 Blue, 13 Yellow.
R54: 13 Yellow, 9 Blue, 4 Cream.
R55: 5 Cream, 8 Blue, 13 Yellow.
R56: 13 Yellow, 7 Blue, 6 Cream.
R57: 7 Cream, 6 Blue, 13 Yellow.
R58: 13 Yellow, 5 Blue, 8 Cream.
R59: 9 Cream, 4 Blue, 13 Yellow.
R60: 13 Yellow, 3 Blue, 10 Cream.
R61: 11 Cream, 2 Blue, 13 Yellow.
R62: 13 Yellow, 1 Blue, 12 Cream. Fasten off Blue.
R63: 13 Cream, 13 Yellow.
R64: 12 Yellow, 14 Cream.
R65: 15 Cream, 11 Yellow.
R66: 10 Yellow, 16 Cream.
R67: 17 Cream, 9 Yellow.
R68: 8 Yellow, 18 Cream.
R69: 19 Cream, 7 Yellow.
R70: 6 Yellow, 20 Cream.
R71: 21 Cream, 5 Yellow.
R72: 4 Yellow, 22 Cream.
R73: 23 Cream, 3 Yellow.
R74: 2 Yellow, 24 Cream.
R75: 25 Cream, 1 Yellow.
R76: In Yellow, chain 1, and turn. Slip stitch over into the 2nd and 3rd DC, insert hook into the 4th stitch and pull cream through, then fasten off Yellow and work 26 Cream boxes.
R77 – 100: Decrease down to 1 box.
Fasten off, and weave in ends.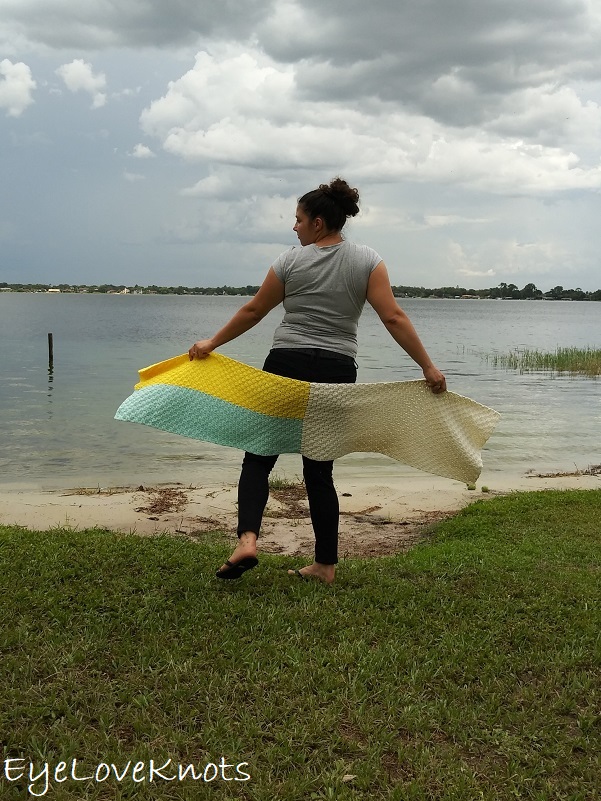 Please feel free to make and sell your own C2C Geometric Shawl project using this pattern, but please DO NOT claim this pattern as your own nor should you sell my pattern, and DO NOT re-publish my photos as your own. DO NOT copy and paste my pattern anywhere, link to it instead.
If you love to DIY: Join the EyeLoveKnots Crochet & DIY Community on Facebook to share your creations, and see what others are up to!
If you love Fashion & Lifestyle: Join the Pretty Nails & Fun Fashion with EyeLoveKnots Facebook group to share, and see what others are up to!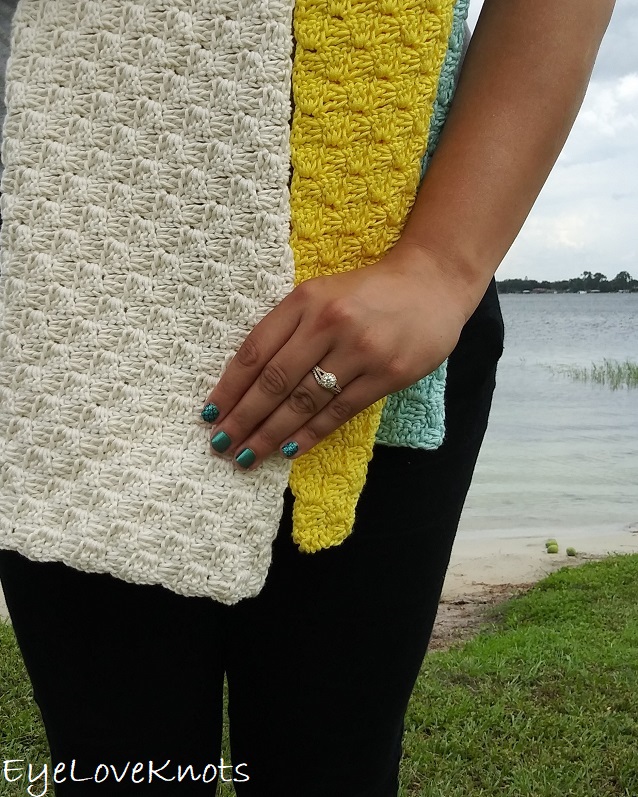 My nails are Color Street Mermaid Brigade and Holy Teal-edo. Mermaid Brigade is put over top of Holy Teal-edo, as it's see through.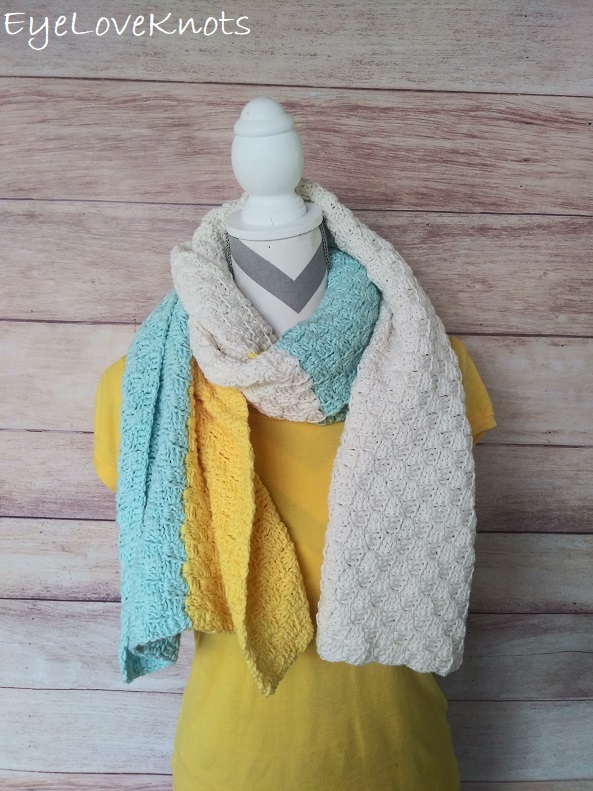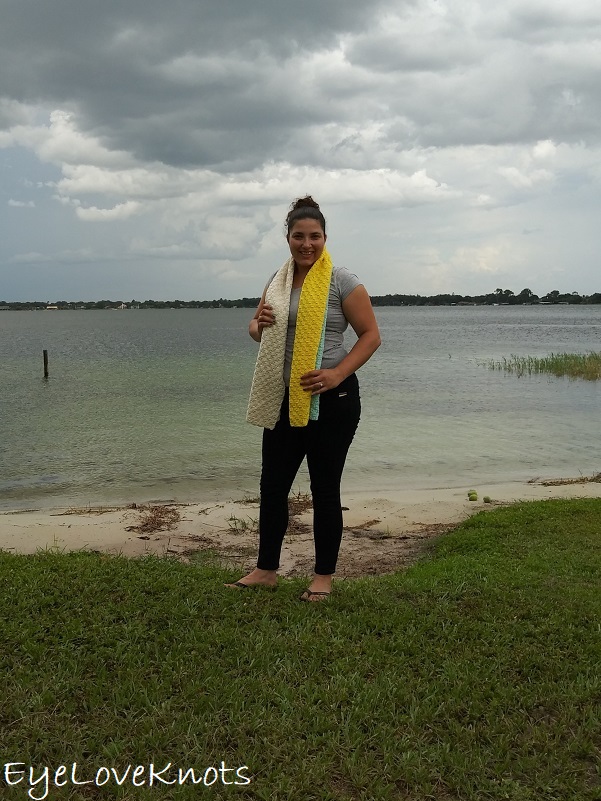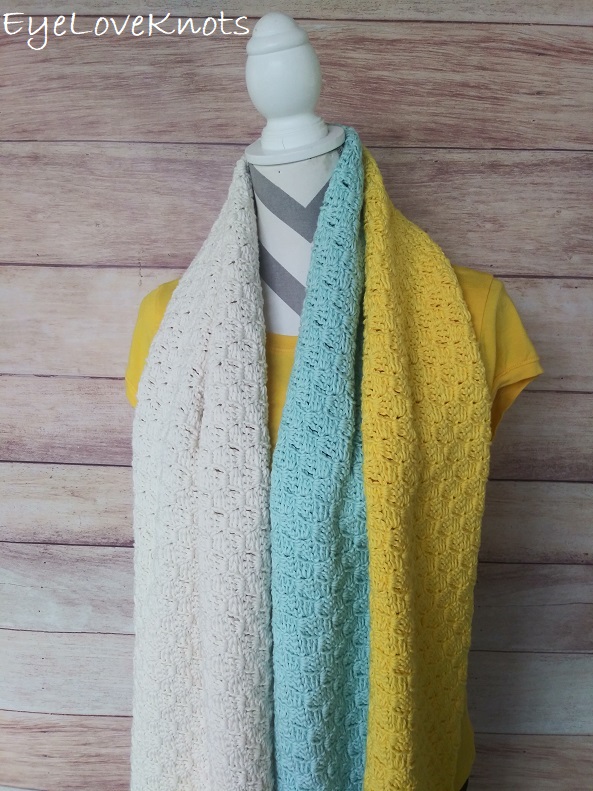 Linked Up To…
Party in Your PJS #318 – The Apple Street Cottage
{Wow Me} Wednesday #364 – Ginger Snap Crafts
Your Whims Wednesday #369 – My Girlish Whims
Style on the Daily Weekly Link Up – Straight A Style
Style Six – The Queen in Between
Scrappy Stitchers Link Party #64 – Stitches n Scraps
The Wednesday Link Party #357 – The Stitchin Mommy
Creatively Crafty Link Party #233 – Life Beyond the Kitchen
Artsy-Fartsy Party #302 – Artsy Fartsy Mama
Chic and Stylish Link Up – Mummabstylish
Thursday Favorite Things – An Artful Mom
Creative Compulsions Linky Party #69 – My Bijou Life
Traffic Jam Weekend Linky Party #243 – My Bijou Life
Pin Party #378 – The Pin Junkie
Friday Favorites – Busy Being Jennifer
Create, Bake, Grow & Gather Party 429 – Shabby Art Boutique
Home Matters Linky Party #292 – Modern on Monticello
Thursday Fashion Files Link Up #267 – Curly Crafty Mom
Trendy Thursday LinkUP – Thirty Minus One
Style Link Up – Lizzie in Lace
Fancy Friday – Nancy's Fashion Style
Craft Schooling Sunday – Creative Jewish Mom
Happiness is Homemade Link Party #332 – Create with Cynthia
Hearth & Soul Link Party – April, the 21st Century Housewife
Handmade Monday #185 – Sum of their Stories
The Really Crafty Link Party #227 – Keeping it Real
Unlimited Monthly Link Party 14 – Grammy's Grid
Ginx Woolly Linx Party July – Ginx Craft
Craftastic Monday Link Party – Sew Can Do
Weekday Wear Link Up – Away from the Blue
Fabulous Party #329 – Lou Lou Girls
Linky Ladies Party #189 – The Purple Poncho
One More Row Free Pattern Link Party #20 – Loops and Love Crochet
Turning Heads Linkup – Elegantly Dressed and Stylish
Confident Twosday Linkup – I do deClaire
A Morning Cup of Joe Linky Party – The Cottage Market
Scraptastic Saturdays Party #298 – Scrapality
Snickerdoodle Create Bake Make Link Party 345 – EyeLoveKnots