This is a crochet pattern review of the Starry Night Pocket Shawl designed by Karen Whooley for Leisure Arts. Review done by A Stitch Shy of Normal for EyeLoveKnots.
This post contains affiliate links for Leisure Arts and WeCrochet. If you make a purchase by clicking on them, I make a small commission at no extra cost to you. Thanks for your support!
Find our crochet pattern review below, or click here to purchase the crochet pattern from the Leisure Arts website.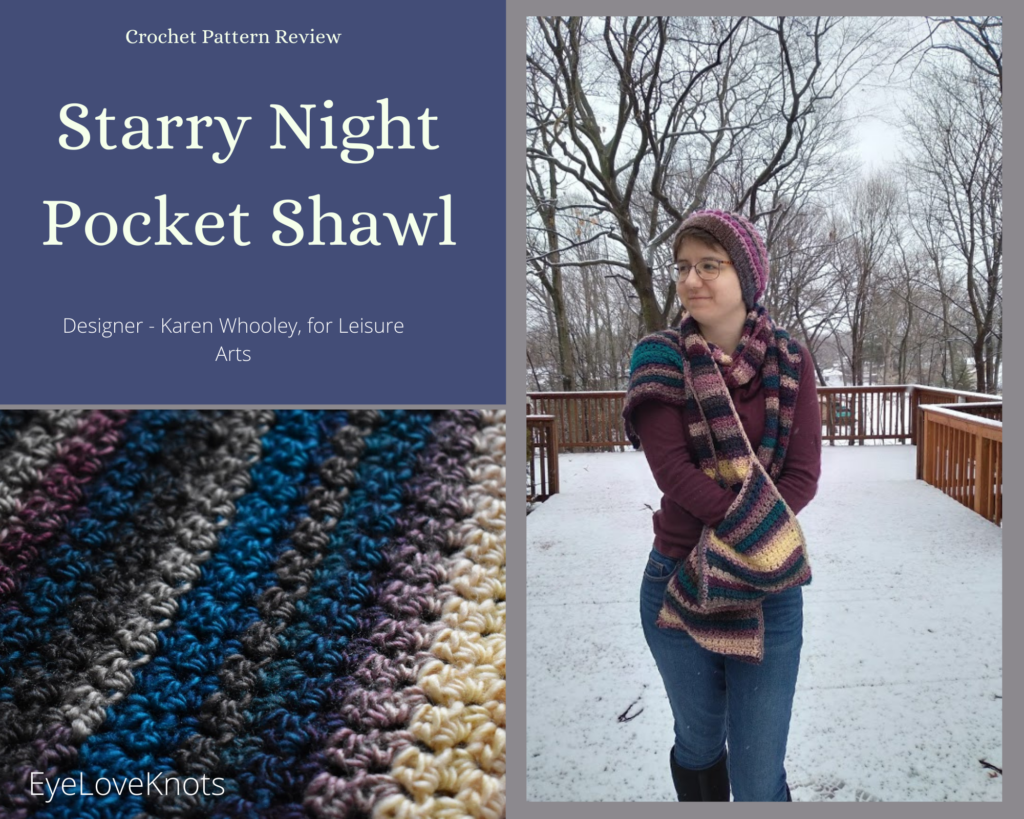 Visit with me on Instagram @astitchshyofnormal for all kinds of awesome crochet makes and inspiration.
I love color, and I always have. When I first started crocheting about 8 years ago, I pretty much had two yarn choices that I used for any project. It would be Red Heart Super Saver, or Red Heart Unforgettable.
Now, you may be remembering something about Super Saver from several years ago…it was not soft. That yarn used to be super stiff and scratchy! I thought I was just mis-remembering this fact, but when I moved recently I found an old skein from my early days of yarn hoarding, and it really surprised me when I picked it up. That company has done something in the past few years to turn their yarn into one I would actually be fine with using for garments and accessories (not to mention it gets softer and drapes better after washing and drying).
Why am I telling you this? Because when I wanted to make something to wear, something that would actually touch my skin, I would turn down Red Heart Super Saver because it was so uncomfortable. But I didn't really know much about yarn, and didn't have any crafty friends to talk with at the time to give me advice. So I would turn to the "only" soft yarn I could find, apparently, which just happened to be Red Heart Unforgettable! (I shopped for my yarn at Walmart at the time if I remember correctly.) I can't really blame past-me, it's a gorgeous choice.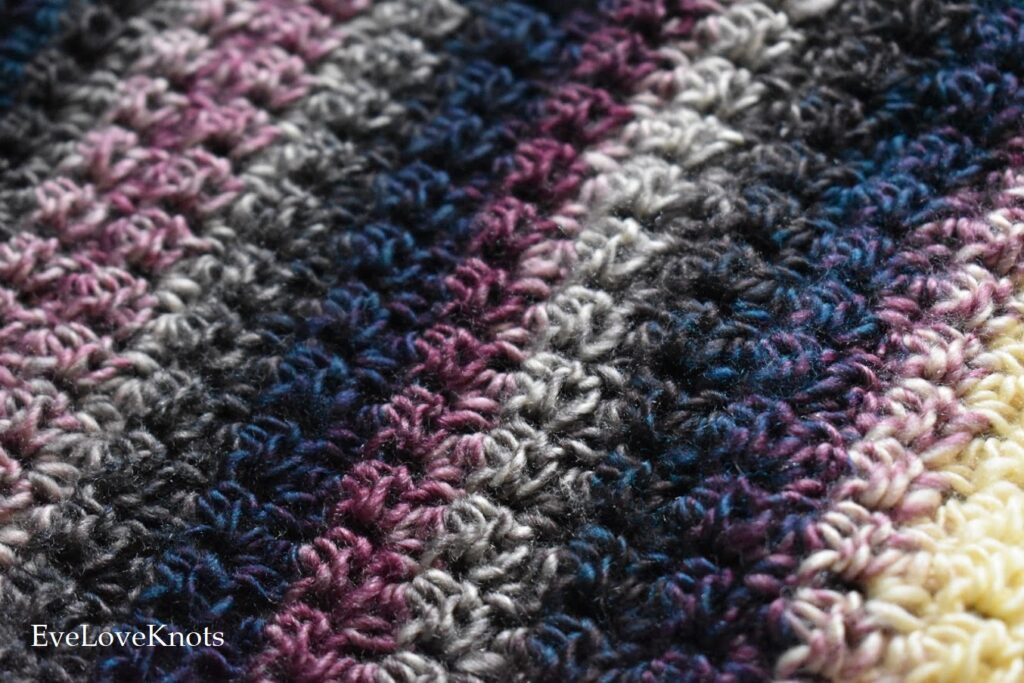 Yes, I used this yarn for basically everything that wasn't a home item or a toy. I used it for scarves, hats, mittens, I even tried it in a few garments (a skirt and a shawl come to mind). Did it work for all of these? Absolutely not. I didn't really understand gauge, nor did I realize that not every fiber is ideal for every item. Also, Unforgettable doesn't hold up very well at all to harsh machine washing (another oops on my part). And my conclusion from these mistakes was that yarn is really confusing, because the two options I'd found were either uncomfortably scratchy or too flimsy! This led to me swearing off Unforgettable for years. I wasn't mad at Red Heart or anything, I would just see it in the store and think "that stuff falls apart so horribly and doesn't really work" and never buy it. It hurts, thinking about all the pretty colorways I ignored for so long!
Now, years later, I'm much more aware of yarn options and how to make better choices. I realize that light gorgeous "flimsy" yarns have their place in the crafting world, and you just need to use them for the right stitches and the right projects (and take proper care of the items, of course).
So when I saw the gorgeous Starry Night Pocket Shawl on the Leisure Arts website, with the beautiful muted tones of Red Heart's Boutique yarn (which is unfortunately no longer available), I knew I had my chance to give Unforgettable another try and do it right this time.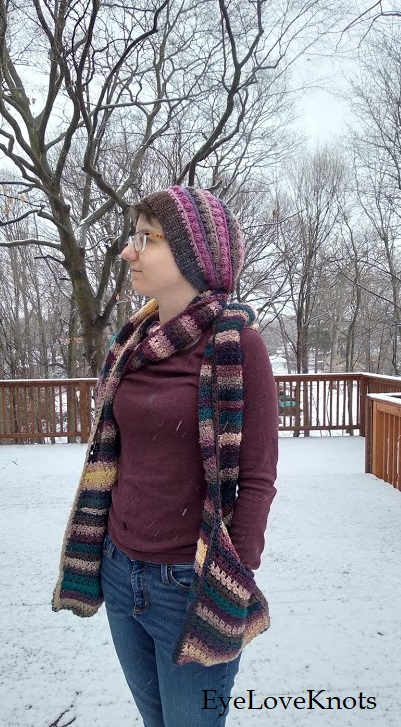 Materials I Used:
4 skeins of Red Heart Unforgettable in Tealberry (between 3.5 and 4, really)
I9/5.5mm hook – I like Clover Amour Ergonomic Hooks
Stitch markers for assembly (or you could use safety pins)
The "Starry Night" pocket shawl pattern which I bought directly as a single pattern, but is also available in some of their books and collections!
Material Notes:
Red Heart Boutique Midnight, the yarn they used for this pattern originally, is sadly discontinued and no longer available. However, they have a few yarn varieties along the same vein, and this led me down a complicated rabbit-hole. The yarn called Unforgettable was originally named Boutique Unforgettable, so these two were part of the same line. Then there's varieties of each, and discontinued/replaced versions all over the place. I got so confused trying to research the differences for you guys!
The biggest differences I found are that Midnight is a blend of acrylic, wool, "metallic" (whatever that specifically is), and nylon…while Unforgettable is just straight up acrylic. Also Midnight might be slightly thicker. However, I would consider these fairly interchangeable if you make sure to gauge swatch.
The look in my shawl is about the same as they were going for, the stripes are slow enough to get a few rows of each color but you get a very multicolored shawl!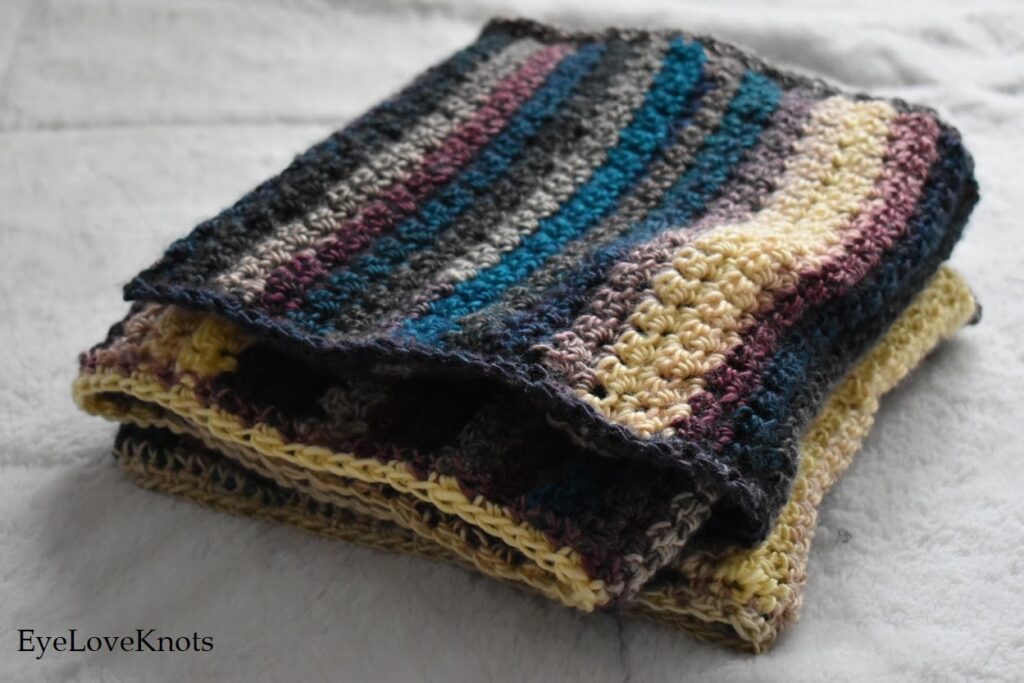 This yarn does not hold up the strongest, especially in such an open stitch texture, but as this is a decorative accessory that's not a huge issue. This is more of an item that I'd wear over a cute top to go out for an evening, not a reliable sturdy scarf I'd wear every day.
I would like to try this pattern again in a sturdier yarn, something like Red Heart Super Saver Ombre or Lion Brand's Mandala Ombre to get nice color changes but still some extra pizazz. Or Lion Brand Date Nights for a solid color shawl with intense sparkles! Well, now that I've gotten these in my head I need to make another shawl or three to try all these out.
But to use my usual question, would I do it again with this yarn? Totally, yes. I would choose a different colorway, of course, but I would love to have another one just like this to show off!
Time Spent:
6-7 hours, probably about 6 of stitching and then a solid hour of assembly.
Measurements:
The listed dimensions are 12″ wide (measuring across the strips) and 45″ long from the back inner corner to the end of a strip.
After light wear (for pictures), mine is between 11 and 12.5″ wide (the yarn varies in thickness throughout) and about 48-50″ long.
Mine ended up being a bit too long, especially since I'm 5'4″. I didn't account for stretch since this is a stretchy slightly-roving yarn, and I should have stopped a few inches before their listed lengths. With strips this long and an open texture, it will weigh itself down a little and stretch out. Try it on throughout the project, and I would recommend stopping a little before you think you're done! You can see below that with the intended way of wearing it, it's a little long. But when I wrap it around myself more it's perfect!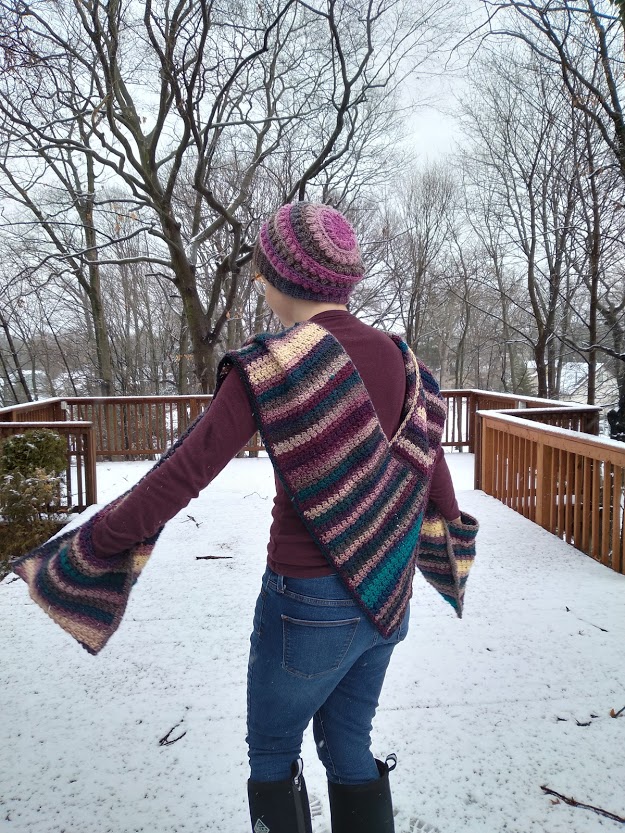 Gauge Info:
I got relatively close to their listed gauge, but like I mentioned, this yarn and stitch pattern makes exact measurements difficult. They suggest basically starting the longer strip and just checking the dimensions after 9 rows, so if your gauge is right you can simply keep going! I got close enough for me, they suggest it as 11.25″ wide and mine was closer to 12″ (which was fine, again this yarn varies quite a bit), and that these 9 rows should be about 3.75″ which mine fit exactly.
Pattern Notes:
I very strongly suggest you chain loosely to start this one out. Every time I didn't focus really hard on keeping my starting chain extremely loose, my strip would shrink up and be closer to 10.5-11″ wide. I restarted this shawl several times after only getting a few rows in. My final strategy was to size up to a 6mm/J hook and still make it intentionally VERY loose. This is just the starting chain and the first row or so, I was able to use my regular tension once I got started.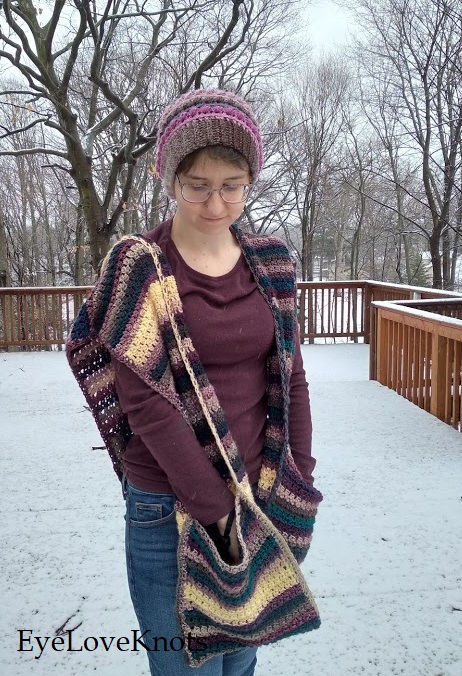 This pattern is mindless because it's just one row that you repeat for the entire length. You also don't have a strict row count, it's a length suggestion. So you can turn off your brain and just stitch along to a movie, as long as you start measuring and counting in the last few rows when you get close to the right length!
As I stated in the measurement notes, I would suggest paying close attention to the sizes and stopping on the earlier side rather than later if you're unsure. This yarn leads to slight variations in measurement, and I kept measuring just an inch or two under the length until suddenly after one more row, it was two inches too long!
Assembly was simple, it just takes time. The construction of this pattern involves making two long strips, and you then lay these strips out to pin them up for the pockets. So you need to block out a large amount of floor space for this and spend time sitting there pinning everything out nice and straight! If you rush, you'll probably have uneven pockets. The instructions for the assembly are clear and direct, though. They explain it well, and there's a picture if you're confused on some parts.
I just want to shout out this pocket construction, by the way. It's simple but elegant, and leads to big comfy pockets that fit your hands even if you're bundled up with thick mittens! Plus you sew the pockets together with the same stitch that you do for edging on the rest of the shawl, which gives it a seamless look and doesn't leave a hundred ends to weave in. I recommend taking extra care when stitching the pockets up, and make sure the corners are secure! It's a bad habit of mine in projects like this to ignore the very edge of the pockets, and then I have this hole that only gets bigger once I use the pocket itself.
These pockets aren't really made for anything heavy, by the way. (That's partly why I'm wondering what it can hold with a sturdier yarn!) A phone would be about the heaviest I'd recommend putting in there. Anything more would stretch it out. But it would be great for mittens, or just to tuck in your hands while you're outside in the cold!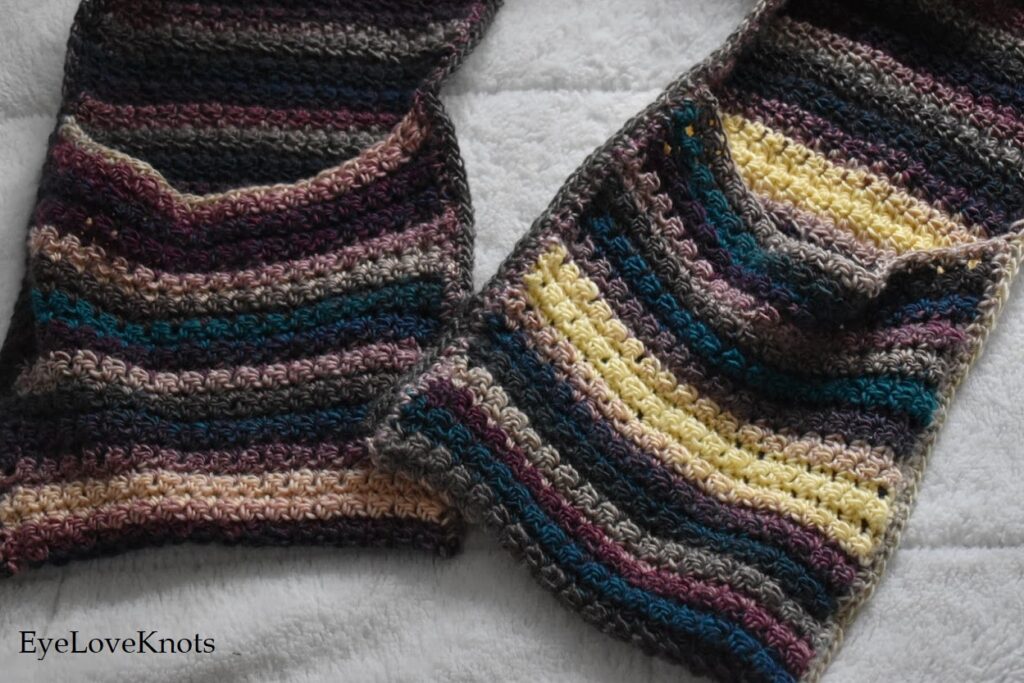 My final thoughts on this pattern are that it's definitely worth checking out. Next time I would make my strips a bit shorter, and I'll try a different yarn, but the finished shawl I ended up with is gorgeous and will make a wonderful conversation-starter accessory for spring evenings when I can go out without a heavy coat!
How would you style this gorgeous little number? Sparkly yarn, yes or no? Would you choose multicolored like me, or go for a basic solid neutral? I'd love to hear it all!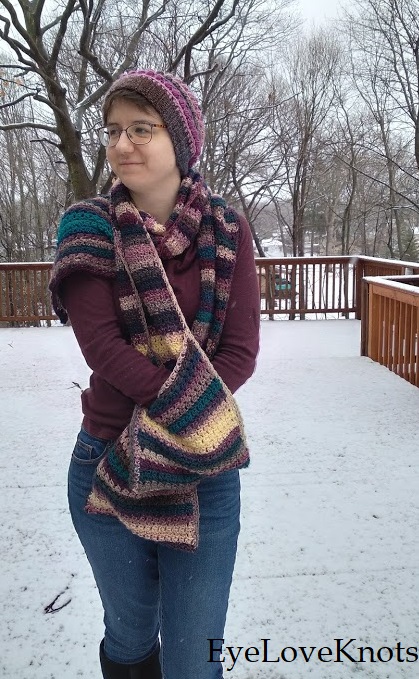 Don't forget to visit with me on Instagram @astitchshyofnormal for all kinds of awesome crochet makes and inspiration.
If you love to DIY: Join the EyeLoveKnots Crochet & DIY Community on Facebook to share your creations, and see what others are up to!
If you love Fashion: Join the Alexandra Lane Lifestyle Facebook group to share, and see what others are up to!
Linked Up To…
Weekday Wear Link Up – Away from the Blue
Weekly Link Up #208 – Beauty by Miss L
Turning Heads Linkup – Elegantly Dressed and Stylish
Confident Twosday Linkup – I do deClaire
Style with a Smile Link Up – Style Splash
Style Six Link Up – The Queen in Between
Style on the Daily Link Up – Straight A Style
Thursday Fashion Files Link Up #290 – Curly Crafty Mom
Chic and Stylish Link Up – Mummbastylish
Trendy Thursday LinkUP – Thirty Minus One
Fancy Friday Linkup – Nancy's Fashion Style
Ginx Woolly Linx Party January – Ginx Craft
Craftastic Monday Link Party – Sew Can Do
Linky Ladies Party #203 – The Purple Poncho
{Wow Me} Wednesday #489 – Ginger Snap Crafts
The Loop Scoop #6 – Moogly Blog
The Wednesday Link Party 383 – The Stitchin' Mommy
Creative Crafts Linky Party #26 – Creatively Beth
Craft Schooling Sunday – Creative Jewish Mom
Happiness is Homemade 359 – Decor Craft Design
Hearth and Soul Link Party – April, the 21st Century Housewife
The Really Craft Link Party #251 – Keeping it Real
You're the Star Blog Hop – Decor Craft Design
576th Inspire Me Tuesday – A Stroll Thru Life
Fabulous Party #356 – Lou Lou Girls
Party in Your PJs #343 – The Apple Street Cottage
Your Whims Wednesday #495 – My Girlish Whims
Waste Not Wednesday 239 – Pretty DIY Home
Thursday Favorite Things #474 – An Artful Mom
Creatively Crafty Link Party #260 – Life Beyond the Kitchen
Encouraging Hearts & Home Blog Hop – Apron Strings & Other Things
Artsy-Fartsy Link Party #239 – Artsy-Fartsy Mama
Home Matters Linky Party #316 – Modern on Monticello
Traffic Jam Weekend Linky Party #267 – My Bijou Life
Friday Favorites – Busy Being Jennifer
Create, Bake, Grow & Gather Party – Shabby Art Boutique
A Morning Cup of Joe Linky Party – The Cottage Market
Link Your Stuff – Annemarie's Haakblog
Snickerdoodle Create Bake Make Link Party 370 – EyeLoveKnots