How to crochet an easy, beginner friendly Summer top for women.
This post contains affiliate links for Lion Brand Yarns, Annie's Catalog and LoveCrafts. If you make a purchase by clicking on them, I make a small commission at no extra cost to you. Thanks for your support!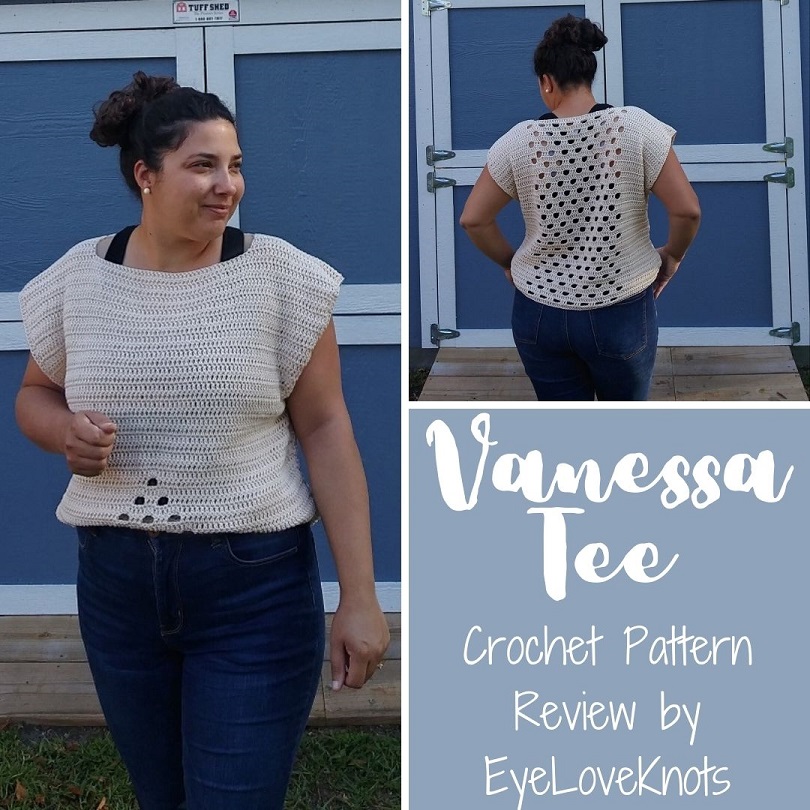 UPDATE 03.10.20: I made a big mistake in this top. I missed the instructions that stated to fasten off after the first panel, so I thought this top was made in one continuous piece from the front bottom edge up over the shoulders and down to the back bottom edge, and this review reflects that. Actually, the front panel is made, then the back panel is attached to the top of the first panel and worked onto it.
Today is Day 1! I will be sharing a crochet pattern review each day through Friday of my favorite made for me garments from Salena Baca's new crochet book, Build Your Skills Crochet Tops: 26 Simple Patterns for First-Time Sweaters, Shrugs, Ponchos & More. On Saturday, I'll review the whole book, and we'll do a giveaway!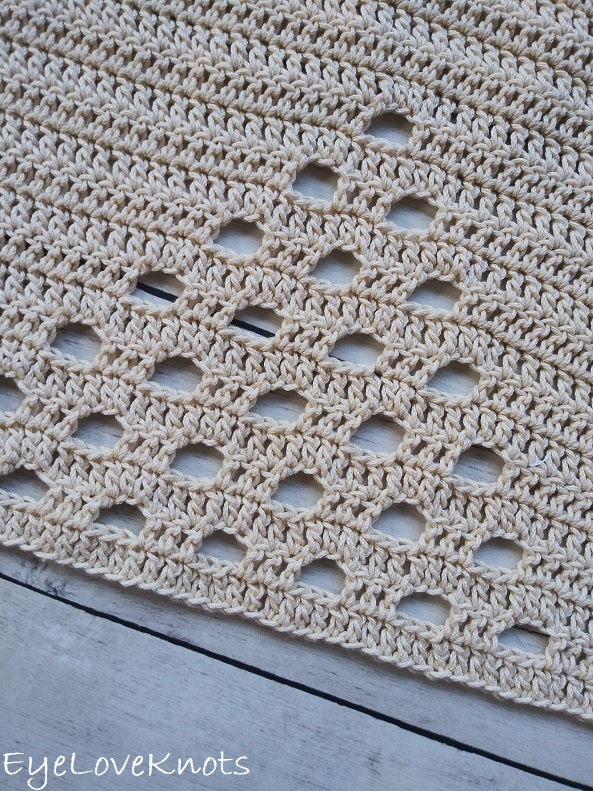 First up is the Vanessa Tee. What first caught my eye was the lacy, filet design. As I looked further into it, I really liked the idea of trying out 24/7 Cotton Yarn, and working myself up a new Summer top. Here in Florida, it's pretty much Summer all year, so I'll get a lot more use out of a cotton top, than wool. I also really liked the simple t-shirt shape.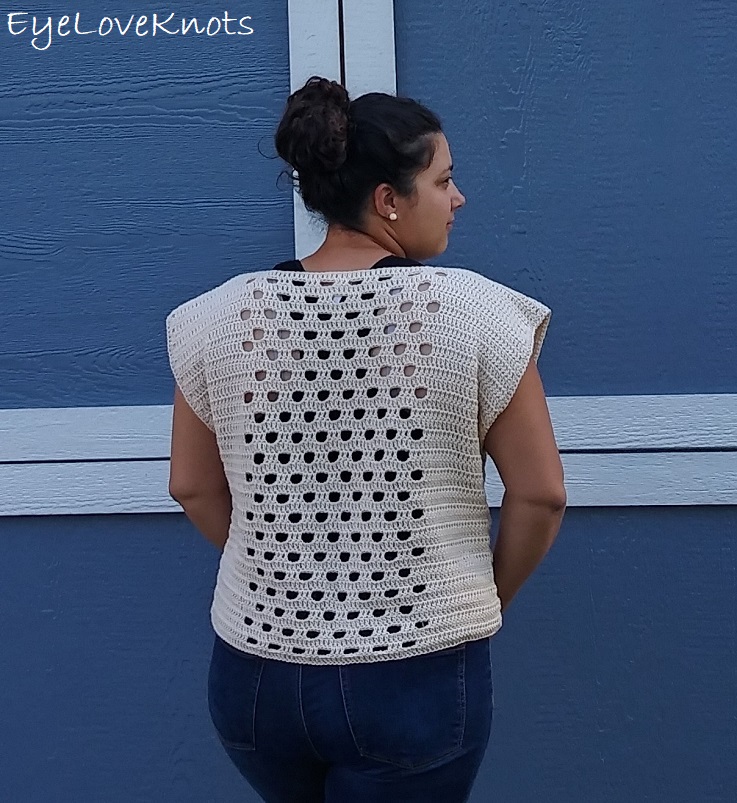 This pattern was very easy to follow. Worked in simple double crochet stitches and basic shaping, this top is suitable for a confident beginner, and even better, it's reversible!
Materials I Used:
Material Notes: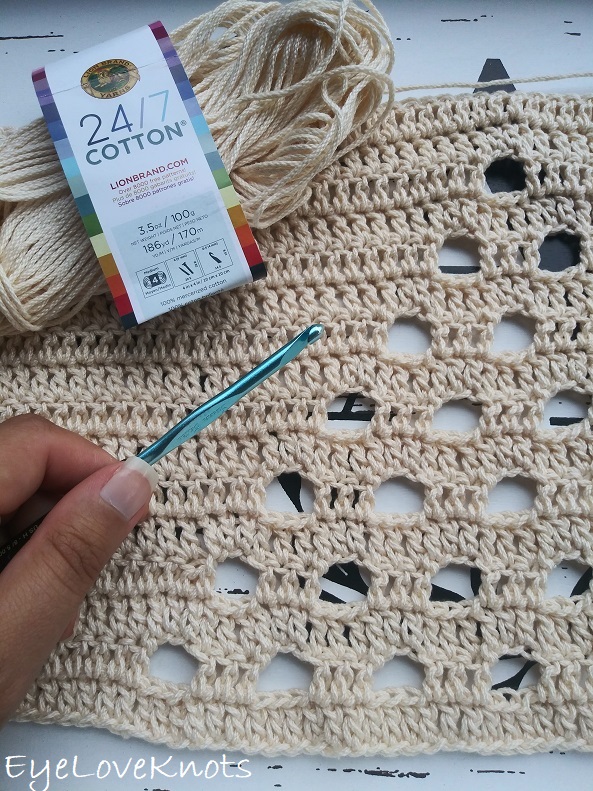 Original pattern uses Sprightly Yarns Cotton Worsted. I am not familiar with this yarn, or the yarns that were mentioned by Salena as alternatives, but I knew that I wanted to try this Summer top in 24/7 Cotton Yarn. The only thing I've done with 24/7 Cotton Yarn in the past was my Fresh Cut Coasters, but I've really wanted to try a garment with it.
My experience was that the fabric wasn't nearly as heavy as I thought it was going to be, which was a lovely surprise. It was comfortable to wear, and the yarn really is a pleasure to work with. AND! I think it would make a really lovely bathing suit cover if made longer.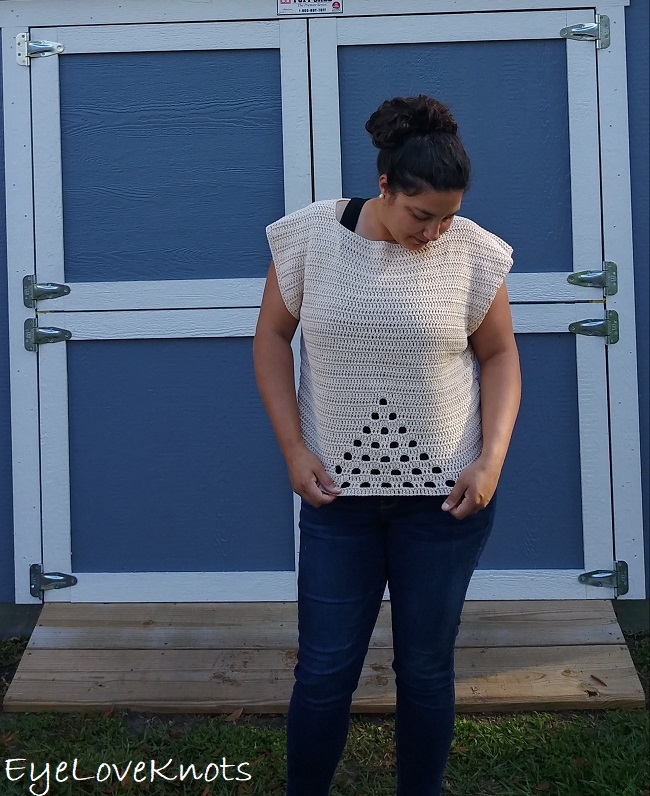 My complaint is what I expected, and my own fault for choosing this yarn to work with – the top was oversized and boxy, but I knew this was going to be the case when I started crocheting it, and I thought I could work with it. I just really hate oversized crocheted items because I feel like they are unflattering on me, and just uncomforable.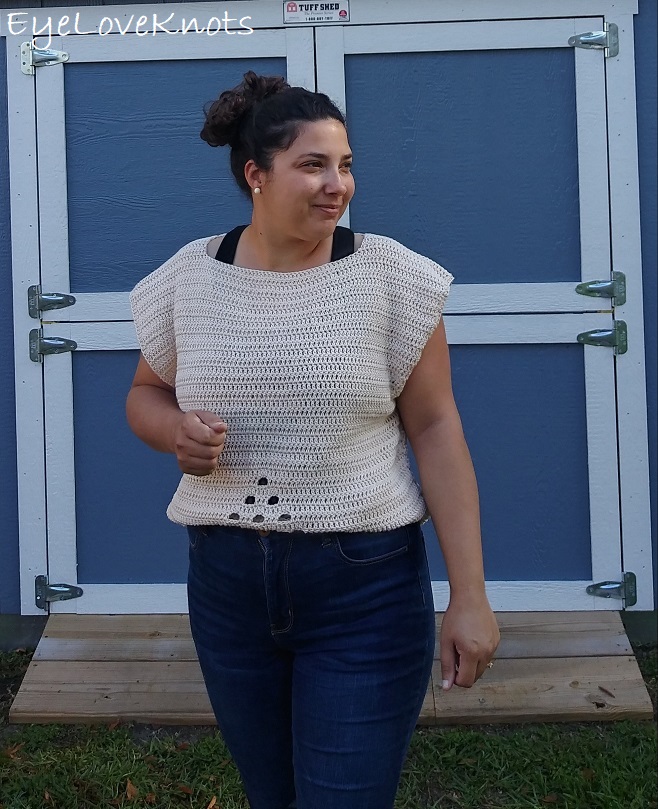 Tucked in, I enjoyed the top more, and felt like the shaping was better.
Why didn't I make the top smaller? 100% cotton alone cannot stretch back to it's original shape – it can only stretch out and grow. I wanted to make sure when I put the top on that I wouldn't be stretching it out. To make it a fitted top, I really needed to use a different fiber or at least a cotton blend, like Berroco's Modern Cotton. If you want this top for cooler weather, Lion Brand Wool Ease is a great yarn for sweaters, and you can continue to work additional rounds for the sleeve to length it.
Time Spent:
I worked up the Extra Large size, and it took me just over 7 hours to complete.
Measurements:
I did follow the instructions for the Extra Large size, but only because it was the closest thing to matching my gauge and reaching around my goal finished size. My actual top measured 22.5″ wide across the body, 23″ wide across from one sleeve to the other, and 21″ in length.
When I took my gauge, I was off by quite a bit. I did not want to have to jump up several hook sizes, so I just did a little math, and determined that I could follow the instructions for the Extra Large size to get close to my desired size. My bust size is 42″, and I estimated that by following this size, I would get a panel of about 23″ wide (which measures 46″ in circumference). While, it was a little bigger than what I wanted, it was the closest.
Why didn't I take out stitches to make the panels match my actual desired size? With the filet design, I really wasn't sure on the multiple so I just went with what was written, but it's actually an easy one! Both the front and back panels have several solid stitches on either side of the filet pattern, so you can easily take out a multiple of two stitches (equal to one on each side of the filet as it needs to be symmetrical). This means that you can add or subtract two chains to/from the foundation chain to adjust, and work these extra stitches as double crochets.
Gauge:
Original Pattern: 16 stitches = 5″ wide; 10 Rows = 5.5″ tall
My Gauge: 16 DC = 4.13″ wide; 10 Rows = 5.75″ tall
The most important gauge to meet is the width as the height of the fabric can easily be adjusted by adding or subtracting rows. As I previously mentioned, my gauge was way off, and rather than going up several hook sizes (because I didn't want to go any larger with the 24/7 Cotton Yarn), I used my gauge to do some math.
Overall Thoughts: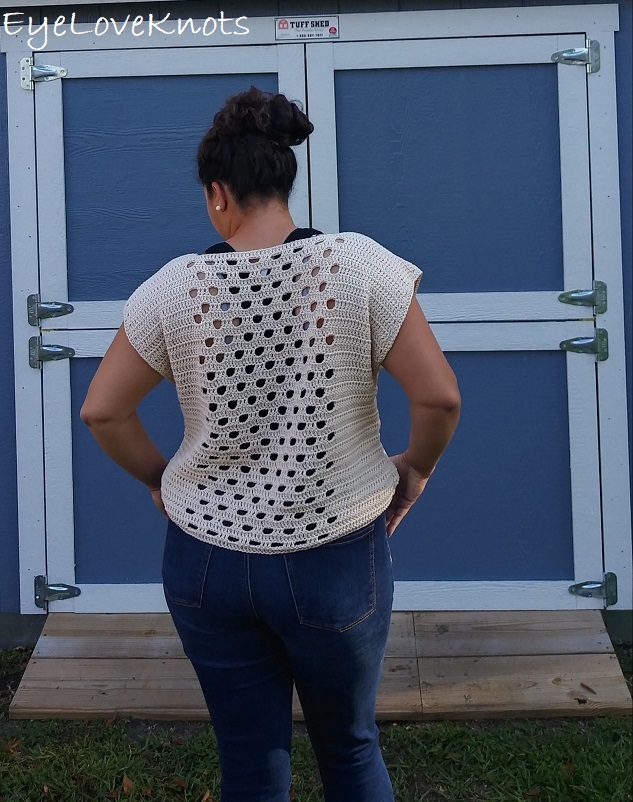 This pattern was very easy to follow, and I really like the filet design. I haven't done much in filet in the past, and I was pleasantly surprised to see just how easy it was to get this beautiful, lacy pattern on the front and back. I almost liked the back more than the front. Since both sides are identical in size and shape, it's a completely reversible top.
I thought the construction of the top in one piece was a neat idea, and I was intrigued to see how it worked out. My only thought was, by working in two separate panels that you sew together, it's easier to take out or add rows to adjust the height if needed. Worked in one piece as this top was, it can't be adjusted the same way – you'd have to frog a lot of it, or add a border to the bottom so just be sure on the length before you get too far on the back panel. I decided on a length of 21″ (shorter than pattern's measurement), then worked about 4 rows of the back panel up, and tried it on to make sure I was happy with that length.
This top is worked is simple double crochet stitches and basic construction with no shaping so it's definitely suitable for a confident beginner. My only recommendation is to try the top on as you go to ensure you get the fit that you want.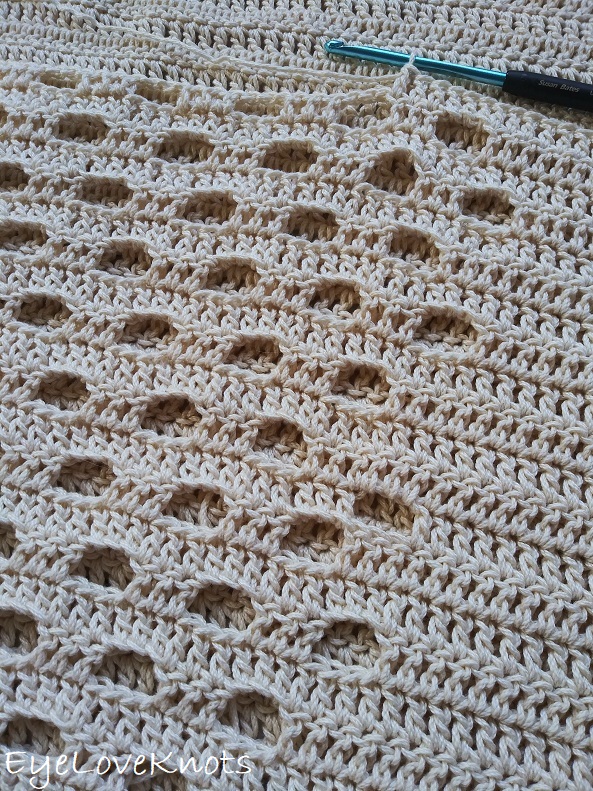 Pattern Notes:
As written, the pattern states that the beginning chain 2 does not count as a stitch pattern. I always count a chain 2 as a double crochet, but I decided to try it as written. After I worked up the first two rows, I decided I wanted to count it as a stitch so I frogged it to redo. Not counting it, to me, it looks like one side has one extra stitch than the other, and I didn't like that. To figure this change in, I didn't actually have to change the stitch count. I always work double crochet's into the 4th chain of the foundation chain, so this is the only change I made, and it worked out perfectly.
I worked the first row into the back hump of the foundation chain to help give the edge a finished, clean edge so there was no added border.
In Row 3, we begin working into the chain space we created in Row 2. I tried it by just working into the space itself, but I wanted more definition, so I worked this row, and each respective row into the back hump of the chains.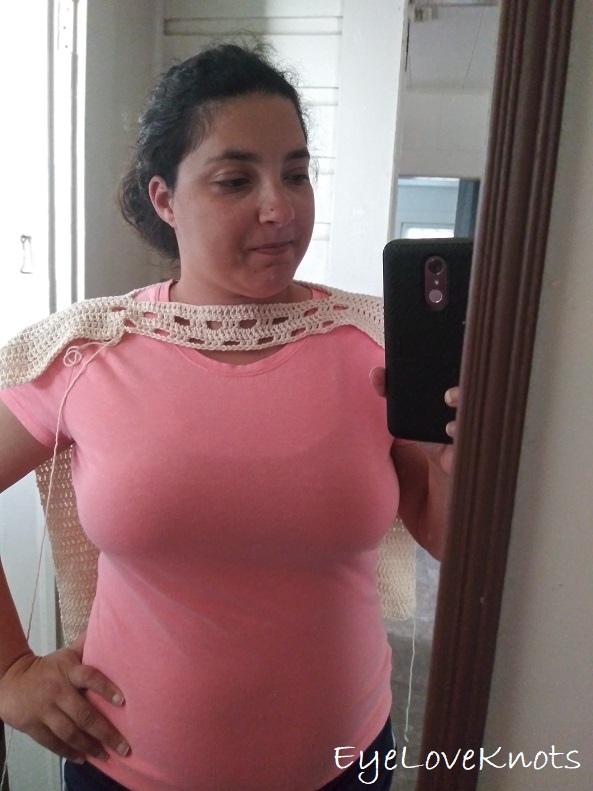 Let's talk about the neckline… I do not like boatnecks. I have tried a few crocheted garments with boatnecks, but I always end up altering it. As someone who wears Extra Large garments, I feel like boatnecks do not lay right over the girls, and are not so flattering or comfortable, especially with the fabric pressing up against my neck. I now change all boatnecks to square necklines, and it's very easy to do if you prefer it too.
Tip! Try working the pattern as written, but try it on as you go to see how you like it. After 4 rows of the back panel, I tried the top on to see how I felt about the length and the neckline. I was happy with the length but not the neckline so I frogged just through 4 rows to make adjustments, and I continued to try it on, frog and make adjustments until I was happy with the fit, then I continued on working the back panel.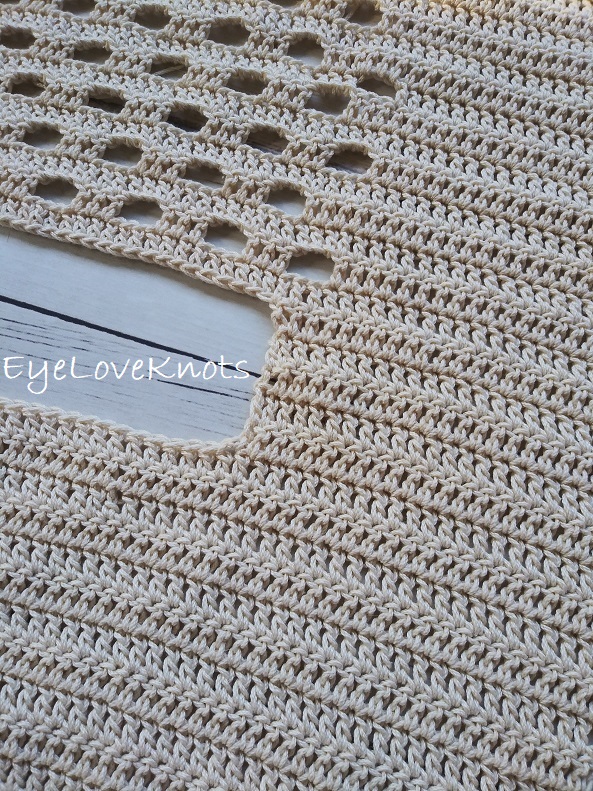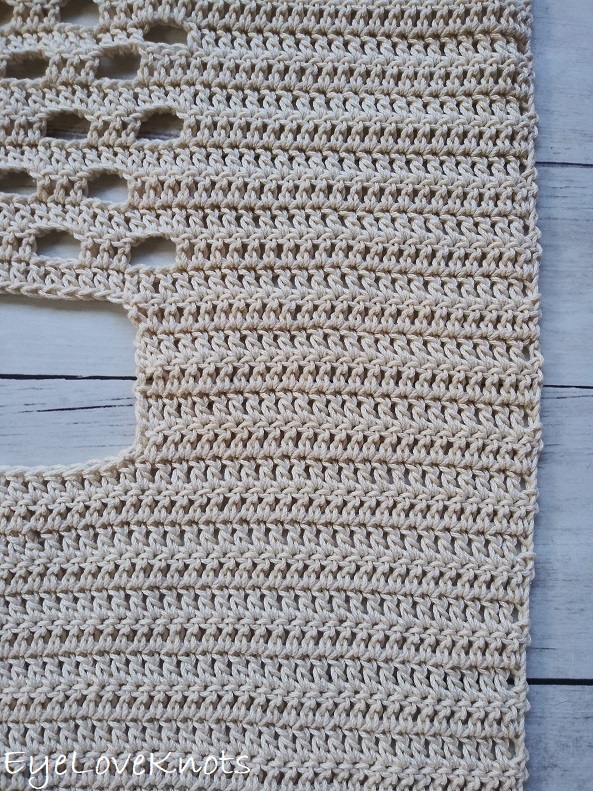 I added shoulders to my top. After the first set of stitches of Row 1 of the back, I simply turned and worked back across. I worked a total of four rows like this, and then the 5th one I worked it as Row 1 is actually written (so really the shoulder is 5 rows), then I repeated it on the other side, and then picked up Row 2 and worked the remaining rows as written. My shoulder is about 1.25″ tall when the top is laid flat.
I omitted the extra seam stitches. I did not want to add extra width to my top so I skipped Row 1 of the Seams, but if you were going to do the seam stitches, it's very easy. With the right side facing you, turn the fabric so you're working on the long side, attach yarn at the bottom right corner, and work all the way across the entire thing to the bottom corner of the other side. This will also help give a straight edge to work with for the seam.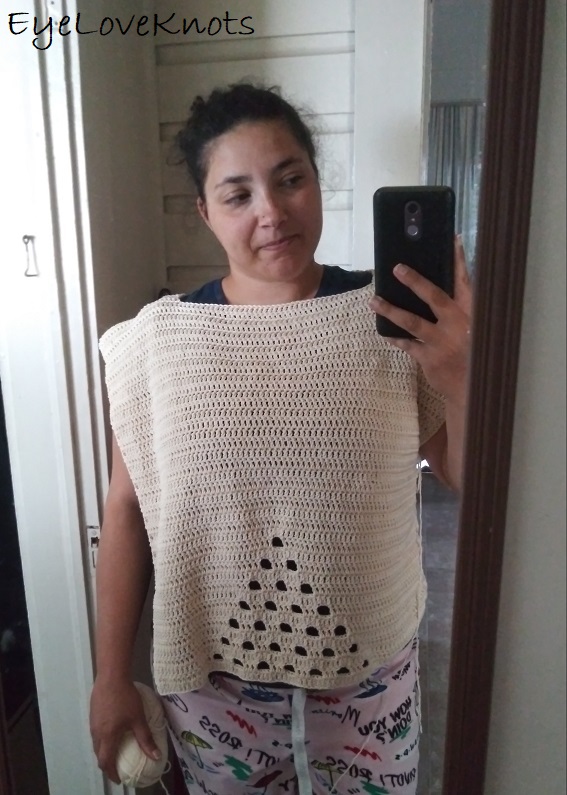 Tip! Try the piece on as you go. It's much easier to make adjustments as you go, then to frog at the end. This is me checking the fit before I seamed up the sides. I also took this opportunity to check how it would look after seaming the sides. At this point, you might even like it as a poncho, instead of a finished tee? If so, fasten off and weave in ends.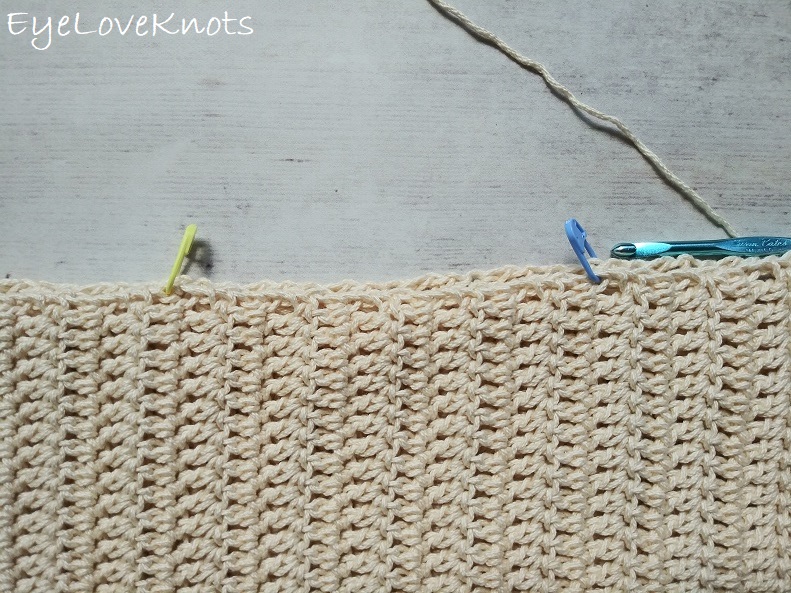 Tip! Stitch markers are great for matching up the rows when you are seaming. I hate when I get to the end point, and my fabric isn't matched up, so I just use my stitch markers to take the guess work out. ALSO! I like to slip stitch my seams closed first so I can try it on to see if I am completely happy with the fit before sewing closed with a needle. Slip stitching seams can make the fabric pucker and prevent stretch which might make the top bunch up and not lay flat and that's why sewing with a needle is better. For this particular top, I felt it was sufficient enough with the slip stitch seam and not compromised on fitting so I didn't even take it out to sew closed with the needle.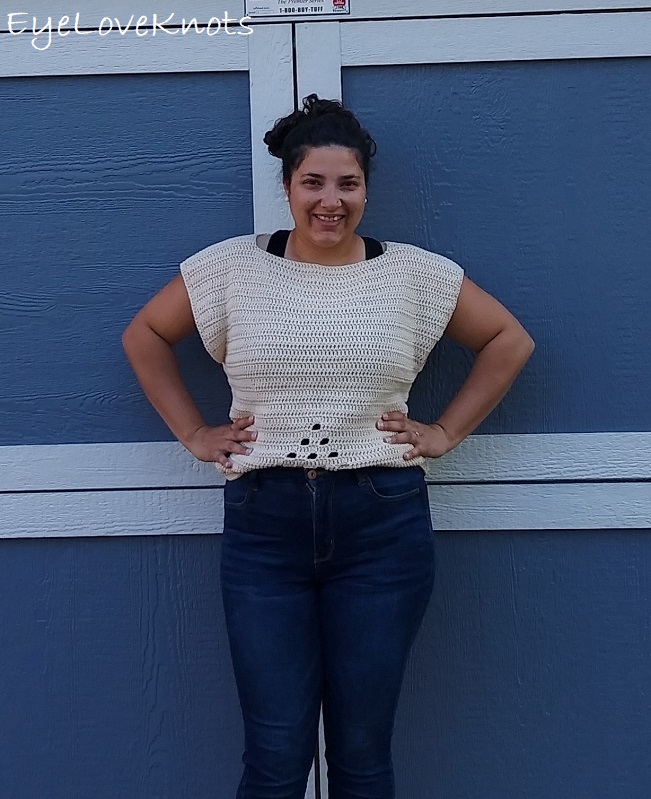 I modified the sleeve. The pattern tells you how many stitches to leave unworked to create the armhole, but it doesn't give a suggested measurement. First, I seamed up and left an 8″ armhole (8″-8.25″ is usually my go-to), but when I tried the top on, I found the fabric was bunching around the armhole and the sleeve was tighter, and I wanted something more relaxed with better drape so I frogged it, and on take 2, I seamed up and left a 10″ armhole. I was in love with the look and feel! I decided to add just one round of single crochet around the sleeve, and then finish off.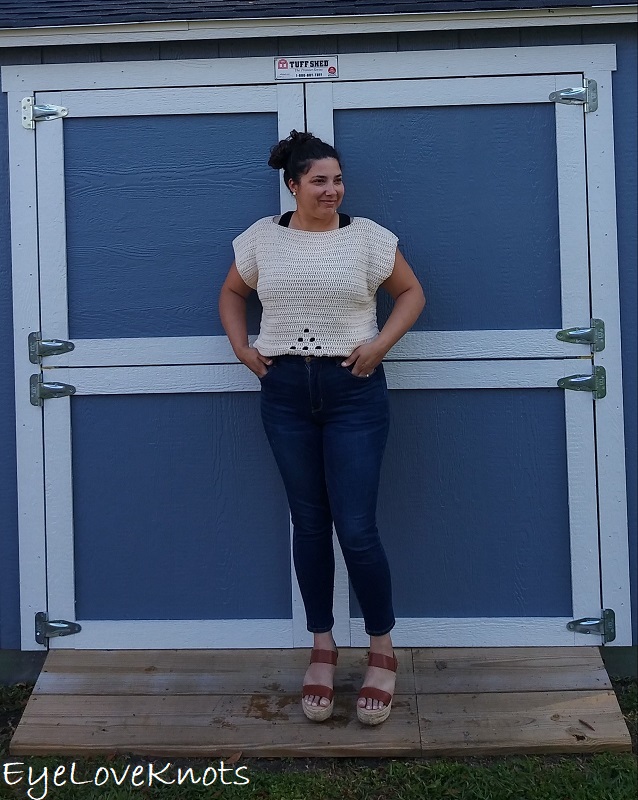 Join one of our awesome Facebook groups to share your creations, and see what others are up to!
– EyeLoveKnots Crochet & DIY Community
– DIY Home On Rockwood Lane
– Alexandra Lane Lifestyle
Linked Up To…
Craft Schooling Sunday – Creative Jewish Mom
Over the Moon 267 – Marilyn's Treats
Weekly Link-Up #214 – Beauty by Miss L
Weekday Wear Link Up – Away from the Blue
Turning Heads Tuesday – Elegantly Dressed and Stylish
Confident Twosday Linkup – I do deClaire
Style with a Smile Link Up – Style Splash
Style Six Link Up – The Queen in Between
Style on the Daily Link Up – Straight A Style
Thursday Fashion Files Link Up – Curly Crafty Mom
Fancy Friday Linkup – Nancy's Fashion Style
Style Link Up – Lizzie in Lace
Linky Ladies Party #206 – The Purple Poncho
The Loop Scoop #9 – Moogly
Create, Bake, Grow & Gather Party #461 – Shabby Art Boutique
A Morning Cup of Joe – The Cottage Market
You're the Star Blog Hop – Decor Craft Design
Happiness is Homemade Link Party 365 – Decor Craft Design
Craftastic Monday Link Party – Sew Can Do
Ginx Woolly Linx Party March – Ginx Craft
The Really Crafty Link Party #257 – Keeping it Real
Handmade Monday #218 – Sum of their Stories
The Wednesday Link Party 389 – The Stitchin' Mommy
Waste Not Wednesday 245 – Pretty DIY Home
Creative Crafts Linky Party #32 – Creatively Beth
Creatively Crafty Link Party #266 – Creatively Crafty
Link Your Stuff – Annemarie's Haakblog
Unlimited Monthly Link Party 22 – Grammy's Grid
The Hearth and Soul Link Party – April, the 21st Century Housewife
Fabulous Party #362 – Lou Lou Girls
Party in Your PJs #349 – The Apple Street Cottage
{Wow Me} Wednesday #495 – Ginger Snap Crafts
Your Whims Wednesday #501 – My Girlish Whims
Thursday Favorite Things #480 – An Artful Mom
Artsy-Fartsy Party #335 – Artsy-Fartsy Mama
Encouraging Hearts and Home Blog Hop – Apron Strings and Other Things
Traffic Jam Weekend Linky Party #273 – My Bijou Life
Friday Favorites – A Day of Small Things…
Snickerdoodle Create Bake Make Link Party 376 – EyeLoveKnots