This is a crochet pattern review of the Ice Cream Cozy designed by Teri Eggenberger for Good Egg Knits. Review done by Candace of T&C Crafters for EyeLoveKnots.
This post contains affiliate links for Etsy. If you make a purchase by clicking on them, I make a small commission at no extra cost to you. Thanks for your support!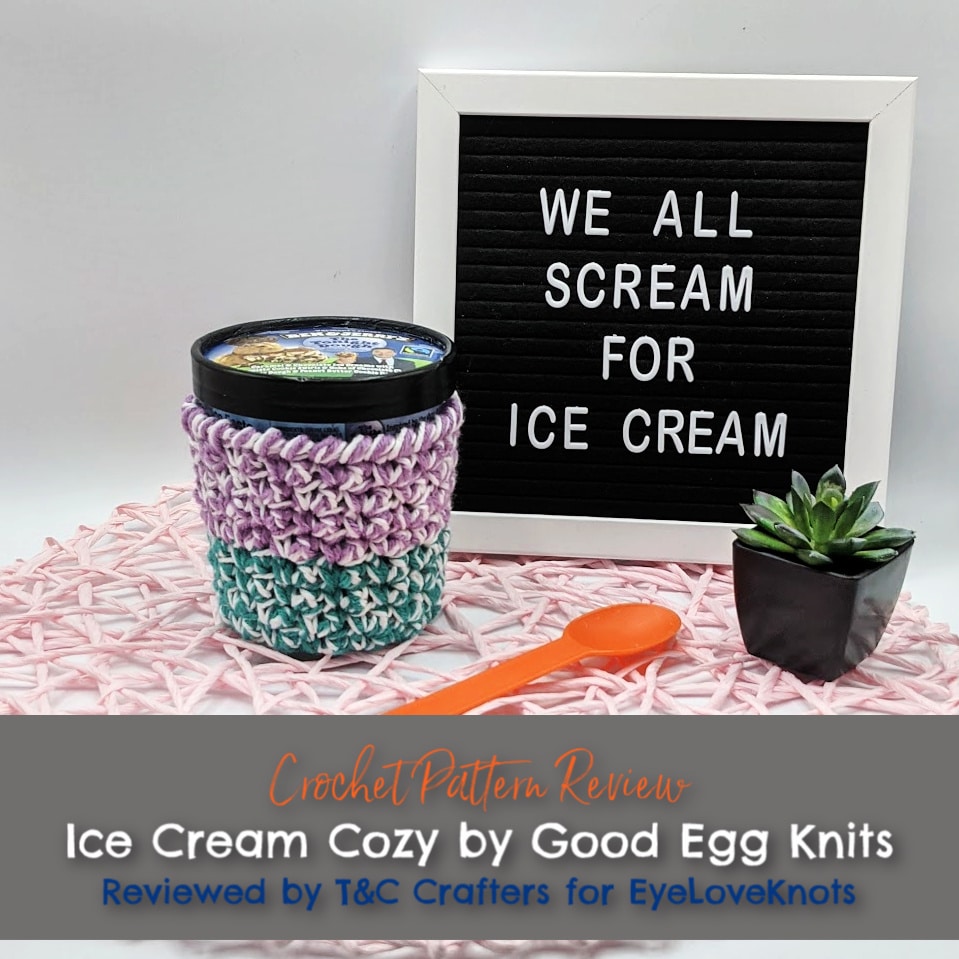 Visit with me on Facebook for all kinds of awesome crochet makes and inspiration.
I don't know about you, but I'm a sucker for some good ice cream! My favorite ice cream is Ben and Jerry's Half Baked – the perfect blend of brownies, cookie dough, and delicious vanilla ice cream. If you aren't familiar with this brand of ice cream, it comes in pint-sized containers that are perfect for indulging yourself while hanging out on the couch and watching your favorite show. However, if you aren't a fan of freezing cold hands, holding the container of ice cream right out of the freezer can be annoying.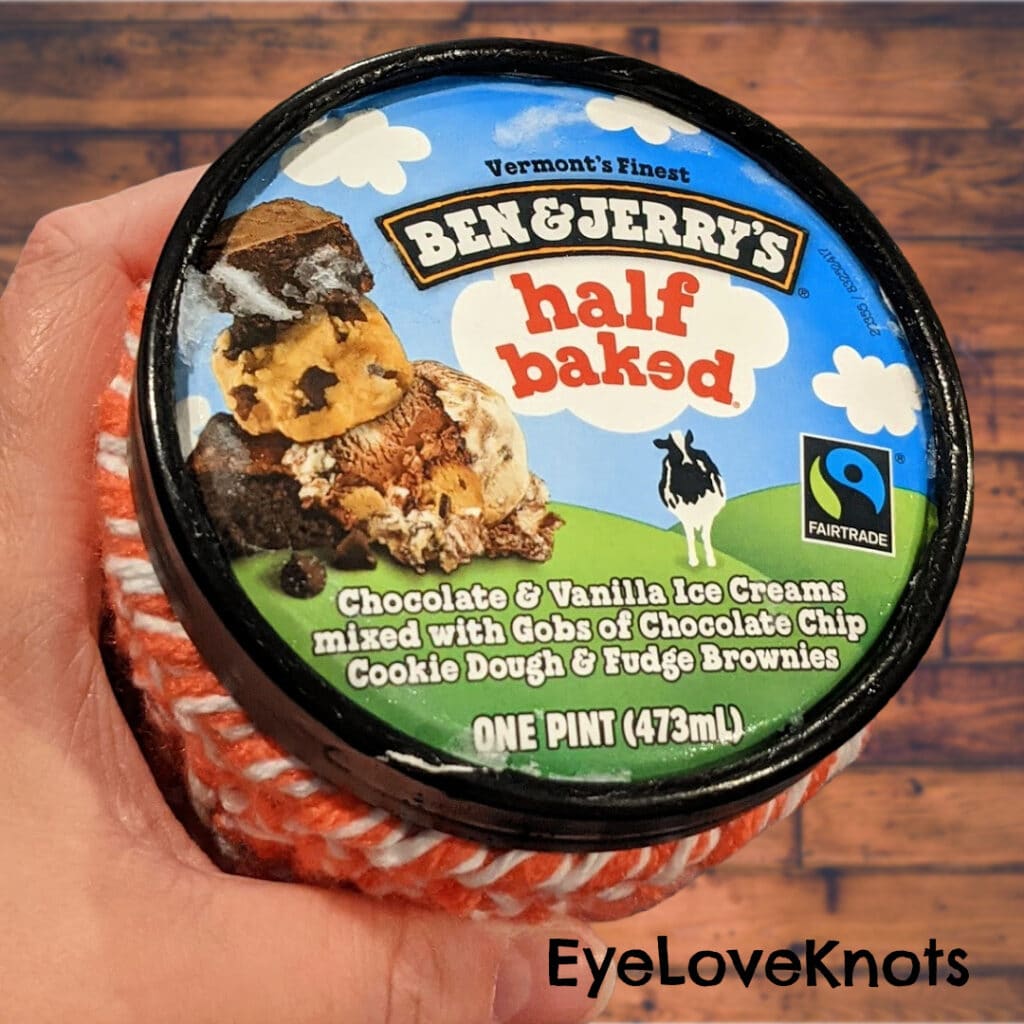 Apparently I'm not the only ice cream lover that feels this way about pint-sized ice cream because I have seen lots of great patterns for ice cream cozies floating around some of the crocheting groups I am in on Facebook. However, one pattern in particular really spoke to me because I thought the use of two different fibers was absolutely genius!
Teri Eggenberger from Good Egg Knits published an Ice Cream Cozy pattern that is not only super fast and easy to make, but it uses both acrylic and cotton yarn to make the absolute perfect ice cream cozy. When I tested the finished product out, not only did it fit perfectly, but the acrylic was soft on my hands while the cotton absorbed all the frost from the container without soaking through. I can honestly say that enjoying my Ben and Jerry's with the ice cream cozy was one of my most enjoyable ice cream experiences ever!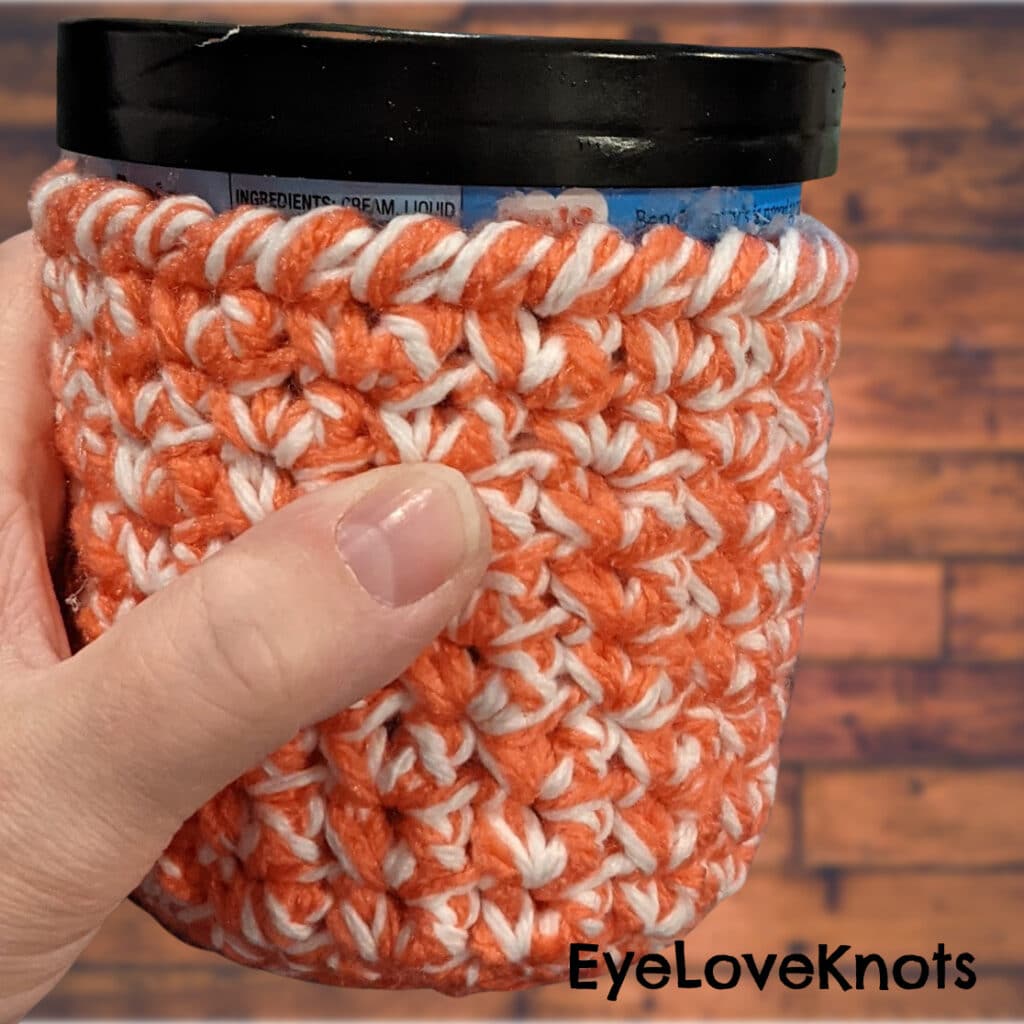 Materials I Used:
Worsted Weight 100% Acrylic Yarn (I used Hobby Lobby's I Love This Yarn, Red Heart's Super Saver, and Stitch Studio's Studio Classics)
Worsted Weight 100% Cotton Yarn (I used Peaches & Creme)
H8/5.0 mm Crochet Hook (I used Clover Armour)
Yarn Needle
Scissors
Ice Cream Cozy, Paid Crochet Pattern from GoodEggKnits via Etsy
Material Notes:
You can use pretty much any combination of weight 3 or 4 cotton and acrylic yarns for this project, which makes it a perfect stash buster! I made up a bunch of theses cozies for market prep, and I found using white cotton yarn from one of the big cones and different bright colors of acrylic yarn looked great together. I was able to use a lot of different acrylic yarn that I had in my stash and was trying to use up.
When you weave your ends in on this project, I would recommend using a sturdy metal yarn needle with a bit of a point on the end. The two strands worked together makes the finished piece very thick and durable, but it can be a little tricky to weave the ends in because of the thickness.
The pattern writer also recommends using stitch markers. I did not use them, but they may be helpful for you.
Time Spent:
From start to finish, each of these ice cream cozies took me about an hour and a half to complete. You only need to weave in two ends when you are done, so it is a very quick project to make. The speed for this project comes from using two strands of yarn together and a simple and repeating stitch pattern that you don't have to think too much about while working.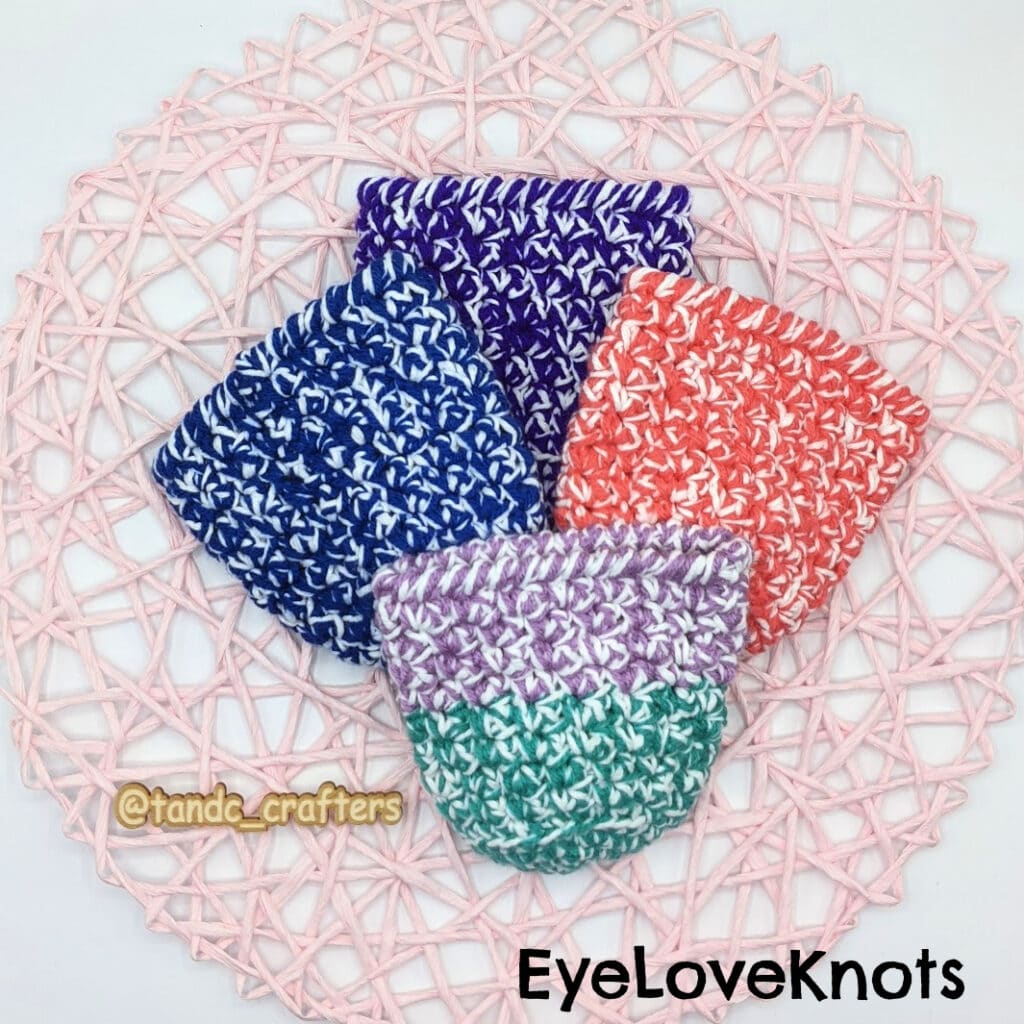 Measurements:
The finished cozy is the perfect size for a pint-sized ice cream container. The bottom diameter is about 2.75 inches and the height is about 3.5 inches. You can easily add or subtract rows to adjust the height if needed for a different type of ice cream.
I will be completely honest – when I finished my first cozy and looked at it next to my pint of ice cream, I did think it was going to be too small. However, it slid on nice and easily because the stitch pattern allows for some stretch, and it was a perfect fit.
Gauge:
The gauge for this project is pretty important because you need your cozy to fit correctly around your ice cream container. The bottom of the cozy should measure 2.75 inches in diameter. The pattern explains exactly when to check this measurement. For the height, you can easily add or subtract rows to make the project the perfect height. I am normally a relatively tense crocheter, and I followed the pattern exactly and it was a perfect fit.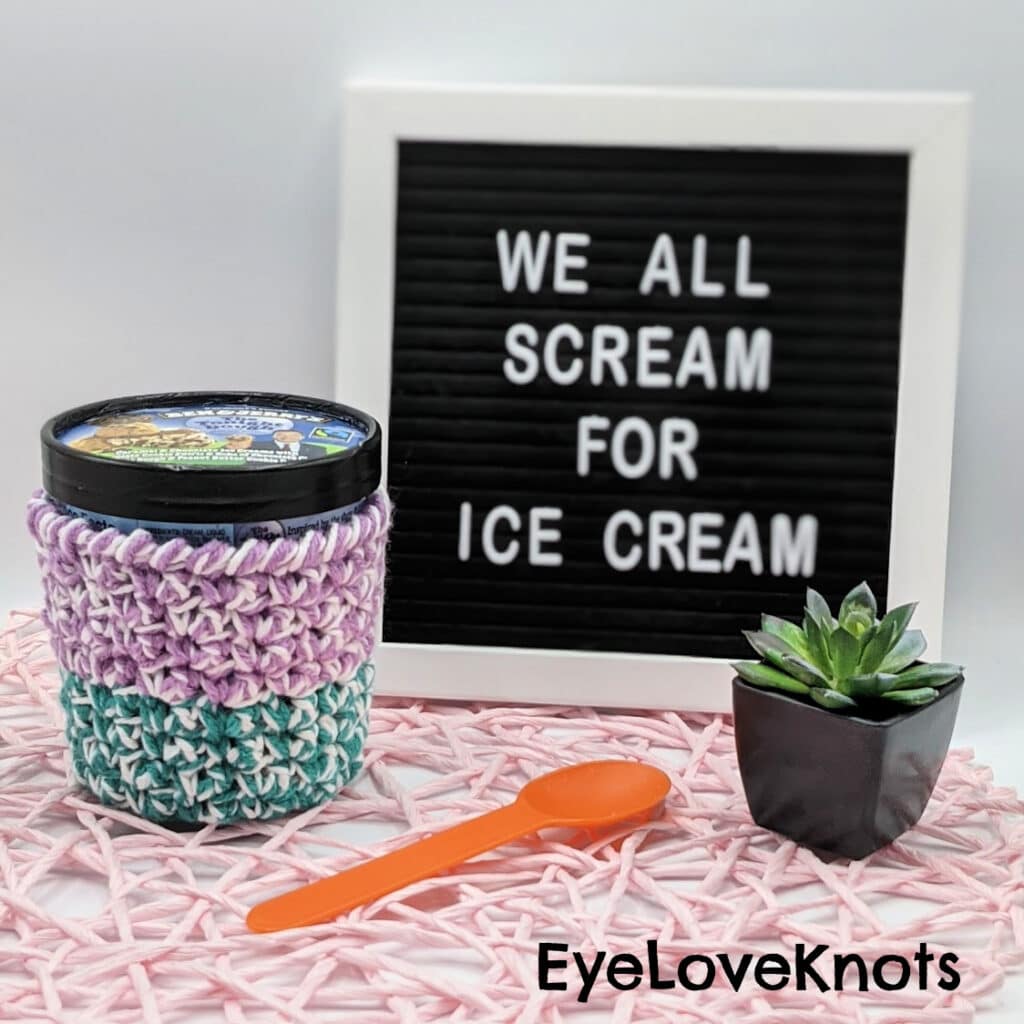 Pattern Notes:
This pattern is relatively easy to follow, and is a great project for anyone that knows how to work in a spiral as well as work in regular rows. You will need to be able to chain, single crochet, double crochet, reverse single crochet (crab stitch), and slip stitch.
The bottom of the cozy is worked in a continuous spiral, so the author recommends using a stitch marker. I did not use a stitch marker, but I did carefully count my stitches as I went around (as a math teacher, I prefer counting rather than going to a marker). When you are done with the bottom of the cozy, it is important to double-check your gauge by measuring the diameter of the bottom. After making several of these, I stopped measuring each time, but I would recommend measuring your first few.
After the bottom is created, the pattern begins to work in regular rows with a slip stitch at the end of each row. The author of the pattern recommends using a different technique to begin each row for the height. Rather than chaining two, she recommends using a standing double crochet. I had never heard of this before, but it is a way to help hide the chain stitches so you can't see where the rows begin and end. She provides a video for this, as she does with a few other parts of the pattern to help you understand what to do. I personally got a little too impatient with this technique, so I just chained very loosely twice, and I think it blended in just fine.
In order to give the cozy a wider top like an ice cream pint has, there is one easy increase in the middle of the pattern. I thought it was really easy to follow the directions to do this increase, but just in case, the pattern writer provides a video showing how to increase in that row.
If you aren't familiar with the crab stitch, or the reverse single crochet, the final row of this project may be a little tricky. The author provides a video showing how to do this, but even when you do know how to do reverse single crochet, I think it feels a bit awkward. However, I absolutely love how the finished piece looks, so I don't mind doing a slightly less comfortable stitch to get a super cool edging on my finished piece. If you are too uncomfortable with reverse single crochet, you could also do a normal single crochet border at the top.
I would 100% recommend this pattern for anyone looking to keep their hands warm while indulging in their favorite ice cream, or for anyone looking to stock up for summer markets. You could even make adorable favors for a wedding or sell these at local ice cream shops! I hope you will try it out, and I would love to hear what colors you chose and what you think!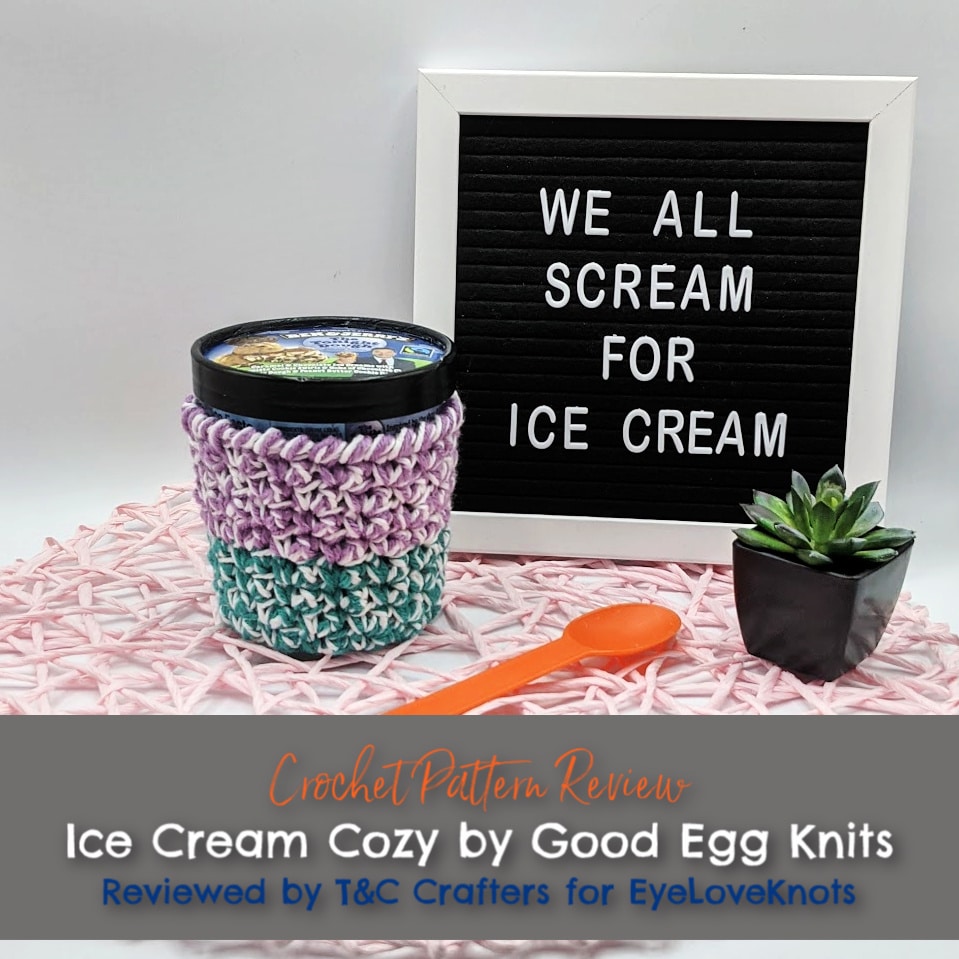 Don't forget to visit with me on Instagram for all kinds of awesome crochet makes and inspiration.
Join one of our awesome Facebook groups to share your creations, and see what others are up to!
– EyeLoveKnots Crochet & DIY Community
– DIY Home On Rockwood Lane
– Alexandra Lane Lifestyle
Linked Up To…
Ginx Woolly Linx Party June – Ginx Craft
All About Home #99 – Common Ground
Linky Ladies Party #214 – The Purple Poncho
Beautiful Made Link Party 170 – Across the Blvd
Tuesday Turn About #107 – My Wee Abode
The Loop Scoop #17 – Moogly Blog
Home Matters Linky Party #338 – Modern on Monticello
Unlimited Link Party 29 – Grammy's Grid
You're the Star Blog Hop – Decor Craft Design
Happiness is Homemade Link Party #382 – Decor Craft Design
Craft Schooling Sunday – Creative Jewish Mom
Craftastic Monday Link Party – Sew Can Do
The Really Crafty Link Party #274 – Keeping it Real
Handmade Monday #235 – Sum of their Stories
Hearth and Soul Link Party – April, the 21st Century Housewife
596th Inspire Me Tuesday – A Stroll Thru Life
Fabulous Party 379 – Lou Lou Girls
Party in Your PJs #366 – The Apple Street Cottage
{Wow Me} Wednesday #512 – Ginger Snap Crafts
Your Whims Wednesday #519 – My Girlish Whims
The Wednesday Link Party 406 – Oombawka Design Crochet
Creative Crafts Linky Party #49 – Creatively Beth
Wonderful Wednesday – My Crafty Zoo
Thursday Favorite Things #497 – An Artful Mom
Creatively Crafty Link Party #283 – Life Beyond the Kitchen
Artsy-Fartsy Mama #352 – Artsy-Fartsy Mama
Encouraging Hearts and Home Blog Hop – Scratch Made Food
Grace at Home No 429 – Imparting Grace
Friday Favorites – Busy Being Jennifer
Create, Bake, Grow & Gather Party #476 – Shabby Art Boutique
Funtastic Friday Link Party #340 – Simply Beautiful by Angela
Link Your Stuff – Annemarie's Haakblog
A Morning Cup of Joe – The Cottage Market
Saturday Sparks Link Party 430 – Pieced Pastimes