This is a crochet pattern review of the "The Balm" Lip Balm Holder designed by Anna Leyzina for The Knotty Boss. Review done by Candace of T&C Crafters for EyeLoveKnots.
This post contains affiliate links for Etsy and Amazon. If you make a purchase by clicking on them, I make a small commission at no extra cost to you. Thanks for your support!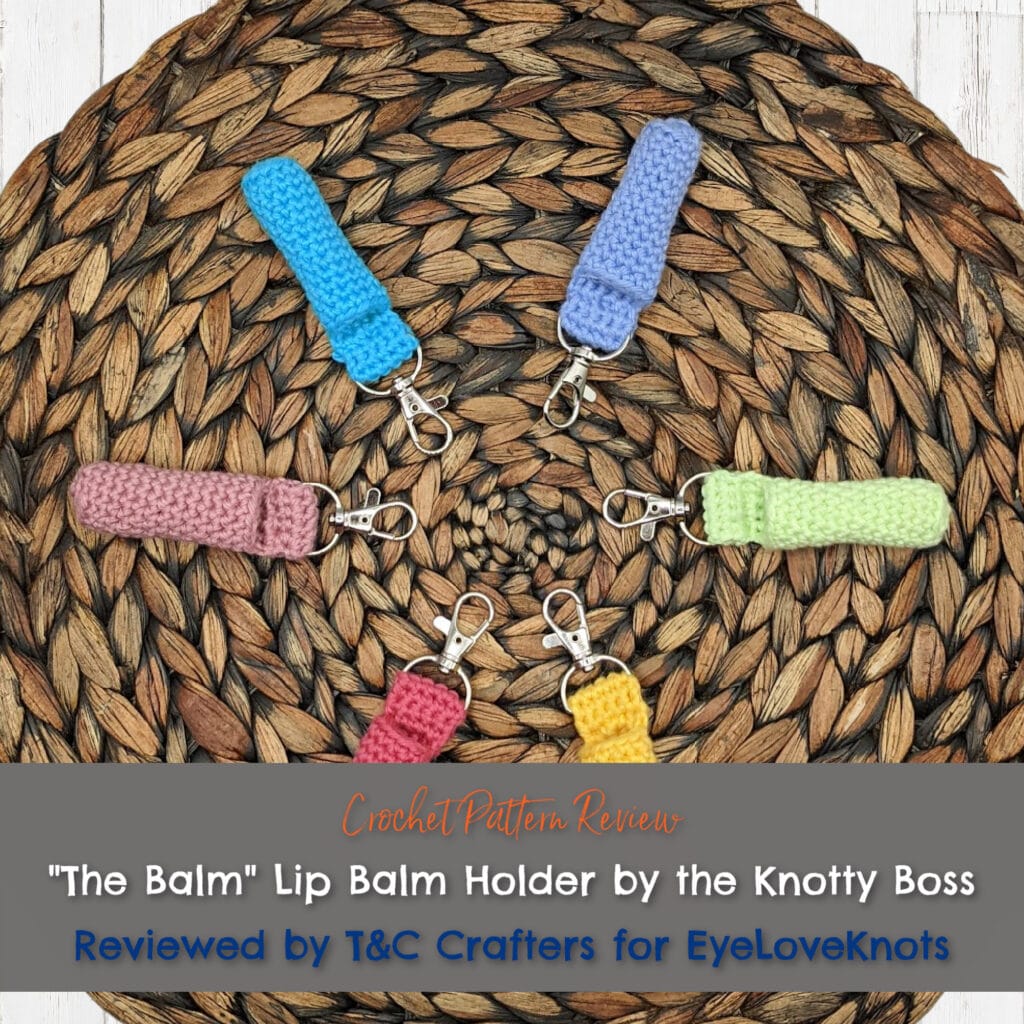 Visit with me on Facebook for all kinds of awesome crochet makes and inspiration.
Last year, I came across a post in one of the crocheting Facebook groups that I'm in that showed these super cute key chains to hold lip balm. I immediately thought it was a genius idea, so I made a mental note to try making some, and as usual, totally forgot about it…
Flash forward several months later, and I saw that Anna from The Knotty Boss was having a huge sale on her printable materials, and I couldn't resist the urge to purchase the pattern and printable insert for this cute design. As a graphic designer, she provides amazing printable inserts for all sorts of crochet makes that help to make your items look professional when gifting or selling.
I have heard other crocheters say that they have sold out of these cute key chains as soon they listed them, and I can definitely understand why! They are not only an adorable little accessory, but they are a great way to keep your lip balm out of your pocket or the bottom of your purse. I tend to always lose mine or leave it in my pocket and accidentally wash it in the machine, so I feel like I am definitely part of the target audience for this make.
For my upcoming market at the end of this month, I am excited to be offering a lip balm bar. In addition to these cute lip balm holders in tons of different colors, I am going to have different flavors of ChapStick for customers to pick out and put in their holders. I think that together, the ChapStick and the lip balm holders will make the perfect find for summer market customers!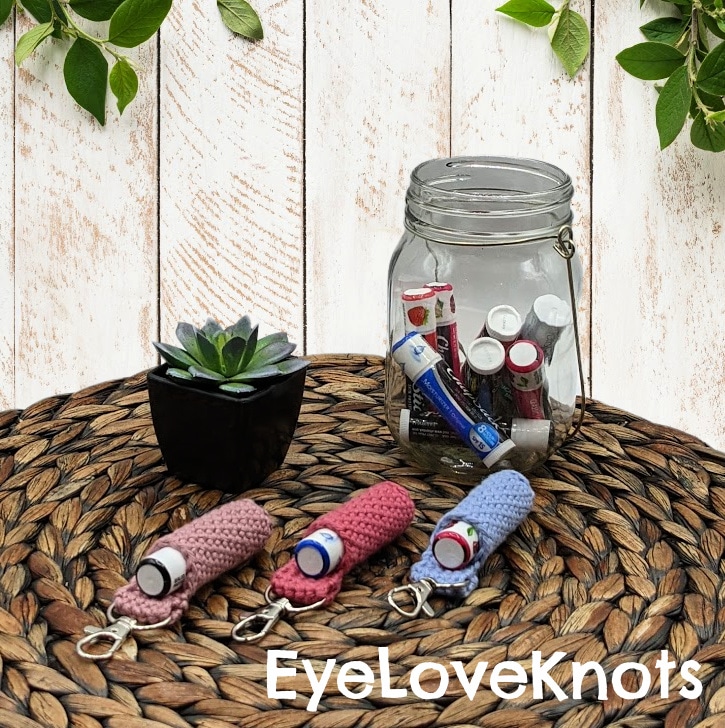 Materials I Used:
Small Amount of Cotton Yarn (I used I Love This Cotton from Hobby Lobby)
F/3.75 mm Crochet Hook (I used Clover Armour)
Tapestry Needle
Scissors
Key Chain Clip Swivel Hook (I used these from Amazon)
"The Balm" Lip Balm Holder, Paid Pattern from The Knotty Boss via Etsy
Material Notes:
The pattern calls for Mary Maxim Amigurumi Yarn or weight 3 (DK) yarn in two colors, however I chose to use 100% cotton yarn that was a weight 4 because I wanted my finished pieces to be thick and durable since I was making them to sell. I also went with a single color for each holder because I liked the more streamlined look of just one color rather than the striped look from the pattern.
In the pattern, a 2.5 mm crochet hook is recommended. I am a very tense crocheter and typically increase my hook size on patterns to keep my projects from getting too small. I also wanted to make sure my hook was large enough to work well with the cotton yarn I chose. I found that a 3.25 mm or 3.75 mm hook worked the best for me with my choice of yarn.
Time Spent:
This is a very quick project, which makes it fantastic for last-minute gifts or market prep. I spent about 30 minutes from start to finish, including sewing in ends and attaching the key chain for each of these pieces.
If you are making a lot of these at once, I recommend making the bases for all of them, then sewing in the end at the bottom for all of them, and then finishing the rest of them. This saved me a lot of time.
Measurements:
The finished lip balm holder is the perfect size for a standard tube of lip balm. When laying flat, it measures approximately one inch wide and three inches long, not including the hook at the top.
Gauge:
There is not a gauge provided for the pattern, but it is important that the finished product holds a tube of lip balm. I would recommend holding the base of your project up against the bottom of the lip balm to make sure it looks like it is going to fit.
If you are making the holder for a larger tube of lip balm, lipstick, or essential oils, you will want to go up a hook size (or multiple sizes) and potentially add a few more rows to the pattern to get it to fit correctly. The pattern designer includes more information about how to do this in the pattern.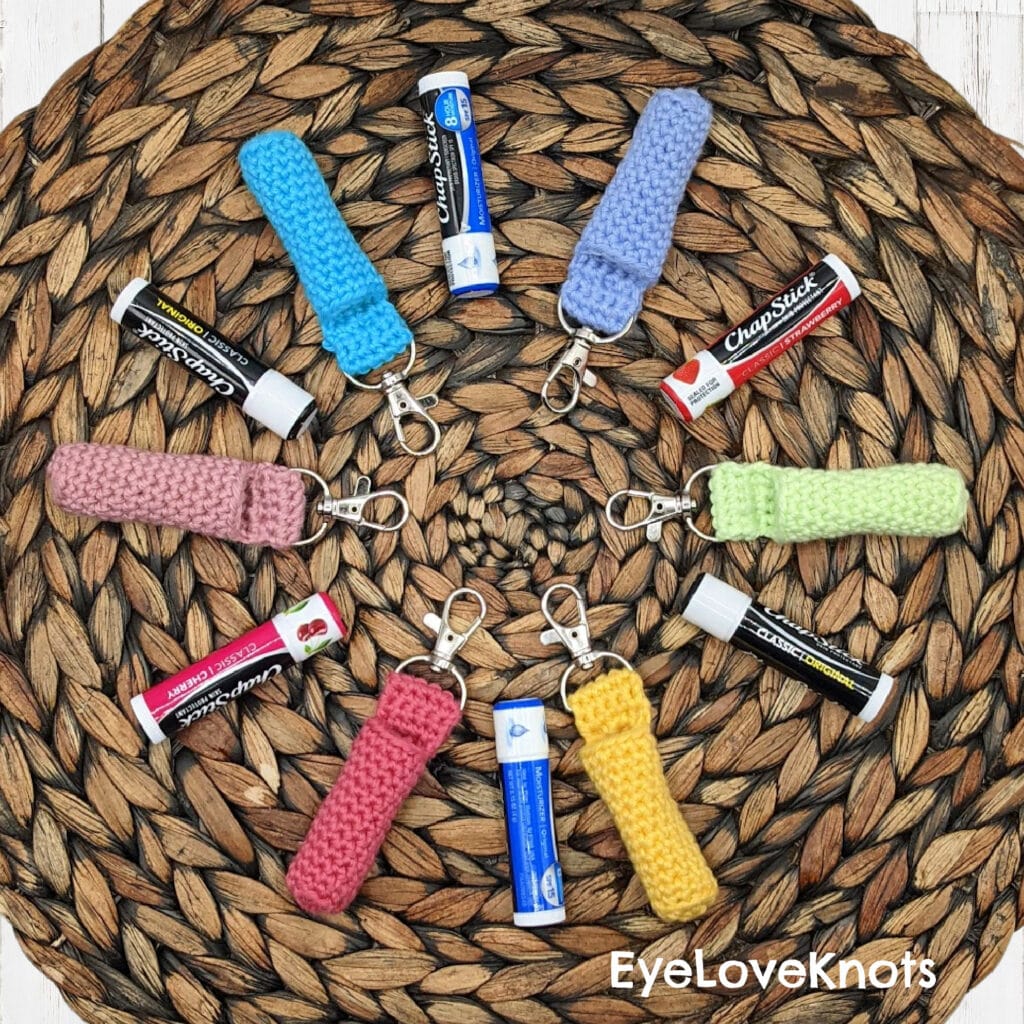 Pattern Notes:
This pattern is relatively beginner friendly, but you will definitely want to be comfortable working with a smaller hook. The piece starts by working in the round to form a circular base, and then continues to work in a continuous spiral as you work up through the rest of the project.
You will need to be familiar with magic circles, single crochets, and increases in order to complete this project. The pattern starts out by crocheting the circular base and then transitions to creating the tube and making the holder longer. Since this piece is small, it is important to weave in your end at the bottom before you make the rest of the tube.
Since I made so many of these for market prep, I crocheted the circular base in each color I was making, then I weaved in all my ends, and then I finished crocheting each of the individual holders. Once I was done with all of them, I went back and attached the key chain for each of them. This worked out really well and allowed me to remember the stitch counts without having to look at the pattern over and over again.
When working in the round, it is often helpful to use a stitch marker to keep track of what row you are on. I personally prefer to just multiply the number of stitches in each row by the number of rows I need, and then keep crocheting around until I reach that number of stitches. This works for me because I don't normally skip stitches, but if that is a problem you typically have, I would recommend that you think about using a stitch marker.
I used the method for creating a lip balm holder to attach to a key chain, but the pattern also explains how to create a loop at the top so you don't have to have any additional supplies. The pattern also explains how to add stripes of color to the lip balm holder. I chose to do all one color, but you could really customize these to look really cool using different stripes of color!
If you love keeping your lip balm handy, need a last-minute gift, or are in major market prep, I highly recommend this pattern! It is really easy to follow, and it comes with the most adorable printable inserts to make it look really classy. I know I will definitely be making more of these in the next few weeks for market prep!
I'd love to see your finished projects! Be sure to tag @EyeLoveKnots and @tandc_crafters if this post has inspired you to try out this pattern! Let us know in the comments below what colors you would make!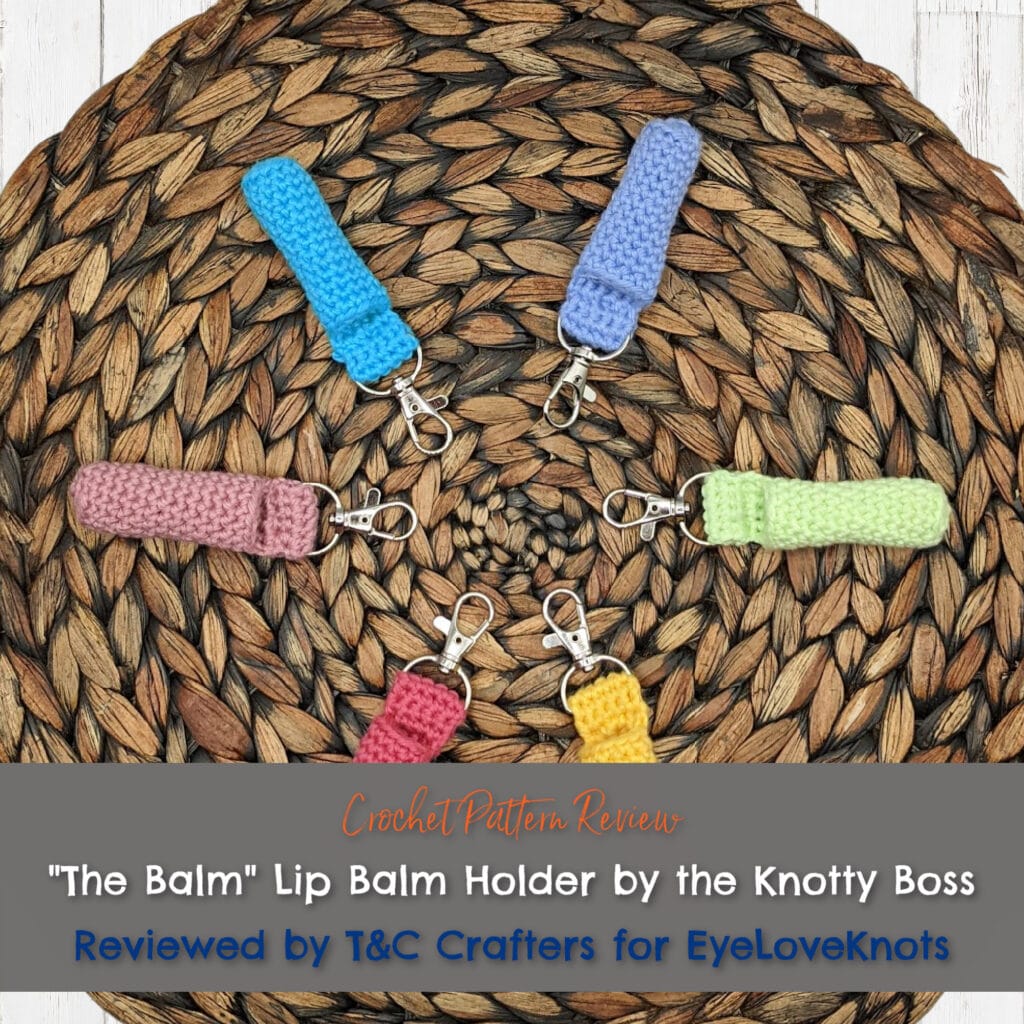 Don't forget to visit with me on Instagram for all kinds of awesome crochet makes and inspiration.
Join one of our awesome Facebook groups to share your creations, and see what others are up to!
– EyeLoveKnots Crochet & DIY Community
– DIY Home On Rockwood Lane
– Alexandra Lane Lifestyle
Linked Up To…
Weekday Wear Linkup – Away from the Blue
Stylish Monday Link Up – Style Splash
Turning Heads Linkup – Elegantly Dressed and Stylish
Confident Twosday Linkup – I do deClaire
Style on the Daily Linkup – Straight A Style
Style Six Linkup – Living on Cloud Nine
Weekly Link Up #233 – Beauty by Miss L
Thursday Fashion Files Link Up #315 – Curly Crafty Mom
Chic and Stylish Link Up – Mummabstylish
Fancy Friday Linkup – Nancy's Fashion Style
Neverending Style Link Up – The Grey Brunette
Style Link Up – Lizzie in Lace
Ginx Woolly Linx Party July – Ginx Craft
Unlimited Link Party 29 – Grammy's Grid
The Loop Scoop #17 – Moogly Blog
Farmhouse Friday #214 – County Road 407
Happiness is Home Link Party #383 – Decor Craft Design
Hearth and Soul Link Party – April, the 21st Century Housewife
Handmade Monday #236 – Sum of their Stories
Craft Schooling Sunday – Creative Jewish Mom
The Really Crafty Link Party #275 – Keeping it Real
Craftastic Monday Link Party – Sew Can Do
You're the Star Blog Hop – Decor Craft Design
597th Inspire Me Tuesday – A Stroll Thru Life
Fabulous Party 380 – Lou Lou Girls
Party in Your PJs #367 – The Apple Street Cottage
{Wow Me} Wednesday #513 – Ginger Snap Crafts
Your Whims Wednesday #520 – My Girlish Whims
The Wednesday Link Party 407 – Oombawka Design Crochet
Creative Crafts Linky Party #50 – Creatively Beth
Wonderful Wednesday – Oh My Heartsie Girl
Party in Your PJs #368 – The Apple Street Cottage
Creatively Crafty Link Party #285 – Life Beyond the Kitchen
Artsy-Fartsy Party #354 – Artsy-Fartsy Mama
Encouraging Hearts and Home Blog Hop – Scratch Made Food
Creative Crafts Linky Party #51 – Creatively Beth
Link Up Potpourri – My Bijou Life
Friday Favorites – Busy Being Jennifer
Funtastic Friday Link Party #342 – Simply Beautiful by Angela
Thursday Favorite Things #499 – An Artful Mom
Create, Bake, Grow & Gather #478 – Shabby Art Boutique
A Morning Cup of Joe – The Cottage Market