This is a crochet pattern review of the Tea Rose Spa Set designed by Sweet Softies. Review done by Jessica Munroe for EyeLoveKnots.
This post contains affiliate links for Etsy, LoveCrafts, and WeCrochet. If you make a purchase by clicking on them, I make a small commission at no extra cost to you. Thanks for your support!
Find the crochet pattern review below, or click here to buy the pattern on the Etsy!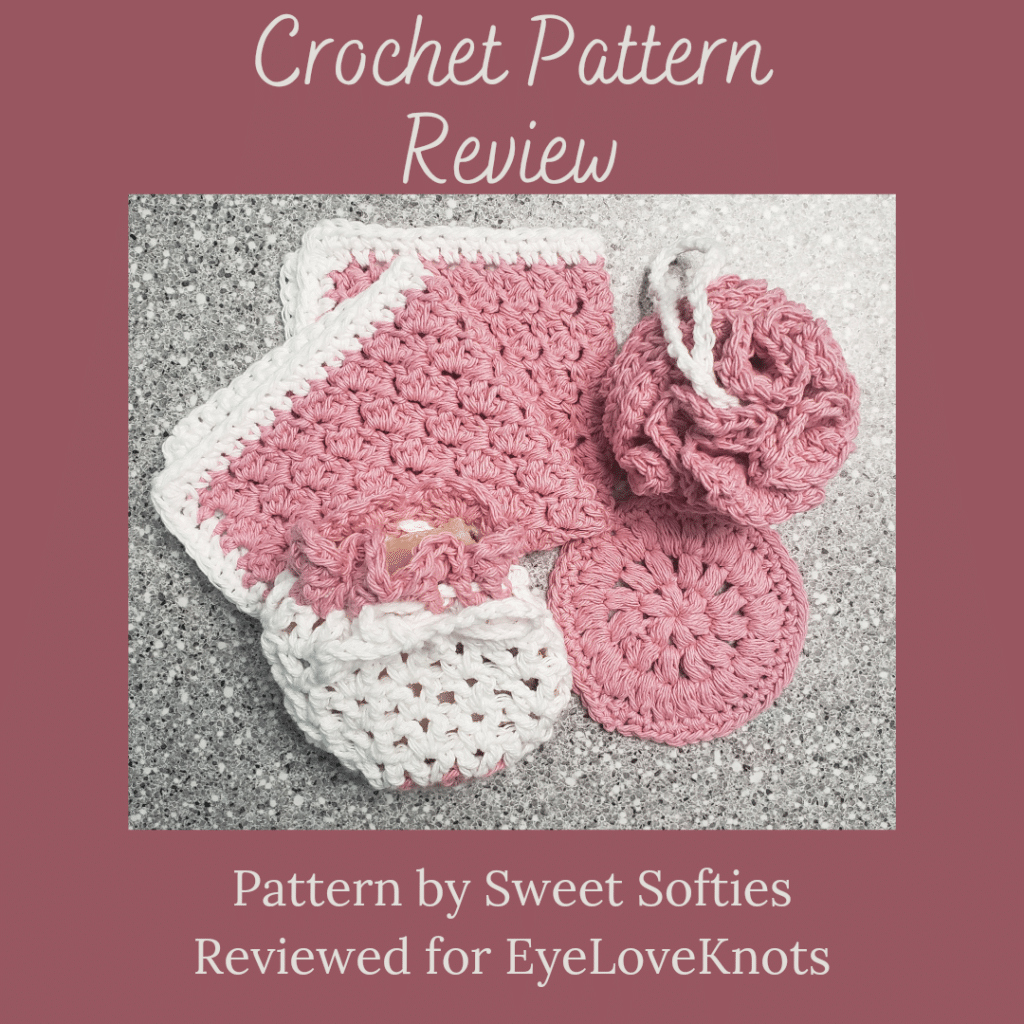 It's me, Jessica with Nice and Knotty.
Visit with me on Facebook or Instagram for all kinds of awesome crochet makes and inspiration.
With the warm summer months upon us, crocheted items become somewhat limited as far as what is functional. It is highly unlikely you'll see anyone sporting a beanie and scarf in the 80+ degree weather (besides the ever-chilly grandmas, of course). So when I found this dainty spa set, I thought it was the perfect creation for the season.
Materials I Used:
Material Notes:
The pattern uses the same brand of yarn but calls for three colors (white, tea rose and chamomile). I like the sharp contrast of the dusty pink against the clean white so that's why I opted for only two colors. The beauty of this pattern is you can do a single color up to several colors and everything would look amazing. Or using a solid for the borders and variegated yarn in the middle… but I digress.
WeCrochet Dishie, and Bernat Handicrafter are great alternatives to Lily Sugar n Cream.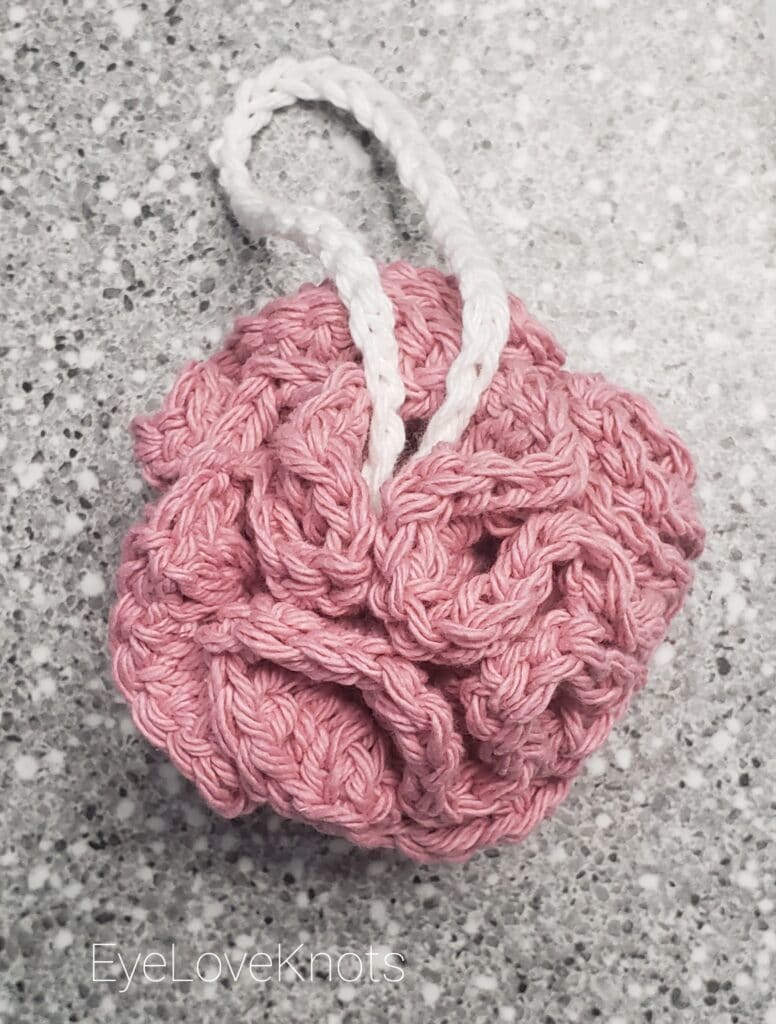 Time Spent:
I spent a total of about 2.5 hours making all four items combined. The washcloth took just under an hour, at 50 minutes. The soap saver pouch took half an hour, the face scrubbie took 20 minutes and the bath pouf took 45 minutes.
Measurements:
The given measurements for the items are as follows: The washcloth is 10 inches by 10 inches. The bath pouf is 3.5 inches wide. The soap saver pouch is 5 inches wide and 5.5 inches tall. The face scrubbie is 4 inches in diameter.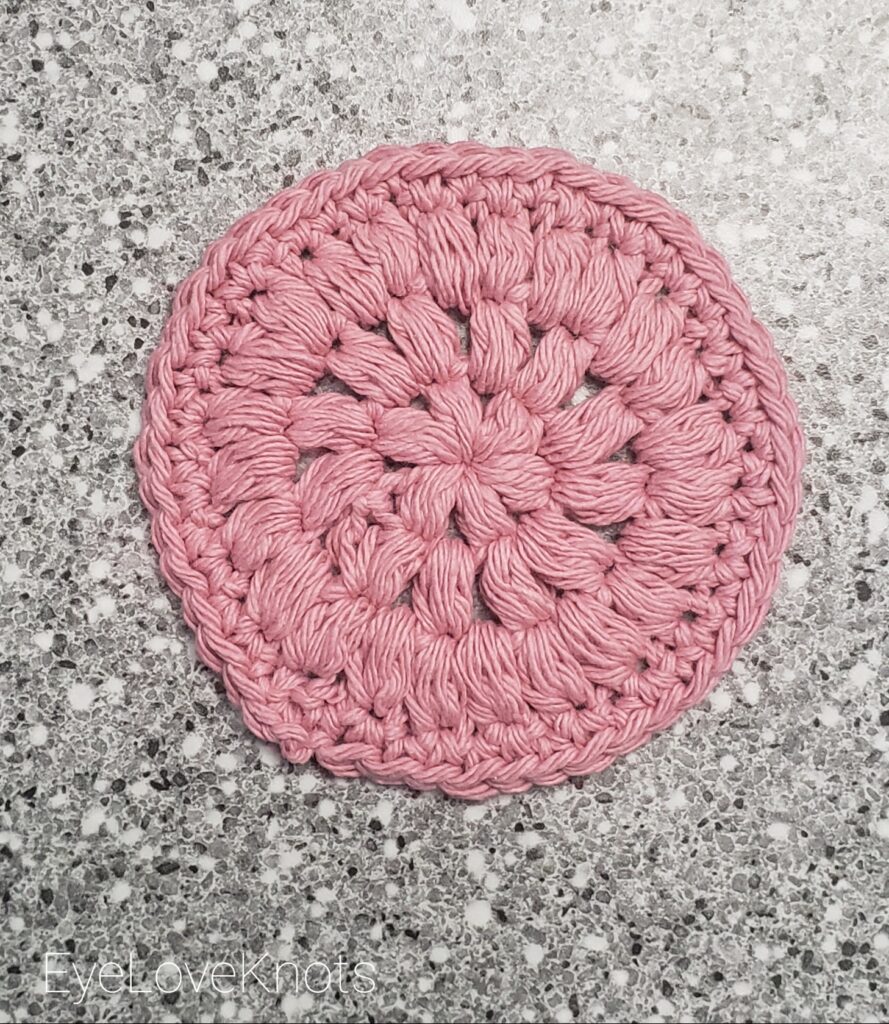 Gauge:
Gauge was not necessary for this pattern. I felt like the bath pouf turned out a little on the small side but that could have been due to my tension. Everything else was a good size when finished.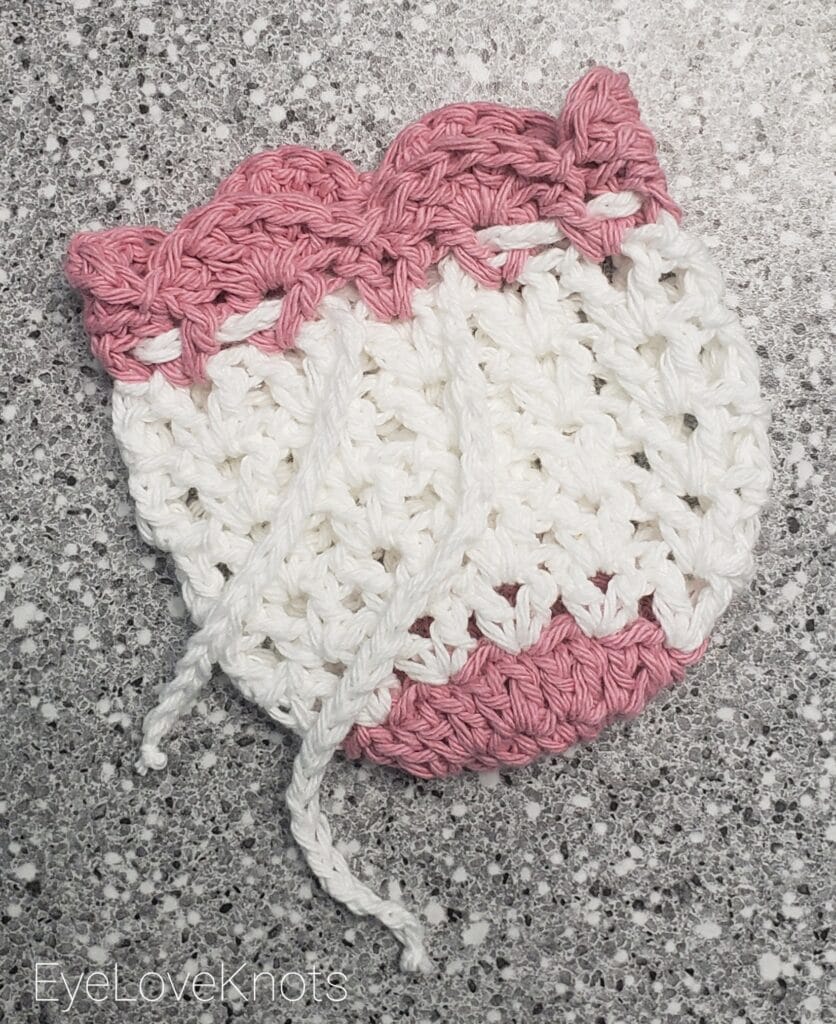 Pattern Notes:
When making the face scrubbie, there is an optional strap you can make but I did not do that on mine. Also, the pattern designer suggests that when you are making the bath pouf that you weave in your ends between completing row two and starting row three. I did not do this at that time (I'm a rebel, I know) and I was still able to weave in my ends without issue. All of the items in the set have an accompanying YouTube tutorial. The patterns are short and well-written so I didn't need the video assistance but it is nice to have. The patterns can also be found for free on the designer's blog here.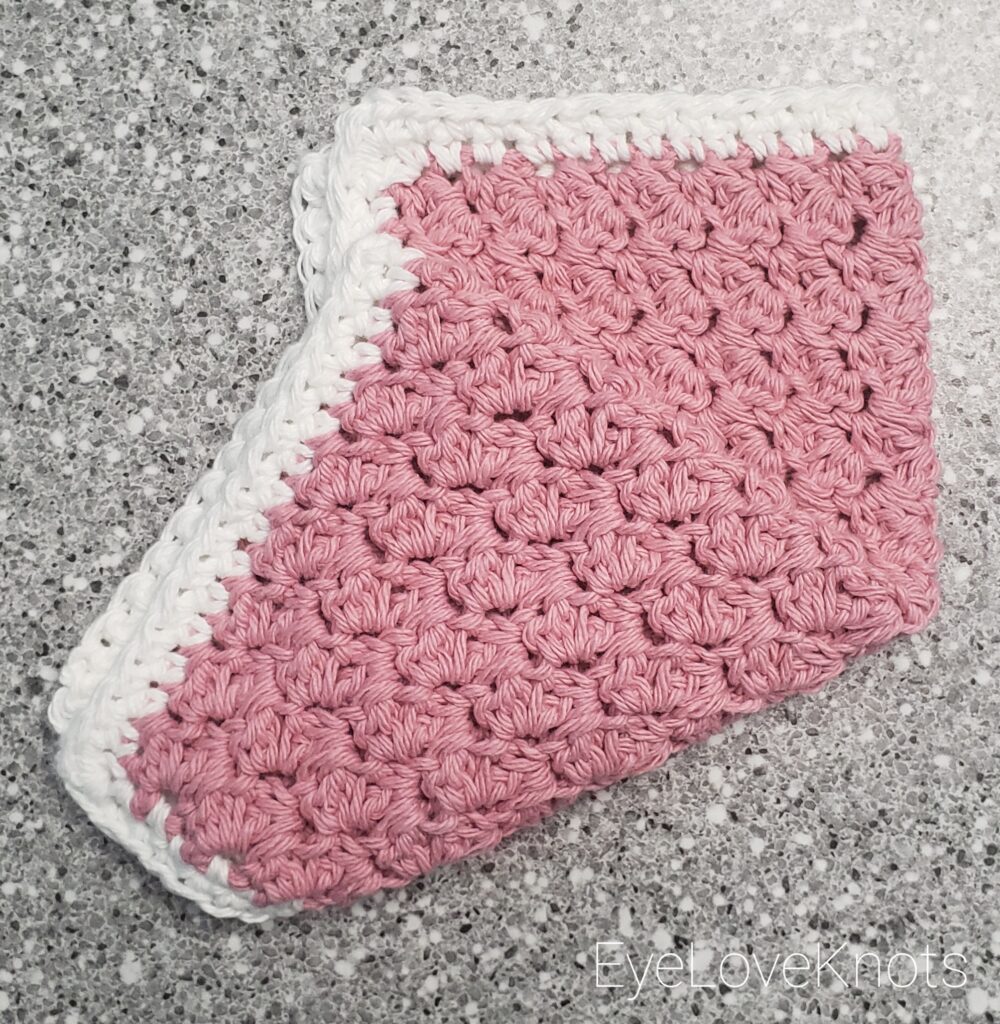 I loved how quick and easy each piece of the set worked up. This is a great summer project for markets and craft shows plus it makes a wonderful and useful gift set! Using cotton yarn makes this set easily washable and soft on the skin too. I will definitely be making more of these sets in various color combinations!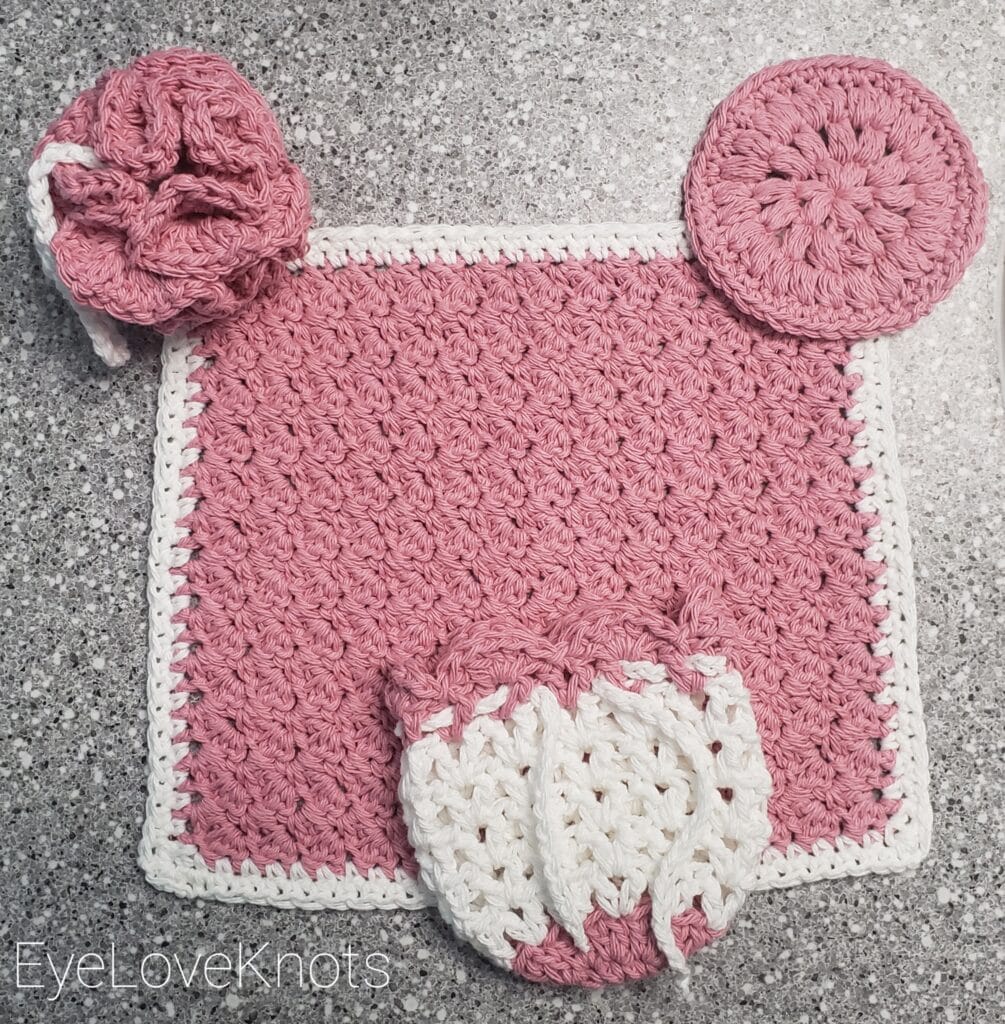 Don't forget to visit with me on Facebook or Instagram for all kinds of awesome crochet makes and inspiration.
Join one of our awesome Facebook groups to share your creations, and see what others are up to!
– EyeLoveKnots Crochet & DIY Community
– DIY Home On Rockwood Lane
– Alexandra Lane Lifestyle