This is a crochet pattern review of the Geneva Sweater Dress pattern by Keira Carnevale. Review done by A Stitch Shy of Normal for EyeLoveKnots.
This post contains affiliate links for WeCrochet and Lion Brand Yarn. If you make a purchase by clicking on them, I make a small commission at no extra cost to you. Thanks for your support!
Find the crochet pattern review below, or click here to find the Ravelry page to purchase the pattern!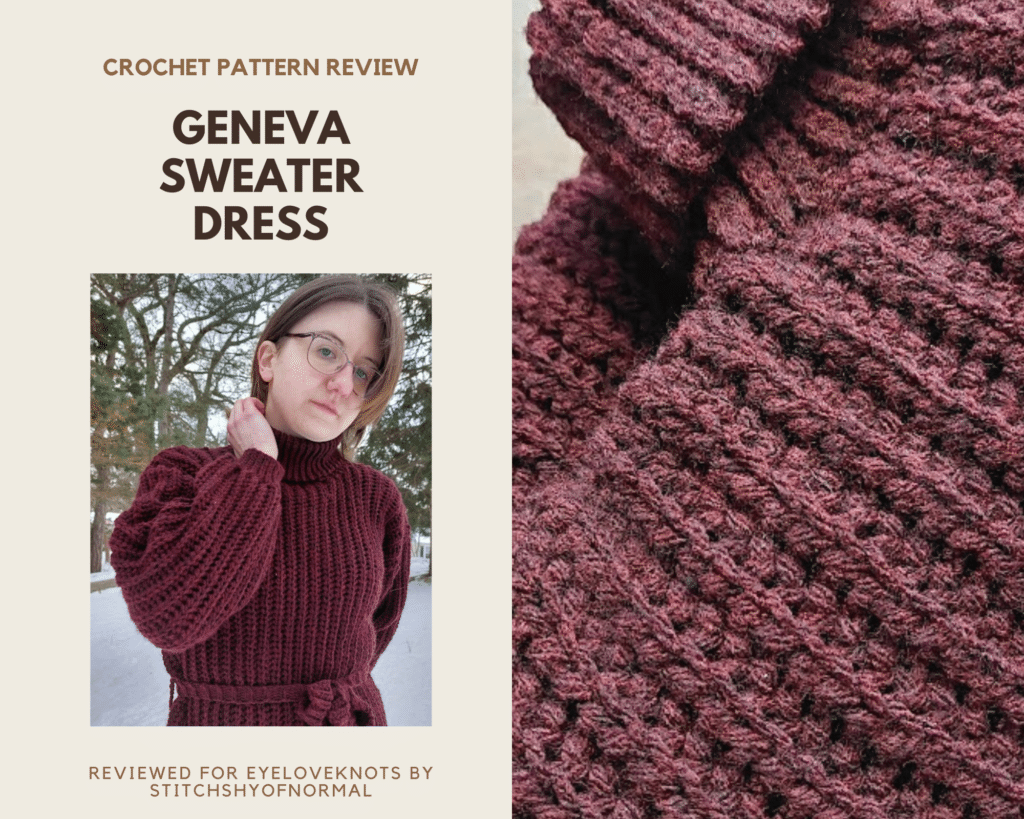 Visit with me on Instagram @astitchshyofnormal for all kinds of awesome crochet makes and inspiration.
I've always felt that my wardrobe needed a sweater dress. I like to define my style as comfort with a little bit of cute. I wear minimal makeup and put very little effort into my hair, purely because of time and laziness. But when it comes to my clothing, I like to put a little bit more effort into picking cute things that can make my style look like I put in some work! So something like a sweater dress is basically made for people like me. Comfy and warm, but with some simple accessories can also be fancy and fashionable? Count me in!
Over the years I've found a couple at places like Target or thrift stores, but never quite the right piece and I didn't wear them that often. I wanted more of a snug fit rather than loose drape, but still wanted it to be comfortable and not restricting. That's hard to find off the rack and affordable!
So when I was browsing recent Ravelry patterns and stumbled across the dress of my dreams, I might have squealed a little. The pictures were gorgeous and looked flattering on all body types. Everyone had different lengths and fits, some wore it snug and others looser. The various makers and/or their models were wearing it with tights or bare legs, thigh-high boots or smaller heels, and it was stunningly perfect in all of the pictures. I bought it immediately and couldn't even wait a few days to go to a yarn store. I had to start it that instant. But I got super lucky because the recommended yarn was Lion Brand's Pound of Love, which I had an abandoned WiP full of right in my living room! So I just had to pick one of those colors and use the 80% full skein first, then I could grab another one later on. I chose this gorgeous wine red and I'm so glad I did. But I think any shade would have been perfection in this pattern.
Materials I Used to Make my Dress:
Material Notes:
This yarn worked up like a dream. This stitch isn't my favorite (see the pattern notes for more on that), but this yarn makes it so bouncy and light and fun! The finished fabric is stretchy but snug, lightweight but warm, and the dress seems like it should be pretty heavy but it's so light to wear! I'm glad the designer listed this as the recommended yarn choice (and most of the testers used it too) because it works so well with this stitch pattern. Also it's pretty affordable, and it comes in so many perfect colors for this type of garment. What more could you ask for? Actually, I'm trying to come up with a single negative about this yarn choice but I can't. It's just amazing.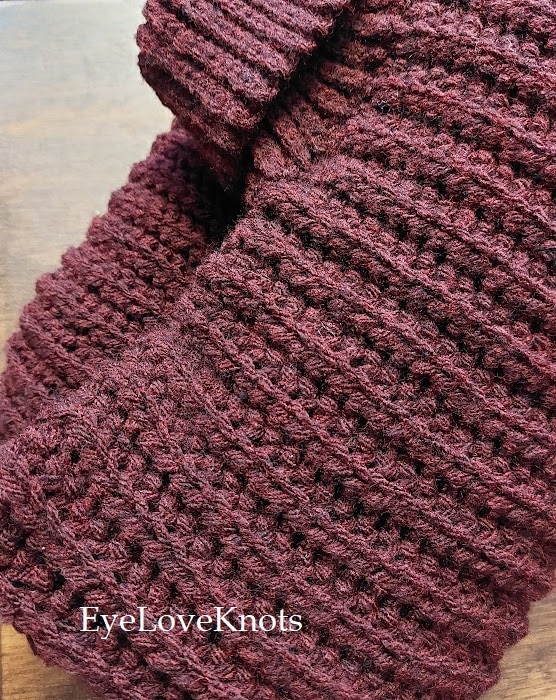 When you see a sweater dress, you probably think this would be kind of sweaty when you're indoors. But I swear it's not! Now, is it warm enough to go outside in just this? Definitely not. You would want to layer underneath with tights and a slip, and still bundle up. But you won't be dripping with sweat when you get inside in the warmth, either! It's the best of both worlds in my opinion.
My favorite part is how comfy yet flattering this is. It stretches over curves but then hugs you comfortably. It looks great posed in pictures and still feels great chilling on the couch. It flatters all body types and looks like it could be on a fashion runway. I'm in love with this design and can't praise it enough. My only complaint, I guess, would be the time it takes…just because I want three more in my wardrobe already! I'm thinking a deep gray next, and then probably either a forest green or a navy blue.
Would I use this yarn again? Definitely. I made a sweater dress for the same financial cost of buying one from Target, or even a little cheaper! Of course there's the time investment, but we don't need to talk about that! Except yes, it does take some time. See more on that below:
Time Spent:
A lot. I was initially tallying my hours spent on the printed pattern page, but I think I lost track a few times. I definitely had at least 24-25 hours marked down, and I'd guess I forgot at least a couple times to add on some new time spent. It might be approaching 30 taking the sewing into account! However, I also do stitch while watching stuff or playing games, so let's compromise all of that and say 25-27 hours in total.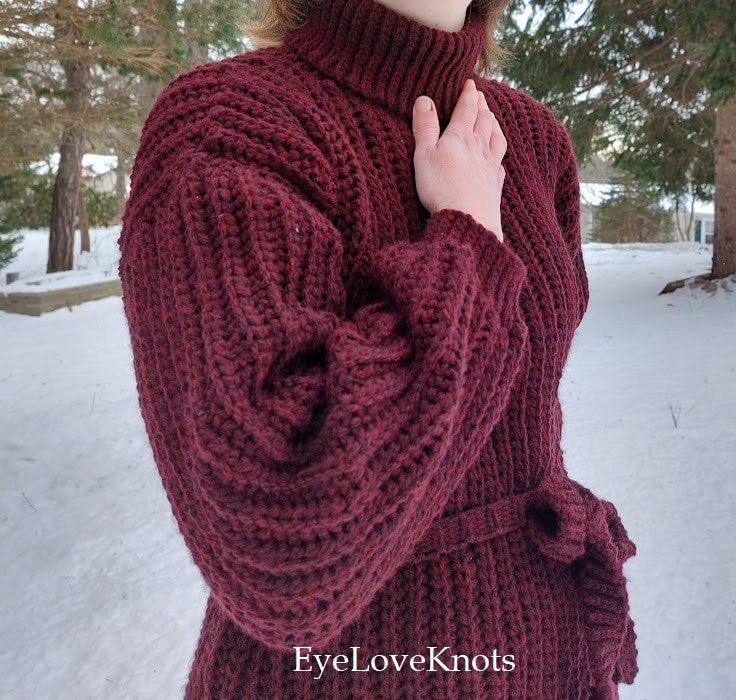 That's a lot of time, yes. But if you need a good project on a car trip, or something to work on during chill family time in the evenings, this is perfect. 90% of it is mindless back-and-forth stitching with minimal shaping (yes, you read that right!) The gorgeous fit comes from the stitch itself and how it's structured. I consider it an entirely worthwhile time investment.
Gauge:
The written pattern gauge is supposed to be 4″ being 14 stitches or 12 rows in the main panels.
Mine, in comparison, is 15 stitches and 12 rows. That's pretty darn close! I think this means mine is a tiny bit tighter tension but definitely not anything that would cause much of an issue. But at the same time mine is blocked but only worn twice–I feel like if I stretched it a little before measuring it would match their gauge perfectly!
Measurements:
For the size I chose to use, my dress should measure 38″ around the bust, 34-35″ long (I kind of customized this), and my sleeves about 14″ in circumference.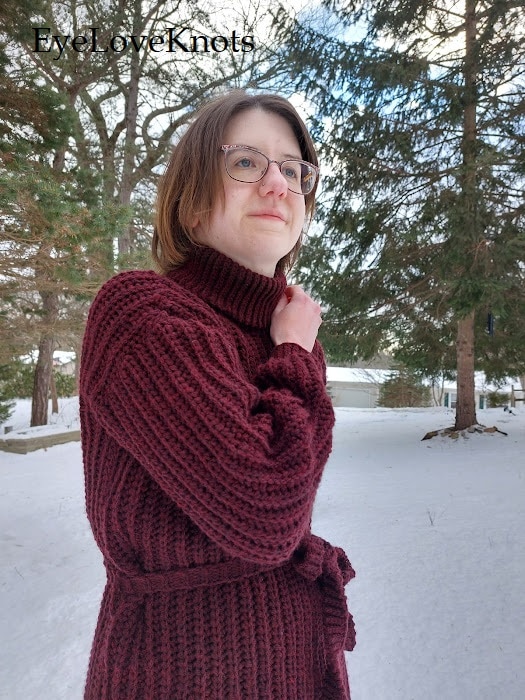 What I ended up with is roughly 39″ at the bust, 33″ long, and about 15″ around in my sleeves. Similar to my gauge, this is close enough that I'm considering it an exact match. Once you're measuring something fully stitched up like this, so many things can affect your measurements. The fact that I've worn it after blocking, my own body dimensions, how I laid it out to measure it and how much I did or didn't stretch it when using the tape measure. Getting within an inch or two on every number? I'll take that as an A+.
The pattern is very well written to customize this to your own fit. You can choose the size and then choose how long you want it! The designer suggests certain lengths based on your height, and I fell right in between the shortest and medium options. Other people on Ravelry mentioned wishing they'd picked one step longer versus shorter, so I chose to go with the medium option and I'm glad I did. I actually followed the length more than the stitch count, and went for a goal length of 34″. My stitches ended up being right in between the listed pattern ones. It's that easy to customize!
Pattern Notes:
Simple. That's the best way to describe this pattern. I'll warn you, it is slip stitch. But don't run away screaming just yet! I agree, I am not a slip stitch fan either. But the main dress is actually a modified version that goes much quicker and has more stretch to it. Traditional slip stitch is used for the accents like the ribbing and the cowl neck. Like I mentioned earlier, the main panels are so mindless once you get going. You need to make a few choices at the start like length, and make sure a few rows in that you still like that decision, but once you get going? You just have to stitch away for hours. The front has a little bit of neck shaping but again, it's so simple.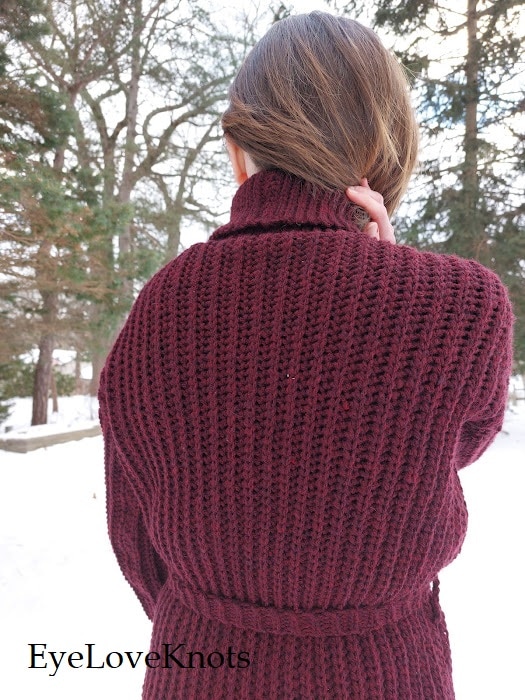 Read the directions carefully on when to do what kind of slip stitch! You can easily get carried away after doing the main panels and misread on the ribbing or the neck. The designer chose the different stitches for each section to help the shaping and the fit, and there's a reason they did! Of course there's no rules here and you can do whatever you want, but if you want the same fit that they created…read carefully.
Same with the ribbing sections, actually. I misunderstood at first because it's not how a normal ribbing would be added. The rows are actually kind of doubled up, so you end up with two normal slip stitch rows for every body panel row. This still gathers in but allows for you to walk around in the dress without being super tight! I was doing this incorrectly my first time and my ribbing was going to be super tight. I got like twenty rows in, too. That might have added to my time spent!
I hate to say it because it's slip stitches, but this texture really is gorgeous for how simple it is. It gives a ribbed look that lets the dress stretch beautifully, but without the time of actually working up a ribbing for an entire panel. It takes some time to get used to the stitch (I had never seen it before), but once I did it was a breeze!
This dress is the perfect piece for the colder seasons. Yes, this would be a little much for summer, but it's a sweater dress so you could probably guess that. Some people who made this and live in warmer climates said they would leave off the cowl neck to still have a lightweight gorgeous dress that they could wear, and I can see that working out! I can't say though, because I live in Michigan and made this in December and January. So I can't try this out in warmer weather for a few months! In fact, for these pictures, I was wearing fleece leggings and a long-sleeved shirt underneath the dress! I thought that was pretty smart. I still lost feeling in my hands towards the end, though, and I figured that was time to go inside.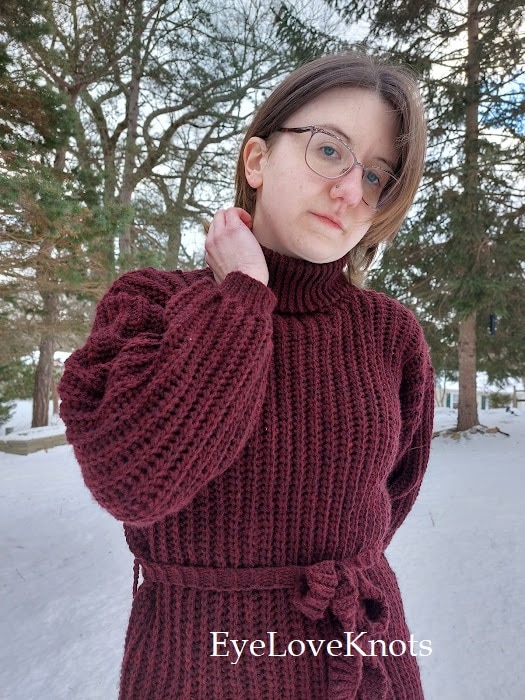 As I raved about earlier, this dress is mega flattering on everyone! I've seen it on all different body types through Ravelry and Instagram browsing of everyone's projects. And it looks stunningly gorgeous on all of them! Everyone's body is different but if you work with this pattern and find the right fit for you, it can make you feel like a million bucks. You can choose it to be looser or more snug and form-fitting. You can make it a short dress or long and modest. It's all up to you!
In case you couldn't tell before, I'm in love with this pattern. It reminds me of the Body Language Crop Sweater I reviewed a year or two ago–the way that it's so comfy and simple and yet so flattering and makes you feel so good! I will be following this designer wholeheartedly from now on, and want to make all of their other patterns right now.
Don't forget to visit with me on Instagram @astitchshyofnormal for all kinds of awesome crochet makes and inspiration.
Join one of our awesome Facebook groups to share your creations, and see what others are up to!
– EyeLoveKnots Crochet & DIY Community
– DIY Home On Rockwood Lane
– Alexandra Lane Lifestyle
Linked Up To…
Weekday Wear Linkup – Away from the Blue
Turning Heads Tuesday – Elegantly Dressed and Stylish
Confident Twosday Linkup – I do deClaire
Style on the Daily Weekly Link Up – Straight A Style
Chic and Stylish Link Up – Mummabstylish
Thursday Fashion Files Linkup – Doused in Pink
Top of the World Style Linkup Party – High Latitude Style
Link Up on the Edge #280 – Shelbee on the Edge
Style Link Up – Lizzie in Lace
Fancy Friday Linkup – Nancy's Fashion Style
Neverending Style Link Up – The Grey Brunette
Happiness is Homemade Link Party #411 – Decor Craft Design
Handmade Monday #263 – Sum of their Stories
Craftastic Monday Link Party – Sew Can Do
The Really Crafty Link Party #300 – Keeping it Real
Linky Ladies Party #220 – The Purple Poncho
{Wow Me} Wednesday #538 – Ginger Snap Crafts
The Loop Scoop #30 – Moogly Blog
The Wednesday Link Party – Oombawka Design Crochet
Creatively Crafty Link Party #312 – Try It – Like It – Create It
Create, Bake, Grow & Gather Party #504 – Shabby Art Boutique
Saturday Sparks Link Party 459 – Pieced Pastimes
You're the Star Blog Hop – Decor Craft Design
Unlimited Link Party 67 – Grammy's Grid
Share the Wealth Link Up #11 – Big Fan Menopausal Life
Link Up Potpourri #28 – My Bijou Life
Spread the Kindness Link #259 – Shelbee on the Edge
Fabulous Party 408 – Lou Lou Girls
623rd Inspire Me Tuesday – A Stroll Thru Life
Team Creative Crafts Link Party #77 – Artsy-Fartsy Mama
Wordless Wednesday – Oh My Heartsie Girl
Encouraging Hearts & Home Blog Hop – My Slices of Life
Grace at Home No. 453 – Imparting Grace
Thursday Favorite Things #525 – An Artful Mom
Traffic Jam Weekend Link Party #309 – My Bijou Life
Funtastic Friday Link Party #369 – Simply Beautiful by Angela
A Morning Cup of Joe – The Cottage Market