This is a crochet pattern review of the "Learn a Stitch Dishcloths" pattern booklet from Annie's Catalog as part of their Hook & Needle Club. Review done by A Stitch Shy of Normal for EyeLoveKnots.
This post contains affiliate links for Annie's Kit Clubs and WeCrochet. If you make a purchase by clicking on them, I make a small commission at no extra cost to you. Thanks for your support!
Find the crochet pattern review below, or click here to find out more about joining this subscription!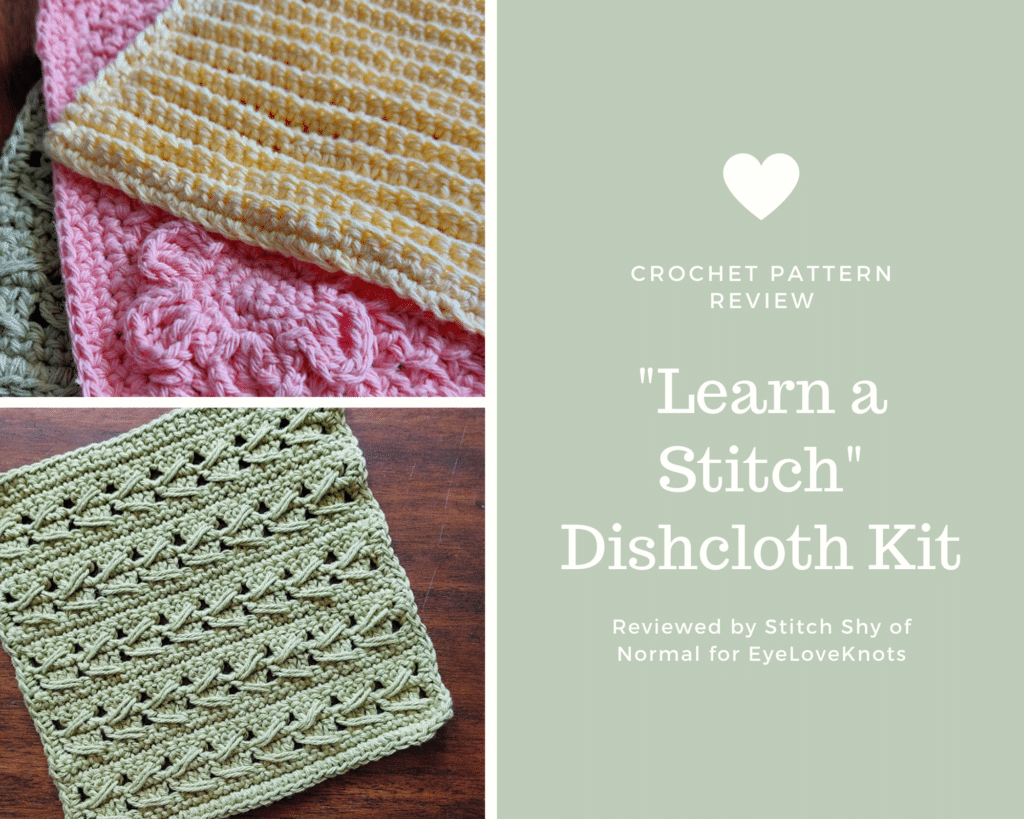 Visit with me on Instagram @astitchshyofnormal for all kinds of awesome crochet makes and inspiration.
Just to clarify, this is only a review of this specific kit, a previous one from the Hook & Needle Kit Club. When I began this project I was not actually a member BUT (spoilers), I have since signed up because this was super fun. I was sent this kit from a friend who just didn't plan to do this one themselves and wanted to see if I was interested in trying it out and reviewing it. I decided to use this as a test of sorts, to see if I would consider this a worthwhile kit if I had paid the monthly fee. If I liked it, I planned to sign up for real. And I just did! I won't be reviewing them regularly, I'll keep mixing it up with different patterns from Annie's and other companies. But just for regular fun projects for myself to either practice basic techniques or maybe learn something new, I think I'll really enjoy these!
Before we dive in, what is Annie's Hook & Needle Kit Club?
It's a monthly subscription part of Annie's Catalog. Each month, you receive a knit and crochet pattern (both included), plus the yarn to make one version. It's a good subscription for beginners and advanced alike, and a good way to try out different projects. Check out the Hook and Needle Kit Club Gallery to see some of the past projects. You can sign up right here, or also shop limited amounts of past kits.
Now, let's dive in!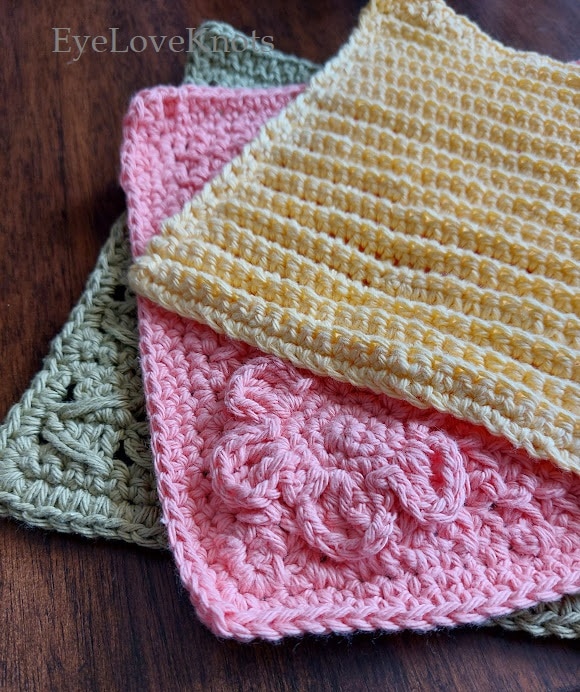 I've been crocheting for about ten years now so when it said I would "learn a stitch", I honestly thought this was marketed at brand-new beginners. I assumed we would probably just do like a basic single crochet dishcloth, then maybe one with double crochet or a variation. But I thought about how I had actually learned using those basic dishcloths (actually just plain old single crochet, that's how I practiced!) and I thought it might be a fun blast from the past. And I was pleasantly surprised! They are fairly approachable for beginners, but I did honestly learn one entirely new stitch that I hadn't used before, and one technique that I had used but a new way to implement it. The third actually was a pretty basic stitch, but still fun and a great way to practice! It's great to learn new techniques but sometimes you just need to go back to the basics.
Materials I Used to Make the Dishcloths:
Contained within the kit:
3 skeins of cotton yarn (100% cotton, 2.5 oz each, 120 yds each)
Pattern booklet containing three dishcloth patterns for both knit and crochet
*The patterns for these dishcloths is not available, but check out Let's Crochet Washcloths, Vol 1 by EyeLoveKnots, or all the free crochet patterns right here on the EyeLoveKnots blog
Outside of the kit:
Material Notes:
Since this kit seems to contain their own brand of yarn that you can't buy elsewhere (at least to my knowledge), I don't know if this will apply to other kits. When I just signed up for the next kit, the current picture makes it look like I might get another dishcloth set for the next one unless that's just the permanent picture…but if so, I'm interested to see if the yarn is something similar! It's most comparable to the "Sugar 'n Cream" cotton yarn available at most craft stores, a very affordable and durable cotton yarn popular for home products. Generally cotton yarns fall under two categories, one that's softer with more of a sheen and one that's more sturdy and stiff. This is the latter for sure, it would work great for any kind of cloth or home/bath product. Not so much a tank top or swim cover, if that makes sense.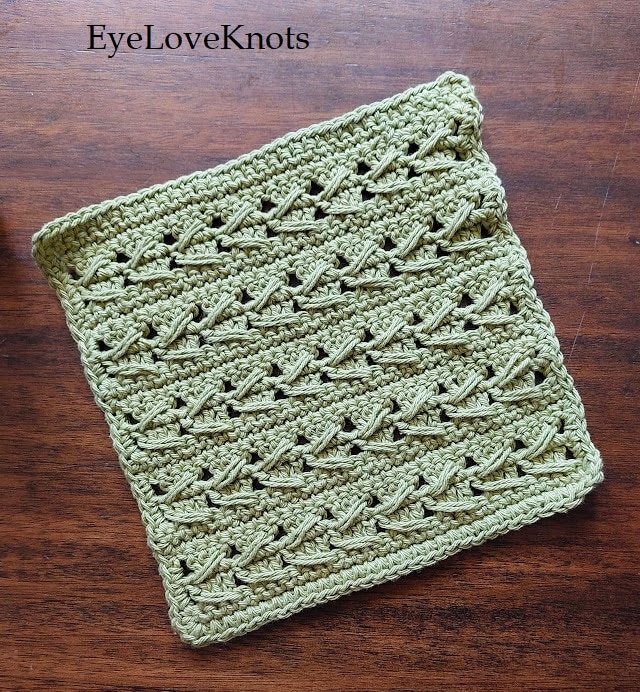 But since this yarn comes specifically as part of a kit, I assume Annie's is specifically choosing a yarn well suited for the project. And they did a great job for this one! These dishcloths are going to hold up well, given my previous experience with similar yarns. If they're anything like the Sugar 'n Cream, I just now had to replace some cloths made with that yarn that I gave to my mother a few years ago and she used constantly. And they were still holding up, just stretching out and fading! So I'll put these cloths through the ringer in my home and see how they work, but I have high hopes. The pink one was great when I tested it out this afternoon washing one batch of dishes. The true test is how it'll hold up in a month, though!
If I could buy this yarn outside of this kit, would I? Yes, I would. I'd use it for this sort of thing, cloths and home decor and the like. I had enough left of the three skeins that I think I'm going to use them all together in something, maybe just another cloth with color blocks. I did not do that before this review due to time, though. But I liked them enough that I want to put the leftovers to use!
Time Spent:
Each cloth took very little time. I enjoyed using this as a work project, keeping the current yarn and the booklet in my everyday purse, so I have to kind of estimate here. But I did the last cloth in a single evening, so I would say each one took me no more than two hours start to finish on average. You could whip up all three in a single day if you were really dedicated, or brought the kit on a long road trip.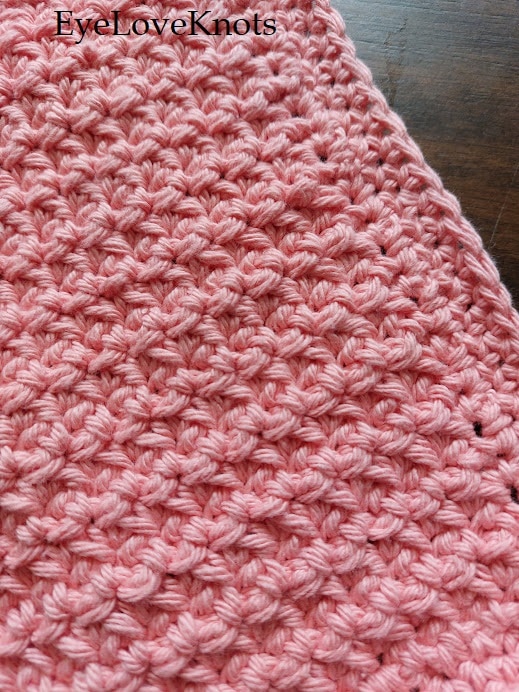 Gauge:
In the interest of honesty, I did not check gauge during these projects at any point. I'm checking it now to give you guys as much information as possible, but at the time I really did not care too much. It's a dishcloth, and if it varies by an inch or two that's fine by me.
However, for the sake of information:
Cloth 1 (eyelet stitch, my green one):
Pattern says 3 sts = 1″, but does not clarify what stitches this refers to. I'm going to assume it's the DC clusters. My cloth has each cluster being about an inch wide, so that's perfect!
Cloth 2 ("seed" stitch, my pink one):
Pattern has 4 SC = 1″. My cloth has 3.5 SC per inch. Pretty close, I'll take it.
Cloth 3 (ribbed stitch, yellow for me):
Pattern suggests 4 SC = 1″ again. Mine is for some reason a little different depending on what row I measure on, but it's between 3.5 and 4.5, so I'm averaging that out to 4 and that's spot on again!
Measurements:
These cloths are supposed to measure 9 by 9 inches for each one. I suppose they wanted consistency and a generous size, so people could have some variation but still have enough yarn to get there.
I'm going to keep these in the same order as my gauge:
Cloth 1/green/eyelet stitch: 9.25″ wide by 9″ high. Basically perfect!
Cloth 2/pink/"seed" stitch: 8.5″ wide by 9″ high. I apparently had some tighter tension here, which does match up with my gauge measurement of the same cloth. This actually was my first time using seed stitch (that I remember) so I'm happy with that.
Cloth 3/yellow/ribbed stitch: I want to clarify here that I chose to alter this one. When I started the chain for this cloth, I thought it looked too large. I'm not sure why I thought that on only this one when they're all supposed to be roughly the same size, but I followed my "crochet heart" and left off 5 stitches. It just felt right, you know? I then worked it until it was a square so I left off some rows too. My finished cloth in this case was actually 8 by 8 inches. So this one is just smaller, and that was my choice.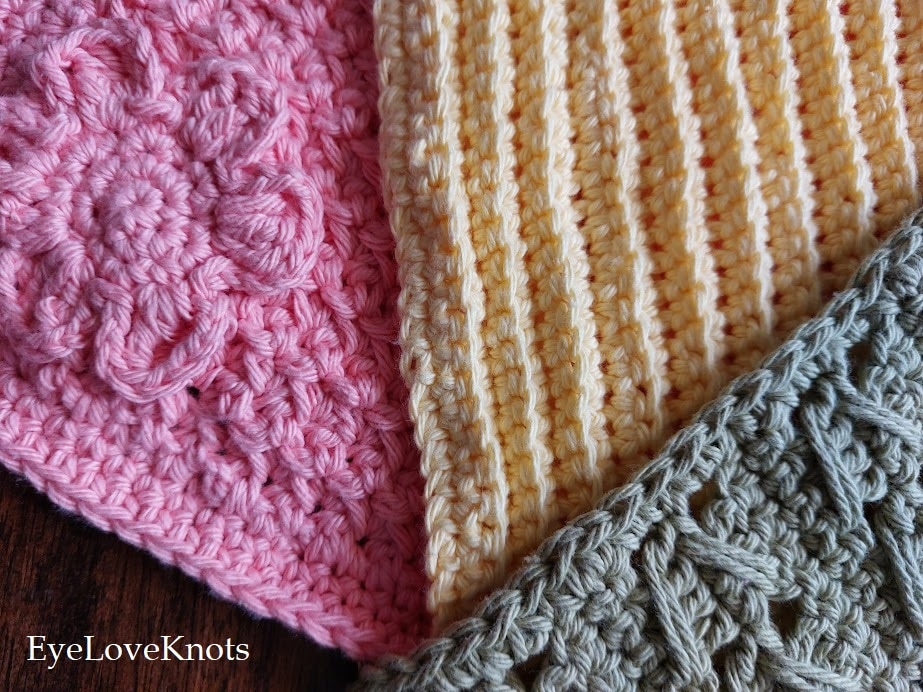 Pattern Notes:
These cloth patterns were so simple, so I won't be going into depth on each one because there isn't all that much to say about one in particular. I'll be just kind of bouncing around and reviewing them as a whole "pattern" of three cloth options. If you liked the look of one of these more than the others, you could make three colors of one pattern! I also chose to mix the colors up from what the booklet suggested just because I felt like it.
As I said in the beginning of this post, I really thought this was going to be far more basic and beginner than it was. But don't get me wrong–this would be approachable for a relative beginner! The rating the booklet gives for these is "easy", and I agree. They might not be great for a very first project, but once you've been crocheting a couple months and you're ready to stretch your legs and try something other than basic stitches in a row back and forth, these would be great.
All three are simple enough to understand and work your way through. There's no variation once you get started, they're a basic stitch pattern that you work until the cloth measures square and then usually add a border (on the seed and eyelet stitch ones). I was a little confused on the eyelet stitch phrasing (it seems from Ravelry comments that I'm not alone). I'm lucky here that I have the experience to look closely at the pattern pictures and kind of work backwards to make my stitching look like the picture, so that would have been harder for a beginner. And I don't know if I did this right, to be fair! But I did get a result that looks like the booklet pictures and holds up as a cloth, so I'm happy.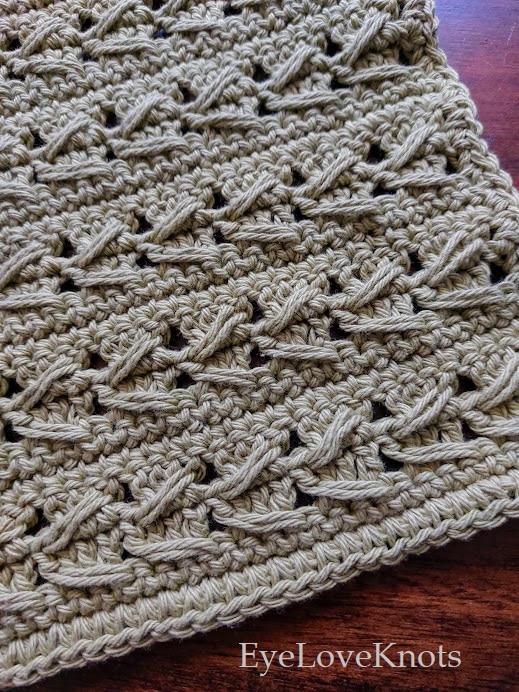 Each stitch is just complicated enough to hold your interest in stitching and give a fun finished look. They have some texture and I think they'll work well for scrubbing dishes. The only one I'm not entirely sold on is the eyelet stitch. I matched gauge, but it still seems a little more open and loose than I would personally choose in a dishcloth. And I'm worried that the crossed DC stitch will come loose if I use it to actually scrub. But I didn't experience that in my first quick test, so I'm just hypothesizing!
If you're confused why I referred to my pink one as "seed" stitch in quotation marks, I'm pretty sure that's not actually the popular name of the stitch used here. This could be up to a number of factors and maybe at some point that's what this stitch was called, but I looked it up and could not find this stitch pattern by that name! It seems to be similar to what some people call the Trinity Stitch, only still a little different. Seed stitch seems to refer to what I've heard called granite, moss, or linen stitch–we really can't decide on a name for that one, can we? I mean the kind where you do single crochet stitches with chain stitches in between, then work the next row doing the stitches into the chain spaces. But also, some people use seed stitch for the alternating single/double crochet stitch pattern. So really there's no clear rules here. However, I loved the stitch pattern and I actually did "learn a stitch" here because I've now started a design using this stitch pattern!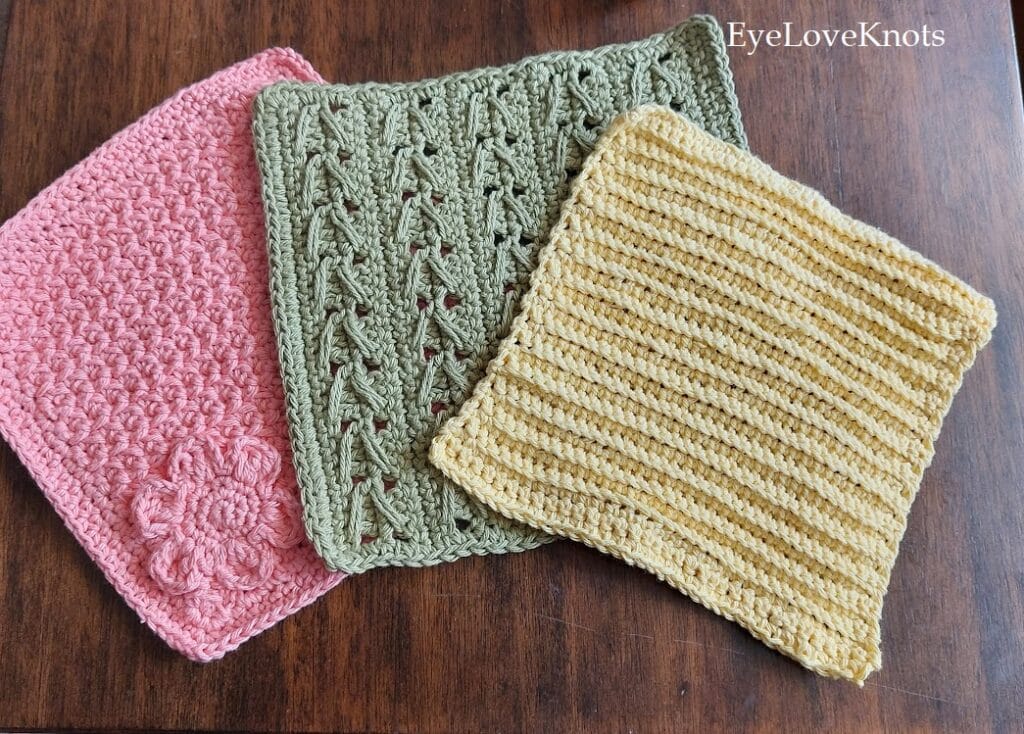 I had a lot of fun with this kit. If I had paid full price for it, I would consider that worthwhile, and that's the real test in my opinion. I have no idea what's in store for me being a member of this club now, but I'm very excited to see! I'm sure I'll share some of them with you guys if I feel it's something special enough to talk about on here.
Don't forget to visit with me on Instagram @astitchshyofnormal for all kinds of awesome crochet makes and inspiration.
Join one of our awesome Facebook groups to share your creations, and see what others are up to!
– EyeLoveKnots Crochet & DIY Community
– DIY Home On Rockwood Lane
– Alexandra Lane Lifestyle
Linked Up To…
Sundays on Silverado #77 – The House on Silverado
Beautifully Made Link Party #199 – Across the Boulevard
All About Home #128 – Common Ground
Tuesday Turn About #135 – My Wee Abode
Home Matters Linky Party #364 – Modern on Monticello
Friday with Friends #57 – My Hubbard Home
Farmhouse Friday #238 – County Road 407
Happiness is Homemade Link Party #411 – Decor Craft Design
Handmade Monday #263 – Sum of their Stories
Craftastic Monday Link Party – Sew Can Do
The Really Crafty Link Party #300 – Keeping it Real
Linky Ladies Party #220 – The Purple Poncho
{Wow Me} Wednesday #538 – Ginger Snap Crafts
The Loop Scoop #30 – Moogly Blog
The Wednesday Link Party – Oombawka Design Crochet
Creatively Crafty Link Party #312 – Try It – Like It – Create It
Create, Bake, Grow & Gather Party #504 – Shabby Art Boutique
Saturday Sparks Link Party 459 – Pieced Pastimes
You're the Star Blog Hop – Decor Craft Design
Unlimited Link Party 67 – Grammy's Grid
Share the Wealth Link Up #11 – Big Fan Menopausal Life
Link Up Potpourri #28 – My Bijou Life
Spread the Kindness Link #259 – Shelbee on the Edge
Fabulous Party 408 – Lou Lou Girls
623rd Inspire Me Tuesday – A Stroll Thru Life
Team Creative Crafts Link Party #77 – Artsy-Fartsy Mama
Wordless Wednesday – Oh My Heartsie Girl
Encouraging Hearts & Home Blog Hop – My Slices of Life
Grace at Home No. 453 – Imparting Grace
Thursday Favorite Things #525 – An Artful Mom
Traffic Jam Weekend Link Party #309 – My Bijou Life
Funtastic Friday Link Party #369 – Simply Beautiful by Angela
A Morning Cup of Joe – The Cottage Market