This is a crochet pattern review of the Frosty Flowers Shrug pattern from designer Laura Gebhardt, for Annie's Catalog. Review done by A Stitch Shy of Normal for EyeLoveKnots.
This post contains affiliate links for Annie's Catalog, Lion Brand Yarn and WeCrochet. If you make a purchase by clicking on them, I make a small commission at no extra cost to you. Thanks for your support!
Find the crochet pattern review below, or click here for the Annie's Catalog page to purchase the pattern!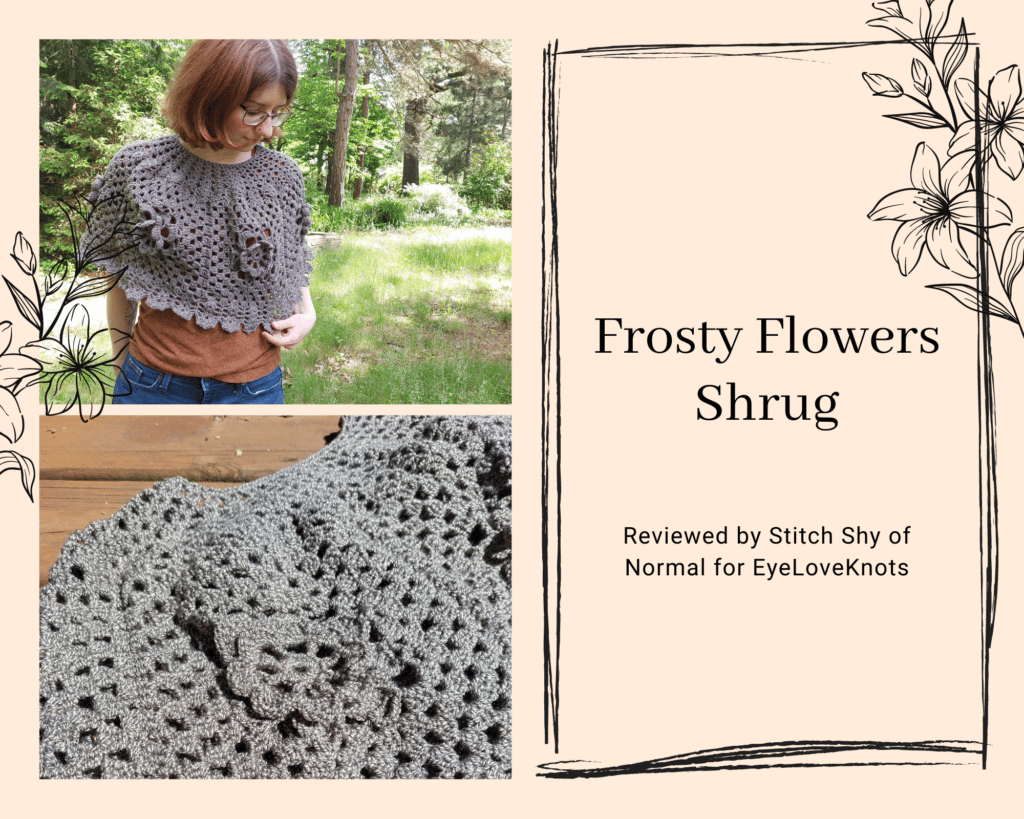 Visit with me on Instagram @astitchshyofnormal for all kinds of awesome crochet makes and inspiration!
Is it just me, or is the weather being kind of weird this year? I'm sure it depends on where you live, of course. But here in the Midwest, I'm surprised that we're still getting chilly mornings and evenings in June! My husband made a delicious stew today for meal prep and I remarked that it really felt like fall with the combination of a stew simmering on the stovetop and it being kind of chilly outside. All I need is to light one of my apple or pumpkin spice candles and we can fast-forward to September or so!
Because of the unpredictable temperatures (like two days from now we're going to hit 90 like the rest of you are currently experiencing!), crochet toppers have come in so handy this spring and early summer. I can wear a light summery outfit like a tank top and shorts, or a dress, but throw on a crochet top/vest/poncho for the chilly parts of my day! They aren't heavy or stifling, they add a pop of fashion to the outfit, and of course it's a fun way to get some use out of an item I poured time and love into.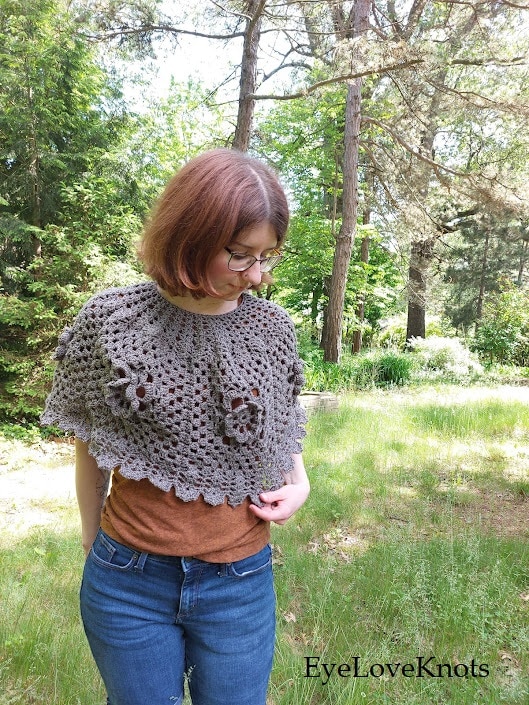 This shrug pattern has been no exception. (Also if you're curious why I'm calling it a shrug, I'm not sure why the designer chose that name either instead of a capelet or mini-poncho or something. But because that's what they decided it would be called, I'll be using that term throughout this review as well! If you have any insight on why this type of garment would be called a shrug, I'd love to know!) It was relatively simple to make, it has interesting textures and shapes going on, and the fit is very comfy. It helps in a light breeze, or covers your shoulders/chest when you're feeling a little chilled outside. I think this could brighten up a lot of outfits! I hope you enjoy my experience making it and feel inspired to make one of your own!
What Materials Do I Need to Make This Shrug?
Material Notes:
I'm in a peculiar situation here with this one, having used a yarn that was not the intended weight and doesn't even exist anymore. I got very lucky having enough yarn to finish it 99 percent of the way, and I ended up leaving one row of the edging off to make sure I was safe! So I'm not sure if it will help you guys at all to discuss how this yarn worked since you can't buy it anymore, but I will talk through it anyway in case you also have a few cakes sitting in your stash!
I discovered this pattern and dove into my stash for DK weight yarn. I'm sort of doing a "no buy" summer, only giving myself an exception for designs of my own and items specifically commissioned in a color I don't have. So when I do reviews like this, I try as hard as possible to make it work with my stash first! However, somehow my DK stash is very limited. I have a few balls or skeins of some that I bought way too much of for a project years ago and have used for multiple other projects since, but even those are down to only 300-400 yards or so (making it even harder to use them up!) I looked at the weight/gauge comparison for Lion Brand Coboo, the suggested yarn from the pattern, and decided to use that information to see what else might work. As I discussed in last week's review of the Summer of 77 Rainbow Pillow, the medium/worsted category can vary quite a bit, and I thought one of my lighter worsted weight yarns might work!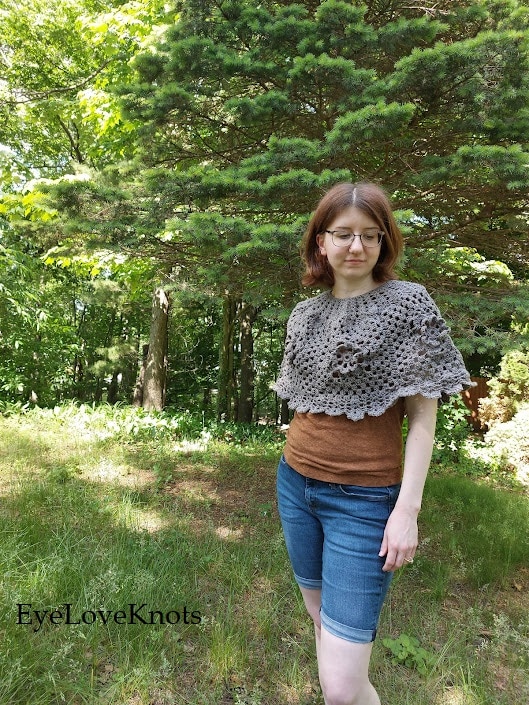 Conveniently, I had also just reorganized my stash and had put some yarns aside that I really wanted to prioritize using. I had purchased three cakes of this Cobblestone yarn a while back, and I have no idea why. Maybe I had a design idea, or maybe I just liked the look of it! But it never got touched, and I found it in the bottom of a long-abandoned project bag (with no hook or printed pattern inside to explain what my plan had been). So I set it front and center on a shelf and planned to find a use because it seemed like a nice yarn. The universe had intended for this, because it's actually pretty close to Lion Brand Coboo! When I looked it up, Coboo is actually kind of on the verge between DK and worsted. It's 232 yards per 100g cake, and for comparison this Cobblestone is 219 in that same weight. (And a typical worsted acrylic like Big Twist Value is 233). There's kind of a blurred line between categories sometimes. So if you're struggling to find a substitute for Coboo, check out a worsted weight and swatch it up! The gauge might work out!
If you're concerned, I did check my gauge early and often. Yes, my squares turned out a touch larger. But for a style like this, an inch or two more in height/width is not a big deal! That would be more of a factor if this were a top with more shaping, or something like socks that need to fit and stay on nicely. A draped item like a poncho or this shrug have some wiggle room.
There's not much point in asking my usual question, then. Would I use this yarn again? Yes. But could I? Apparently not. I don't think this was a seasonal release that gets "discontinued" the rest of the year, I believe this one is gone for good. And I'm sad that I didn't see anyone else use it, it's nice! If I were to repeat this, I probably would go for the intended Coboo, or another brand's cotton or bamboo offering. I think that would tip the scales further into this being a summer option instead of my spring/fall result.
How Long Does it Take to Crochet a Shrug?
I sped through this thing, took me maybe 30-45 minutes per square (so probably 4ish hours for squares alone) and about 8 hours to finish the whole thing. I was specifically trying to go fast though. I enjoyed the squares and wanted to finish it with plenty of time to write this review up! If you aren't rushing, and you do the larger option, this should still be a project under 12 hours or so.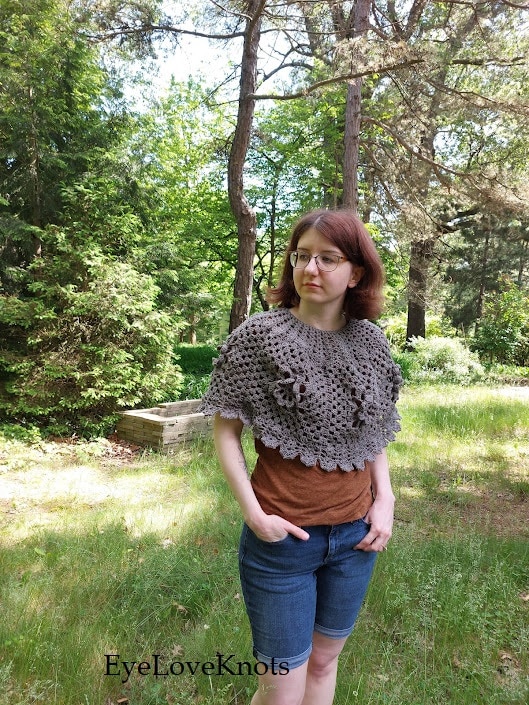 Gauge:
Somehow I got very close with not at all the right yarn.
The pattern gives the gauge by saying that at round 5 of the flower square, it should measure 4.5″ across. I checked this on my first one and I remember it being pretty much perfect. It was maybe a hair larger, 4.6 or 4.7″ instead, but I decided that was worth the risk as it might just add another inch at most to the finished square.
Going back and measuring that round now in my finished shrug, it's 4.75″ after being stretched out and worn, so that's close enough for me!
Measurements:
The dimensions given for the size I did are 52″ for the bust, which I'm thinking means the circumference at the middle of the squares. Doing math on that with the 6 squares, I figured out each square is supposed to be 8.67″ across, which I also used to check my measurements as I went. And again, now that it's done, even lightly stretched they measure just under 9 inches. This shape is hard to measure with the decreases at the top edge, but doing that math means mine is at most 54″ around.
It's also supposed to be 15 inches long, and mine measures 14.5. I left off one row of the bottom edging, which might have contributed to this difference.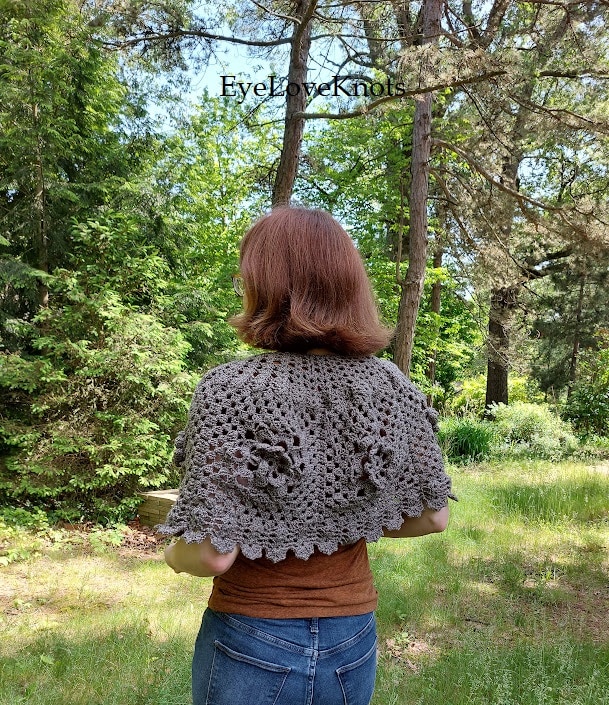 Pattern Notes:
I'll admit, there were some struggles with this pattern. I loved it, I'll do it again, but in case others are similarly confused I want to share how I made it work out.
In round 4 of the squares, after you've finished the first round of petals on the smaller flower, the directions tell you to FPDC in each DC of the previous row. This would put the next round of petals in front of the previous ones. At first I thought this meant we were working the squares "backwards" in a way (working on the wrong side the whole time), or that I was supposed to turn it between rounds. But I could not find a reference to either of these things in the notes. I might have missed something but I never turned my rounds at all! So although I always follow instructions perfectly, I went off the books and just did these as back post DC instead. This worked fine for me, my next petals went behind the first ones just like the example pictures.
Also later on in rounds 6-8 I ran into an issue with the count. When I worked round 6 following the stitch instructions exactly, I ended up with way too many loops. I think I had 5 between each corner my first try, while the next row seems to imply there should only be 3. So I looked at the pictures and compared my work to it, and ended up following my gut and repeating the directions fewer times. Somehow, round 7 worked out perfect. But then round 8, again if I do exactly what it says, I end up with one fewer repeat than I would want. So I just repeated the section one extra time. Then on round 9 and onward it works out great. So my advice here is to see what the actual stitch pattern is going for, then do it as many times as it actually works out for you. I very well might have done something wrong here. And it kind of makes sense that if I left out a repeat in 6, it would affect my count in 8. But what matters to me is that I ended up with a square that looks fine and fits the sizing I needed!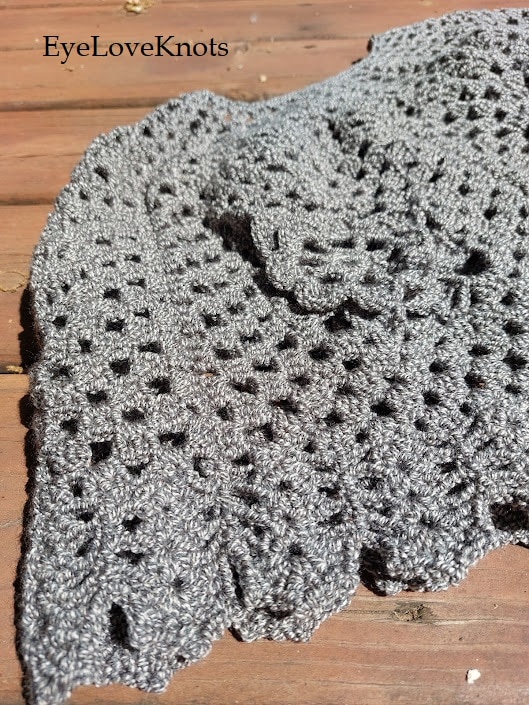 The top and bottom edging on this is so clever. I was skeptical of the 6 large squares working out, I knew this was supposed to be a looser accessory but I had no idea how it would stay on my shoulders! But with just a few rows of shaping, the designer pulls in the big bulky squares into a gorgeous sloped shoulder look. I ended with a perfectly sized head-hole and this piece stays on just fine! Same with the bottom edging, it adds a nice touch to really elevate the look. I did leave out one row of the bottom edging, by the way. I was running low on my yarn and with this being discontinued, I didn't have another choice. I'm lucky that I got that far. Rounds 2 through 4 of the bottom edge are just repeating the same thing before you add the shapes in round 5, so I just left out round 4 with no issues.
The versatility of this pattern is impressive. It could be so adorable in something like a black or silver, as a topper for formal events! Or you could do bright fun colors to add style to outfits. I like that I happened to have a shade of yarn that's pretty much a neutral but has some visual fun with the tweedy twists throughout. It'll be perfect for fall with brown boots!
I would absolutely make this one again. I want to try it in something more like what the designer intended, a lighter cotton fiber to make it even breezier for spring and summer! I'm hoping to find a perfect light lavender shade because I love purple and it would be the right mix of matching my outfits but not too much, you know?
What color would you make this one in? Have you tried the Cobblestone yarn before it was discontinued? Do you know why the designer calls this a shrug? Anything you'd like to share, I'd love to hear it!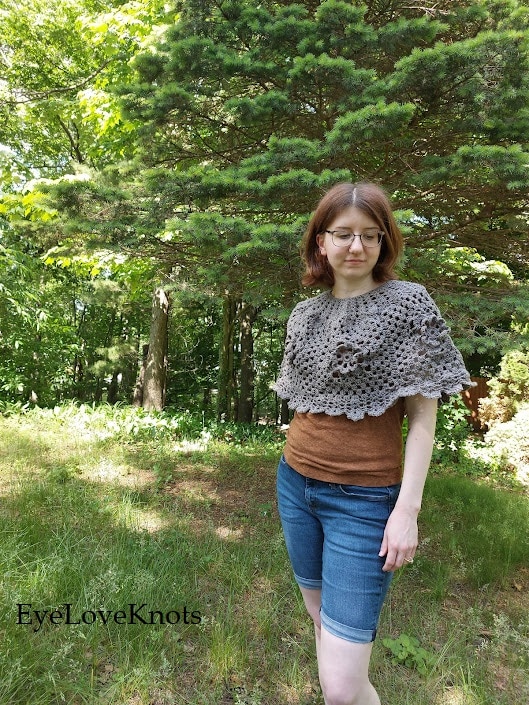 Don't forget to visit with me on Instagram @astitchshyofnormal for all kinds of awesome crochet makes and inspiration.
Join one of our awesome Facebook groups to share your creations, and see what others are up to!
– EyeLoveKnots Crochet & DIY Community
– DIY Home On Rockwood Lane
– Alexandra Lane Lifestyle
Linked Up To…
Inspirations Link Party 4 – Pieced Pastimes
Handmade Monday #285 – Sum of their Stories
The Really Crafty Link Party #322 – Keeping it Real
Craftastic Monday Link Party – Sew Can Do
You're the Star Blog Hop – Decor Craft Design
Happiness is Homemade Link Party #434 – Decor Craft Design
Anything Goes Linky 335 – My Random Musings
Sundays on Silverado #100 – The House on Silverado
Craft Schooling Sunday – Creative Jewish Mom
Thursday Favorite Things #548 – An Artful Mom
Creatively Crafty Link Party #335 – Try It – Like It – Create It
Encouraging Hearts and Home Blog Hop – My Slices of Life
Weekly Linky Party – Karins Kottage
Crafty Creators Link Party #25 – Life as a LEO Wife
Traffic Jam Weekend Link Party #331 – My Bijou Life
Create, Bake, Grow & Gather Party #527 – Shabby Art Boutique
Funtastic Friday Link Party – Simply Beautiful by Angela
Pink Saturday – How Sweet the Sound
Saturday Sparks Link Party 522 – Pieced Pastimes
A Morning Cup of Joe – The Cottage Market
645th Inspire Me Tuesday – A Stroll Thru Life
Fabulous Party 432 – Lou Lou Girls
Linky Ladies Party #226 – The Purple Poncho
The Loop Scoop #41 – Moogly Blog
Wonderful Wednesday – Oh My Heartsie Girl
Wonderful Wednesday Blog Hop – My Life Abundant
The Happy Now Blog Link Up #329 – JENerally Informed
The Wednesday Link Party 459 – Oombawka Design Crochet
Team Creative Crafts Link Party #102 – Artsy-Fartsy Mama
Wednesday Link Party #304 – To Grandma's House We Go
Weekday Wear Linkup – Away from the Blue
Thursday Fashion Files – Doused in Pink
Chic and Stylish Link Up – Mummabstylish
Remarkable Rags #4 – My Bijou Life
The Sunday Showcase – Chez Mireille
Link Up on the Edge #303 – Shelbee on the Edge
Style Link Up – Lizzie in Lace
Fancy Friday Linkup – Nancy's Fashion Style
Neverending Style Link Up – The Grey Brunette
Style on the Daily – Straight A Style
Spread the Kindness Link Up #283 – Shelbee on the Edge
Style with a Smile Link Up – Style Splash
Confident Twosday Linkup – I do deClaire
Turning Heads Tuesday – Elegantly Dressed and Stylish
Share the Wealth Link Up #23 – Big Fat Menopausal Life