This is a crochet pattern review of the Summer of 77 Rainbow Pillow pattern from designer Poppie Joe and Co. Review done by A Stitch Shy of Normal for EyeLoveKnots.
This post contains affiliate links for Lion Brand Yarn, Amazon, and WeCrochet. If you make a purchase by clicking on them, I make a small commission at no extra cost to you. Thanks for your support!
Find the crochet pattern review below, or click here to purchase the pattern on Ravelry!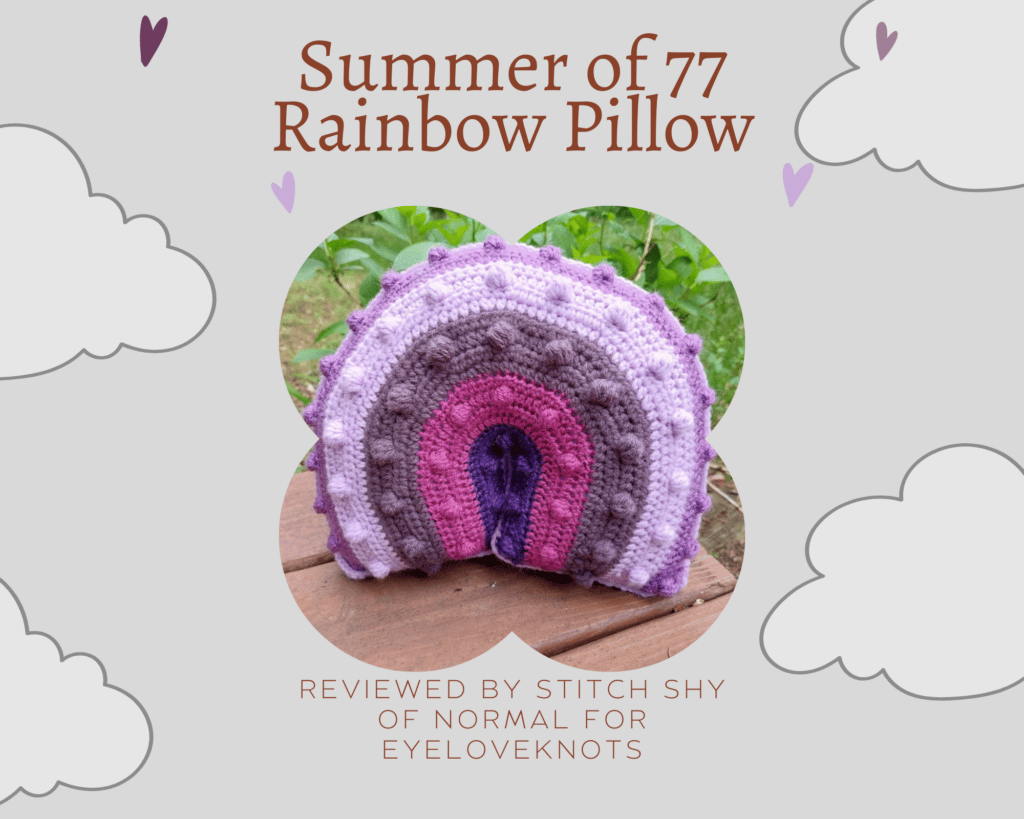 Visit with me on Instagram @astitchshyofnormal for all kinds of awesome crochet makes and inspiration!
I'm pretty sure you've seen these pillows before. I swear just a few years ago they were all the rage in the crochet community. It might not have been this exact pattern, or maybe it was, I don't know! This Ravelry page shows it being published in May of 2019 which fits my theories. At the time when I first saw the pictures all over Instagram, I didn't really feel an urge to make one for myself. I'm not sure why, thinking back on it. I guess I just needed to be in the right phase of my life because when I went on Ravelry and scrolled through random patterns (literally, I'm pretty sure I narrowed it down to worsted weight home items and hit "random"), this one popped out immediately and I knew I had to make one.
My mother-in-law and her partner are visiting us later this summer and my husband and I didn't really have anywhere for them to sleep. When we moved into this house a couple of years ago, there was a spare "bedroom" (this house has very small rooms but we love it overall) that we ended up using as a storage room. It had the ironing board and vacuum, all of our board games, any projects I was blocking that needed floor space, you get the idea. So the upcoming visit was a wonderful excuse to get my butt into gear and clean out that room! We also bought a bed, obviously, and I had fun picking out sheets and a blanket for it. Obviously I had to pick stuff I would like, because I plan to also use it for naps when no one is staying with us.
So I realized this pillow would make a perfect gift for my mother-in-law when she arrives. I could make one in her favorite colors, use it as a display pillow on the guest bed, and then let her know it can also go home with her as a memory of the trip! She adores pink and purple so it was easy to dig into my stash and grab enough shades to whip one of these cuties up. I hope she loves it!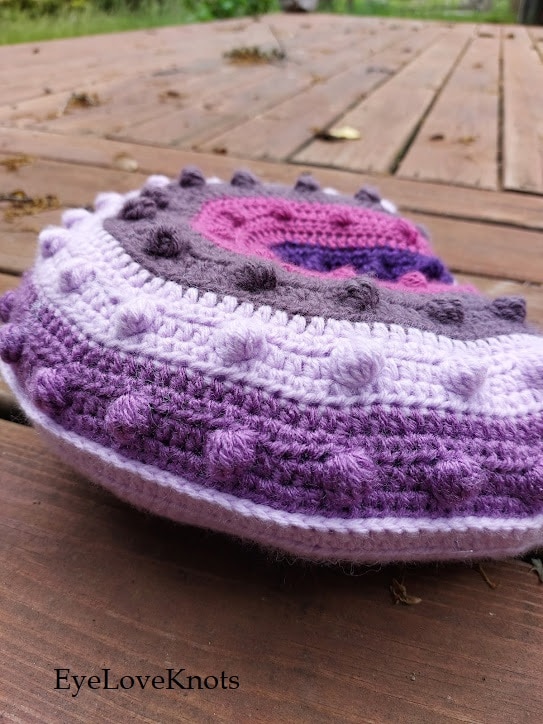 What Materials Do I Need to Make This Pillow?
Approximately 10ish ounces of worsted weight yarn, and I used various partial skeins from my stash but I'll do my best to list them here. You need 3-4 ounces of one color that you'll use for a stripe on the front and the entire back, and then about one ounce of each of the rest. I used… Lion Brand Heartland in probably "Kobuk Valley", Lion Brand Basic Stitch Premium which appears to be discontinued so we'll never know the colorway, Caron One Pound in "Fig", Big Twist Value in "Soft Purple", and Red Heart Super Saver in probably either "Orchid" or "Medium Purple".
3.5mm hook (the pattern calls for 4mm but I sized down, this will depend on your yarn choice) – I like Clover Amour Ergonomic Hooks
Stuffing, amount will vary based on your yarn and stuffing preferences
Needle, scissors, etc for basic assembly
The paid "Summer of 77 Rainbow Pillow" pattern from Poppie Joe and Co.
Material Notes:
As you might have noticed in my materials list, it's almost impressive that I didn't use the same yarn line for even two of the shades. My stash has a wide variety! If it's an affordable acrylic worsted weight, I almost certainly have at least one skein of it in my stash. For this reason, they didn't all work the best. The Lion Brand Heartland, Red Heart Super Saver, and Big Twist Value yarns all worked fine! They worked up well in the sizing, didn't gap too much, and my small hook didn't cause any trouble. It's the other two that caused me issues. The LB Basic Stitch Premium was too thin, I'd barely call it worsted actually. I've discussed this before, potentially even in other reviews. However, their website says this yarn is discontinued now so that's irrelevant, apparently! And finally, the Caron One Pound was far thicker than the rest. It did not like the small hook, my bobbles stuck out way too far in that color, and it kind of stretched out the pillow once I added that stripe.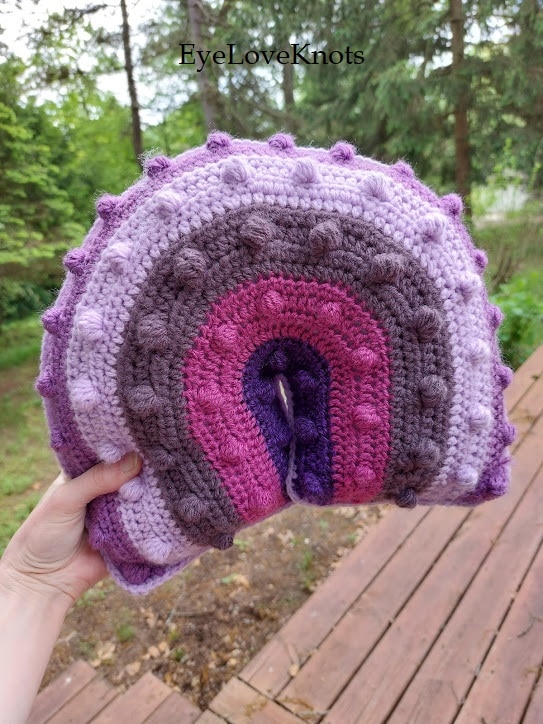 I would suggest trying to stick within one or two different yarn lines for this one. Red Heart Super Saver was wonderful and they have dozens of color options! Heartland was great as well and gives a nice tonal look. Big Twist Value might not have as many shades as the other two but it's very affordable and holds up well in home items. Any of these three are great options and I would even go so far as to say they could be mixed. Just be aware that if you vary too much, you'll have stretching or other issues with a much thicker/thinner yarn.
Also just as a note, you'll see that I used my 4th color for my back shade. The designer mentions in the pattern that it doesn't matter which one you use for the back. You could use the first or last shade to give it that continuous look fading into the back if you like. I just chose that shade because I had plenty of it, and it was one of the yarns that was behaving best and wouldn't stretch or pull the pillow from being a different weight.
With that in mind, I ask myself my usual question–would I use these all again for this pattern? No. I'd use the three mentioned as good options for sure, but the other two I would not recommend for this pattern. I guess the Caron One Pound you could do with a larger hook than I used, and using only different shades of that yarn, but I didn't do that so I can't review that as an option.
How Long Does it Take to Crochet a Pillow?
This took me probably about 10 to 12 hours. The front half with the colors feels much quicker because you see progress as you switch colors. The back half being worked in one shade and without bobbles makes it drag on a little bit.
Assembly took almost no time at all, it just uses more stuffing than you would expect because to get any firmness at all you really need to pack it full. But it's crocheted together rather than sewn, and it was finished before I had time to get bored with the edging.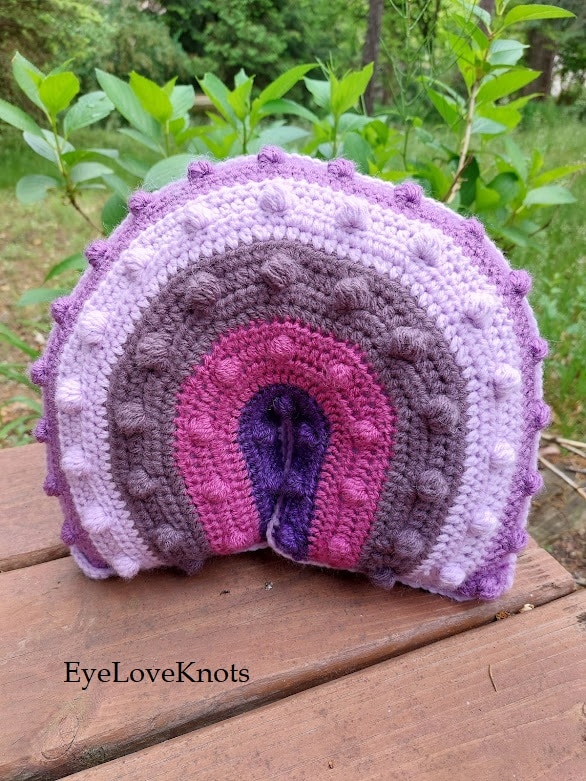 Gauge:
The pattern mentions the gauge not being relevant to this pattern, and I agree with that. You could use any size of yarn you want for this, as long as you're okay with the pillow being smaller or larger. You just need to make sure it gives a solid fabric to hold in the stuffing, and that the different yarns work well together. I'll still compare mine though.
Pattern: 8 HDC or 6 rows = 2″
Mine: 8 HDC is 2″ wide, but I end up with about 5.5 rows in 2″. This will make my pillow slightly larger than the pattern but not by a huge amount.
Measurements:
This pillow is supposed to be about 10 inches wide and 14 inches tall, but the designer clarifies that this will vary based on your yarn and stuffing amount.
Mine measures 13 inches wide and 11 inches tall, so I have a wider and shorter one. This is perfectly fine, everyone has a different result! I stuffed it generously, which is probably why it's wide.
Pattern Notes:
I love the creativity of this pattern. A rainbow can be a fairly simple shape, but this one manages to have a cute retro look to it no matter what colors you end up using! And the bobbles add beautiful texture to what could easily become a boring stitch pattern otherwise. I've scrolled through the projects page on Ravelry and it's wonderful to see how many different yarns people have used! This pillow has been made in velvet yarns, single colors, neutral shades, bright intense rainbow colors, anything you can imagine! I love seeing people express their creativity.
The biggest issue I had in my project was the different weights of yarn I used. All of them were classified as a weight 4/worsted yarn, but we all know there's a wide range within that category. I thought I was picking relatively similar ones but only realized mid-WiP that some of them had a decent difference between them. Specifically, the Caron One Pound (my dusty lavender shade) was much thicker than the rest. Also my pink, the Lion Brand Basic Stitch Premium, was noticeably thinner and ended up gapping a little bit once I stuffed the pillow. Again, this was my own "fault", and if you use all of the same yarn in different shades you shouldn't have an issue at all. I could have worked up a swatch with each of these yarns to see how they compared, but I didn't consider that option. And once I noticed it, I didn't want to switch yarns because I loved the color combination as it was.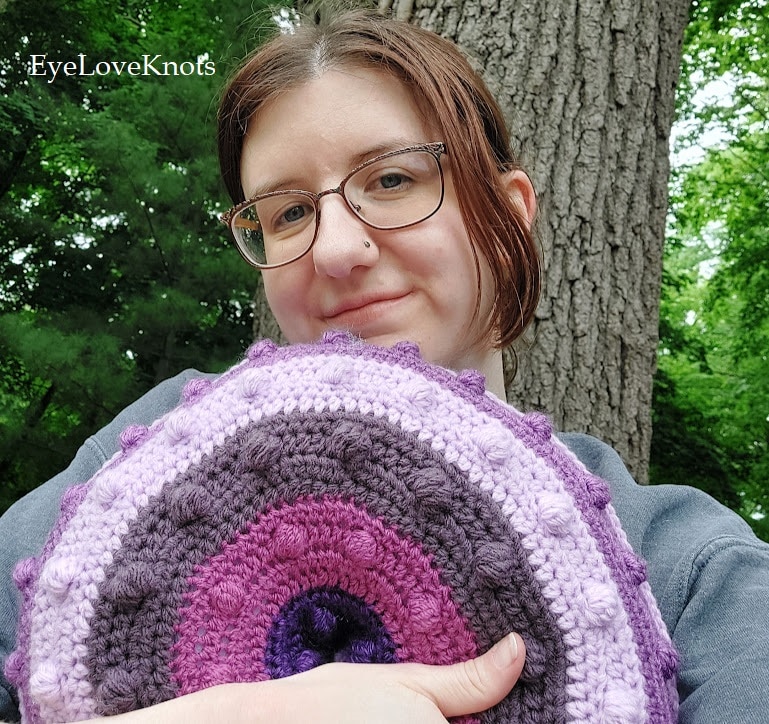 Was this enough of an issue to ruin the project? Of course not. It still looks adorable, and it doesn't bulge or ruffle or anything obvious. You can only see it when you look at the pink yarn and see the holes in between the stitches where it's pulled pretty tight, or if you compare the bobble sizes. But it's an adorable decorative pillow that doesn't serve an important functional purpose so I think it'll be okay!
When I was working the stripe with the thicker One Pound yarn (my dusty purple stripe), I found that working the bobbles as described in the pattern led to very large bobbles. So I simply reduced the number of times I was yarning-over during the stitch, and that reduced it by effectively one double crochet. This left them looking roughly the same size as their counterparts from other stripes!
This rainbow is actually one of the cutest things I've ever seen, let alone made. I can picture it being perfect for a couch pillow for decoration, and of course it would be super sweet in a child's room. It's perfect for all ages! I had a lot of fun stash-diving for this one but of course you could also buy yarn to coordinate the colors more intentionally. The versatility makes this a wonderful pattern in my opinion. It can be an affordable mashup of whatever colors you find, all the way up to a chic new decoration on your couch picked out in the perfect colors to match your living room.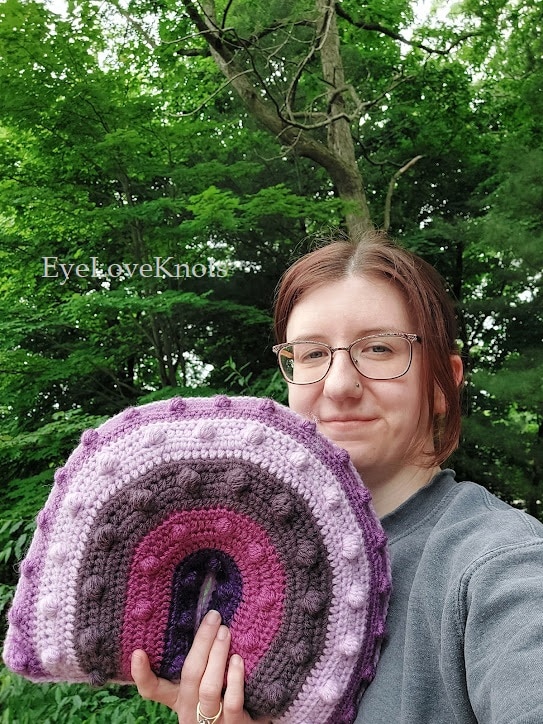 You might be thinking…Abby, if this pillow was specifically made for your new guest bed to go with this super-cute bed set, where are the pictures of the whole look together? Why did we not get beautiful interior shots of this rainbow propped up in its actual home? Well, the answer is that shipping delays suck sometimes. The bed was supposed to be delivered this past Saturday, but I got a call on Friday that while the mattress was ready for delivery, the box spring was not. So we're waiting another week. This is why you buy it well before you need it, because we still have two weeks of wiggle room once it (hopefully) arrives next weekend! So instead, you guys get all these awkwardly-posed outdoor photos where you wouldn't generally bring a pillow. If you follow me on Instagram, I'll be sure to show it off in the real intended placement as soon as the bed comes in!
Next time I make one of these, I think I'm going to go for a different color scheme. I can't decide whether I want to go super fashionable with grays and black, or really out there with neons and bright shades. That's generally where my color preferences fall, I like to go all-out or totally safe. What color combo would you make?
Don't forget to visit with me on Instagram @astitchshyofnormal for all kinds of awesome crochet makes and inspiration.
Join one of our awesome Facebook groups to share your creations, and see what others are up to!
– EyeLoveKnots Crochet & DIY Community
– DIY Home On Rockwood Lane
– Alexandra Lane Lifestyle
Linked Up To…
Beautifully Made Link Party for Home Decor 218 – Across the Blvd
Linky Ladies Party #225 – The Purple Poncho
The Loop Scoop #39 – Moogly Blog
Inspirations Link Party 3 – Pieced Pastimes
Craft Schooling Sunday – Creative Jewish Mom
Happiness is Homemade – Decor Craft Design
Sundays on Silverado #97 – The House on Silverado
Handmade Monday #282 – Sum of their Stories
Link Up Potpourri #48 – My Bijou Life
You're the Star – Decor Design Craft
Craftastic Monday – Sew Can Do
The Really Crafty Link Party #319 – Keeping it Real
641st Inspire Me Tuesday – A Stroll Thru Life
Fabulous Party 428 – Lou Lou Girls
Talent-Sharing Tuesdays Link-Up 22 – Scribbling Boomer
The Happy Now Blog Link- Up #325 – JENerally Informed
All About Home Link Party #148 – Common Ground
Tuesday Turn About #155 – My Wee Abode
Linky Party – Karins Kottage
Grace at Home No 471 – Imparting Grace
Encouraging Hearts and Home Blog Hop – My Slices of Life
Creatively Crafty Link Party #332 – Try It – Like It – Create It
Thursday Favorite Things #544 – An Artful Mom
Wonderful Wednesday Blog Hop – My Life Abundant
Wonderful Wednesday – Oh My Heartsie Girl
Team Creative Crafts Link Party #98 – Artsy-Fartsy Mama
The Wednesday Link Party 455 – Oombawka Design Crochet
Traffic Jam Weekend Link Party #328 – My Bijou Life
Create, Bake, Grow and Gather Party #524 – Shabby Art Boutique
Funtastic Friday Link Party #389 – Simply Beautiful by Angela
Saturday Sparks Link Party 519 – Pieced Pastimes
A Morning Cup of Joe – The Cottage Market
Anything Goes – How Sweet the Sound
Fabulous Friday Link Party – Peacock Ridge Farm
Home Matters Linky Party #384 – Modern on Monticello
Share the Wealth Link Up #22 – Big Menopausal Life