This is a crochet pattern review of the Jane Throw Blanket pattern from designer Krista Cagle from Easy Crochet. Review done by A Stitch Shy of Normal for EyeLoveKnots.
This post contains affiliate links for Lion Brand Yarn and WeCrochet. If you make a purchase by clicking on them, I make a small commission at no extra cost to you. Thanks for your support!
Find the crochet pattern review below, or click here for the free crochet pattern on the Easy Crochet blog.
In a hurry? Pin this for later when you have more time.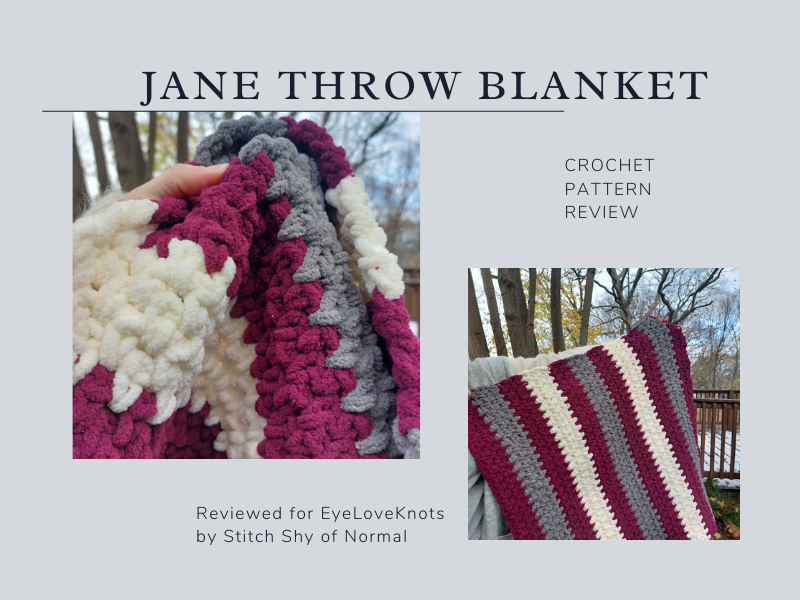 Visit with me on Instagram @astitchshyofnormal for all kinds of awesome crochet makes and inspiration!
My brother texted me last month with an interesting request. He shared that a blanket he loves to use on his couch, made by our mother, was also a favorite snuggle spot for his cat. This cat, named Apollo, is a big gorgeous baby that deserves a life of luxury, so my brother was asking if I could make Apollo a similar blanket in his own size that would be only for him. Now, we all know the most likely result is that Apollo will take the full-size one and my brother will be left with the replacement. But we have to try!
I knew the yarn my mother had used was Bernat Blanket, and I had a couple skeins in my stash! Magically I even had the exact colors (I think) that were used in the original version from my mother, the cream and the gray. However, I wasn't sure it would be quite enough, and I added in a dashing burgundy color for extra pizzazz. (I only had purple and pink otherwise, and while my brother didn't care about the color choices and said the cat wouldn't either, I wanted it to be a matching-ish set just because why not?)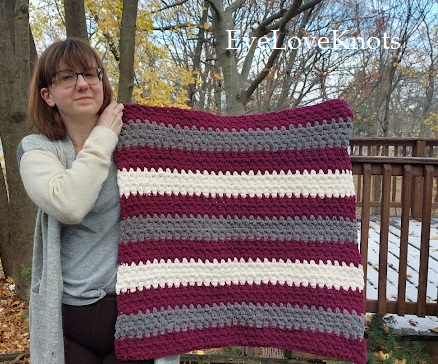 I tried a few other patterns first, and nothing felt quite right after a couple of rows. I was trying to match the texture of a blanket made using an unknown pattern (Mom made it years ago and doesn't crochet all that much anymore so she had no idea what pattern she used), and my first attempts were too loose, too tight, ruffling too much, or just not matching the general vibe. Then I realized I didn't necessarily need to use a pattern written for Bernat Blanket. I could just find a pattern made for super bulky yarn and see how it worked! The very next option I tried was the Jane Throw Blanket, written using Lion Brand Wool Ease Thick & Quick, and when I worked up a swatch I instantly knew it was the perfect choice.
I'm giving the blanket to Apollo's owner today and I hope he loves it!
Update: I just got back from a family dinner and the first thing my brother said was that he wants a human-size matching one for himself. Apparently we're related because that's what I wanted too! He'll be giving it to his cat later tonight most likely, but I'm happy the human half of this relationship enjoyed the gift.
What Materials Do I Need to Crochet a Blanket?
Bernat Blanket Yarn, about 4 total skeins. (I used most of one skein each of the ivory and gray, and then a touch over one skein of the burgundy so you'd likely want two for comfort if you're making the same size)
M13/9mm Crochet Hook – I like to use Clover Amour Ergonomic Hooks
Jane Throw Blanket, Free Crochet Pattern from Easy Crochet
Material Notes:
I do want to point out that the Bernat Blanket yarn does NOT say it is intended for pets, and there's a version specifically intended to be used for your furry friends (the Bernat Blanket Pet version, which I can't find anymore so might be discontinued). I trust my brother as a good cat-dad to keep an eye on how Apollo treats this blanket and if he's chewing on it too much or it starts to fall apart, I will find a better yarn option and make it again. But I think he'll behave himself just fine.
That being said, I love how this yarn/pattern choice worked up. The stitch pattern works so well for a super bulky yarn. It has warmth and thickness, but it isn't stiff or heavy. I can see it being gorgeous with Wool-Ease as well, but since I'm not a wool fan myself and this blanket was meant to "match" the human one, this was perfect. It's soft, and I'm tempted to make one in my own size of this exact color combination! My brother received it tonight and right away was squishing it against his face saying "it's so soft!" I agree, this yarn felt lovely on my hands so I'm sure using it as a blanket feels even better.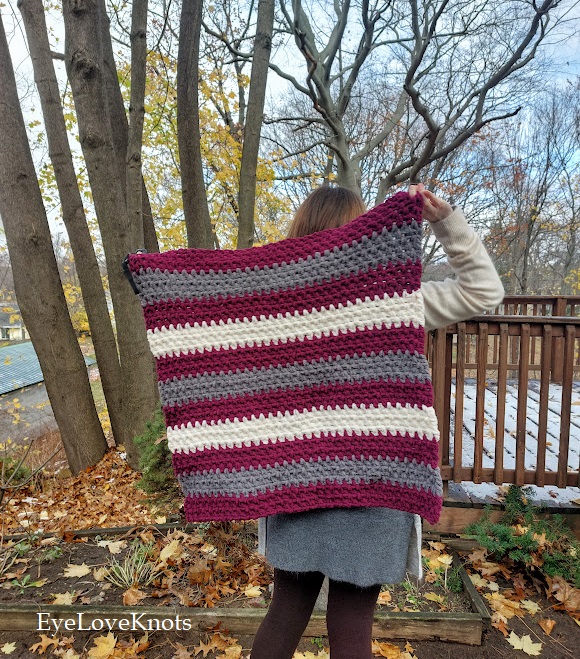 The yardage doesn't perfectly line up with the pattern guideline in my case. If I had used Wool Ease Thick n Quick, and done the full stroller blanket the designer says I would have only used about 487 yards. Instead, I made mine slightly smaller (using the stroller width and leaving off 7 rows) and I used over 500, something in the range of 550 yards. This is because it's a different gauge for sure, but I was using this pattern to help guide my stitch and row counts and using the pattern texture I liked.
Would I use this yarn again to make another blanket? Yes, in a heartbeat! I also really enjoyed how my color blocks came out, so I would absolutely do this again with taller blocks of color for a human blanket.
How Long Does it Take to Crochet a Blanket?
Remember I made a somewhat small version! This does not represent all sizes in any way. But if you're also considering a stroller/baby blanket (or kitty) size, it took me about 5-6 hours in all.
Gauge:
Pattern gauge is 4″ being 7 rows by 8 stitches.
My blanket gauge is 4″ being 8.25 rows and 10 stitches.
This fits with my yardage being higher. I'm willing to bet that one factor is this yarn being more light and fluffy, so it squishes down more and takes more rows/stitches to reach the same dimensions.
Measurements:
It's hard to compare this too strictly since I was only using the pattern sizing as a general guide. The pattern strongly encourages you to check gauge to make sure you get the right sizing you want, and I wholeheartedly agree! I just didn't care all that much since I was just asked to make a blanket "roughly 3′ x 3′ size" for a cat that won't actually be draping it over a stroller or putting it on a bed, so I had some freedom to do what I wanted.
The actual stroller size is intended to be 35″ x 30″, so that was the obvious choice for my starting template.
My finished blanket in "Apollo size" measures 27″ x 32″.
So this was a bit smaller than intended. I think that was partly due to my mistake in thinking the width gauge would be about the same and not measuring it. If I could go back, I would add a few more stitches to reach about 30-32″ inches wide. I never meant for it to be a rectangle, I was aiming for a square, so I'm happy with my height choice. I actually stopped at 55 inches instead of the listed 62, because it looked roughly square and I was at a good striping point (I wanted to end on burgundy so that would be visibly the "main" color).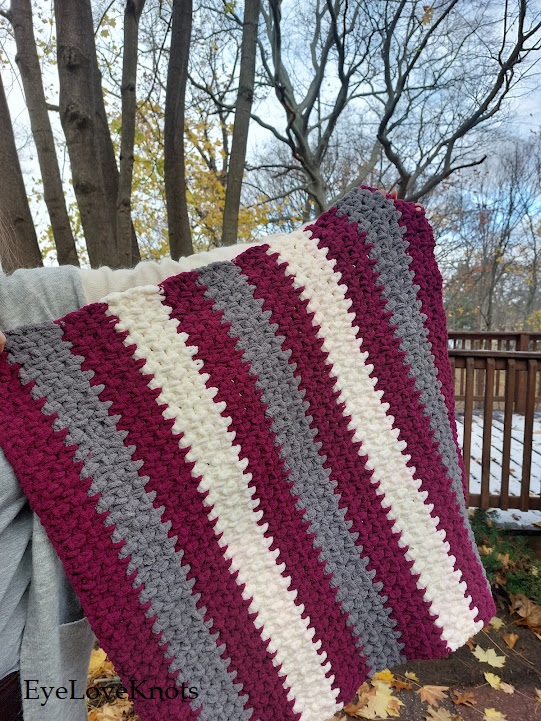 Pattern Notes:
Very simple stitching, and I love that. If you were using the suggested Wool-Ease Thick & Quick, it would be beautiful in a solid color to let the texture shine, or in a variegated like many of their colorways it would tone down the intensity. For my blanket, I felt this yarn would look better in some sort of striping or alternating colors, so I did the math on about how many rows I would want (55-60) and decided how best to mix my colors up. I considered random but I wanted a more polished look. I chose to alternate every 5 rows to make counting super easy, and because I had more burgundy than the other colors I decided on a color pattern of A-B-A-C-A (if that makes any sense). Instead of doing A, then B, then C…I put A in between the other two colors and alternated those with each other. This way burgundy was the star and I didn't run out of the other two!
I really appreciated a nice refreshing simple pattern. The designer gives you dimensions and estimated yardage for EIGHT entire sizes, but it's also very possible to customize your own sizing using those guidelines. They even explain how you can do that yourself! The website it's found on is called "Easy Crochet" and that's very true in this pattern. I'm really happy I found this one and I'm going to use it again.
I would say this pattern is pretty beginner-friendly. It's a really simple stitch but it helps you practice keeping an even tension so your blanket stays a nice straight-edge rectangle. And working in a super bulky yarn like this can help you finish a project nice and quickly, which makes you feel accomplished! I would expect a full adult blanket in this (like a throw blanket for the couch, or the pattern even goes up to king size!) to take a few weeks at least, but that's not too bad for a blanket!
Usually I try to tell you guys here if I had any issues or any confusion with the pattern, but I honestly don't have anything to share on that front! Nothing stood out as being confusing, and everything worked out just about as I expected. I suppose my biggest mistake here was not actually checking my gauge but I'm sure if you're making a blanket where the size matters you would do so.
In the end, I ended up with a blanket I truly love and I really hope the feline recipient enjoys it too. My cat-nephew deserves the best!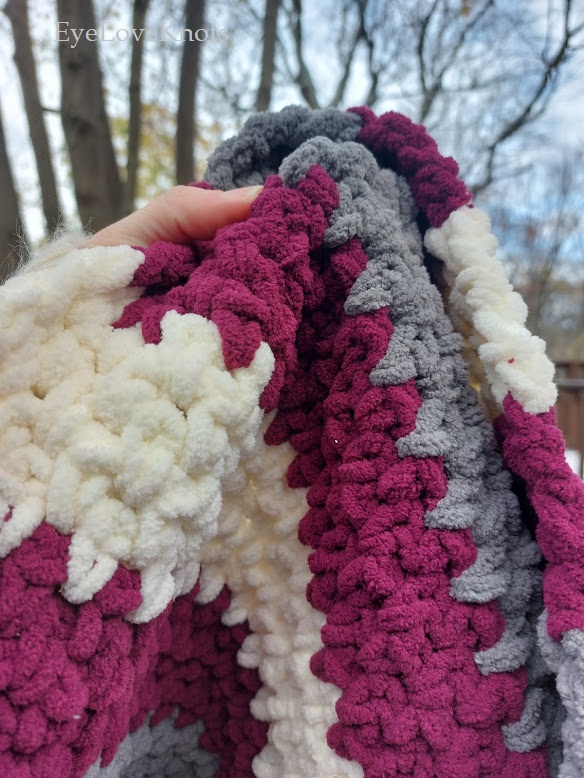 Don't forget to visit with me on Instagram @astitchshyofnormal for all kinds of awesome crochet makes and inspiration.
Join one of our awesome Facebook groups to share your creations, and see what others are up to!
– Yarn Crafts & Coffee Community
– DIY Home On Rockwood Lane
– Alexandra Lane Lifestyle
Linked Up To…
Craft Schooling Sunday – Creative Jewish Mom
Happiness is Homemade Link Party – Decor Craft Design
You're the Star Blog Hop – Decor Craft Design
Sundays on Silverado #120 – The House on Silverado
Share the Wealth Link Up #31 – Big Fat Menopausal Life
Beautifully Made Home Decor Link Party 241 – Across the Boulevard
All About Home #172 – Common Ground
Tuesday Turn About #179 – My Wee Abode
Home Matters Linky Party #408 – Modern on Monticello
Farmhouse Friday 280 – County Road 407
Anything Goes Linky #356 – My Random Musings
Linky Ladies Party #231 – The Purple Poncho
The Loop Scoop 51 – Moogly Blog
Handmade Monday #304 – Sum of their Stories
The Really Crafty Link Party #341 – Keeping it Real
Craftastic Monday Link Party – Sew Can Do
You're the Star Blog Hop – Decor Craft Design
Hello Monday – Pink Lady
664th Inspire Me Tuesday – A Stroll Thru Life
Fabulous Party 452 – Lou Lou Girls
Talent Sharing Tuesday – Scribbling Boomer
The Happy Now Blog Link- Up #349 – JENerally Informed
Link Party 479 – Oombawka Design Crochet
Team Creative Crafts Link Party #122 – Artsy-Fartsy Mama
Wonderful Wednesday – Oh My Heartsie Girl
Wednesday Link Party #324 – To Grandma's House We Go
Thursday Favorite Things #568 – An Artful Mom
Creatively Crafty Link Party #356 – Try It – Like It – Create It
Encouraging Hearts and Home Blog Hop – My Slices of Life
Grace at Home No. 488 – Imparting Grace
Crafty Creators Link Party #45 – Life as a LEO Wife
Create, Bake, Grow & Gather Party #548 – Shabby Art Boutique
Funtastic Friday Link Party #413 – Simply Beautiful by Angela
A Morning Cup of Joe – The Cottage Market
Pink Saturday – How Sweet the Sound