This is a crochet pattern review of the Shabby Rose Tote pattern from designer NT Maglia Crochet Design for Leisure Arts. Review done by A Stitch Shy of Normal for EyeLoveKnots.
This post contains affiliate links for Leisure Arts, Amazon, WeCrochet and LoveCrafts. If you make a purchase by clicking on them, I make a small commission at no extra cost to you. Thanks for your support!
Find the crochet pattern review below, or take a look here at the eBook with this pattern and many more!
In a hurry? Pin this for later when you have more time.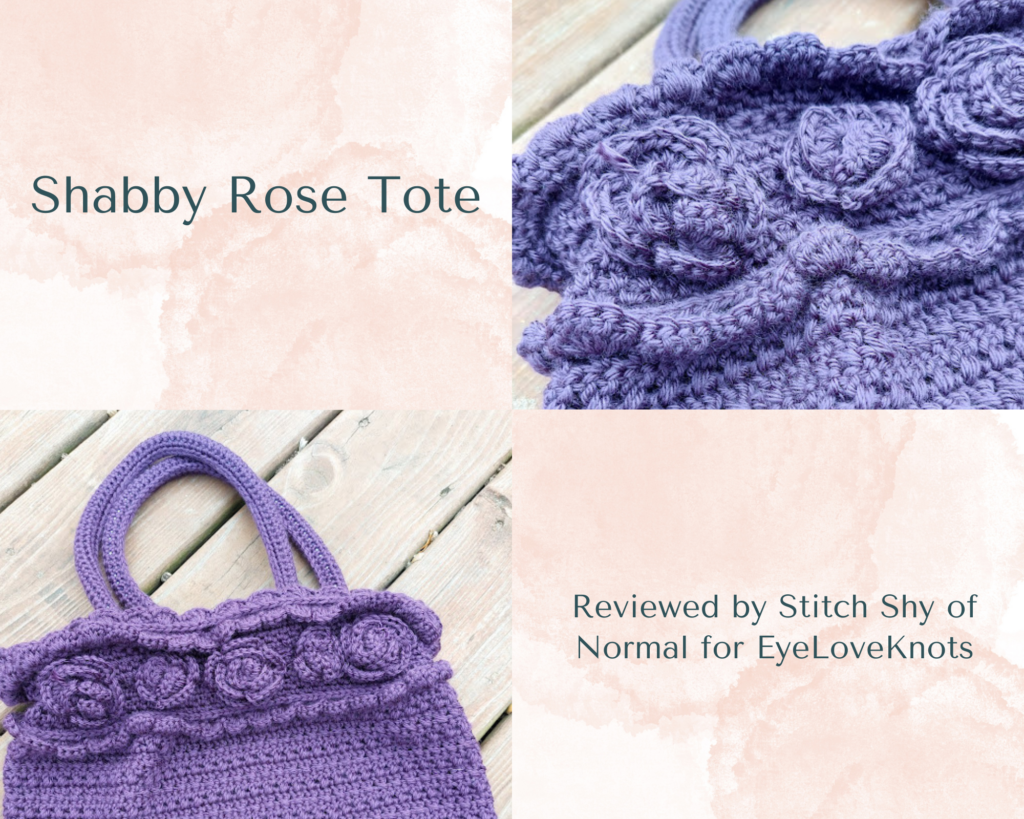 Visit with me on Instagram @astitchshyofnormal for all kinds of awesome crochet makes and inspiration!
I love a good bag. I've made so many bags in the past–market bags, totes, purses, and so much more. I just love storing things in them and carrying treasures around! If you want to plan my perfect day, bring me to a big antique store or craft fair with one of my stretchy mesh market bags and let me browse around all day and fill that thing up with pretty things.
Anyway, where was I? I love making bags. So when I realized I needed to work through my yarn stash this year (which I've made my actual goal for 2023), I dove into my stash of eBooks that I've bought to try to avoid buying extra patterns too. I found this Leisure Arts one called "Terrific Totes", and browsed through it. This adorable beige tote bag with thick handles and adorable flowers caught my eye immediately! And it only requires 7-800ish yards of yarn, which sounds like a lot but with most of the affordable big name brands that's just like two or three skeins! I was sure I had that on my shelves somewhere so I would only need the extra pieces like cotton rope. Perfect!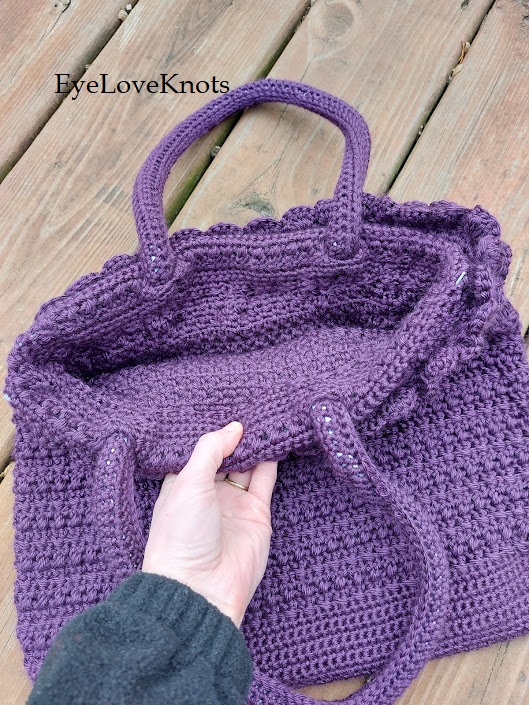 I thoroughly enjoyed the pattern itself, it uses one of my favorite stitches. It's a little mindless for the middle bag portion, but that's not the worst thing in the world. You can put on something interesting and just zone out stitching around and around and around! I really enjoyed the flowers on top, too. The structure wasn't perfect in my experience but I think that was up to my yarn, not the pattern (I'll explain that later on.) I enjoyed this pattern and I recommend you check it out if you've wanted to make an adorable everyday tote!
What Materials Do I Need to Crochet a Tote?
Caron Simply Soft in "Plum Perfect", 2.5 skeins (but I wouldn't actually recommend this yarn for this pattern, see details below!)
4.5mm Crochet Hook – I like to use Clover Amour Ergonomic Hooks
Scissors, yarn needle, etc. for assembly
Small Amount of Plastic Canvas (two strips the width of your bag by about 1.5″ tall so one sheet should do it)
Cotton rope, two pieces about 24″ long and about .5″ in diameter (I bought mine at Joann by the yard but this would be a cheaper option)
Shabby Rose Tote Crochet Pattern, found in the Terrific Totes eBook from Leisure Arts (This book includes several wonderful bag patterns of all styles!)
Material Notes:
To be totally honest, I could have picked a better yarn. I try my best to make good choices on this every time and usually I'm able to figure out early on if it's not a great fit and change plans. In this case, however, I didn't realize that this yarn was a poor fit until I was up to adding the interior bits like the rope handles and the plastic canvas. By that point it was way too late to start over!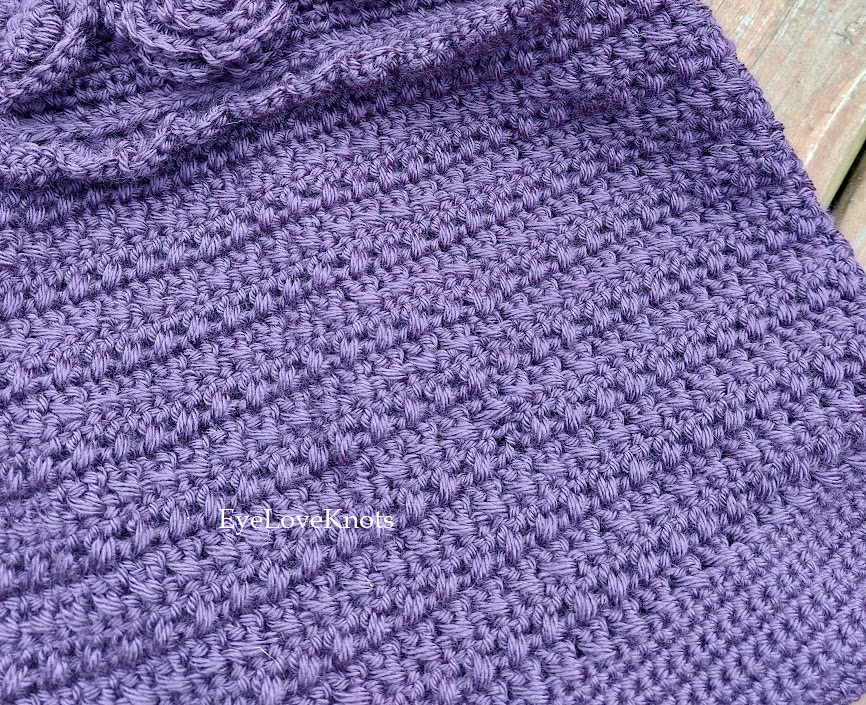 The color is gorgeous. The fiber is definitely a good fit, I would choose something acrylic for this with no issues. The affordability is obviously one of my biggest praises of this yarn (it's so soft and yet one of the cheaper options in craft stores!). However, I think the softness was kind of my problem with it here. Plus, while it's a worsted weight yarn, I believe it's on the thinner end of the category.
So when you're doing something that stretches the stitches pretty tight such as wrapping it around cotton rope for a handle, the stitches will gap if the yarn is too thin, and then the rope shows through. (See the picture below.) And if it's thin or kind of soft, and you put sharp-edged plastic canvas inside the top, the canvas can easily poke through. (See the other picture below.) So I have to admit defeat on this yarn choice. I would personally not recommend using Caron Simply Soft for this pattern.
You know that I won't tell you just what not to use though. Of course I can't speak from experience here but I can try to use my failure for your benefit. What would I use instead? Probably Red Heart Super Saver if I wanted to stick with acrylic, plus it's also a very affordable option. I'd be interested to see it in cotton too, in which case I would likely use the basic option of Lily Sugar'n Cream. (Yes, that's how you spell that one, apparently.) Anything that comes to mind when you think of a durable worsted weight yarn, and you don't necessarily need to focus on softness. You actually want it a little more on the sturdy side anyway. Machine-washable isn't really applicable here with the plastic and rope inside, so that also doesn't matter much when choosing!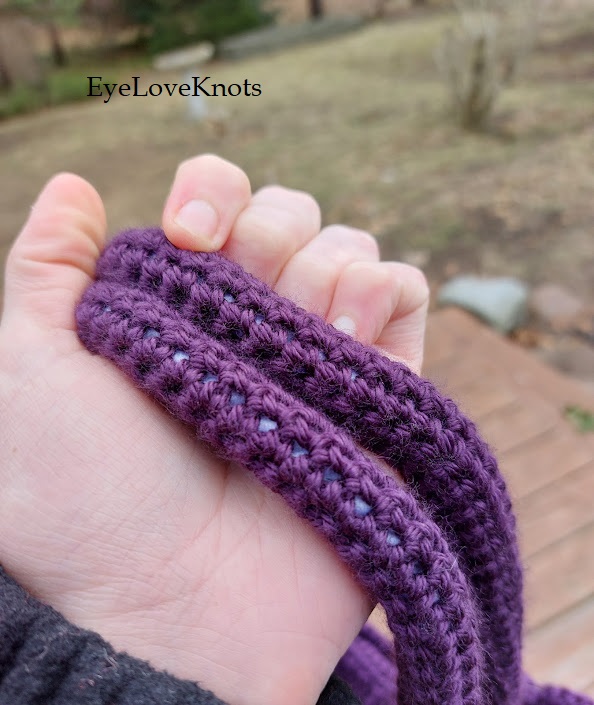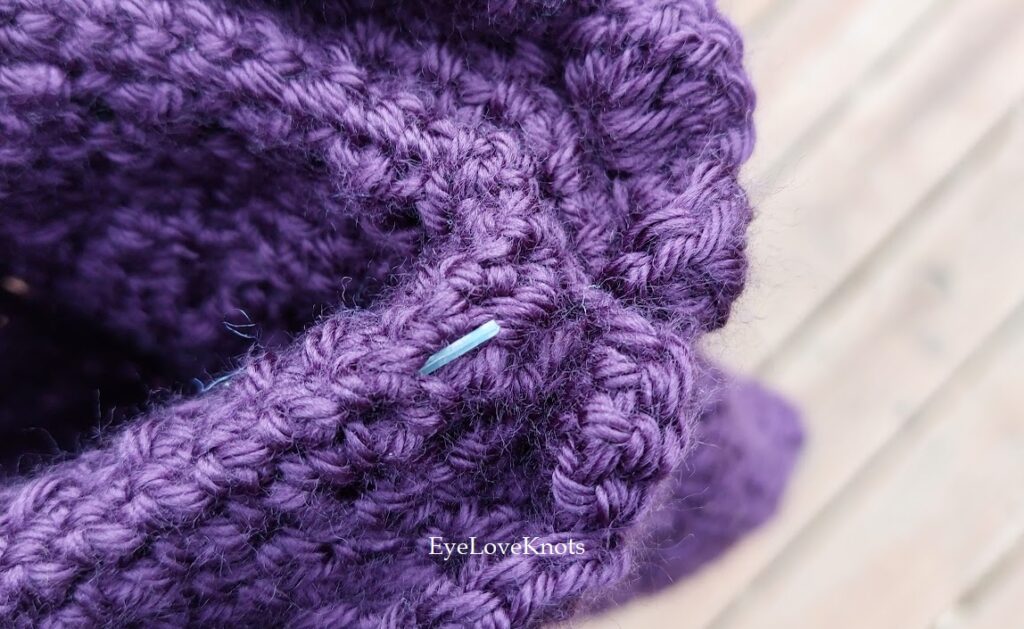 How Long Does it Take to Crochet a Tote?
I estimated my work on this one to be roughly 7-8 hours, plus some assembly. Maybe 10 hours all together if you count the flowers and the sewing! That's not too bad for a decently large tote bag, many of them feel more tedious (I've crocheted a lot of bags in my time) and don't work up as quickly as this one did.
Gauge:
The pattern gauge for the main portion (worked in crossed DC) is 8 stitch repeats by 8 rounds = 4″.
My gauge for that same section is 4″ equals roughly 9 stitches by about 8.25 rows.
So my gauge ended up smaller than the pattern requested. I did not work a swatch for this project, knowing that a slight variation in bag sizing was perfectly acceptable. I figured I would see how large the base looked once I was done with those increases, then decide if it seemed like a good size.
I feel that this slightly backfired on me since I had issues with my canvas and yarn peeking through as I mentioned, so I could have sized up but then there would have been larger gaps as my stitches stretched. I think my issue here was more my yarn choice than the hook or my tension.
Measurements:
This bag is intended to be 17″ wide by 14″ high (not including handles).
My finished bag measures 15.75″ wide and about 12.5″ tall. This fits with my gauge coming out small, so this doesn't surprise me. Again, I should have used a thicker yarn and then with that yarn I might have even sized up a hook. My bag came out small which is not at all a problem, it just doesn't fit great with my canvas or handle ropes.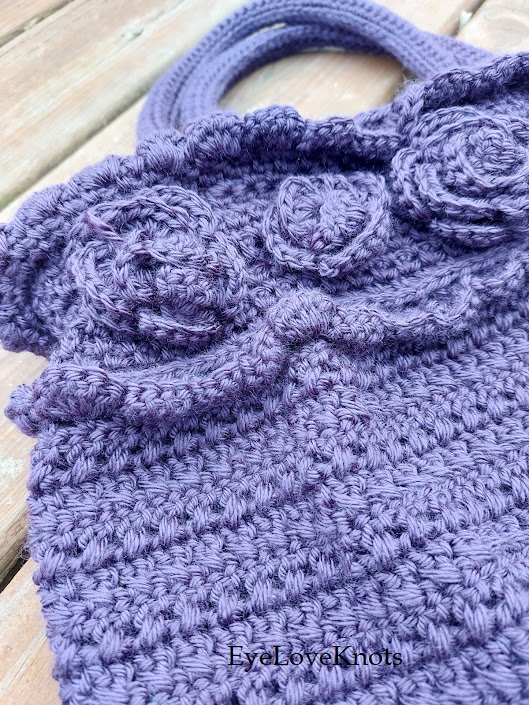 Pattern Notes:
I don't want you to get the wrong impression from all of my complaining here. The actual pattern is wonderful! None of my issues fall to the designer, I just made a poor call on my yarn and then also chose not to swatch. Learn from my mistakes! If it's something that will include things like canvas or rope in the structure, try to work up those sections or portions of them and then see how those materials fit inside. I could have made a handle first and saved myself some trouble.
The stitching is gorgeous, and the crossed DC makes for a lovely middle portion. This stitch is tall enough that you feel like it's progressing through the bag quickly, and it has some good stretch. But it's compact enough with a smaller hook so things won't fall out or really peek through. The base is also in solid stitching so nothing falls out at the bottom either.
My biggest confusion was in the finishing touches, like the folding over for the plastic or attaching the handles (which actually happens before the plastic). I was unclear on where to sew the handles in to attach them and it just says "sew ends in place on wrong side". I essentially did a test run where I pinned my handles in and folded the canvas over to where I thought I would attach it, then sewed the handle ends where it felt right after that. I was actually incorrect on where the bag folded down, but I fudged things a little and made it work. I would have appreciated more pictures or diagrams there on how to attach everything.
I love the addition of the flowers! The pattern actually wants you to make 7 total flowers but I had caught on at this point that my bag was smaller. So I made 3 large roses instead of 4, and then only 2 small ones instead of 3. I then sewed them on alternating and it filled up the space nicely! If I make another one of these I might put flowers on both sides for extra pizzazz, but I wasn't entirely sure so I followed the pattern this time on placement.
I just want to emphasize one last time that I did love this pattern! It was simple and lovely and I really do like what I ended up with. The pattern is a 99/100 for me, but my bag with my yarn choice is about an 80/100. I want to try again with a better (thicker) yarn option and see how much more I enjoy the result. Maybe someone will get one of these as a gift so I can justify stitching up another one!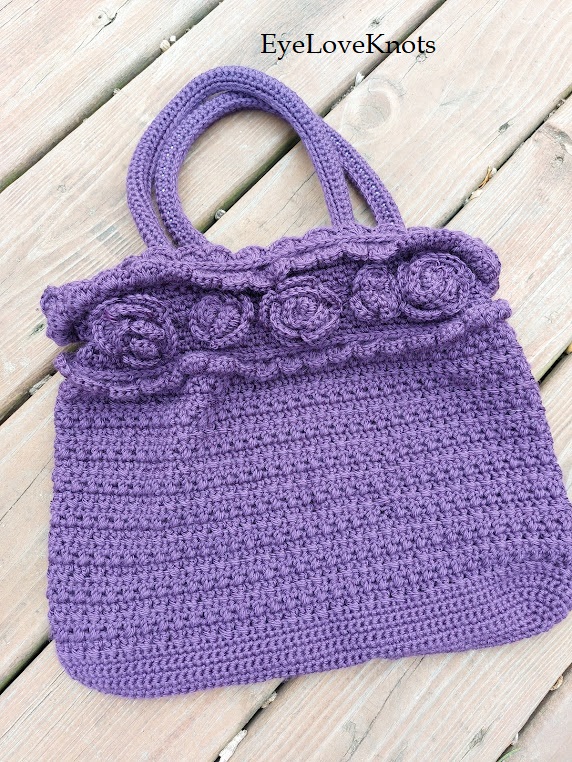 Don't forget to visit with me on Instagram @astitchshyofnormal for all kinds of awesome crochet makes and inspiration.
Join one of our awesome Facebook groups to share your creations, and see what others are up to!
– Yarn Crafts & Coffee Community
– DIY Home On Rockwood Lane
– Alexandra Lane Lifestyle
Linked Up Too…
You're the Star Blog Hop – Decor Craft Design
Happiness is Homemade 464 – Decor Craft Design
Sundays on Silverado #130 – The House on Silverado
Handmade Monday #312 – Sum of their Stories
The Really Crafty Link Party #350 – Keeping it Real
Hello Monday – Pink Lady
Anything Goes Linky 363 – My Random Musings
Craftastic Monday Link Party – Sew Can Do
670th Inspire Me Tuesday – A Stroll Thru Life
Fabulous Party 461 – Lou Lou Girls
The Happy Now Blog Link-Up #358 – JENerally Informed
Linky Ladies Party #233 – The Purple Poncho
Create, Bake, Grow & Gather Party #557 – Shabby Art Boutique
Funtastic Friday Link Party #422 – Simply Beautiful by Angela
A Morning Cup of Joe – The Cottage Market
Pink Saturday – How Sweet the Sound
Vintage Charm Party #377 – My Thrift Store Addiction
Wonderful Wednesday Blog Hop – My Life Abundant
Wednesday Link Party #336 – Grandma's House We Go
Thursday Favorite Things #578 – An Artful Mom
Encouraging Hearts and Home Blog Hop – My Slices of Life
Grace at Home No. 495 – Imparting Grace
Linky Party – Karins Kottage
Crafty Creators Link Party #55 – Life as a LEO Wife
Creatively Crafty Link Party #366 – Try It – Like It – Create It
The Loop Scoop 56 – Moogly Blog
The Wednesday Link Party 491 – Oombawka Design Crochet
Share Your Crafts Link Party #4 – White House Crafts