This is a crochet pattern review of the Sloth, Panda, and Koala Amigurumi designed by Julia Kor for Fionadolls. Review done by Candace of T&C Crafters for EyeLoveKnots.
This post contains affiliate links for Etsy, Amazon, and WeCrochet. If you make a purchase by clicking on them, I make a small commission at no extra cost to you. Thanks for your support!
Find the crochet pattern review below, or click here to purchase the pattern Fionadolls on Etsy!
In a hurry? Pin this for later when you have more time.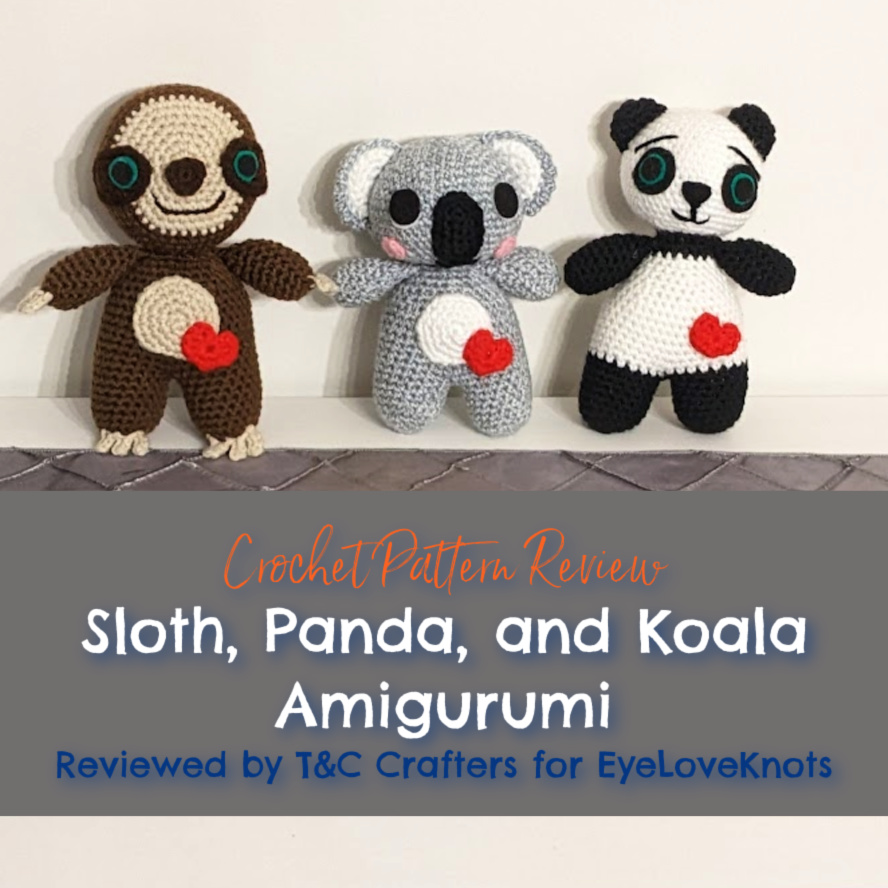 Visit with me on Facebook and Instagram for all kinds of awesome crochet makes and inspiration.
Last July, I attended a first birthday party for one of our family's favorite little girls. She absolutely LOVES sloths, so I knew I needed to make her a special sloth stuffie. After looking through Etsy and Pinterest for some inspiration, I fell in love with the Sloth Amigurumi pattern by Fionadolls. I loved how detailed it was and that it would be the perfect size for a one-year-old to carry it around. The pattern came in a bundle with an adorable panda and koala as well, but since I was crunched for time then, I just made the sloth.
Flash forward to this year when I am in ultimate market prep mode – I knew I wanted to make more sloth stuffies based on the amazing response I got from the one I previously made. Since all three animals in the pattern bundle are not only adorable, but they also feature a small heart, I figured Valentine's Day would be the perfect time to work up the entire bundle of patterns.
I am so incredibly pleased with how each of the animals from the Sloth, Panda, and Koala bundle by Fionadolls turned out! They each include their own specific details that make them such great reflections of the actual animals. I would definitely recommend trying out this pattern to anyone that has prior amigurumi experience. While it is a bit intensive adding all the details, the finished product makes it so worth it!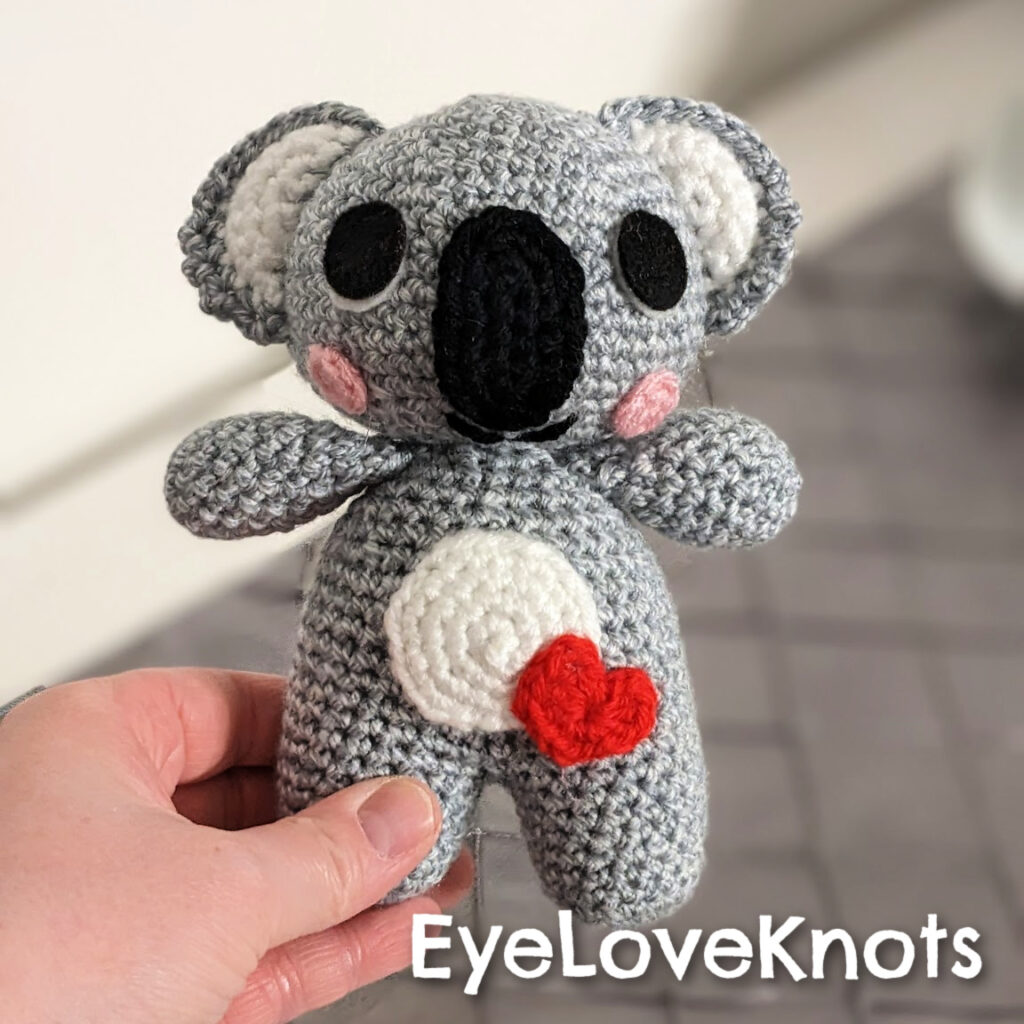 What Do You Need to Make a Sloth, Panda, and Koala Amigurumi?
Sloth: I Love This Yarn in Brown, Linen, and Red and Red Heart Super Saver in Coffee
Panda: I Love This Yarn in White, Black, and Red
Koala: I Love This Yarn in Silver Mist, Black, White, Soft Pink, and Red
G6/4mm Crochet Hook – I love using Clover Amour ergonomic hooks!
B2/2.5mm Crochet Hook – I used my WeCrochet Dots hook for this portion.
Yarn Needle
Black Felt Eyes with Color Accents (You could also use safety eyes – 16mm is what the pattern recommends)
Hot Glue Gun and Glue Sticks
Sloth, Panda, and Koala, Paid Crochet Pattern by Fionadolls via Etsy
Material Notes:
This pattern calls for bulky yarn with some finer yarn used for accents. Since I wanted my finished amigurumi to be on the smaller side, I opted for worsted weight yarn – specifically Hobby Lobby's I Love This Yarn. Whatever weight you choose to use, be sure that you are consistent throughout the project so you don't have different features working up in the wrong proportions.
The bodies and most of the features for all three animals are meant to be made with bulky yarn. In the pattern, the designer provides a handful of options for choosing what yarn to use. For some of the details on the animals' faces, you will also need a lighter weight yarn, specifically in black. One of the places this is meant to be used is in making the panda's eyes. Since I didn't have a lighter weight yarn that was working well, I opted to use larger felt circles instead of crocheting this part.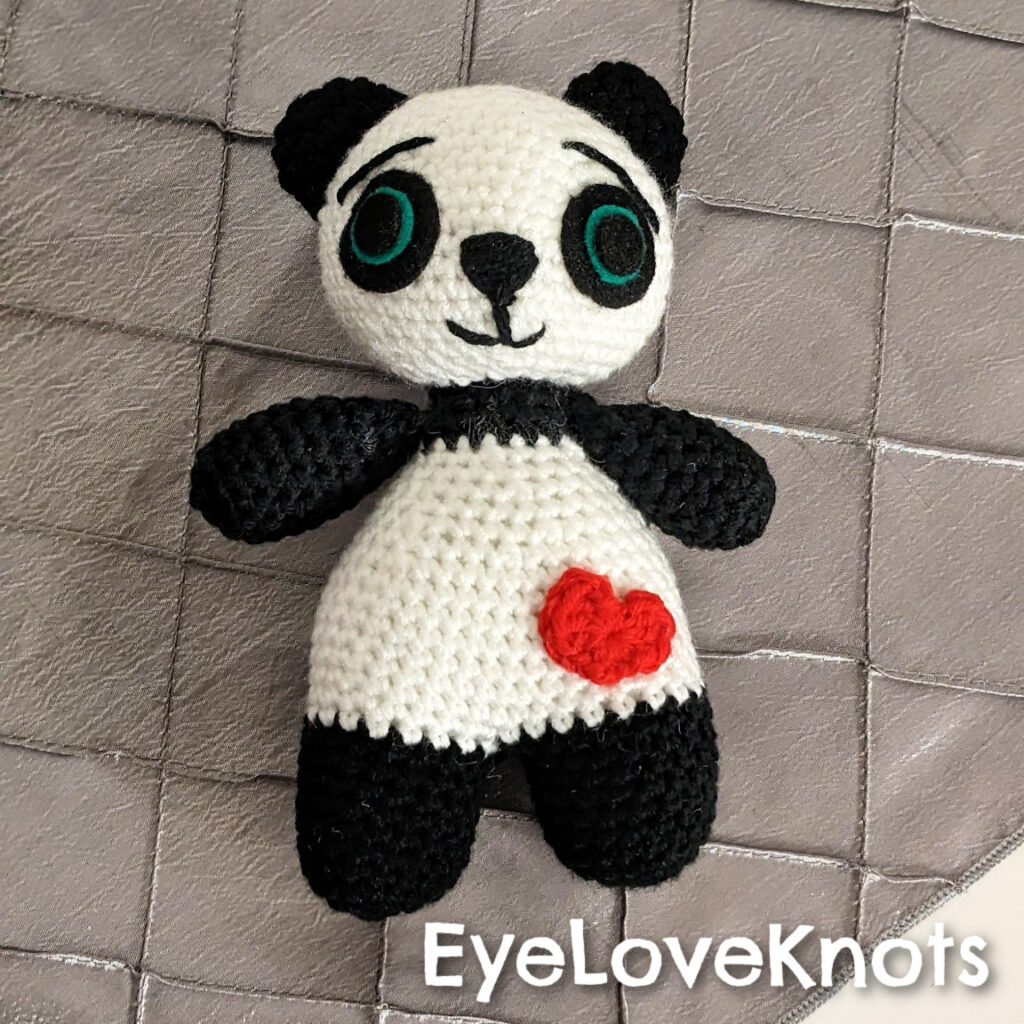 Due to the number of small details in this project, it may be helpful to have pins available when attaching the pieces. I chose to use my hot glue gun to add a dab of glue to each piece and hold it in place while sewing it on. This was really helpful and will also help keep the pieces together.
How Long Does it Take to Crochet a Sloth, Panda, and Koala Amigurumi?
Each of the individual patterns took me about 4.5 hours to make. The bodies and heads do not take a lot of time, but the details can be a bit time consuming, especially when it comes to attaching them. If you were interested in making several of these amigurumi to sell or gift, you may be able to cut down on your time by making pieces in bulk.
How Big Are the Sloth, Panda, and Koala Amigurumi?
My finished sloth was the largest, and it measured 7.5 inches tall and 5.5 inches wide. My finished panda measured 7.25 inches tall and 5 inches wide. The koala was the smallest, measuring at 6 inches tall and 5.25 inches wide. All three animals should be relatively close in size – the variance was mainly due to changes in tension while I was working.
Keep in mind that I used worsted weight yarn when the original pattern was written for bulky yarn. According to the written pattern, all three finished animals should measure approximately 12 inches tall when made with bulky yarn and a G6/4 mm crochet hook.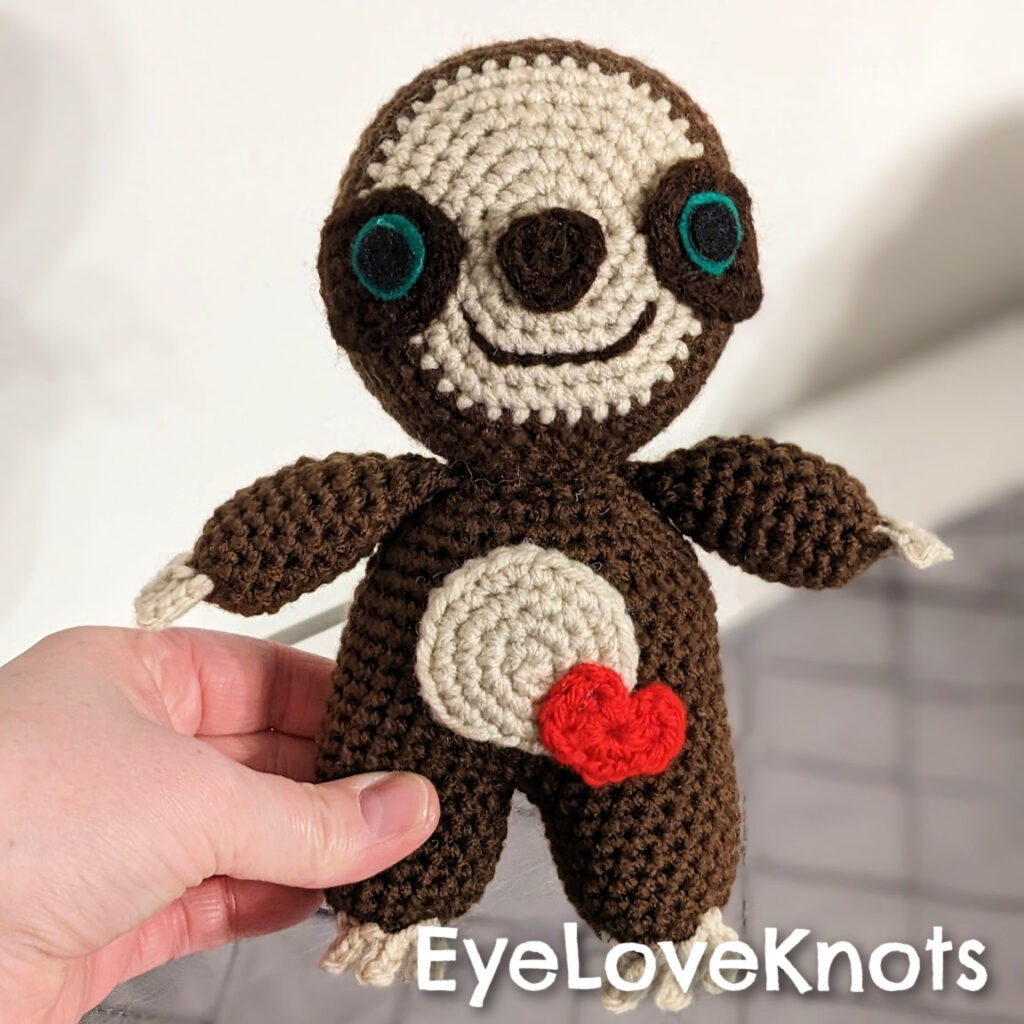 Gauge:
The written pattern provides a gauge of 14 sc sts × 14 rows = 4 in x 4 in / 10 cm x 10 cm using bulky yarn and a G6/4 mm crochet hook.
When I was working with worsted weight yarn and a G6/4mm crochet hook, my magic ring with 6 single crochets measured 1/2 inch in diameter, and after increases in each stitch, it measured just under 1 inch in diameter.
Sloth, Panda, and Koala Amigurumi Pattern Notes:
When beginning these three amigurumi animals, I was under the assumption that all three were made in the exact same way, just with different finishing touches. While the bodies and heads of each animal are similar, I can assure you that each pattern varies, and it is important to make sure you are following the specifics for each.
For each animal, you will begin by making the head and the body. When making the heads, it is important to make sure you have all of the accent pieces for the eyes prepared ahead of time in the event that you want to use safety eyes. If you choose to use felt eyes like I did, you can add the details on at the end.
The legs are created as part of the body, but the arms are separate pieces. Once you have made the head, body, and arms, the process of attaching them is similar for all three patterns. From there, the details are similar, but are all customized for each animal.
The Sloth Amigurumi
I found the sloth to be the easiest of the three animals to make (in my opinion). With only three shades of brown to work with and only one color change while crocheting, the design seemed rather intuitive. The sloth is constructed in a slightly different manner than the other two animals. While the koala and panda heads are both made from the top down, the sloth head is made from the front to the back. This makes it really important to have a clean close at the end of the head since it will be seen clearly on the back of the animal.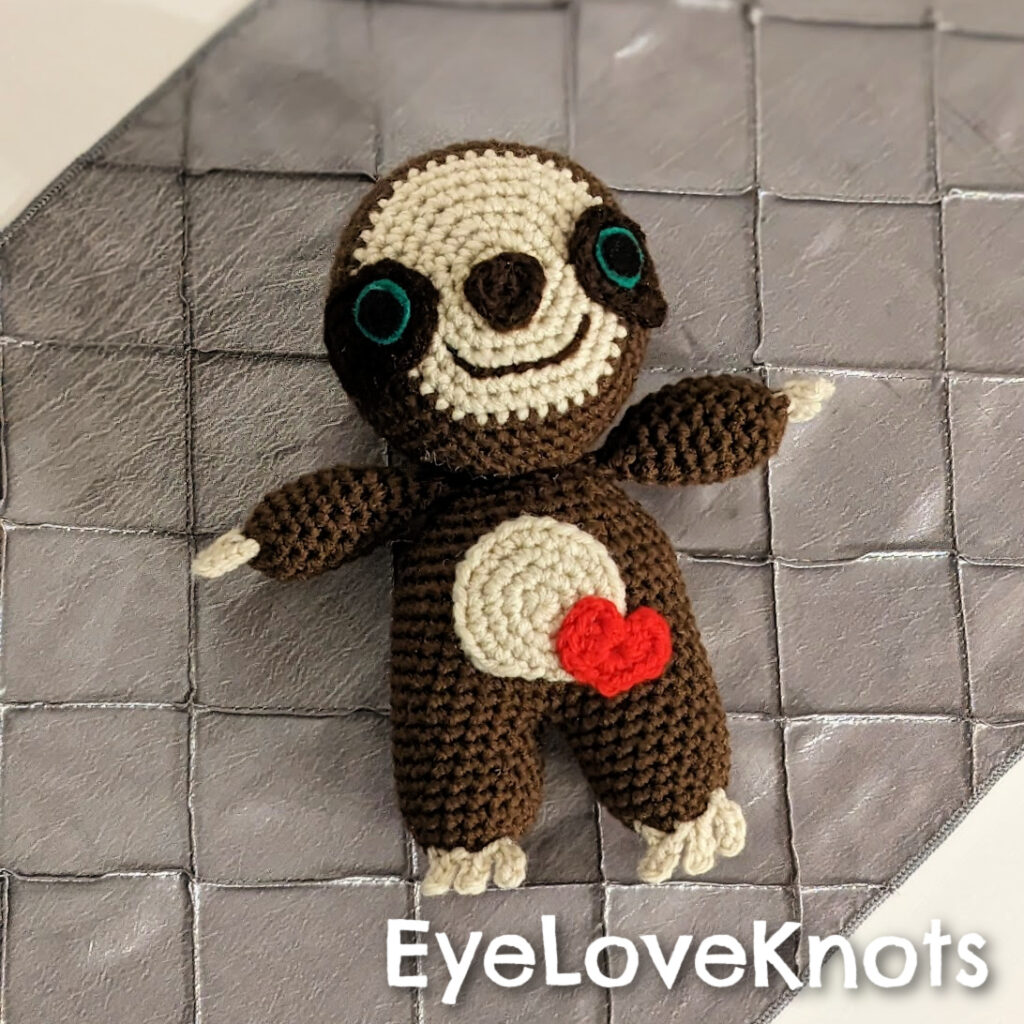 The details on the sloth were also the least intimidating to me. The eye patches and the nose work up quickly, and the belly is just a simple circle. I found all of these components easy to place and add without having to repeatedly consult the pattern. The last touch for the sloth was adding the claws. I initially left this detail off by accident, but when I remembered to add it, the claws made all the difference. While the idea of adding the claws may seem a little intimidating, it was actually really quick and easy!
The Panda Amigurumi
The panda was the most intimidating of the stuffed animals for me. While the black and white portions of the body and the head worked up nicely, the facial details caused me some anxiety. It is really important that for this animal you pay attention to all the details involved in the assembly. There is some facial shaping that needs to be done on the panda that makes ALL the difference. Before doing this, I thought I had messed something up. After adding in the face shaping, the nose and mouth, and the eyebrows, I was so relieved!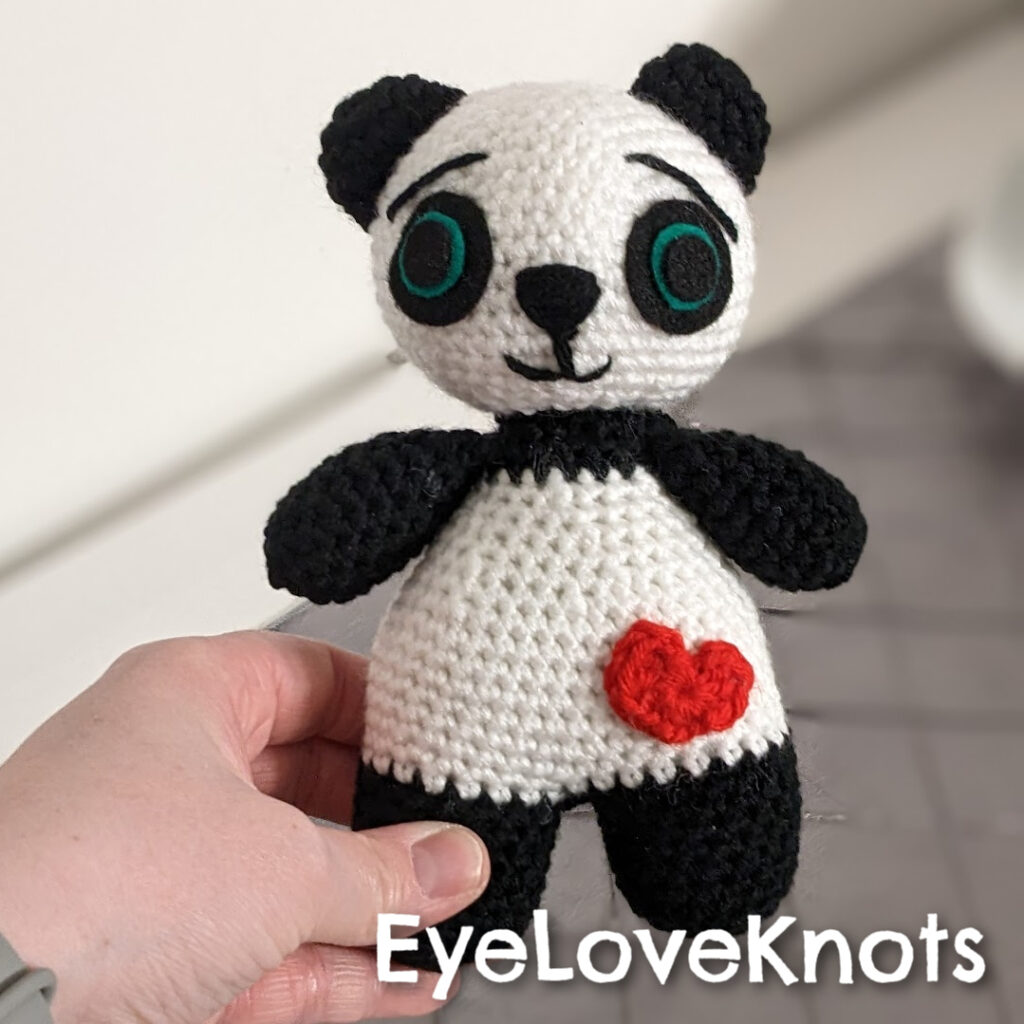 The eyes of the panda are also really important. In the pattern, the designer instructs you to use a smaller hook size and a finer weight yarn to make the black circles behind the eyes. I initially tried to do this with a smaller hook and the same worsted weight yarn that I used for the rest of the project, and it made the eyes take over the entire head. Since I didn't have finer weight yarn (other than crochet thread) on hand, I opted to just use larger felt circles behind the felt eyes. This made it a little bit more difficult to do the face shaping, but everything worked out in the end.
Koala Amigurumi
The koala was my absolute favorite of the three animals to make. The body, head, and arms are made in all one color, which made it super easy to work up. I also really loved how the printed yarn I used made the pieces look true to the color of an actual koala. While there were quite a few features to add for the koala, I found them really easy to make.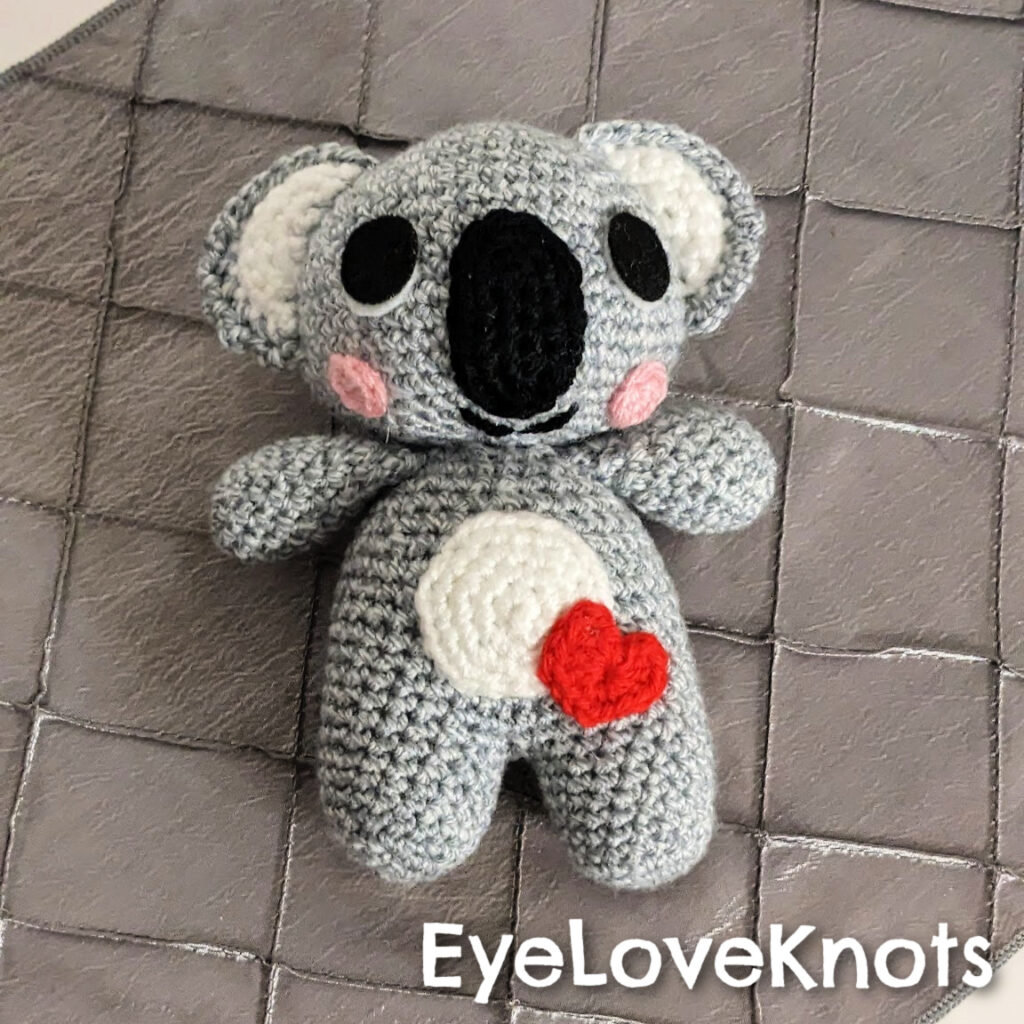 The construction of the ears on the koala was really simple, but provided such great detail! Each ear is created differently to create symmetry on the finished piece. While it may not be totally visible on the pictures, the ears are ruffled at the bottom edges like they are on a real koala.
When attaching the small cheek circles for the koala, I opted to use a hot glue gun rather than try to sew the whole way around them. They ended up being really secure, and I am not concerned about them coming off.
Overall, I am extremely pleased with how all three animals turned out. I will definitely be making these again, however, next time I plan to try out chunky yarn like the pattern suggests. If you have experience making amigurumi and are not scared of sewing on some details, I definitely recommend giving this pattern a try. If you are still starting out and want to take this project on as a challenge, I encourage you to follow the pattern very closely and give yourself plenty of time!
I hope you enjoyed reading all about this adorable bundle of patterns from Fionadolls. If you decide to make any of these adorable animals, I would love to see your finished projects! Be sure to tag @eyeloveknots, @tandc_crafters, and @fionadolls on social media so we can see what you made!
If you love amigurumi, be sure to check out some of my other pattern reviews here on the EyeLoveKnots blog!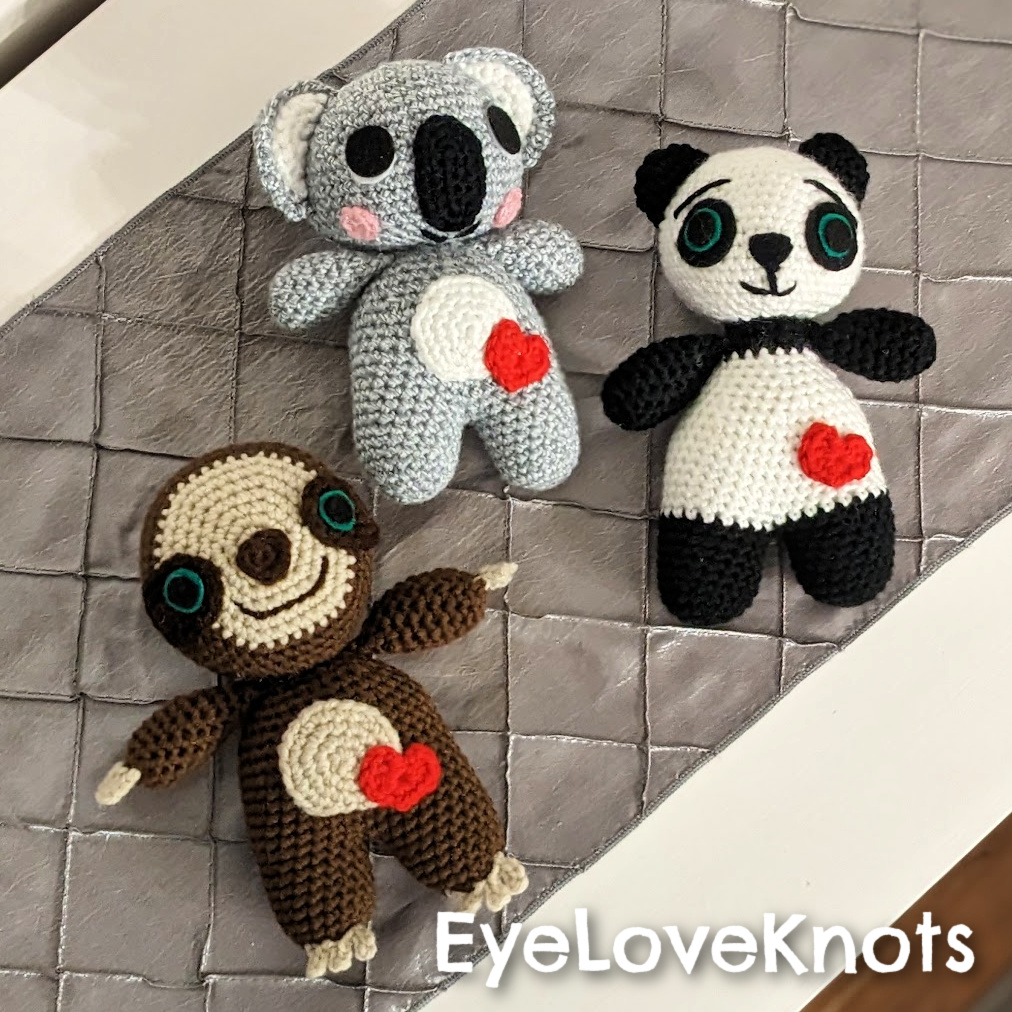 Don't forget to visit with me on Instagram for all kinds of awesome crochet makes and inspiration.
Join one of our awesome Facebook groups to share your creations, and see what others are up to!
– Yarn Crafts & Coffee Community
– DIY Home On Rockwood Lane
– Alexandra Lane Lifestyle
Linked Up To…
Linky Ladies Party #233 – The Purple Poncho
Vintage Charm Party 375 – My Thrift Store Addiction
The Loop Scoop 55 – Moogly Blog
Wednesday Link Party 489 – Oombawka Design Crochet
Create, Bake, Grow & Gather Party #558 – Shabby Art Boutique
Funtastic Friday Link Party #423 – Simply Beautiful by Angela
A Morning Cup of Joe – The Cottage Market
Pink Saturday – How Sweet the Sound
Craft Schooling Sunday – Creative Jewish Mom
Sundays on Silverado #131 – The House on Silverado
Handmade Monday #313 – Sum of their Stories
The Really Crafty Link Party #351 – Keeping it Real
Craftastic Link Party – Sew Can Do
You're the Star Blog Hop – Decor Craft Design
Happiness is Homemade – Decor Craft Design
Hello Monday – Pink Lady
Anything Goes Linky 364 – My Random Musings
Home Imagined Link Party #11 – Sky Lark House
671st Inspire Me Tuesday – A Stroll Thru Life
Fabulous Party 462 – Lou Lou Girls
Talent Sharing Tuesdays link-up – Scribbling Boomer
The Happy Now Blog Link-Up #359 – JENerally Informed
Team Creative Crafts Link Party #132 – Artsy-Fartsy Mama
Wonderful Wednesday Blog Hop – My Life Abundant
Wednesday Link Party #334 – Grandma's House We Go
Thursday Favorite Things #578 – An Artful Mom
Creatively Crafty Link Party #366 – Try It – Like It – Create It
Encouraging Hearts and Home Blog Hop – My Slices of Life
Grace at Home No. 495 – Imparting Grace
Linky Party – Karins Kottage
Crafty Creators Link Party #55 – Life as a LEO Wife
First Friday Favorites – Life's Sweet Words
Share Your Crafts Link Party #4 – White House Crafts