This is a crochet pattern review of the Worry Monster pattern by designer Gemino Patterns. Review done by A Stitch Shy of Normal for EyeLoveKnots.
This post contains affiliate links for WeCrochet and Etsy. If you make a purchase by clicking on them, I make a small commission at no extra cost to you. Thanks for your support!
Find the crochet pattern review below or click here to pick up a copy of the pattern on Etsy!
In a hurry? Pin this for Later when you have more time.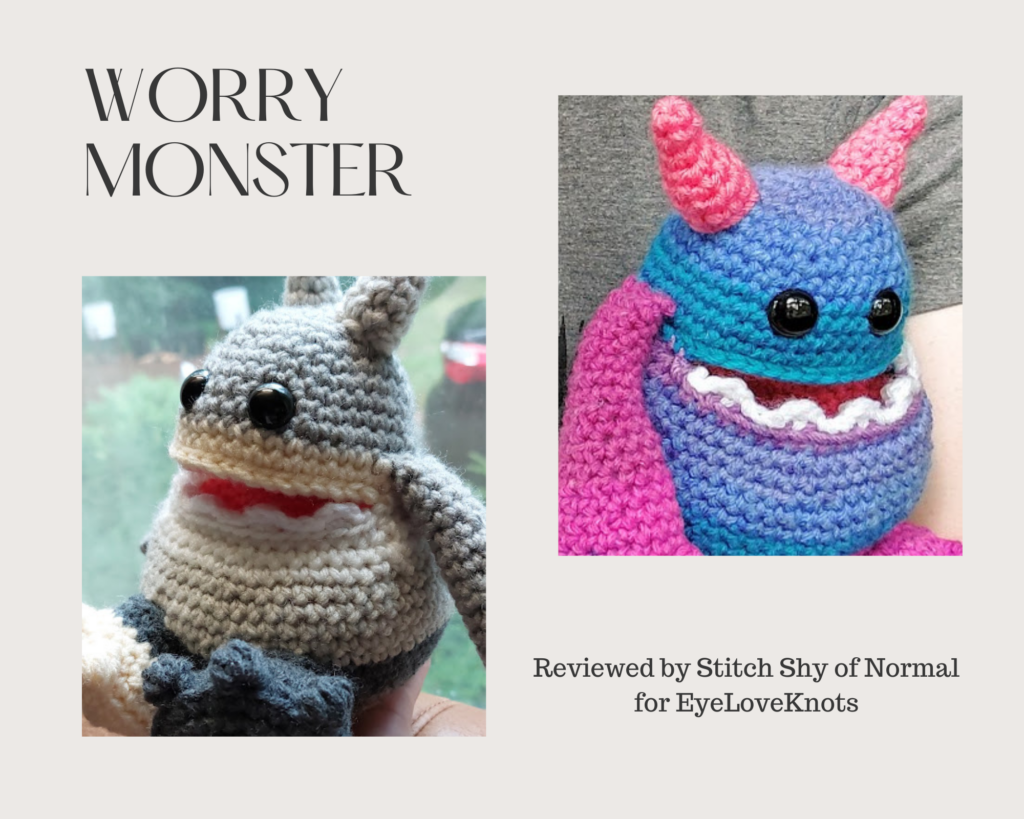 I don't know if you guys know this about me as it's not something I always share but I don't really try to hide it either. Anxiety and stress has always played a big part in my life. I've worked on techniques in therapy and have made a lot of progress thanks to that and medication, but now that I'm pregnant some of my bad worry habits have come back. I know this much is normal in pregnancy, of course. One strategy I used to use a lot in my younger years and have returned to more often now is some form of journaling. I'm not qualified to actually give any advice but I can say that just writing out my own fears and stresses can help me to process these things in a way. I've done it in many forms over the years, from physical journals to Word documents on my laptop to a phone app. They all have their pros and cons but I like to come back to the technique.
And I'm definitely not the only one! I recently stumbled across the concept of a "worry monster", a monster usually in the form of a stuffed toy that often has some kind of an internal pocket in the tummy. The idea is that you can write out things that are stressing you out on a small slip of paper, and then the monster "eats" it. Yes, it's all pretend, obviously. But it can be a good mental exercise! I had this worry, I wrote it out, and now it's gone. If it's a big problem, this just symbolizes that I don't need to think about it 24/7 as that's just too stressful. I can tackle the issue later. If it's something silly (cookies I made for work didn't turn out, my favorite shirt got a hole in it), then the action of the monster eating it can be a representation of letting that stress go away.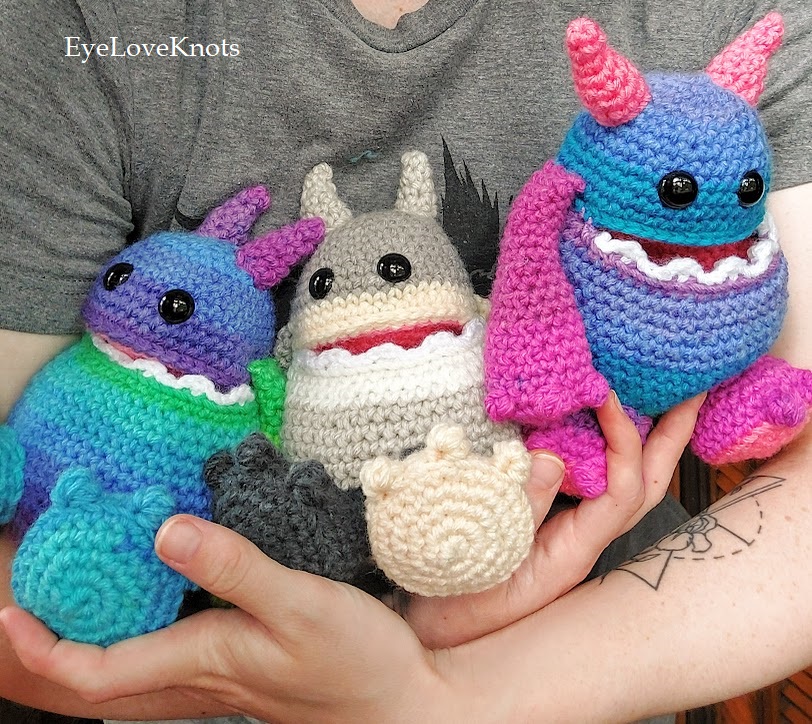 I've heard that for kids doing this, an adult can secretly empty out the worries overnight or something so the monster truly does "eat" the papers. Even for an adult, it can be nice to just empty out his tummy storage and it still feels like those worries are now done and over with! It's a really cool idea that I wish I had been able to use as a younger kid, and I do feel like I can benefit from now in my 30s. So when I found a pattern to crochet one of these tools, and it looked so cute and simple to make, I had to give it a try. Then I loved it and made a second one. Those guys then needed a buddy so I made a third. I can't stop!
Visit with me on Instagram @astitchshyofnormal for all kinds of awesome crochet makes and inspiration!
What Materials Do I Need to Crochet a Monster?
Material Notes:
I probably don't need to go too into depth here on Red Heart Super Saver Stripes. I love it, you guys know that I love it. It's affordable, it's super bright and colorful, and it holds up remarkably well. I've used it for garments and toys and bags and so much more! The pattern in this case suggested Super Saver itself in solid colors, but on the Ravelry page I noticed others seemed to have used the Stripes version and I loved that idea so I grabbed a few different colorways as well as one skein each of bright pink and white from Big Twist Value. I could have used Super Saver for all of it but I feel like maybe the Big Twist line was on sale that day or something, I'm not sure. I also just liked that perfect pink shade for the inside of their mouths, that was the closest color to what I was imagining.
You know what I'm going to say here–would I use this yarn again? A hundred percent yes. I do in fact plan to buy more colorways of Super Saver Stripes for these, especially some of their new colorways. Or the classic rainbow one. Or even Super Saver Ombre could look really cool…although I'm not sure if the colors would transition too slowly. Let me know if you try that and how it works out!
How Long Does it Take to Crochet a Monster?
Each of these took me a few evenings in bursts, I made all three in a week. I would estimate I put about 5-6 hours into each monster. The stitching goes fast but there's a few pieces to it, and then assembly takes a little bit of time too.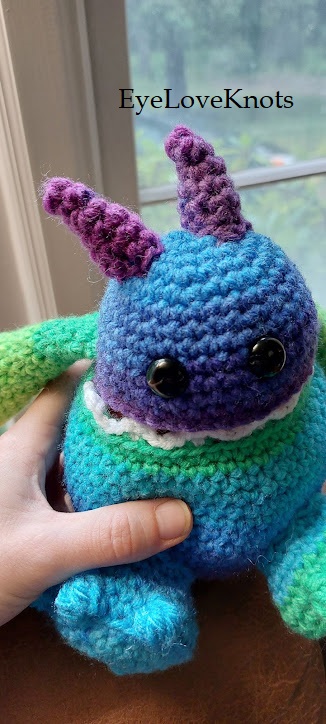 Gauge & Measurements:
These details were not given in the pattern that I can see. The Etsy listing mentions their monsters being about 15cm tall, that's about the only reference I can find. With this being a toy I don't think it matters a whole lot, you just want your own hook and yarn combo to give you tight stitches that don't let the stuffing show through.
My own monsters came out remarkably close! They measure just under 6 inches tall (14.5cm) from the bottom of the butt to the top of the head, and the horns add another inch or so (17.75cm total). I think this is within a reasonable range, meaning my gauge must be pretty close to that of the designer.
Pattern Notes:
First of all, this crochet pattern is even written adorably. It includes a picture diagram of the "anatomy of a monster" explaining what all the pieces listed will become, such as the inner mouth and the body versus the head. Speaking of the body parts, the designer titles the teeth section and labels it in the diagram as "toofs" and this just tickled me to no end. I've made this three times (so far) and each time when I get to "toofs" I repeat it to myself and giggle.
The designer gives good tips for the construction that I really agree with, such as making sure to use a stitch marker throughout (it's very easy to lose track otherwise!) The special stitches, which is really just two types of bobble stitch, are well-explained with good pictures. The few things that might be confusing like where to start the teeth (toofs) or how to attach some of the body parts are written out clearly in the pattern!
The one mistake I made a couple of times on my first attempt is not paying attention when a round is worked only in the back loop. This applies a few times throughout the pattern, mostly as you shape the arms and legs but also for something like the teeth (toofs). It's a user error though, the designer does state these in the pattern! I just get into a groove and stop thinking sometimes, I just stitch away.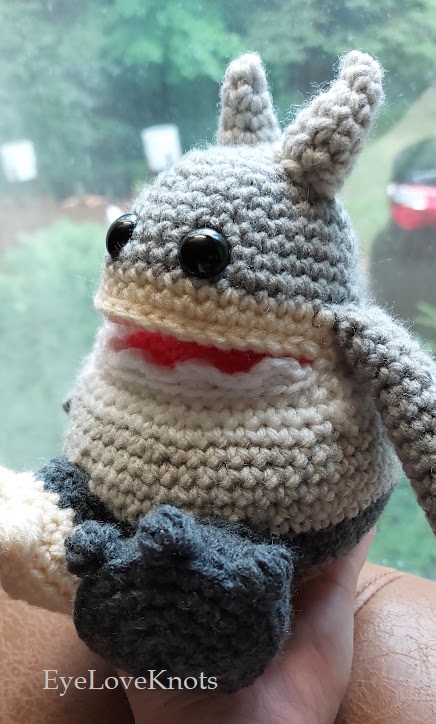 One tip I can give is to play with your stuffing amounts. The designer tries to guide you in how to shape it sometimes, like stuffing the body around the inner mouth so it fills out the tummy but doesn't squish that inner part too much. But it's definitely a trial and error. My first monster, the one that's pink and purple in addition to the blue shades, I thought I had generously stuffed his body. But once I finished the assembly you can tell he's skinnier than the others! But it's also not a rule to always add more stuffing than you think, since you don't want the head to be too thick either and cause the roof of the mouth to become convex. It's a learning process! I personally think each subsequent one I make looks a little bit better as I learn from my own mistakes–I use a better amount of stuffing, I know how I like to assemble it, you get the idea. I also ended up changing the yarn I use for the accents, like I stopped using the pink on the bottom of the feet because I liked the look with the main colorway. Or I started making the horns in random scrap colors that looked good with whatever colorway my monster was. Play around with it!
The best piece of advice I can give about this pattern is to just try it! It's simple enough for relative beginners, if you're willing to try a few times to get sections like the teeth or the toes correct. I struggled with these a little bit but the shaping is pretty visible so you'll know if a section doesn't look right pretty quickly. There's so much room to play around with their facial expressions, different eyes, maybe even different accents if you're comfortable making some up yourself. You could add more horns–who says monsters only have two? Or the eyes, I've done some toys in the past with 4+ eyes to make it look like an alien or something. These can be as simple or as complex as you like, it's up to your imagination!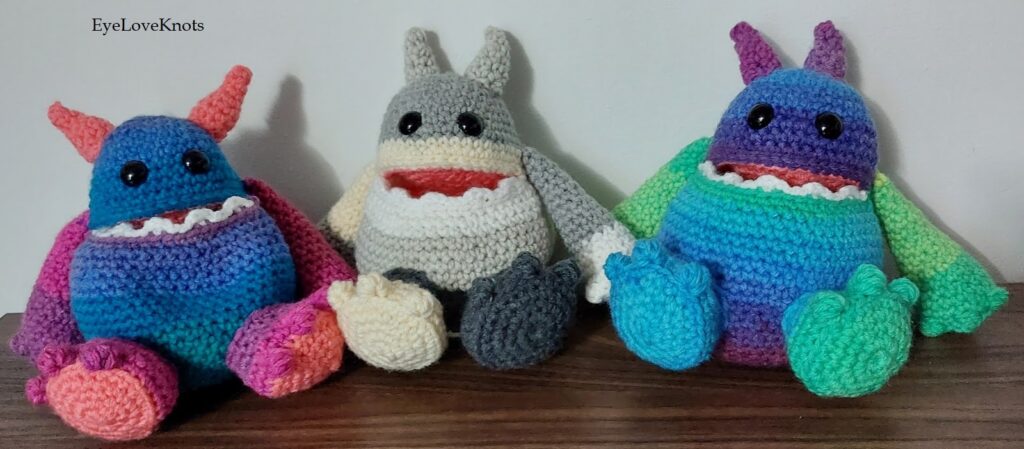 The designer does also have a few variations on these too–a "wee" version and then a "pocket" one. I haven't tried these yet but I want to! And in their Etsy store they do include a PDF you can buy and download as a little explanatory tag about the Worry Monster! I'm planning to bring these cuties into a local gaming store for consignment so I wanted to put these on there since I won't be able to explain their "instructions" in person. But the tag is very simple and adorable so I was happy to spend an extra few bucks on it! I don't have those attached yet as I had to order some cardstock and a hole punch on Amazon and those will arrive tomorrow.
I really strongly recommend this pattern and I hope you try it out yourself! Give them as gifts, bring them to craft fairs, or just make one for your desk in your favorite colors. I'm so happy I tried it and I want everyone to have one.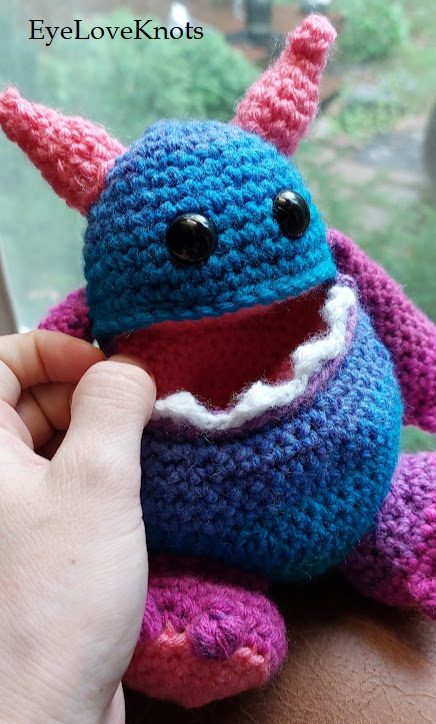 Don't forget to visit with me on Instagram @astitchshyofnormal for all kinds of awesome crochet makes and inspiration.
Join one of our awesome Facebook groups to share your creations, and see what others are up to!
– Yarn Crafts & Coffee Community
– DIY Home On Rockwood Lane
– Alexandra Lane Lifestyle
Linked Up To…