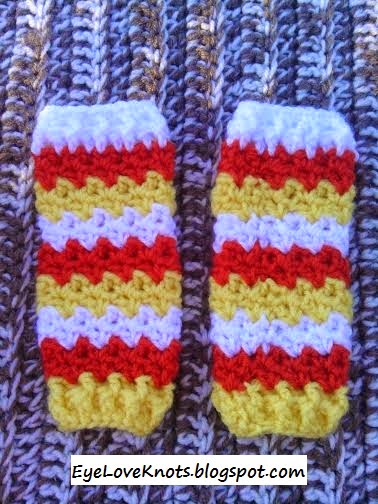 I have had owls on my brain lately thinking that owl hats would be perfect for fall! I've been working on a few versions of fall owl hats that aren't quite ready to be shared yet but soon.


For now, I thought I would test out some legwarmer patterns so that I can make up some to go with the owl hats.


First up, the Making Waves Legwarmers by Jennifer of A Crocheted Simplicity. I hearted several of her patterns – hoping to go back SOON and make some more purchases.


I do plan on working these legwarmers in several different colors and sizes but I started with the 0-3 Month size.


Materials I Used:
– Hobby Lobby's I Love This Yarn in Yellow, Orange, and White
– H8/5mm Hook (as recommended)
– #18 Tapestry Needle for Weaving in Ends
– Making Waves Legwarmers Pattern (Paid Pattern)


Time Spent:
Each pair of the 0-3 Month size took me about 30 minutes to complete, plus 20 minutes each to weave in my ends for a total of just under two hours for the pair.


Measurements:
The pattern includes sizes for 0-3 months, 3-6 months, 6-18 months, 2-3 years, 4-5 years and 6-7 years.
I began with the 0-3 Month size which measures 3″ wide by 6.5″ long.


Pattern Notes:
I made one test legwarmer in a solid purple color. From this, I concluded that the solid color doesn't work very well with the ripple effect – I would suggest using at least two colors.


I also did not like how you have to sew the bottom and top cuffs, so I changed it to a Foundation Double Crochet 18 and then work two rounds of Front Post Double Crochet, Back Post Double Crochet. This gives a defined cuff, flexibility starting with the foundation double crochet versus a regular chain and foundation round, and eliminates the need to sew up your cuffs.
I found with the first one, your cuffs should be about an inch long.


*If you need help working the Foundation Double Crochet – Tamara of Moogly has a great tutorial – How to Crochet the Foundation Double Crochet Stitch.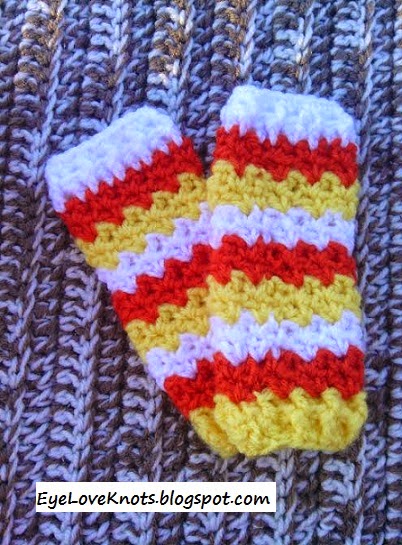 The pattern was REALLY easy to follow. After the first one, I had ideas in my head of making myself a pair! It is very easy to adjust – start by working a foundation double crochet 1-2″ shorter than the circumference of the your knee/thigh (since the acrylic yarn will stretch!) and then continue working the pattern.


Linked Up To…
Make it Monday – Etcetorize
Awesome Things Tuesday – Sowdering About in Seattle
Your Whims Wednesday #185 – My Girlish Whims
239th Inspire Me Tuesday – A Stroll Thru Life
Lou Lou Girls Fabulous Party #29 – Lou Lou Girls
The Sunday Showcase No 264 – By Stephanie Lynn
October 2014 Sharing Time Week 3 – Raising Memories
Yarn Fanatic Party #12 – The Philosopher's Wife
Create Link Inspire Linky Party #47 – The Crafty Blog Stalker
Inspiration Monday Link Party #68 – Scattered Thoughts of a Crafty Mom
Wow Me Wednesday #177 – Ginger Snap Crafts
Hookin on Hump Day #81 – Moogly / Petals to Picots