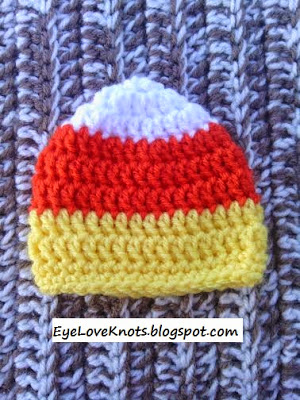 After working up the Candy Corn Colored Newborn Making Waves Legwarmers, I decided to make a matching candy corn colored hat to go with it.

Use my FREE All Sizes Basic Beanie Pattern to make a candy corn colored hat in any size!

*This was previously titled "Crochet Newborn Candy Corn Hat…"
Please see pattern notes regarding title change.

Materials:
– Worsted Weight Yarn – I used Hobby Lobby's I Love This Yarn in Yellow, Orange and White
– H8/5mm Hook
– Tapestry Needle – I like to use a #18 or #20.

Time Spent:
While a basic beanie using this pattern takes me less than 30 minutes, weaving in the yarn for the color changes bumps this hat up to roughly 45 minutes or less.
Measurements:
Crown measures 3.75″ in diameter to fit a head circumference of about 13.75″, and is 4.25″ long.

Gauge:
Using 5mm Hook – 4″ x 4″
CH 16, DC in 3rd ST from hook and ea ST across. (14 DC)
R2 – 8: CH 2, turn. DC in ea ST across.
Fasten Off.

Abbreviations:
CH – Chain
DC – Double Crochet
ea – each
ST – stitch
SC – Single Crochet

Pattern Notes:
If making this hat in a different size, think of the color sections on an actual candy corn. You will want your orange section to be larger than your white section, and your yellow section bigger than your orange section.

Beginning chain 2 does not count as a stitch.

Join to the first double crochet, not the beginning chain 2.

I wrote this pattern with a candy corn in mind to match the legwarmers, but feel free to substitute with any color combination.

10.24.14 UPDATE: My sister-in-law, Bree, is a family photographer who does LOTS of newborn photo shoots. Following the posting of my All Sizes Beanie pattern, I whipped out quite a few newborn sized hats (including this one) based on the chart provided by Lorene of Cre8tion Crochet. According to her, the newborn head circumference is 13-14″ and the length should be 4″ – 4.5″. Upon completing my hats, I made a trip to her house to deliver them and she turned all of them away. She said they were sure not to fit any of the newborns that she photographs and that they would be better suited for preemie's. SO – my suggestion for a newborn size would be to make the 3-6 Month Size as that one is exactly what she liked and requested for future hats.

Pattern:
**Starting with White
CH 4. Join to form a ring. CH 2. Make 8 DC into the ring. Join. (8 DC)
R2: CH 2. Make 2 DC in ea ST around. Join. (16 DC)
R3: CH 2. Make 2 DC in 1st DC, 1 DC in next DC, (2 DC in next DC, DC in next DC) around. Join. (24 DC)
**Change Colors to Orange
R4: CH 2. Make 2 DC in 1st DC, 1 DC in ea of next 2 DC's, (2 DC in next DC, DC in ea of next 2 DC's) around. Join. (32 DC)
R5 – 6: CH 2. DC in ea DC around. Join.
**Change Color to Yellow
R7 – 8: CH 2. DC in ea DC around. Join.
R9: CH 1. SC in ea DC around. Join.
R10: CH 1. SC in ea SC around. Join.
Fasten Off and Weave in Ends.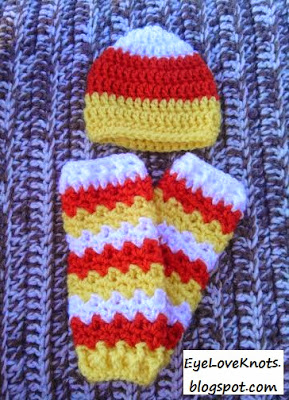 Please feel free to make and sell your own Candy Corn Inspired Beanie (or any TriColor Combination), but please DO NOT claim this pattern as your own nor should you sell my pattern, and DO NOT re-publish my photos as your own. DO NOT copy and paste my pattern anywhere, link to it instead.

Join the EyeLoveKnots Crafting Community to share your creations, and see what other's are up to!

Check out the EyeLoveKnots Ravelry page to keep track of all your EyeLoveKnots favorites in your que, and share your WIPS and finished projects!

Don't miss out on new crochet patterns, reviews, jewelry tutorials and more! Subscribe to EyeLoveKnots by using the box on the right side toolbar, or follow me via Bloglovin! You can also find me sharing on the EyeLoveKnots Facebook page, and @EyeLoveKnots on Twitter!
Linked Up To…
Make it Monday – Etcetorize
Awesome Things Tuesday – Sowdering About in Seattle
Your Whims Wednesday #185 – My Girlish Whims
239th Inspire Me Tuesday – A Stroll Thru Life
Lou Lou Girls Fabulous Party #29 – Lou Lou Girls
The Sunday Showcase No 264 – By Stephanie Lynn
October 2014 Sharing Time Week 3 – Raising Memories
Yarn Fanatic Party #12 – The Philosopher's Wife
Create Link Inspire Linky Party #47 – The Crafty Blog Stalker
Inspiration Monday Link Party #68 – Scattered Thoughts of a Crafty Mom
Wow Me Wednesday #177 – Ginger Snap Crafts
Hookin on Hump Day #81 – Moogly / Petals to Picots