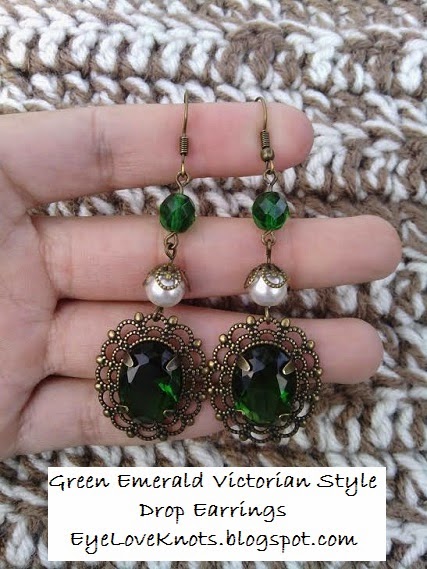 At the time I made my Floating Hearts Hot Air Balloon Dangle Earrings, I was out of the silver plated professional grade jump rings that I like to use so I put in an order from CanterburyLane on Etsy to get some more in so I could work the Reversible Hot Air Balloon Dangle Earrings I shared last week. 

While I was there, I decided to search "emerald" to see what I could find to put together a pair of earrings for the upcoming (at the time) St. Patrick's Day.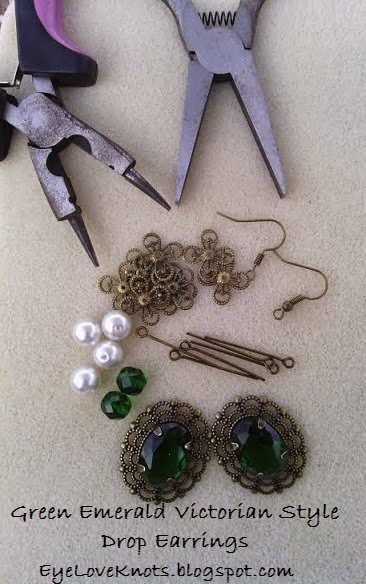 This easy DIY is what I came up with! 

Materials I Used:
– 2 8mm Glass Faceted Beads in Emerald
– 2 Emerald Green Antique Brass Filigree
– 2 8mm Silver colored Glass Pearls (JoAnns)
– 2 Filigree Bead Caps for 8-12mm Beads in Antique Brass
– 4 26mm 1″ 20 Gauge Antique Brass Eye Pins
– 2 20mm French Hook Fishhooks in Antique Brass
– Round Nose Pliers



Material Notes:
All materials came from CanterburyLane with the exception of the grass pearls and my jewelry pliers.

Time Spent:
     I put together this pair of earrings in less than 30 minutes.

Measurements:
     I don't remember how long these earrings were – since they sold before I did this post. I forgot to get the measurements, but I am going to guess about 3″.

Tutorial Notes: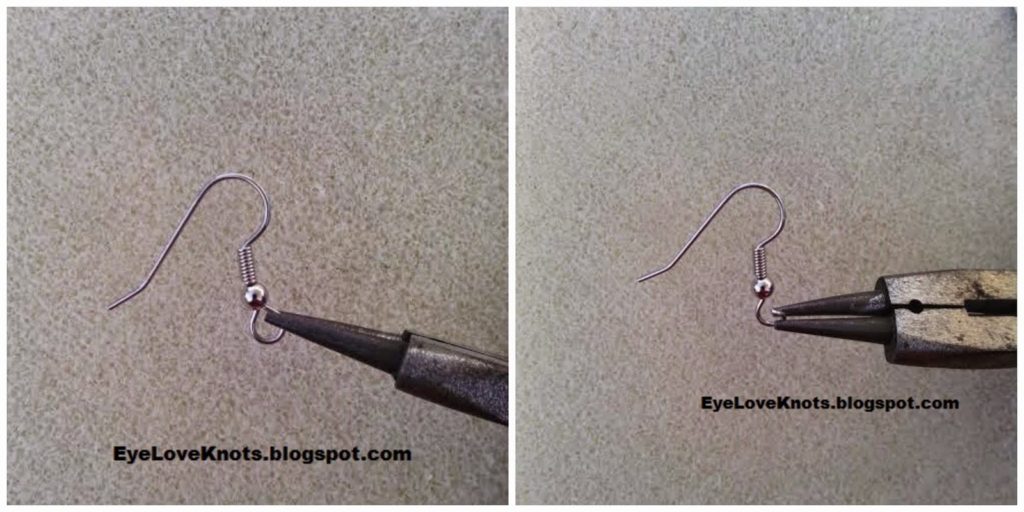 To open loops, always open towards you and not side to side.
     If you aren't sure how to form a Basic Loop, I have a Forming a Basic Loop tutorial for you! Had to get that posted before I could release this tutorial – sorry it's late!
     When I bought the eye pins, I didn't think they were going to be as strong as the jump rings that I like to buy from CanterburyLane. I was expecting to be able to create Wrapped Loops with them, not just the basic loop. I do have a Forming a Wrapped Loop tutorial. Next time I make this pair of earrings, I will be using different eye pins so I can use this technique instead.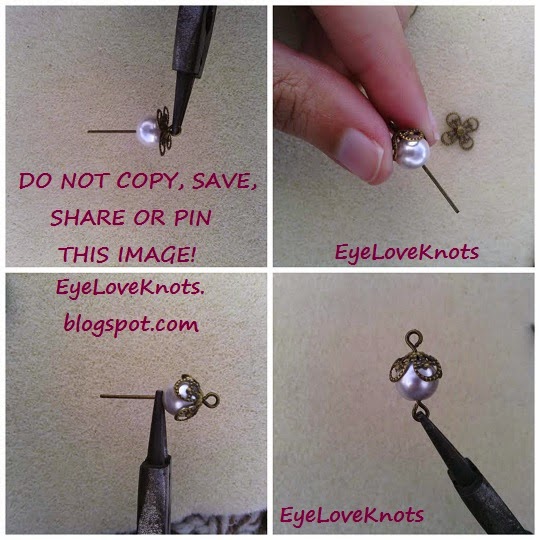 String the bead cap first, fancy side facing away, and then the bead.
Tutorial: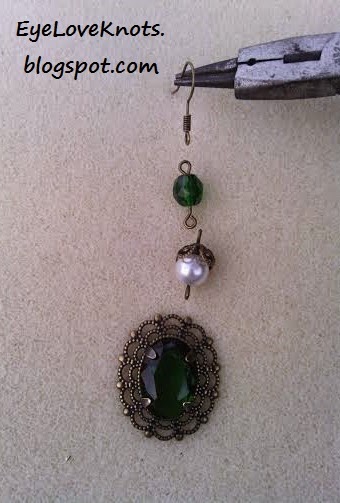 Here is my second layout. 
Before I create the pieces, I like to lay everything out to make sure I have all the supplies need and to brainstorm layout.
Then, once all loops are looped and such, I make another layout to ensure I like the idea before assembly.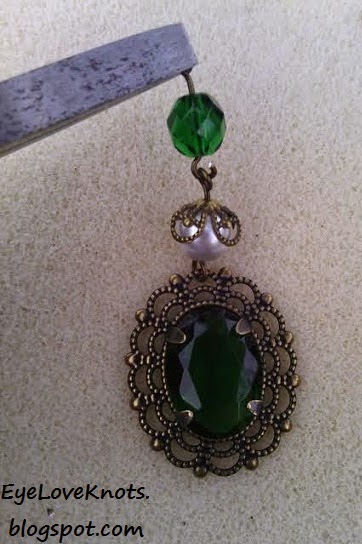 I started with the large filigree piece, and then attached the bead cap section, and then the emerald loop on the top. 
Lastly, you'll add your earring wire.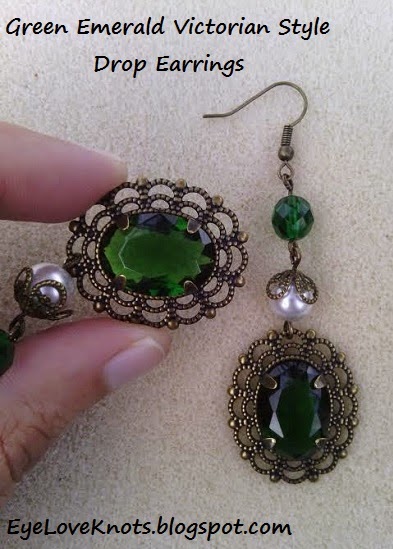 Enjoy your new earrings! While hanging from your ears, the emerald pieces will glow with the light coming from within it.
Have you made anything using Emerald colored pieces?
How was this tutorial? Feedback is appreciated! And helps me grow. Drop a line in the comments below.
Linking Up To…
The Creative Exchange Link Party #55 – The Happy Scraps
Summer DIYs Funner Ideas, I'm Lovin' It {linky party} – Tidy Mom
Pin Junkie Pin Party #120 – The Pin Junkie
Creativity Unleashed No. 72 – Practically Functional
Worthwhile Wednesday #73 – Crafty Allie
Your Whims Wednesday #216 – My Girlish Whims
{wow me} wednesday #210 – Ginger Snap Crafts
272nd Inspire Me Tuesday – A Stroll Thru Life
Totally Terrific Tuesday Link Party #37 – Live Randomly Simple
Hit Me With Your Best Shot #72 & {fun father's day ideas} – One Krieger Chick
One Dream to Reality #172 – The DIY Dreamer
Show and Tell Link Party – Flamingo Toes