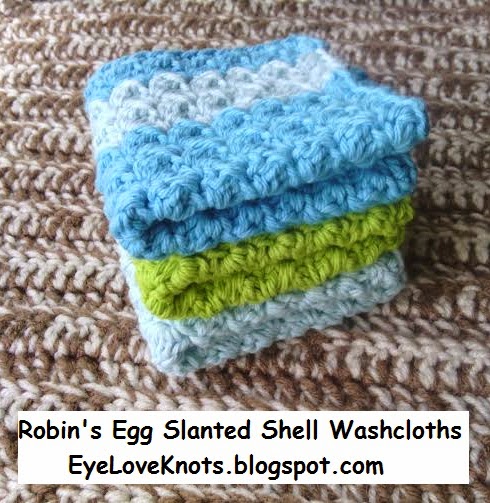 Those of you that regularly follow me may remember the Purplicious Afghan that I am working on for my little cousin, Madison. One of the squares I have made for it is of a slanted shell pattern – which is one of my favorite stitches to use! Ever since I began that afghan, I have had a slanted shell washcloth in mind. It's been some time since it went on the list, but I finally have a free pattern to share with you!

The combination of the two stitches together creates a nice cushion, and also a great texture. 

The beautiful feminine shell stitch here makes this the perfect gift for her or just for yourself! These would also make a wonderful gift for mom this Mother's Day!

Materials:
     – 80 yards of Worsted Weight Cotton Yarn – I used Lily Sugar n Cream in Robin's Egg, Turquoise and Hot Apple (JoAnns)
     – H8/5mm Crochet Hook
     – #18 or #20 Tapestry Needle for Weaving in Ends

Material Notes:
     Yarn Alternatives: Bernat Handicrafter Yarn will also work great! Lion Brand Kitchen Cotton will work up a tad bit bigger.
     I made a washcloth, and a set of matching facial scrubbies all with one skein of yarn (of each color). I overshot the yardage above a bit because I am not 100% if I used half a skein or a little more so I went with the a higher yardage, but one 2.5 ounce skein will definitely make at least one washcloth with yarn leftover. 
     Cotton yarn is a little tougher when it comes to weaving in your ends. You will want a tapestry needle with a larger eye, and duller point otherwise, it will take you longer to weave in your ends and hurt your fingers from tugging at the needle and yarn.
Time Spent:
     Each washcloth can be worked up in about 45 minutes, including weaving. 

Measurements:
     With border, each washcloth measures 8″ x 8″.

Gauge:
Using an H8/5mm Hook and Lily Sugar n Cream – 4″ x 4″
     Chain 17, HDC in the 2nd chain, and each chain across. (16 HDC)
     R2 – 10: Chain 1, turn. HDC in the 1st stitch, and in each stitch.
     Fasten Off.

Abbreviations:
     SC – Single Crochet
     DC – Double Crochet

Pattern Notes:
     Typically, the slanted shell pattern is worked into the 2nd chain of an even numbered chain. I, however, feel that working into this stitch causes the project to come out uneven and bunched up. 
You will find my pattern is worked into the 3rd chain of an odd numbered chain.

     Border will add 0.25″ to each side, 0.5″ to total width/height.

     When working the border, make sure after working down the first side that your corner is worked into the first chain that was created when we skipped it in the beginning of the pattern by working into the 3rd chain from the hook. This will keep your coaster from pulling up on the ends, and from the border coming out uneven.

     If your foundation row side starts to bunch after border is worked, just tug at sides a little and it will even out. This happens from crocheting over your original tail piece.

*You may choose to work your final join as an invisible join. 
Not sure how? Check out my Slanted Shell Coasters post for a photo tutorial.

Pattern:

Solid Washcloth:
Chain 27. SC & DC in the 3rd chain from the hook, (skip next stitch, SC & DC in the next stitch) across. (13 clusters)

R2 – R20: Chain 1, turn. SC & DC in the 2nd stitch, (skip next stitch, SC & DC in the next stitch) across.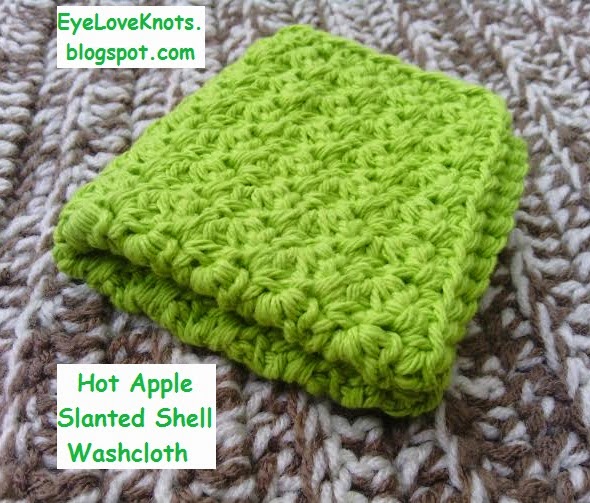 Border: Chain 1, turn. 2 SC in the first stitch, SC in each remaining stitch across, add two SC in the last stitch to form a corner, evenly SC down the first side, add two SC in the last stitch to form another corner, evenly SC along the opposite side of the foundation chain, add two SC in the last stitch to form another corner, evenly SC up the second side, add one SC in the last stitch to form the final corner. *Join to first SC.

Fasten Off, and Weave in Ends (or *work an invisible join).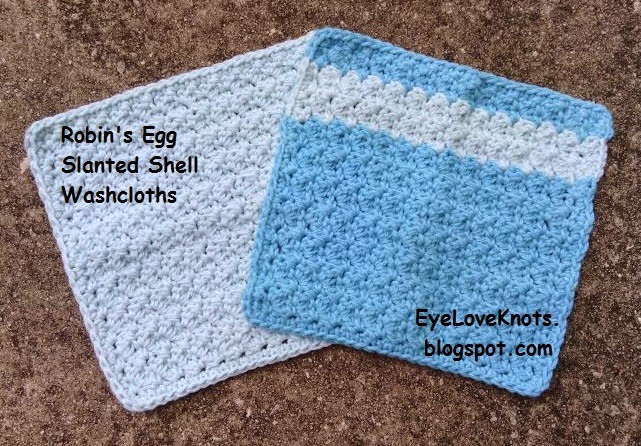 R1-R14: Beginning with your main color, Follow R1-14 from above.
R15-R18: Change colors to accent color. Follow R15-18 from above.
R19-R20: Change back to main color. Follow R19-R20 from above.
Border: Work as above, but change colors respectively to continue color throughout. This is of course, optional. I did, but it also leaves you with more ends to weave in – Note: I did not carry my yarn through the sides because the lighter color was visible through the darker color hence the "more ends to weave in". It would also look great with a solid border, leaving you just one tail to weave in.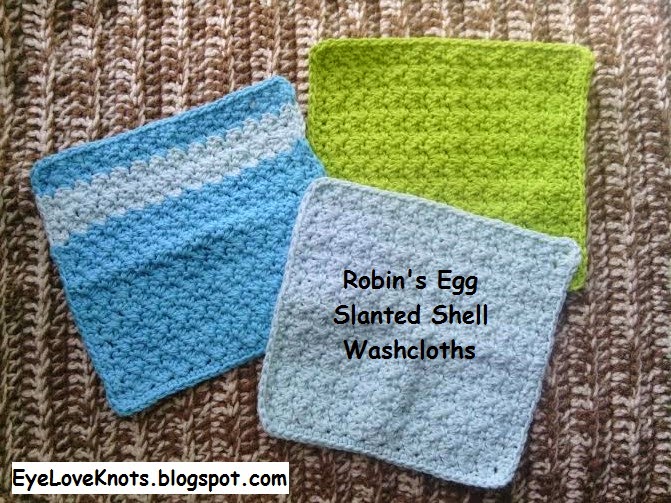 Please feel free to make and sell these washcloths, but please DO NOT claim this pattern as your own nor should you sell my pattern, and DO NOT re-publish my photos as your own. DO NOT copy and paste my pattern anywhere, link to it instead.


If you have made these washcloths – I would love to see photos! Feel free to post them to the EyeLoveKnots Facebook page, or email me.

Don't miss out on new crochet patterns, crochet pattern reviews and other crafts shared on EyeLoveKnots! Subscribe using the box found on the right hand side of the blog, or Follow Me on Bloglovin'!

*If you would like a PDF version of this post, you may get one through my Etsy shop for a small fee. This fee is to compensate for the view/s lost once you no longer need to return to the blog for the information, as you will have your own copy. Plus! It helps fund supplies for new projects to share with you!
Shop EyeLoveKnots – Robin's Egg Slanted Shell Washcloths.

You May Also Like: