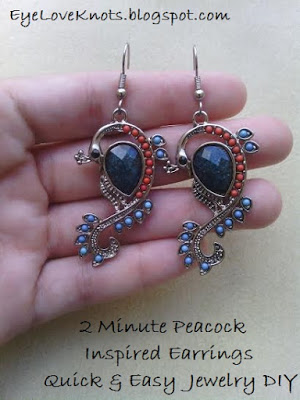 Today I have one of the easiest Jewelry DIY's to share with you! And with one of the most beautiful charms!

I went into my local JoAnn's last week for some yarn to make a baby romper, and took a detour through the Jewelry Department (as I usually do). In that detour, I came across these beautiful peacock metal charms and knew instantly that they'd be a great quick and easy DIY to share with you, and hopefully a good seller in my EyeLoveKnots Etsy shop.

It isn't the Jewelry DIY I had in mind for today, but I haven't been home to my materials and half of the photos just won't do. Hehe. No worries though! The second part to the Drops of Sunshine Earrings will be shared with you next Thursday for sure!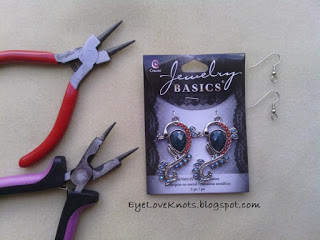 Materials I Used:

– Jewelry Basics 2 piece Metal Peacock Charms by Cousin (JoAnn's)

– 2 (1 each) 20mm Surgical Steel Earring Wires (AliCsSupplyShop)

– 2 Round Nose Pliers

Material Notes:
     Any large or small charms or pendants will do for a quick and easy pair of earrings!

     The surgical steel earring wires are hypoallergenic – perfect for sensitive ears. If you do not have any allergies, feel free to use any silver plated earring wires from your local craft store.     

     I like to have one pair of pliers in each hand, but one pair total will suffice for this project.    

Time Spent:
     Seriously – 2 minutes! I timed myself, and I put both of them together in just over a minute. I rounded up for the Time Spent to 2 minutes.

Measurements:
     These earrings dangle down about 2″, and measure 1 1/8″ at the widest point.

Tutorial Notes: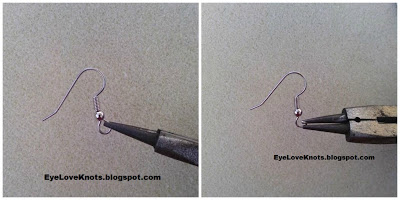 Always open towards you, not side to side.
Open the earring wire loop, grab loop of the charm, 
and then close earring wire loop.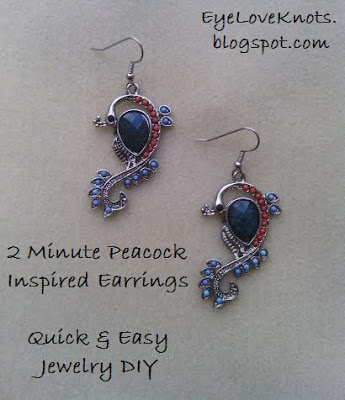 Done! See – two minutes! And now you have a beautiful pair of earrings to wear out right now!

Just make sure when you are putting your charm on that you put it on the correct direction. It is easy to put it on backwards.

With so many charms, and color options, I would love to see photos of your earrings! Please share your photos on my EyeLoveKnots Facebook page!

Don't miss out on new crochet patterns, reviews, jewelry tutorials and more! Subscribe to EyeLoveKnots by using the box on the right side toolbar, or follow me via Bloglovin!

You May Also Like…