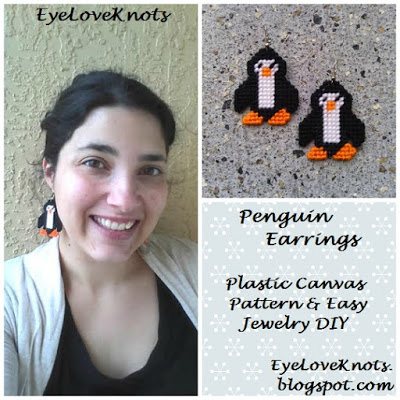 Though I am a day late, here is my latest jewelry design – some sweet little Penguin Earrings.

A few days ago I shared a post on Using Google Sheets to Create a Graph for Yarn Patterns. This penguin was the first thing I made using a Google Sheets Graph and wanted to share with you sooo bad because I was so proud of myself for figuring the Google Sheets out and the way that this all came together, but I had another cup of coffee and was able to control myself. Hehe.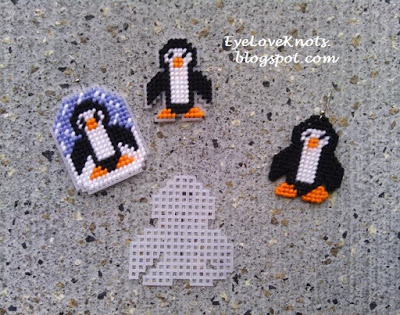 A little behind the scenes… It did take me a few tries stitching up the penguin to figure out exactly how I wanted it, and to make small adjustments here and there. Just look at this photo… I started on some 7 Mesh Canvas, but realized I had to make him a little taller so it would have been too large. Then, I made one on 10 Mesh Canvas, but my mistake here was stitching before cutting. I was having the hardest time cutting him out because of the direction of the stitches. I decided to then try a snowy scene in which I wouldn't have to worry about the cutting so much, but after spending the time to stitch it up, I realized it was too wide and uncomfortable to wear as earrings… Back to my cutting. I took the rest of the day off from this project to clear my mind. The very next morning, I woke up early and got to work. The break was all I needed because it came together so quick and easy. I had a pair of earrings done in time to wear to work 🙂 

I'll be sharing the graph with you a little later in another project I have on my list to do, but haven't found the time yet.

Materials:
     – Small Amounts of Light Weight/Sport Weight Yarn – I used Hobby Lobby's I Love This Sport Weight Yarn in Black, White and Orange
     – Small Piece of 10-Count Clear Plastic Canvas
     – #20 Tapestry Needle
     – 2 Earrings Wires – I used the 20mm Stainless Steel Ear Wires from AliCsSupplyShop
     – Jewelry Pliers – I use two (one in each hand) but one will suffice.
Material Notes:
     When I say "small amounts of…", I used about 20″ of White, 6.5″ of Orange and 23.5″ of Black.

I did attempt these earrings with some 7 Mesh Plastic Canvas, which is what you are probably more familiar with. The penguins will come out too large to be earrings, but would make a cute magnet, pin or hair clip. If you do use 7 Mesh, use Worsted Weight Yarn with it.

Time Spent:
     It took me about an hour and 45 minutes to work up a pair of these. 

Measurments:
     These penguins measure 1 5/8″ across by 1 7/8″ tall.
Pattern Notes:
     If you need help with cutting or stitching, check out my Small Plastic Canvas Hearts post.

     If you don't like the way your carried yarn looks on the back of your finished piece, you can add a piece of felt, just make sure you don't glue it too high as you will still want to get the jump rings through the holes in the corner. I didn't, as I like the way it looks and it isn't really visible to anyone.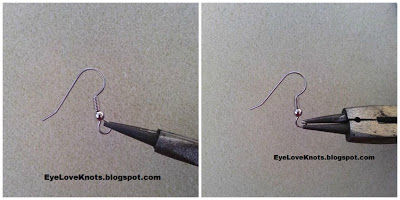 To Open an Earring Wire Loop:
Grab one end of your earring wires with your round nose pliers.
You will need to grab the other end with another pair of pliers or your fingers for leverage and stability.
Pull open the loops TOWARDS you, not side to side.
Close in the same manner.
Plastic Canvas Pattern: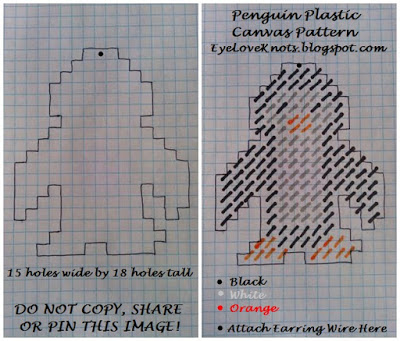 Work the slashes as continental stitches. Whipstitch around the edges after.
I worked Orange first, followed by White and then finished off with Black.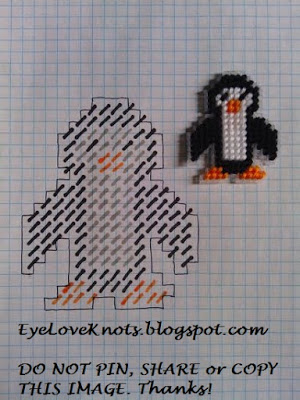 This is my penguin pre-whipstitch.
Earring Tutorial:
     Open earring wire loop, and attach to the top center hole of the penguin head. Close loop. 
You can see a similar assembly in my
Fox Earring DIY
.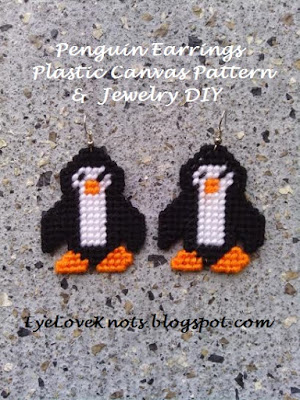 Please feel free to make and sell your own Plastic Canvas Penguin Earrings using this pattern, but please DO NOT claim this pattern as your own nor should you sell my pattern, and DO NOT re-publish my photos as your own. DO NOT copy and paste my pattern anywhere, link to it instead.
With so many color options, I would love to see them! Please share your photos on my EyeLoveKnots Facebook page!

Don't miss out on new crochet patterns, reviews, jewelry tutorials and more! Subscribe to EyeLoveKnots by using the box on the right side toolbar, or follow me via Bloglovin!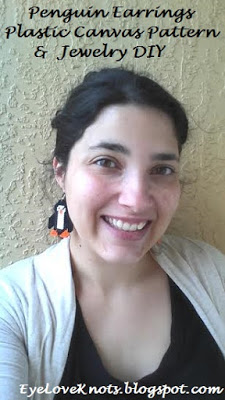 You May Also Like…