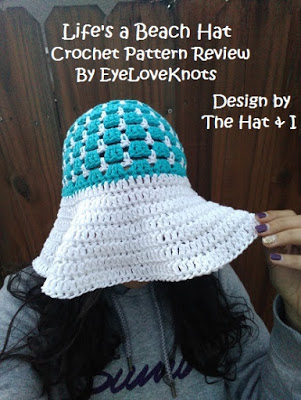 Yay! This is the third post of the year for the 2017 GrannySpiration Challenge! I am so excited to see what everyone has been working on, especially you! At the end of this post, you will find the information for this month's giveaway, and link up.

03.10.17 Update: Oh my! With the starting of my new job, and full time in training, it has been hard to find time sit down and work, but finally I have my review to share with you! (Minus the final step of my hat to come later…) Enjoy! And have a great weekend!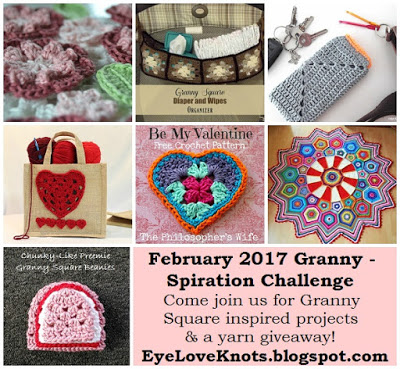 Please make sure to stop by our other co-host and see what they've been working on too. In the image above, you'll find their projects (and mine) from last month's challenge.


– I9/5.5mm Crochet Hook (larger than recommended)
– #18 Tapestry Needle for Weaving in Ends
I used about half of each skein to work a child sized hat with 5″ brim. I am wanting to work up another child sized hat for my little cousin, and will be using the white – will see if I can get away with what I have left of the skein.
As for the Brimlock. I have searched around my local craft stores, and haven't found any, but I did have some luck on Etsy. I am going to be ordering some on Tuesday, and will update my pictures and notes once I have added the brimlock and completed my hat.
My hat took me just under two hours to complete.
I worked up the child sized hat, though Toddler and Adult sizes are also available. I also chose a 5″ wide brim, but instructions are included for a 3″.
First things first, my gauge. I did not gauge with the I9/5.5mm crochet hook on this project (though I've used it before with this yarn). I did gauge with the H8/5mm hook, and found that I got 3.5″ wide by 4″ tall. Most important measurement is the width, as height can always be adjusted. I should have doubled check the gauge with the I9/5.5mm hook, but like many others, I hate gauging and so I skipped it. When it came time to stop increasing and check my diameter, it was a little shorter than I anticipated, but I pushed forward. Note to self, try a J10/6mm hook next time.
I only used two colors in my hat, and carried my yarn up the seam so I didn't have to fasten off and reattach. I carry up a different way than most so the inside of my hat doesn't show it as much, and the transition is cleaner. To do so, work the first stitch of the round over the previous colors tail, work the row around, then slip stitch join as normal in the color you are working but pull up the previous color so you slip stitch over it. After you have slip stitched, pull the other color through, and pull to tighten the stitch. This process will make the color change even, and avoid the long yarn piece on the inside of the hat. If you like, I do have a photo tutorial of this process –

How to Carry Up Yarn in the Round

.
Though the pattern states that the beginning chain 2 does not count as a stitch, I counted it, and adjusted stitches as necessary. One thing I did not figure on until I got to the repeat section of the body is the placement of the half double crochets – I did not adjust these, but I got lucky in that only Round 4 of my hat was affected. Make sure when you are working the half double crochet rows that the stitches line up all the way down your hat.
My piece was cupping during the crown – which will produce a hat that doesn't fit properly. To avoid this, I changed a couple things up:
To begin, I worked Round 1 in half double crochet, and Round 2 in single crochet. Note, this change will also affect the size of the finished diameter, but I found it necessary.
In Round 4, I changed all the chain 3's with chain 4's, except for the last one, and in Round 6, I changed all the chain 2's to 3.
At the end of Round 7, I had a diameter of 6 1/8″, which produced a hat with a circumference of (19 1/4″. When you figure in an inch for stretch, this hat is sized to fit a 20 1/4″ head, which was too small for me. Now, I will say that the hat did fit, a little snug at first, but did stretch. The only downside to work in cotton yarn is that it doesn't bounce back like acrylic yarns in that once it stretches out, it really doesn't go back. I do want to make another child size for my little cousin, and I will be testing the diameter with a J10/6mm hook, and/or the adult size, because I am looking for a diameter that only needs 1″ of stretch to fit more comfortably.
At the end of Round 15, my hat measured 6 5/8″ tall, a little more than stated, but still fit just fine overall. Here, you are looking for it to fall above your ears.
At the repeat section of the body, to help my seam stay straight and make sure the half double crochets lined up well, I slip stitched as previously mentioned, pulled through my new color and then half double crocheted into the previous space loosely, as opposed to in between the beginning chain and first double crochet.
At the end of Round 8 of the Brim, I found it already measuring 5 1/8″ wide. The finished brim is supposed to measure 5″, so I took out Round 8, and will be working that as my final round in the Mod Blue over the Brimlock once I get it in. For now, my hat is just hanging out with some of my other WIPs. I will update once I have added the finishing touches.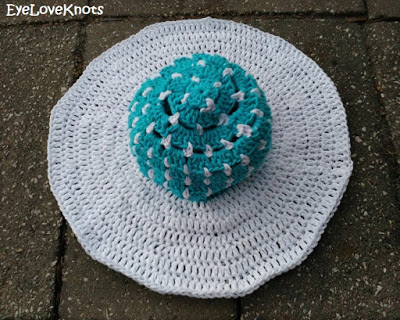 Overall, this was a fun pattern to work up. It was little different that I thought it would be, but still features the granny stitch clusters, which is what I wanted, plus I have been wanting to try out this pattern for sooooo long!
The pattern was easy to read and understand, and now I can't wait to work up a couple others. One thing I would like to try is a nice acrylic, cotton blend. I have had a hard time finding one that I like, so if you have any suggestions, drop me a line below!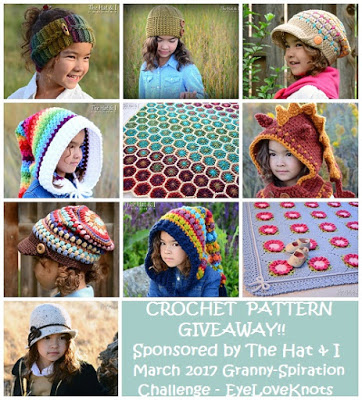 From left to right, top to bottom:

Autumn Breeze Headwrap

,

Parisian Dreams

,

Summer Slouchy

,

Over the Rainbow Hood

,

The Dreamer

,

Lucky Dragon Hood and Cowl

,

World Traveler Slouchy

,

Bohemian Nights Hoodie

,

Cottage Charm

, and

Cosmopolitan Cloche

.
This Month's Giveaway
is sponsored by Marken of

The Hat & I

. One winner will receive
FIVE crochet patterns of their choice from The Hat & I shop! I have drooled over Marken's patterns for quite some time, and practically have most of the store favorited. Lots of great designs for anytime of the year in there!
Must be 18 or older to enter. Open to all countries. Void where prohibited. Winner has 48 hours to respond to email notification, or another winner will be chosen. Marken of The Hat & I is responsible for prize fulfillment, and will gift patterns through Ravelry.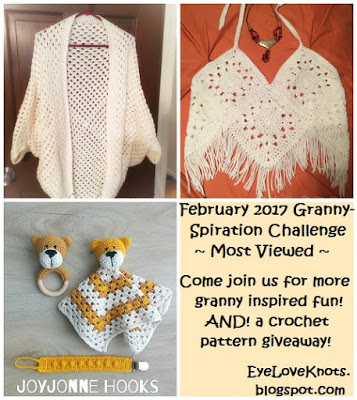 The three most viewed projects from last month's challenge can be found in the image above. From left to right, top to bottom: Granny Square Shrug from Life Away from the Office Chair, Crochet Halter from Life Away from the Office Chair (too! 🙂 ) and Bears from JoyJonne Hooks.


Now, Share Your Granny-Spiration Project With Us!

New Granny-Spiration Projects will be shared from your hosts the first Saturday of each month. Post times will vary. You will be able to link up from 12:00am EST on the first Saturday of the month, through 12:00pm EST on the second Thursday from the start date – specific dates are on top of the Rafflecopter form – giving you almost two weeks to link up and enter the giveaway!

Please share projects that are family friendly, and GRANNY INSPIRED through use of regular granny square or solid granny square, granny stitch pattern or other afghan square in the form of a free pattern, pattern review, or inspiration piece. Not limited to crochet or knit.

Please make sure to link to your post, and not your home page.

*If you don't have a blog, you can still share with us by creating a Free Flickr Account – powered by Yahoo. Add your projects there, and then come back here with the link for the project.

*Link ups cannot be to Etsy listings or Ravelry pages where patterns are sold. You can link to blog posts, Flickr or Facebook pages, Pins, etc that are directed towards it, but can't directly link to it.
To be clearer though, Raverly pages of finished projects are okay to share. Sorry for the inconvenience! That's per InLinkz guidelines. Thanks!

Features may be chosen at the discretion of each host. By linking up, you give us permission to feature your item.