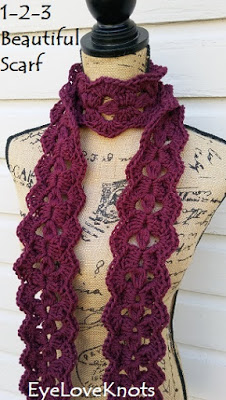 Remember this 1-2-3 Beautiful Scarf from the July Granny-Spiration Challenge? Jenny was kind enough to allow us a chance to win a copy of the crochet pattern, and I was given the opportunity to review the pattern! Something I enjoy very much.


Are you a Raveler? Make sure to favorite and share your version of this 1-2-3 Beautiful Scarf! 

Materials:
     – Worsted Weight Yarn – I used less than one skein of Yarn Bee's Soft & Sleek Yarn in the Burgundy colorway
     – N15/10mm Crochet Hook
     – #18 Tapestry Needle for Weaving in Ends
     – 1-2-3 Beautiful Scarf, Paid Crochet Pattern from Crochet is the Way

Material Notes:
     In the original design, Jenny used Caron's Simply Soft.

Yardage required varies greatly depending on the desired length. With one skein, you can get quite a bit accomplished.


Yarn Review: This was my first time using Yarn Bee's Soft & Sleek Yarn. I found it on the end shelf of the yarn aisle. The beautiful colors and true soft and sleek look of the yarn pulled me in. I grabbed a skein, and like many others, rubbed it on my cheek. That's all it took! I put it in my basket, and knew it'd be perfect for this 1-2-3 Beautiful Scarf. It is a nice, solid acrylic yarn strand, and so soft! I didn't have any issues with splitting or fuzzy halo while working my scarf, and with the "low pill fiber" as stated on the label, this should be a great yarn to use in hats, scarfs, sweaters, blankets and other projects that will see a lot of wear, and machine washing and drying. Can't wait to try this yarn on some other projects!

Time Spent:
     I completed my scarf in about an hour, and 45 minutes.

Measurements:
     3.25″ Wide at Widest Point (2.5″ Wide at Smallest Point) by 73″ in Length

Pattern Notes:
     I found it a tad bit difficult to predict how large my scarf would be. It would take quite a bit of guess and check, though, no matter the length, the scarf is absolutely beautiful.

When I went to my first odd row, and read, "top-left bar", I was a little confused at first. My tip is to think of it as "back of the 1st chain", and then with the half double crochet that follows, you will be finishing it from the position you are in.

Also, make sure to work the even cluster stitch into a space, and not a previous stitch.

I worked 37 rows, and was measuring 52″ in length, which grew to 73″ by the end. I found the difference from Round 1, and 2 was 2″, so the greatest variance was from the beginning rows.

While working the first round, I found the first end was cupping so I worked (4 dc, ch 1, 4 dc) here, and worked (4 dc, ch 1) at the end before joining. In round two, I worked my ends the same way.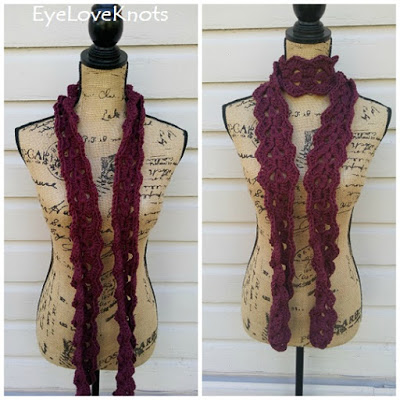 I worked a similar scarf before that I scrapped because although a gorgeous, fun and unique pattern, the shell pattern does not lay flat when worn. If pressed, the fabric lays flat – as seen in the photo on the right, so it isn't a matter of increasing in shells, but naturally hanging, the sides cup forward – as seen in either photo. I suppose the bigger question is, how long with the pressed fabric last, that I do not know.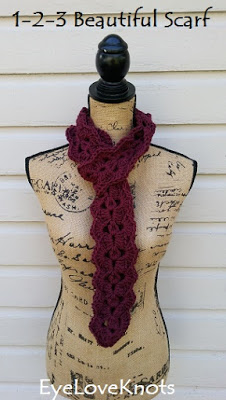 I feel, if you are okay with the ruffle look, then it's great, but if you really want the shells to lay flat, you would have to sewing a lining onto the back. Alternatively, you can wear it pulled through, as seen above, and it would hold a lot better, and be warmer around your neck like wear a cowl. 


I will leave you with these beautiful shells, and the awesome texture. I think the center bobble created by the beginning rows, and one side of the shells could make a neat ruffle border for a baby girls blanket. You would need to work the beginning rows into the edge of a finished blanket, and then work the shells around. If anyone tries this, please share your work! 

Join the EyeLoveKnots Crafting Community to share your creations, and see what other's are up to! 

Don't miss out on new crochet patterns, reviews, jewelry tutorials and more! Subscribe to EyeLoveKnots by using the box on the right side toolbar, or follow me via Bloglovin! You can also find me sharing on the EyeLoveKnots Facebook page, and @EyeLoveKnots on Twitter!