This is a hoop art DIY that I combined some Wildflower fabric and a crocheted letter to create a sweet gift to be hung in a babies nursery.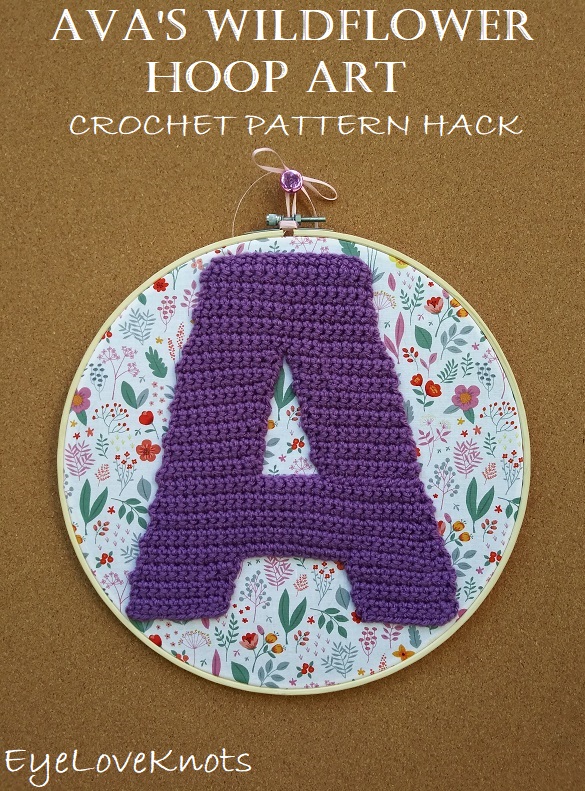 When 3amGraceDesigns released their crocheted alphabet cuddlers, I immediately envisioned this wall hanging. One of our cousins was expecting a sweet little girl, Ava, and I wanted to make this as a gift!
The babies nursery is Wildflower themed, so I went to JoAnn's, and found this beautiful Wildflower fabric, and coordinating yarn color.
Now, Ava was born in August of last year. I am a little embarrassed to say that I started this project in early August, and just finished it in early March. I had good intentions with the project, but having to hand sew the letter on slowed me down (motivation wise), and then hot gluing the excess fabric also slowed me down (motivation wise). I have been looking at it sitting on my table, and finally over the weekend decided I was being ridiculous. I finished it up, wrapped it up, and took it over to my aunt's house, where my cousin would be going to visit (while I would be at work).
Overall, this project was really easy to put together, and I am interested in working up some more. I think using lightweight yarn will be a game changer, as the letter will fit better and be able to be machined sewed in place, and I am also considering trying a canvas instead of embroidery hoop (which I will staple the fabric in place).
Materials:
Small Amount of Red Heart's Super Saver in Medium Purple
H8/5mm Crochet Hook
Letter A Alphabet Kawaii Cuddler, Paid Crochet Pattern from 3amGraceDesigns
Sewing Needle & Thread That Matches Letter
10 – 12″ Embroidery Hoop
Fabric – I got a 1/2 of a Yard (this can make 2)
Sewing Pins
Hot Glue Gun and Sticks
Small Amount of 1/8″ Ribbon for Hanging
Heat Source for Ribbon (so it doesn't fray)
Material Notes:
Yarn Alternatives: Caron's One Pound, and Bernat's Super Value, though I think a lightweight #3 yarn would have been a better option because the letter just barely fit into the 10″ embroidery hoop.
Also, I crocheted my letter, but an alternative to this would be cut one from fabric.
Embroidery Hoop: I used a 10″ hoop because this is the biggest they had at my local JoAnn's, but a 12″ hoop would have been better for spacing (or the lightweight yarn).
Time Spent:
This letter took just under two hours to complete – just under an hour to crochet and finish letter, then about 45 minutes to hand stitch the letter to the fabric and cut it down, and then about 5-10 minutes to hot glue the edges and add the ribbon.
Measurements:
Overall: 10″ Embroidery Hoop
Crocheted Letter: 4″ Across Top of Letter, 8.75″ Across Bottom of Letter by 9.38″ Tall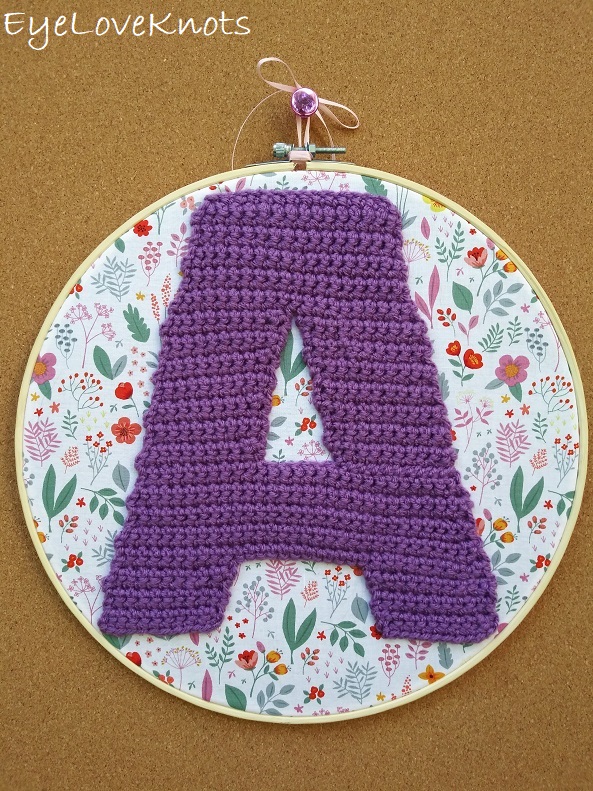 DIY: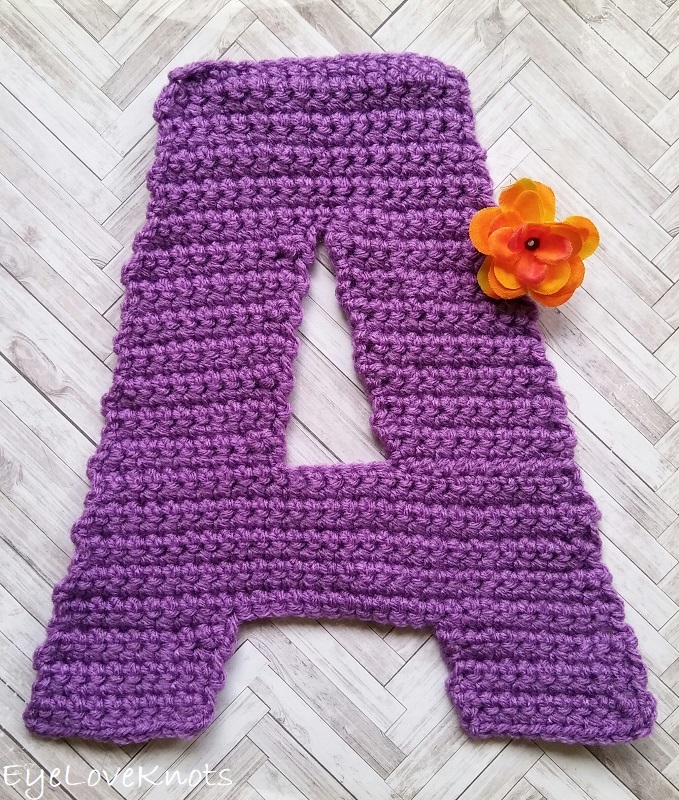 First thing I did was crochet the letter – in this case, "A" for sweet little Ava. You can find my Crocheted Letter A, Crochet Pattern Review HERE. Alternatively, you could cut a letter from some fabric.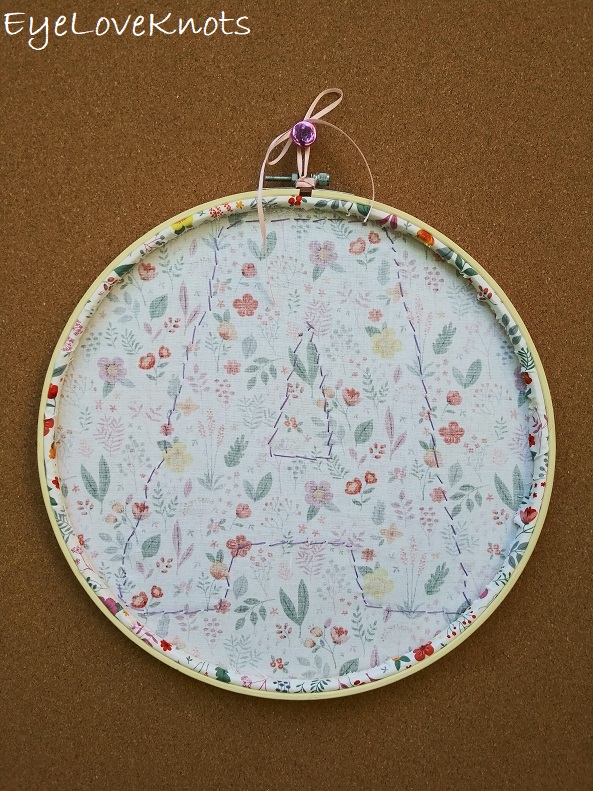 I put the beautiful wildflower fabric into my embroidery hoop, and secured. Then I pinned the letter in place, and hand stitched it. I did consider using my sewing machine for this, and it would have saved me a lot of time, but because the fitting was so tight, I didn't want to take any chances that it wouldn't fit into the hoop. The fix, go down a yarn weight or up a hoop size.
After the letter was in place, I tightened the fabric up around the hoop, and then carefully cut it half an inch bigger than my hoop all the way around. I say "carefully" because you don't want your fabric to pull out from the hoop.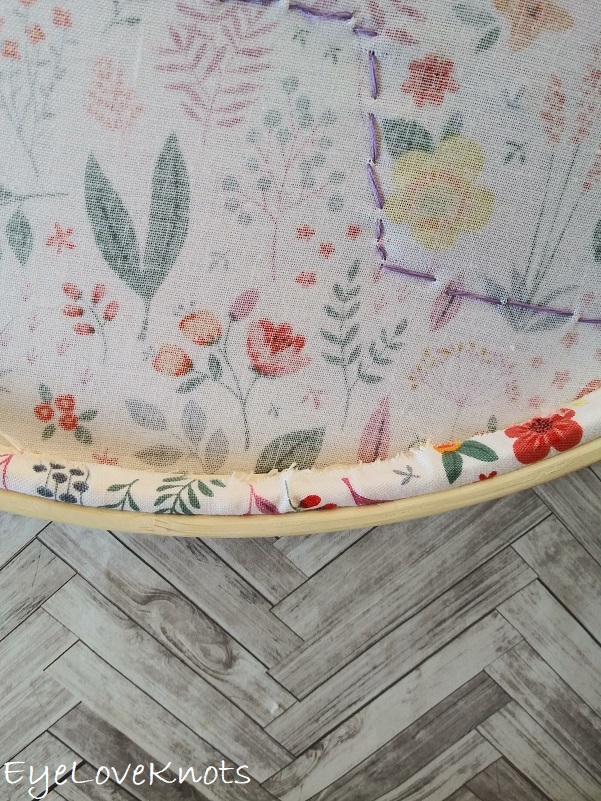 I pulled out my hot glue gun, and glued the excess fabric to the back of the embroidery hoop.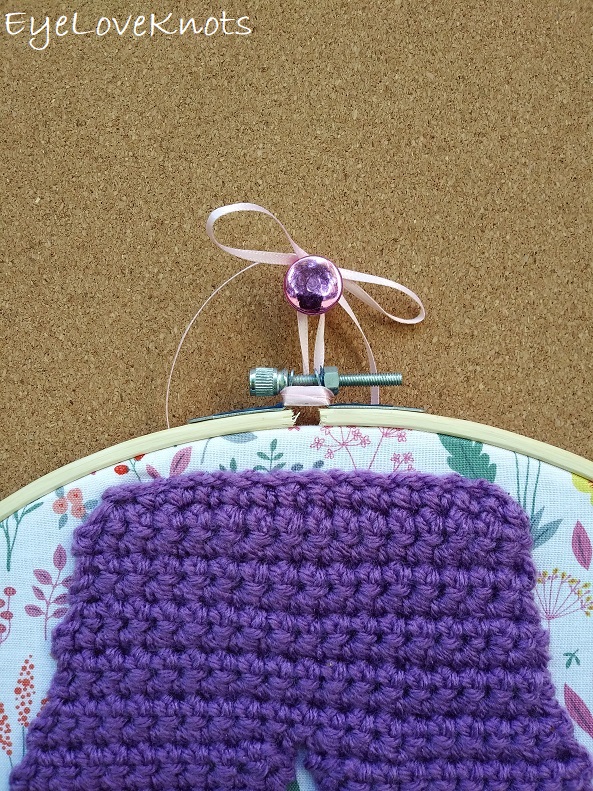 I finished this hoop art with a little ribbon bow for hanging. I wrapped my ribbon around the hoop closure twice, then tied a square knot. I left a small space to be used for hanging, then I tied another square knot (to secure this small space), and finished off with a bow. I used grosgrain ribbon, and used a lighter to heat seal the edges that I cut so they wouldn't fray.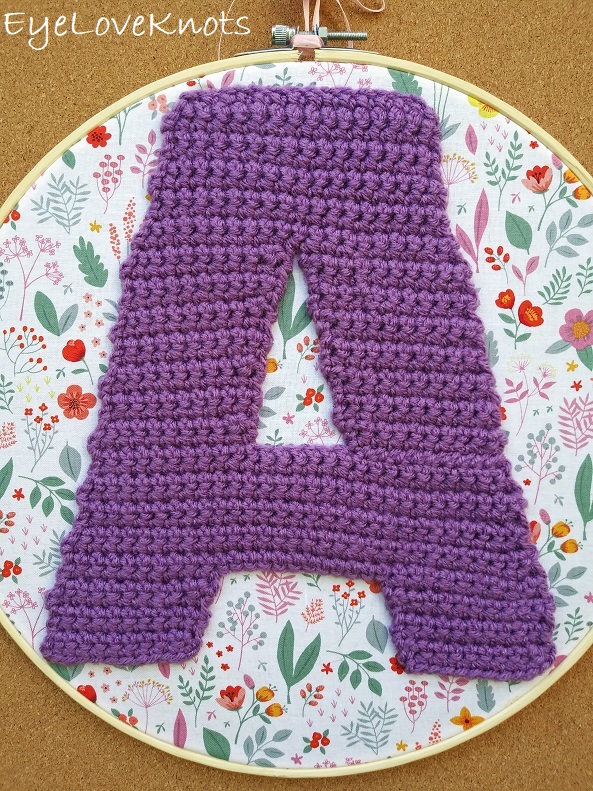 And it is ready for hanging! I wrapped it up to give as a gift.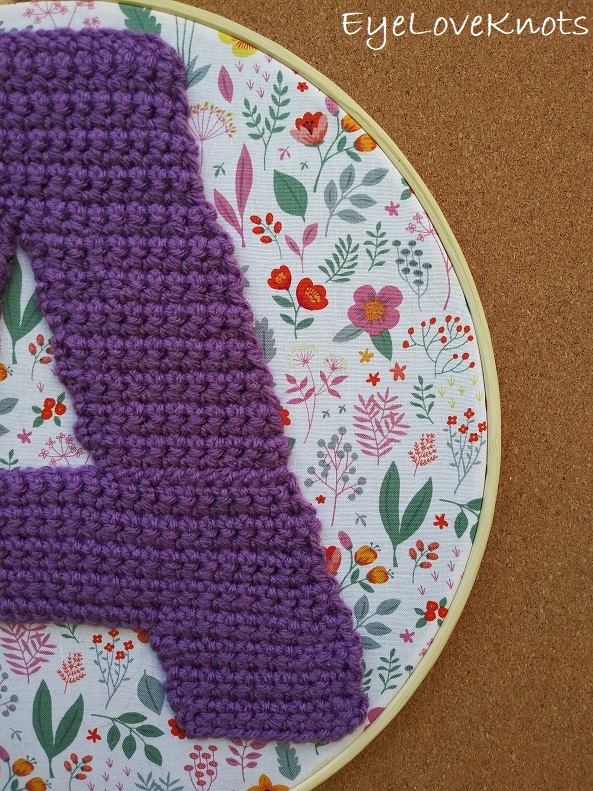 Join the EyeLoveKnots Crafting Community on Facebook to share your creations, and see what others are up to!
Linked Up To…
Craft Schooling Sunday – Creative Jewish Mom
Happiness is Homemade Link Party – Create with Cynthia
A Themed Linkup 15 for Crafts and DIY – Grammy's Grid
Handmade Monday #172 – Sum of their Stories
The Really Crafty Link Party #214 – Keeping it Real
Craftastic Monday Link Party – Sew Can Do
Ginx Woolly Linx Party April – Ginx Craft
Fabulous Party #316 – Lou Lou Girls
544th Inspire Me Tuesday – A Stroll Thru Life
Linky Ladies Party #183 – The Purple Poncho
All About Home #36 – Common Ground
Little Cottage Link Party #48 – Love my Little Cottage
{Wow Me} Wednesday #451 – Ginger Snap Crafts
Your Whims Wednesday #456 – My Girlish Whims
To Grandma's House We Go Link Party 189 – Chas' Crazy Creations
Waste Not Wednesday 202 – Faeries and Fauna
Tuesday Turn About #45 – My Wee Abode
Hookin on Hump Day #213 – Moogly
Thursday Favorite Things #436 – An Artful Mom
The Wednesday Link Party 344 – The Stitchin' Mommy
Creative Compulsions Linky Party #56 – My Bijou Life
Creatively Crafty Link Party #220 – Life Beyond the Kitchen
Scrappy Stitchers Link Party #62 – Stitches n Scraps
Pin Party #365 – The Pin Junkie
Home Matters Linky Party #279 – Modern on Monticello
Create, Bake, Grow & Gather Party #416 – Shabby Art Boutique
April 2020 Best of the Month Party – Calypso in the Country
Snickerdoodle Create Bake Make Link Party 332 – EyeLoveKnots
Link Your Stuff – Annemarie's Haakblog
Unlimited Monthly Link Party 12 – Grammy's Grid